39
Products
Considered
73
Hours
of Research
34
Reviews
Examined
7
Experts
Interviewed
One of the best investments in cardio equipment for a home gym you can make is a rowing machine.
Not only could it work wonders for weight loss, but with the right routines, you could be doing a full-body workout every day.
But if you look at rowers at your local gym, you'll probably notice that they are large and heavy machines.
Not exactly practical for the typical home workout space.
Unfortunately, many compact machines end up sacrificing functionality and stability, which could just end in disaster.
So, we spent the last two months trying out over 30 models to come up with a list of compact rowing machines.
Table of Contents
Editor's Choice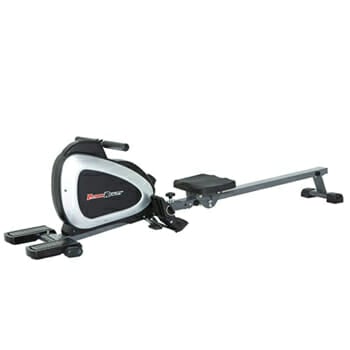 Fitness Reality
Check Current Price
#2nd Best Choice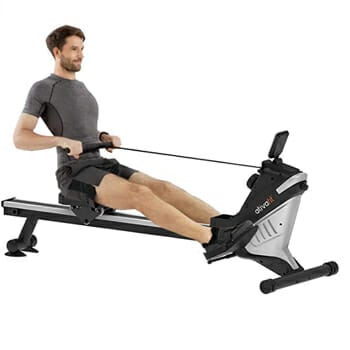 ATIVAFIT
Check Current Price
#3rd Best Choice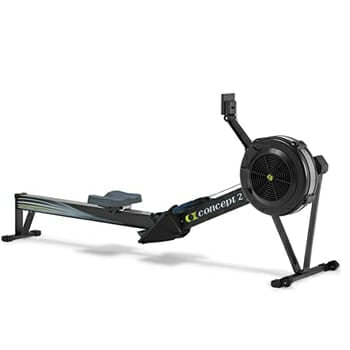 Concept2
Check Current Price
Our Top Compact Rowing Machines
1 - Fitness Reality 1000 Plus (Editor's Choice)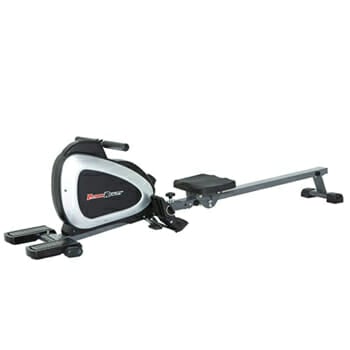 For us, the Fitness Reality 1000 Plus may be the best compact rowing machine because you can easily switch between rowing and upright strength exercises.
And the magnetic rowing machine seems to provide a very smooth and full range of motion.
88.5" L x 21.5" W x 21.5" H
250 lbs capacity
Pros
Positive comments about the smooth magnetic resistance
Suitable for upright use to gain a more diverse exercise routine
Bluetooth enabled to sync up with fitness tracking apps
Folds up easily, which may make it suitable for a smaller home gym
Cons
The highest intensity might not be strong enough for endurance athletes
Just keep in mind that the highest setting might not be enough for high-intensity strength training.
2 - ATIVAFIT Magnetic Rower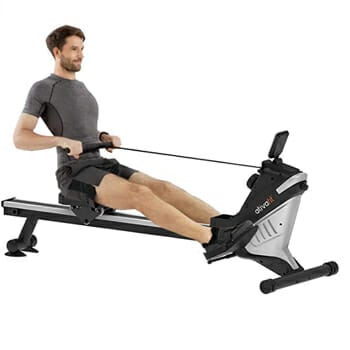 This is one of the compact rowing machines that could be the easiest to move as it doesn't weigh much to get out of the way when you're done.
The 8 intensity levels also seem to provide a nice and smooth rowing motion.
60.6" L x 21.2" W x 26" H
220 lbs capacity
Pros
8 resistance levels may allow for more flexible training
It's light and moveable for easy storage
Positive reviews about the smooth gliding motion
Cons
The max weight limit may be a bit low for some athletes
Just check the weight limit to make sure you're not close to it as it's a bit on the low side
3 - Concept2 Indoor Compact Rowing Machine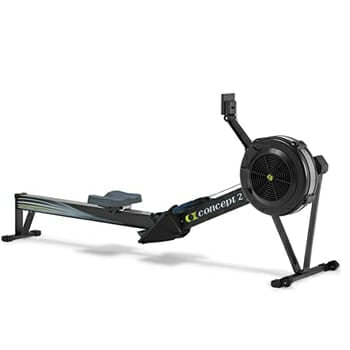 The Concept2 compact rowing machine might be a good match for people who like to keep track of their training data over time.
Along with a smartphone app connection, this should help you better plan your workouts.
96" L x 24" W x 21" H
500 lbs capacity
Pros
Training computer stores workout data so you may better compare your performance
May integrate with apps through Bluetooth
Seems to be easy to assemble and fold down for storage
Cons
The air resistance flywheel may be a bit noisy at full speed
Just be aware that air rowers tend to get a bit noisy at full speed.
4 - Sunny Health And Fitness SF-RW1205
This Sunny Health Fitness model with hydraulic resistance may be perfect if you have very limited space.
But you still get a machine that is smooth and quiet across all 12 intensity settings.
54" L x 20" W x 23" H
220 lbs capacity
Pros
Hydraulic cylinder resistance makes it quiet and compact
LCD monitor provides enough info to see your training progress
May allow for up to 12 resistance levels for more flexibility
Cons
The seat may not be as comfortable or stable
We just found that the seat didn't seem to provide as much balance.
5 - Stamina ATS Air Rower
We immediately noticed on the ATS Air Rower that the seat provides better support and comfort, which could help if you intend to do longer workout sessions.
It's also very stable, especially at a faster pace.
77" L x 19" W x 22" H
250 lbs capacity
Pros
Smooth air resistance may provide a more natural stroke
Comfortably padded seat may allow for longer training sessions
Positive comments about the stable design of the seat
Cons
At full speed, it makes quite a bit of noise
Just prepare yourself for a noisy training session when you hit higher speeds.
6 - WaterRower Club Compact Rowing Machine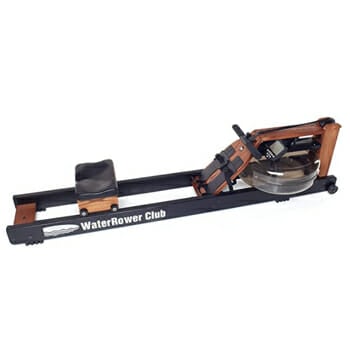 Here's another one of the compact rowing machines with a water-based resistance, which a lot of people find a lot quieter than many other options.
And we did find it might be one of the best from a stability perspective.
84" L x 22" W x 21" H
1,000 lbs capacity
Pros
It's one of the quieter rowers available
Positive comments about the solid and durable construction
The smooth glide of the seat makes rowing at faster levels easier
Cons
It's a heavy device when filled with water
Just be aware that it's heavy and wouldn't be suitable if you need to move it around a lot.
7 - MaxKare Water Rowing Machine
This compact rowing machine uses water resistance, which some professional rowers prefer due to the more natural feel it might provide.
And we liked the level of data on the display that should allow you to fine-tune your workouts.
78" L x 20" W x 30" H
264 lbs capacity
Pros
Water resistance may provide a more natural rowing experience
The performance monitor shows plenty of training data
Transportation wheels may make it suitable for easier storage
Cons
It does tend to make a bit of noise
8 - Stamina InMotion Rower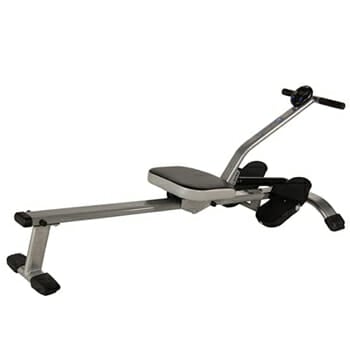 Here's another lightweight design option that may fold down small enough to store in a wardrobe or under a bed.
We also found the motion on the rowing arms seemed smooth for a less distracted workout.
56.5" L x 23.5" W x 19" H
250 lbs capacity
Pros
Lightweight design to make it easier for storage
Padded seat and smooth movement may result in less discomfort
5 resistance settings allow for a gradual performance increase
Cons
The LCD display functionality is a bit limited
We just think that the data tracking and display could be improved a bit to better track your workouts.
9 - Merax Magnetic Rower
What stood out for us on this magnetic rowing machine is that there's hardly any noise.
If you live in an apartment or have young kids, then this could be a big plus for indoor rowing.
73" L x 16" W x 21" H
264 lbs capacity
Pros
Possibly one of the quietest magnetic resistance rowers at all 8 resistance settings
One of the longer machines we found to suit taller people
Positive reviews about the stable wobble-free design even under pressure
Cons
The training data display is a bit limited for advanced users
The only downside is the limited training data, which doesn't give you a full picture of your progress.
10 - Circuit Fitness Folding Rowing Machine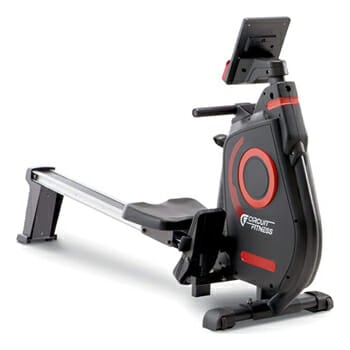 The final one on our list of best compact rowing machines is that we saw a few people recommend watching TV shows while working out. The integrated tablet holder may make that a lot easier.
72" L x 19" W x 38.5" H
300 lbs capacity
Pros
May provide the largest foot plates for solid support
Comes with a tablet holder to watch your favorite shows
Integrated caster wheels may make it easier to move out of the way
Cons
Make sure you set aside enough time to fully assemble it
The only thing we noticed in a few reviews is that the assembly process is a bit time-consuming.
Buyer's Guide

1. Resistance Types
Personally, our two favorite types of rowers are magnetic rowing machines and air rowing machines [1]. They provide a nice smooth motion for indoor rowing but keep in mind that an air rower might make a bit of noise.
Hydraulic ones might be a bit limited, and the downside with water rowers is that they are too heavy to move around.
If you are on a budget, check out our list of the best budget rowing machines.
We also have a list of the best compact elliptical machines.
2. Resistance Levels
Always check how many resistance levels you'll have available, as this will dictate your workout intensity.
The more resistance level variety you have, the better you can plan out your workouts to gradually improve your fitness levels.
3. Weight Capacity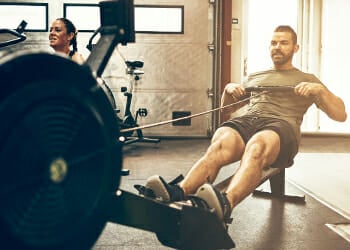 Home rowing machines are generally not as sturdy as commercial ones at the gym.
And the capacity is likely to be lower again with a compact indoor rower.
But you should always check that the rower you choose will accommodate your weight.
Having it buckle under you is both an embarrassing and painful experience.
4. Display Functions
We like to see displays that show a fair bit of information like distance, strokes per minute, calories burned, and, ideally, your heart rate [2].
But at the very least, you should see the number of strokes, distance, and time. Without these, you'd be left guessing what your fitness progress is.
Related Articles:
FAQs
Are Magnetic or Air Compact Rowers Better?
Magnetic compact rowers tend to be better than air rowers as they might provide a smoother motion. They are also generally a lot quieter.
Are Compact Rowing Machines Worth Buying?
Yes, compact rowing machines are worth buying if you have limited floor space. They might not come with all the bells and whistles, but if you need a great cardio machine for home use, then you'll struggle to find better.
What's The Best Compact Rowing Machine?
Out of all the machines we tested, we all agreed that the Fitness Reality 1000 Plus was the best compact rowing machine.
It ticked all the right boxes for size, magnetic resistance levels, and data display for it to help with all types of fitness goals.
If you need a rower for your home that would make a difference, then order yours today and let us know how well it worked out for you.
Our #1 Recommendation
Fitness Reality 1000 Plus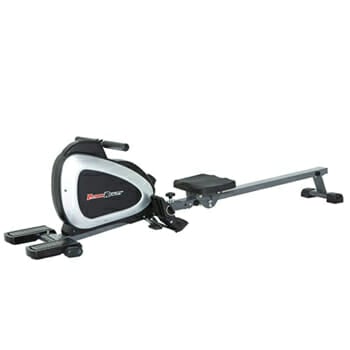 Check Current Price

Pros
Positive comments about the smooth magnetic resistance
Suitable for upright use to gain a more diverse exercise routine
Bluetooth enabled to sync up with fitness tracking apps
Folds up easily, which may make it suitable for a smaller home gym
Cons
The highest intensity might not be strong enough for endurance athletes
About The Author
You May Also Like