From Olympic Games to World Championships, there is absolutely no shortage of amazingly hot female gymnasts.
When our team at TotalShape tried to come up with a list of the hottest gymnasts, we ended up in heated discussions trying to focus on balance beam vs. artistic gymnastics.
As we weren't getting anywhere close to agreeing on a list, we pulled in our readers and subscribers and asked for help on social media.
The result was thousands of votes, and after a few weeks of counting, we have a final list to share with you.
The Hottest Female Gymnasts
21. Larisa Iordache
Larisa Iordache, Romania's gymnastic sensation, is a breathtaking blend of grace, talent, and beauty.
 

View this post on Instagram

 

Her delicate features, combined with intelligence and character, make her an unforgettable presence. A two-time Olympic bronze medalist and winner of seven gold European Championship medals, Larisa's allure goes beyond her athletic achievements.
Her recent Instagram pictures prove that retirement hasn't dimmed her radiance. Both on and off the gymnastics floor, she's a symbol of true beauty, embodying all that's captivating and inspirational in a modern icon.
Her charm, resilience, and achievements continue to make her one of Romania's most dazzling stars.
20. Maria Paseka
Maria Paseka, with her blonde hair, sparkling grey eyes, prominent dimples, sly smile, and pointed nose tip, exudes a charm that's both enchanting and captivating.
 

View this post on Instagram

 

Her stunning poses and fashionable appearance on Instagram reflect a charisma that goes beyond her impressive gymnastics career.
With eight gold, five silver, and bronze medals to her name, Maria's allure is not just in her athletic prowess but in her unique blend of grace, style, and confidence.
She's not just a decorated athlete; she's a magnetic presence, dazzling fans and followers alike with her radiant beauty.
19. Stacy Bartlett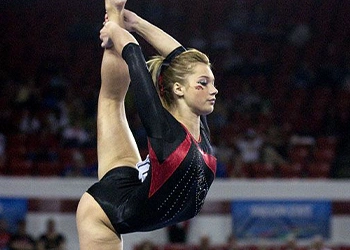 Stacy is our last addition to this list, and people love the joy and grace she uses to move her body on the floor.
She has very strong legs that have helped her career, but it's that constant smile she has during a competition that makes her look at ease with the fans and judges.
Her expression makes it seem like her gymnastic feats seem so easy and carefree.
18. Nikki Childs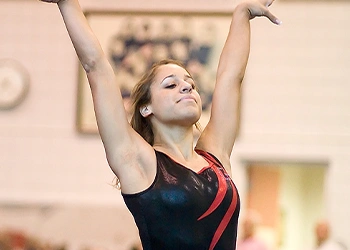 Nikki is one impressive gymnast who has shown exceptional talent on the floor, uneven bars, and balance beam.
The result has been 9.9 and 10.0 scores in 12 different competitive events.
And she deserves the same score for her amazing body and smile.
17. Marta Pihan-Kulesza
Marta is from Poland and has always charmed her fans with an amazing smile to go with her gymnastics.
 

View this post on Instagram

 
While she didn't succeed at the Olympics, she did well in European and national championships. Unfortunately, she suffered an injury a few years back and had to retire from competitive gymnastics.
16. Vasiliki Millousi
Vasiliki is from Greece and has a mesmerizing face with a cute smile that gives her a very innocent look. But that innocence is gone once she hits a competitive stage.
 

View this post on Instagram

 
That has resulted in gold and silver medals at European championships on the beam and a huge fan base.
15. Jamie Dantzscher
Jamie is a retired American gymnast who played a key role for Team USA in the Sydney Olympics in 2000, where they won the bronze medal.
 

View this post on Instagram

 
After that, she became a dominant NCAA athlete and today uses her experience to coach younger gymnasts.
14. Almudena Cid Tostado
Almudena is the hottest gymnast from Spain, and she specializes in showing off her moves as a rhythmic gymnast.
 

View this post on Instagram

 
She took part in four consecutive Olympic games reaching the finals, and now uses her amazing looks as a Nike model and actress in her home country.
13. Aliya Mustafina
Aliya Mustafina is an extraordinarily beautiful Russian gymnast who had an extremely successful 2012 Olympics with two bronze, one silver, and one gold medal. Yes, those were all in one Olympic Games.
 

View this post on Instagram

 
She had similar success at the World Championships, but it's those dark mystic eyes that captivate the most.
12. Simona Peycheva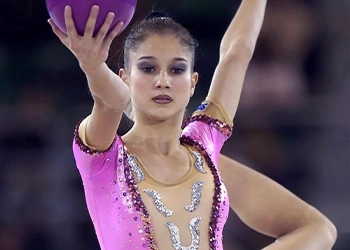 Eastern Europe is definitely one of the dominant parts of the world to produce some of the most successful and stunning gymnasts.
Simona is from Bulgaria and has an amazingly beautiful face.
And it's well worth watching videos of her as a rhythmic gymnast showing off what her body can do.
11. Giulia Steingruber
Giulia Steingruber became famous in her native Switzerland after becoming the first Swiss gymnast to win an Olympic medal.
 

View this post on Instagram

 
In Rio2016, she won the bronze medal on the Vault and immediately achieved stardom. While she hasn't repeated that success at the World Championships, she's still got the looks and the body to turn heads.
Giulia Steingruber's athleticism and strength set her apart, making her one of the hottest female gymnasts of all time.
10. Nastia Liukin
We're hedging back to Russia with this blond beauty and one of the most captivating smiles and beautiful faces.
 

View this post on Instagram

 
She achieved a career-high with an Olympic gold medal on the bars, and it all comes from the fact that her mother was also a beautiful and successful gymnast.
9. Sandra Mayer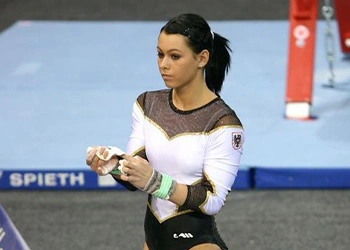 Sandra is an extremely curvy gymnast from Austria, and the combination of dark hair and dark eyes just draws every man in for a look.
She mainly performs in artistic gymnastics routines, and she has put on many very creative shows.
8. Sandra Izbasa
Sandra is a Romanian gymnast who has all the looks and amazing body going for her.
 

View this post on Instagram

 
She specializes in the floor event and won a gold medal at the back-to-back Olympics in 2008 and 2012. Unfortunately, her career came to an early end, but she has left a lasting impression on fans around the world.
7. Alina Kabaeva
With two Olympic medals and 25 European Championship medals, Alina Kabaeva is one of the most accomplished Russian gymnasts of her time [2].
 

View this post on Instagram

 
She also has 14 World Championship medals, and she has also branched out into politics after she called an end to her gymnastics career.
6. Danielle Prince
Danielle Prince is our first gymnast from Australia, and there are very good reasons for including her.
 

View this post on Instagram

 
She possibly has one of the biggest and most genuine smiles that has captivated fans for years. She's also Australia's highest-ranked and most successful rhythmic gymnast.
Danielle Prince has not only made her mark in the history of Australian rhythmic gymnastics but her charm and energy also contribute to her standing as one of the hottest female gymnasts.
5. Sara Radman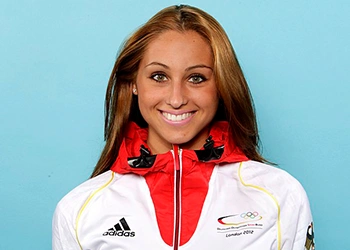 Sara Radman is a German Olympian who specializes in rhythmic gymnastics.
While she hasn't had luck becoming an Olympic gold medalist, she was still able to win the hearts of fans all over the world.
4. Mckayla Maroney
Mckayla Maroney is an American gymnast with a long Olympic success record. She helped the USA to win gold at the 2012 Olympics team event while at the same time grabbing hold of the silver medal on the Vault.
 

View this post on Instagram

 
She's also starting a modeling and acting career, which isn't surprising considering her amazing figure.
3. Aly Raisman
Aly Raisman gained a lot of fans for her performance at World Championships and the Olympics for great performances in the floor exercise.
 

View this post on Instagram

 
She was also a major contributor to becoming a gold medalist in the team competition at the London Olympics in 2012 [1].
Aly Raisman's fierce competitiveness, power, and artistry in her routines, coupled with her outstanding achievements, make her one of the all-time great female gymnasts.
2. Alicia Sacramone
Alicia Sacramone had a racing start to her career, and at the 2008 Beijing Olympic Games, she helped the United States win the silver medal.
Alicia Sacramone's charismatic performances and dynamic routines left a lasting impression on the world of gymnastics. Her strength and tenacity, as well as her distinct beauty, place her among the most memorable and hottest female gymnasts.
 

View this post on Instagram

 
"I was terrified of Vault, like literally I hated it. I had a fear of running as fast as I could at a solid object, which is I think a normal fear to have because nobody would really want to do that. Once I got over the fear of running into the table I just kind of relaxed and now it's like autopilot. I love it."

- Alicia Sacramone
1. Shawn Johnson
For our voters, the hottest female gymnast is Shawn Johnson. This American gymnast joined Team USA in 2007 and had one of the most successful rookie years of all time.
 

View this post on Instagram

 
She won a gold medal on the balance beam in 2008, and her smile and bombshell body won her a lot of fans at the same time.
Shawn Johnson's success and dedication are incredibly inspiring, marking her as one of the top gymnasts of all time. Beyond her remarkable athletic feats, her vibrant personality and radiant appearance continue to captivate fans, solidifying her place as one of the hottest female gymnasts.
Who's Your Favorite Gymnast?
Whether you prefer floor exercises or the acrobatics of uneven beams, one thing you have to admit is that all the above women deserve a spot on this list of hottest and best gymnasts.
And if you long to achieve a slim and sculpted build like these athletes, then my best advice as a fitness trainer is to start with working out five days a week and focusing on a strict diet and meal plan.
Once you have that locked in, you should be able to speed things up a bit with some of the best natural fat burners for women on the market. These aren't magic snake oil pills that promise to make you slim on the couch.
But by triggering faster metabolic processes, they can help you get slim significantly faster.
---
References:
https://www.npr.org/sections/thetorch/2012/08/07/158364638/aly-raisman-becomes-first-u-s-woman-to-win-olympic-gold-in-floor-exercise
https://olympics.com/en/athletes/alina-kabaeva
Was this article helpful?