Volleyball is a unique sport that requires fast tactical thinking as well as cooperation and teamwork on the highest possible level. It is also one of the most popular team sports among beautiful women, and one of the reasons is the fact that it helps them develop an attractive figure.
The world of volleyball is home to some of the fittest and sexiest women, and after spending a few days in heated debates over who the hottest indoor and beach volleyball players are, we finally decided to have a vote on this matter.
But that vote involved reaching out to our readers and subscribers so that we would end up with an unbiased list of the sexiest female volleyball players.
And here's how the list of the hottest female volleyball players turned out. Take note, these are professionals, not college volleyball athletes.
The Hottest Female Volleyball Players in the World
Here's our final list of the sexiest indoor and beach volleyball players in the world.
12. Larissa França
Larissa França, the Brazilian beach volleyball sensation, is not only known for her extraordinary achievements on the sand but also for her undeniable allure.
 

View this post on Instagram

 

With her powerful physique, captivating presence, and dazzling smile, she's turned heads both on and off the court.
Winning tournaments like the FIVB Beach Volleyball World Championships and earning numerous medals across various games, she has coupled her exceptional talent with a charm that's hard to resist.
Larissa França has been a dominant force in beach volleyball, having won the FIVB World Tour a record 57 times, making her one of the most successful players in the history of the sport.
11. Sanne Keizer
And the final one of our hottest female volleyball players in the world is Sanne from Holland with her northern beauty and green eyes.
 

View this post on Instagram

 
She's an accomplished beach volleyball player with multiple awards at FIVB World Grand Prix events, such as a silver medal. She is known for her aggressive playing style.
Sanne Keizer's dedication to the sport is evident in her comeback after a brief retirement, proving her passion and commitment to beach volleyball.
10. April Ross
I had the privilege of attending an Olympic match featuring April Ross. Beyond her beauty and charm, her ruthless competitive spirit and track record of success were truly awe-inspiring.
 

View this post on Instagram

 
Despite being one of the older members of Team USA at the 2020 Olympics, she still achieved a gold medal in the cis women's volleyball championship. And her Instagram following keeps growing for obvious reasons when you check out her feed.
Apart from her Olympic success, April Ross is also a two-time World Champion, showcasing her consistent performance on the global stage. Even so, there is nothing to complain about, considering she does have all the rights to flaunt as one of the hottest female volleyball players around.
9. Misty May-Treanor
Misty is one of America's most successful and hottest female volleyball players. She started playing indoor volleyball but then switched to beach volleyball at an early stage.
That decision led her to achieve over 100 championship wins as a female volleyball player. She might be retired from her beach volleyball career, but she still has an amazing body.
Misty's legacy in beach volleyball is unparalleled, with her and her partner Kerri Walsh Jennings being the only team to win three consecutive Olympic gold medals.
 

View this post on Instagram

 
8. Talita Antunes
We have another Brazilian professional volleyball player beauty, Talita has stood out in her career from the start.
 

View this post on Instagram

 
She was the 2005 FIVB rookie of the year and has attracted a lot of attention for her ability as a defensive volleyball player and blocker. But it's that curved body that gives her the deserving spot here as one of the hottest female athletes.
7. Gabrielle Reece
So, age seems to have absolutely no restrictive impact on being voted one of the most beautiful women in indoor volleyball.
Gabrielle is now in her 50s and had an amazing career on the indoor volleyball court.
She now works as a sports presenter and still has an amazing body and smile.
 

View this post on Instagram

 
"If you want to stay fit, surround yourself with a couple of chicks who are fired up so that the one day you're not, you can feed off their energy."

- Gabrielle Reece
6. Maria Stenzel
Maria is one of the youngest stars in professional female volleyball. The 23-year-old Poland-born player has had great success with the national team both as a youth and now as an adult.
She is not one of the country's famous tall female volleyball players, but the Poland-born has an athletic body and a captivating smile.
 

View this post on Instagram

 
5. Laura Ludwig
Laura is one of Germany's most accomplished female volleyball players and is known as the blonde beauty.
 

View this post on Instagram

 

She's also a gold medal winner at the 2016 Olympics, and the German player has also started building up a considerable social media following.
4. Winifer Fernandez
There's nothing not to love about Dominican Republic-born Winifer.
This Dominican Republic-born professional volleyball player attracted a lot of attention as an aggressive player at the 2015 FIVB World Tour, but it was a year later that a few training videos and photos went viral. She has built up a lot of social media following since then.
3. Siri Bjorkesett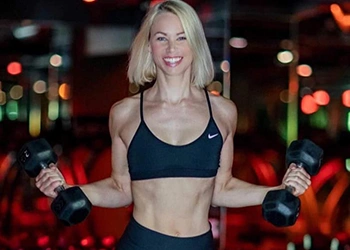 Siri is a famous beach volleyball player from Norway. And despite the country being famous for winter sports, she has found a niche with beach volleyball.
Siri's athletic prowess and striking Scandinavian features make her a standout among the hottest female volleyball players. Her remarkable achievements in beach volleyball, a sport typically overshadowed in her home country by winter sports, further emphasize her impressive talent and determination.
2. Jennifer Kessy
Our second-place player is Jennifer Kessy, who has retired from professional events but still left a huge impression on fans.
 

View this post on Instagram

 
Jennifer Kessy, with her towering height and distinct athletic skill, has carved out a place for herself in the annals of beach volleyball history. Now as a coach, her invaluable experience and knowledge continue to shape future generations of female volleyball players, leaving a lasting legacy in the sport.
1. Samantha Bricio
Samantha, hailed as the hottest female volleyball player by our readers, is not just admired for her radiant smile and impressive height. As the youngest-ever member of the Mexican national team, she has demonstrated remarkable skill and potential.
Her trajectory in the sport suggests she may have a chance at earning consecutive Olympic gold medals, adding to her already impressive list of accolades.
View this post on Instagram

 
Samantha's stellar performance in volleyball and her inspiring ambition makes her one of the leading female athletes today.
Was this article helpful?