Volleyball is a unique sport that requires fast tactical thinking as well as cooperation and teamwork on the highest possible level. It is also one of the most popular team sports among women, and one of the reasons is the fact that it helps them develop an attractive figure.
The world of volleyball is home to some of the fittest and sexiest women, and after spending a few days in heated debates over who the hottest indoor and beach volleyball players are, we finally decided to have a vote on this matter.
But that vote involved reaching out to our readers and subscribers so that we would end up with an unbiased list of the sexiest female volleyball players.
And here's how the list of hot female volleyball players turned out.
The Most Beautiful Female Volleyball Players
Here's our final list of sexiest indoor and beach volleyball players in the world.
11. Sanne Keizer
And the final one of our sexiest female volleyball players in the world is Sanne from Holland with her northern beauty and green eyes.
View this post on Instagram
She's an accomplished beach volleyball player with multiple medals at FIVB World Grand Prix events and is known for an aggressive playing style.
10. April Ross
She's beautiful and sexy and a ruthless competitor with a long track record of Olympic beach volleyball success.
View this post on Instagram
Despite being one of the older members of Team USA at the 2020 Olympics, she still achieved a gold medal in cis women's volleyball championship. And her Instagram following keeps growing for obvious reasons when you check out her feed. Even so, there is nothing to complain about, considering she does have all the rights to flaunt.
9. Misty May-Treanor
Misty is one of America's most successful and hottest female volleyball players. She started playing indoor volleyball but then switched to beach volleyball at an early stage.
That decision led her to achieve over 100 championship wins as a female volleyball player. She might be retired from her beach volleyball career, but she still has an amazing body.
View this post on Instagram
8. Talita Antunes
We have another Brazilian volleyball player beauty, and Talita has stood out in her career from the start.
View this post on Instagram
She was the 2005 FIVB rookie of the year and has attracted a lot of attention for her ability as a defensive player and blocker. But it's that curved body that gives her the deserving spot here as one of the hottest athletes.
7. Gabrielle Reece
So, age seems to have absolutely no restrictive impact on being voted one of the most beautiful women in indoor volleyball [2]. Gabrielle is now in her 50s and had an amazing career on the indoor volleyball court. She now works as a sports presenter and still has an amazing body and smile.
View this post on Instagram
"If you want to stay fit, surround yourself with a couple of chicks who are fired up so that the one day you're not, you can feed off their energy."

- Gabrielle Reece
6. Maria Stenzel
Maria is one of Poland's youngest stars in professional female volleyball. The 23-year-old has had great success with the national team both as a youth and now as an adult.
She is not one of the country's famous tall female volleyball players, but she has an athletic body and a captivating smile.
View this post on Instagram
5. Laura Ludwig
Laura is one of Germany's most accomplished female volleyball players and is known as the blonde beauty.
View this post on Instagram

She's also a gold medal winner at the 2016 Olympics, and the German player has also started building up a considerable social media following.
4. Winifer Fernandez
There's nothing not to love about Winifer from the Dominican Republic.
View this post on Instagram
She attracted a lot of attention as an aggressive player at the 2015 FIVB World Grand Prix, but it was a year later that a few training videos and photos went viral. She has built up a lot of social media following since then.
3. Siri Bjorkesett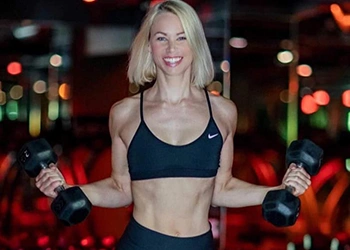 Siri is a famous beach volleyball player from Norway. And despite the country being famous for winter sports, she has found a niche with beach volleyball.
The combination of a tall and athletic body and that typical Nordic blond hair is why so many of our readers pushed her up to the top of this list.
2. Jennifer Kessy
Our second place volleyball player is Jennifer Kessy, who has retired from professional events but still left a huge impression on fans.
View this post on Instagram
She's 6'0" tall, which adds to the appeal of amazingly long legs. She now coaches others, including many up-and-coming star players.
1. Samantha Bricio
Samantha is the hottest female volleyball player, according to our readers.
View this post on Instagram
And a lot of that has to do with an amazing and tall body at 6'2". Samantha was also the youngest ever member of the Mexican national team and still has a long career ahead of her [1]. And she has one of those smiles that makes her stand out from the rest.
Who's Your Favorite Of The Sexy Volleyball Players?
Every single volleyball player on this list deserves the spot. We were surprised to see quite a few retired beauties, but it just goes to show how dedicated investment in physical health pays off long term.
Hopefully, this will inspire some of our readers to take action and achieve the same kind of slim and sexy body. It takes hard work and a strict diet, but with the right dedication, anyone can achieve it.
To naturally speed up the journey towards looking like a pro volleyball player, I often advise my clients to try adding a natural fat burner for women to their diet. These aren't magic pills, but combined with the right diet and workout routine, they can make shedding excess fat significantly easier.
Was this article helpful?