The female chess players we are going to talk about have built their reputation on a successful career and attracted extra attention because of their beauty.
It is exhilarating to watch them play chess championship tournaments, not only because of the decisive game but also because of their looks.
That's why we chose these drop-dead gorgeous female players with high IQs for our list. Let's have a look.
16 Hottest Female Chess Players In The World
16. Andrea Botez
Botez is not only an accomplished chess player but also a figure whose intelligence and poise make her incredibly attractive.
Starting her chess journey at the age of six and competing in USChess tournaments by seven, her achievements in the world of chess are as impressive as her allure.
Her success isn't just a measure of her skill; it's a testament to her captivating allure.
The blend of intelligence, strategic thinking, and a sense of determination lends a sexy sophistication to her persona.
 

View this post on Instagram

 
15. Anna Rudolf
Last but not least on our hot chess players list- lovely Miss Rudolf. She is known for her strategic games, but she was also a chess commentator at big chess championship tournaments.
This female chess player is known not only for her humor but for her world chess title.
She appeared as a commentator in both 2016 and 2018 at the Women's World Chess Championship.
Miss Rudolf still holds these two big titles: International Master and woman Grandmaster.
 

View this post on Instagram

 
14. Eva Moser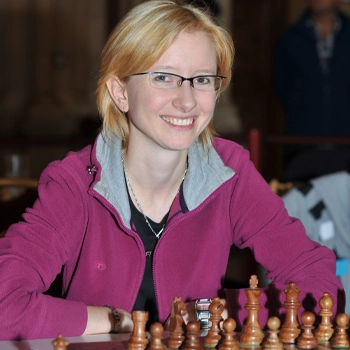 Eva Moser was an extremely famous female chess player who started her career at 10.
She won the awards for Woman Grandmaster and International Master and The Austrian chess Championship, which is considered an enormous success.
Eva has not been with us since 2019, but fans will always respect her for the great success she has achieved, both in her life and career.
She was known for her signature game and many notable wins.
13. Anna Zatonskih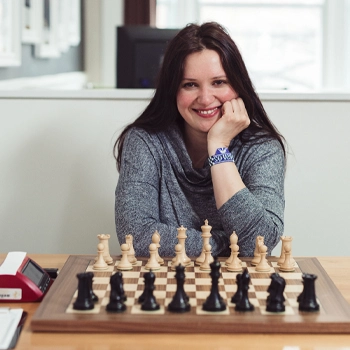 Another hot chess player deserved her spot on this particular list - Anna Zatonskih.
She is a Ukrainian and American player and chess teacher. Zatonski was on the team that won the notable Bronze at the Olympiad held in 2007.
Opponents would describe her as a polite person but a tough competitor.
She holds the Women Grandmaster (International Master) and titles such as chess champion and world champion.
We can say she understands the game very well because she's both a player and a teacher.
Zatonski managed to expand her career alongside being married and raising a child.
12. Anna Ushenina
Anna Ushenina is known for her natural beauty, light hair and complexion, and numerous successes at various chess events.
She was also a women's world champion from Novembar 2012 to September 2013.
Anna won a bronze medal in 2008 in the European Individual Chess Championship [2].
She has participated in numerous chess events throughout her career, such as the Women's Chess Championship. She is considered a good opponent because of her commitment to board games as an International Master.
 

View this post on Instagram

 
11. Antoaneta Stefanova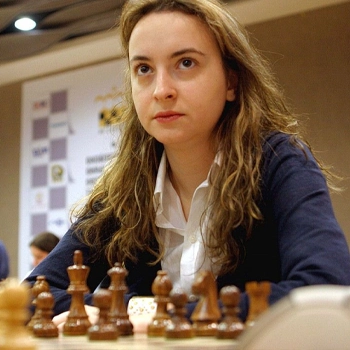 Antoaneta Stefanova is a woman with a famous sharp gaze who exudes self-confidence.
She's a Grandmaster of Bulgaria whose first big win was at the chess olympiad held in Manila in 1992.
She played there at the age of 13.
Only three years later, Stefanova won the Women's Championship for Bulgaria.
In 2000 Antoaneta Stefanova represented Bulgaria at the chess Olympiad.
10. Elizabeth Paltz
Elizabeth Paltz is a lovely female player from Germany.
Elizabeth's father, Thomas, played a significant role in her career. Thomas Pahtz was a Grandmaster of chess.
She played for Germany between 1999-2015. In 2007, she played at the Women's World Chess Championship (Teams) and won bronze.
One of her first notable victories was at the chess olympiad in Germany when she was nine.
Short blond hair and stunning blue eyes make her irresistible in the eyes of men.
9. Tatiana Kosintseva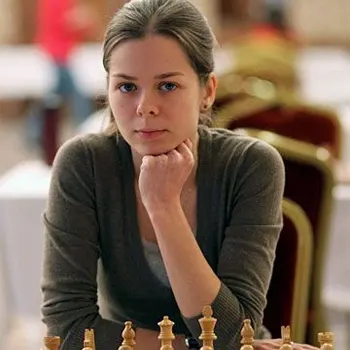 Tatiana is originally from Russia. She manages to shine in her board games with her long, well-groomed hair, incredible figure, and expressive eyes.
FIDE gave her the title of Grandmaster back in 2007.
She made subsequent success at the Women's chess Olympiads, where her team won gold medals in 2010 and 2012.
She started playing chess at the age of six, and her partner was her older sister Nadezhda.
Their mother also impacted them as she took them to the chess club for the first time while they were both still at a very young age.
She also left quite an impression at the Women's European Championships, where she was multiple times European champion.
8. Nazi Paikidze
In addition to her fantastic body and facial features, Nazi also has a pretty robust attitude even outside chess championship competitions.
"I will not wear a hijab and support women's oppression. Even if it means missing one of the most important competitions of my career."

- Nazi Paikidze, Professional Chess Player
This statement explains why she did not go to one of the biggest chess championship tournaments held in Iran back in 2017.
Nazi is a strong woman who always stood up for her gender when she had the opportunity, and she was one of the best players in the world.
 

View this post on Instagram

 
7. Anna Muzychuk
Muzychuk comes from a family of two qualified chess teachers. Anna, with the help of her parents, learned to play chess at the age of two.
At the age of four, she won second place in a competition held for younger girls. In July 2012, she collected a rating of 2606 points which led her to fourth place.
Today, Anna has 2534 points on the FIDE list, putting her in 7th place [1].
She went to her first tournament when she was only five.
She has won a lot of girls' tournaments. Muzychuk is fourth on the list of the best chess players based on their total score.
This blonde has undoubtedly attracted much attention from men with her appearance and gorgeous blonde curly hair.
6. The Polgar Sisters
People all over the world find Polgar sisters attractive. Sister Judith is also considered the best female chess player of all time.
She never became women's champion on The Women's World Championship, but she won the title of Grandmaster at the tournament open to both genders.
They started their career with the help of their father - Laszlo Polgar, who was a psychologist by profession and a chess teacher when they were little girls.
One of Judith's unforgettable victories dates back to her youngest days.
When this International Master was only five years old, she managed to defeat her friend without a single glance at the board in front of her.
5. Dorsa Derakhshani
We all know that girls of Iranian origin are known for their beauty. Dorsa, with her features, makes that statement a fact.
She conquers male gazes with her self-confidence, sharp features, serious facial expression, and incredibly well-groomed hair.
This stunning woman counts numerous victories. She's won the Asian Youth chess Championships and three gold medals in 2013 and 2014.
Dorsa Derakhshani is considered a "sex symbol of chess" because of her killer look and incredible desire to win.
 

View this post on Instagram

 
4. Alexandra Botez
You have certainly had the opportunity to see Alexandra on YouTube, even if you don't watch chess competitions like the Women's Chess Championship.
Alexandra Botez, together with her sister Andrea, runs a YouTube channel dedicated to chess.
She's an American-Canadian female chess player with exceptional chess skills but also a stunning physical appearance, enough to make it high on our hot chess players list.
Botez is also running both Twitch streaming channel and her YouTube channel.
It is enough to see her only once; you would say that she is as stunning as she is bright,.
 

View this post on Instagram

 
3. Anna Sharevich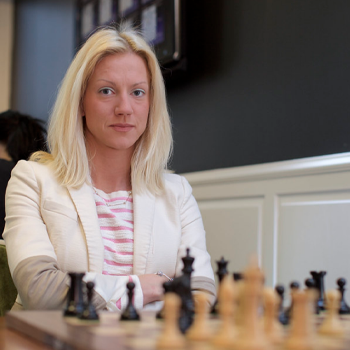 Although Anna hasn't won the Women's Chess Championship since 2011, she has not given up her fight to get the chess title "sport" that many believe she deserves.
Anna Sharevich is an American and Belarusian women's champion and International Master.
She played for the Belarusian team in the Women's Chess Olympics every other year from 2002 to 2012.
She has also devoted herself to many humanitarian activities, such as membership in the Saint Louis Arch Bishops and heading the Ladies Night class for the Saint Louis chess club.
Anna's blonde hair and gorgeous facial features emphasize her natural beauty, hence her inclusion to this hot chess players list.
2. Natalia Pogonina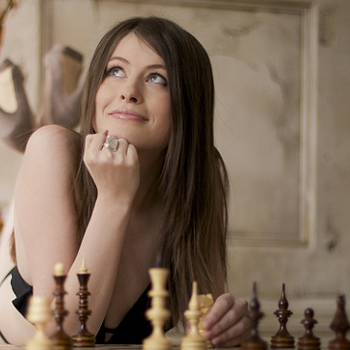 Natalia Pogonina is a chess player from Russia who radiates a scene with her youthful appearance, hence her position as one of the hot chess players around.
She still holds the FIDE of Woman Grandmaster title today.
She was educated at the Saratov State Academy of Law, where she also showed great dedication.
She has an extraordinary chess career.
Natalia is a two-time winner of the female Russian Championship.
1. Regina Pokorna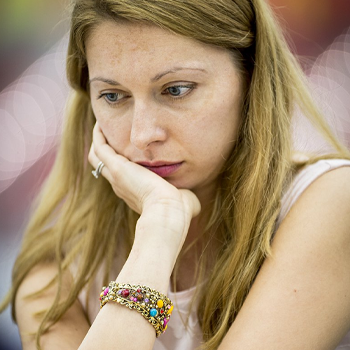 Slovak-Australian chess player Regina Pokorna is known for her excellent rating in the field of chess and her incredible beauty.
At 39, she holds the title of Woman Grandmaster (WGM).
At the Championship in 2009, she was the Slovak chess champion.
When you see her picture, it becomes apparent why she is ranked as number one on our list of hot chess players.
Final Thoughts On The Hottest Chess Players
Chess is a game that requires both strategy and intelligence, and the Women's Chess Championship aims to get the player embodying these virtues.
We tried to further introduce you to the careers of these hot and bright women because we think each of them has an interesting story that led them to start their chess careers.
Although nowadays physical appearance is what we first notice - especially if someone is as alluring as these women, we will agree that their achievements are equally important.
Was this article helpful?