Recently at Total Shape, we started discussing which top professional baseball players used steroids in the past.
The list ended up being quite long, so we decided to narrow it down to the best baseball players who would have easily been inducted into the hall of fame if they hadn't been exposed as PED users.
We've also done thorough research to verify the information and create this list of the most famous names in this sport who used illegal PED.
Let's dive in.
Quick Summary
Jose Canseco, Alex "A-Rod" Rodriguez, and Mark McGwire are some of the most prominent baseball players known to have used steroids.
Jose Canseco admitted to personally injecting several players with illegal performance-enhancing drugs (PEDs).
It can be difficult to state the players on steroids if no testing is carried out.
How Many Major League Baseball Players are on Steroids?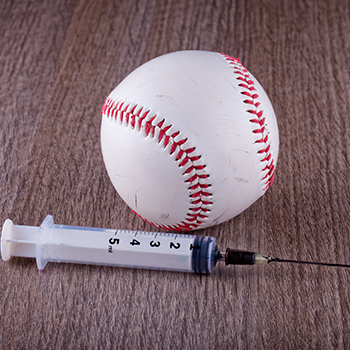 It is difficult to tell the exact number of Major League Baseball players currently on steroids, given that there are certain ways for cheating athletes to avoid detection [1].
The latest MLB drug test that was conducted at the end of the year (2021 World Series) revealed only five steroid users from a total of 8,436 tests [2].
That's less than 0.1%.
This doesn't necessarily mean that fewer players are cheating, as it could also indicate that there are effective ways of avoiding detection.
Past PED Use in MLB
A 2007 report by former Senate Majority leader George Mitchell which saw 89 active and inactive players implicated in steroid use, attempted to show how prevalent steroid use was in MLB in the 90s and 2000s [3].
Besides the confirmed numbers, former major leaguers have also speculated about the number of players on steroids.
Here are some of their estimates:
Jose Canseco, a former MLB player and a notorious PED user in his heyday, sensationally claimed in 2002 that 85% of MLB players are on steroids [4].
Ken Caminiti, another former MLB player who confessed to using anabolic steroids, estimated that half of MLB players were using steroids [5].
Chard Curtis, a former baseball outfielder, estimated 40-50% of baseball players were on the juice.
Although only speculations, these are pretty significant numbers. And if there's truth to these figures, it could mean your childhood baseball hero may have been using steroids.
Let's examine A-list baseball players who might have been steroid users
Check out also our article on how you can spot a steroid user.
Are There Any PED Users in the Baseball Hall of Fame?

No, there are no PED users in the baseball hall of fame, at least not officially.
Nevertheless, some Hall of Famers have been accused of steroid use, and others have admitted to using substances that would later be banned.
For example, Ivan Rodriguez and Jeff Bagwell, who have been inducted into the hall of fame (HOF), were only accused but with no confirmation, while Mike Schmidt admitted to using a questionable substance before it was banned.
Let's discuss these three cases in a bit more detail.
1. Mike Schmidt
Mike Schmidt, a 1995 inductee into the HOF, confessed to using greenies (amphetamines) in his playing days. However, that was happening before they were banned in 2006 [6].
"In my day, amphetamines were widely available in major-league clubhouses."

- Mike Schmidt
Amphetamines are a class of energy-boosting performance-enhancing drugs. In sports, they are mainly used to enhance players' performance and focus [7].
2. Ivan Rodriguez
Ivan Rodriguez is a 13-time all-star who was inducted into the HOF in 2017. This happened despite being accused of steroid use by Jose Canseco, his former teammate [8].
 

View this post on Instagram

 
In his memoir, Canseco claims that he injected Rodriguez and even taught him about steroids while they were playing for the Texas Rangers [9].
Interestingly, when asked if he was in the Mitchell Report of the 104 players who failed PED tests in 2003, Ivan answered: "Only God Knows".
3. Jeff Bagwell
Bagwell was inducted into the HOF the same year as Ivan Rodriguez. He was also suspected of PED use, although no evidence has been tabled to prove the accusation [10].
Bagwell did, however, come out clean later on and admitted to taking androstenedione in 1998.
The drug is an anabolic steroid but was not banned until 2003 [11].
So at least technically, he wasn't doping.
Although it seems that, at least in these few cases, they have room for forgiveness, the Baseball Writers' Association of America (BBWAA), which votes for inductees into the HOF, is infamous for denying multiple MLB star players because of steroid accusations.
Let's look at some of baseball fans' biggest heroes who have been denied entry.
7 Star MLB Players Who Used Steroids

The players listed below are some of the biggest names in baseball history whose careers and legacies have been tainted by steroid scandals.
1. Jose Canseco
Starting us off is a man quoted saying that his entire career history was a steroid experiment.
Canseco started his rookie season with the Rookie of the Year award in 1986 at the beginning of the steroid era. He followed it up with the Most Valuable Player (MVP) award two years later [12].
 

View this post on Instagram

 
In 1988, when he was the American League MVP, Jose hit 40 home runs and 40 stolen bases, becoming the first to do it in a single season.
Canseco also has the record for the longest home run in Toronto's Skydome.
But in the end, it turned out that it was all, at least partially, due to cheating.
His Infamous Books
His 2005 book, "Juiced: Wild Times, Rampant 'Roids, Smash Hits, and How Baseball Got Big'', became the biggest scandal in the major leagues since the segregation era. In his memoir, Jose gave names and asserted that 85% of MLB players were doping [13].
The people he ratted out include Mcgwire, Ivan Rodriguez, Juan Gonzalez, and Jason Giambi.
Two years after his first book, he published another memoir, "Vindicated," where he exposed Alex Rodriguez as a steroid user [14].
2 Alex Rodriguez
Before the steroid scandal, Alex " A-Rod" Rodriguez was considered one of the absolute best. Many had him on the top five, dead or alive, to ever grace the baseball pitch.
 

View this post on Instagram

 
His speed, power, and defensive prowess were unmatched. His accomplishments include a 14-time All-Star, 10-time Silver Slugger, and three-time MVP. He is also the youngest to reach 500 home runs [15].
However, Canseco's writing undertakings watered down Alex's achievements.
According to the claims in "Vindicated," Canseco helped link A-Rod to a steroid supplier known as Max, a claim Rodriguez denied.
But that was until it became public in 2009 that he was among those who failed a PED test in 2003 while he played for Texas Rangers [16].
A-Rod would later come clean and admit to doping between 2001 and 2003. He, however, implied that he stopped once he signed for the New York Yankees; a statement many just don't believe.
3. Mark McGwire
Mark McGwire is considered by many as Jose Canseco's star pupil, having exceeded all his mentor's achievements. The pair would come to be known as "The Bash Brothers."
A year after Jose Canseco won Rookie of the Year, McGwire would accomplish the same feat. This was in 1987 when he shattered Frank Robinson and Wally Berger's rookie home run record that had stood for over 30 years [17].
 

View this post on Instagram

 
McGwire's accomplishments include 12 times All-Star, three-time Silver Slugger, one-time champion, and one-time Gold Glove. He also set the record for most home runs in a season (70) in 1998 [18].
Suspicions of his cheating were only rumors until his Bash brother ratted him in his memoir. Canseco disclosed that he and Mcgwire would inject each other with PEDs in their heydays at Oakland Athletics [19].
Mark McGwire vehemently denied the accusations. It was not until 2010, nine years into his retirement, that he admitted to using PEDs [20].
McGwire retired in 2001 due to vision problems, a problem likely caused by steroids [21].
4. Barry Bonds
Barry Bonds was headed to Baseball immortality before steroids tainted his record. Experts say that with the kind of numbers he was putting up, he was already up there.
 

View this post on Instagram

 
To give you a gist, Barry hit over 30 home runs in 13 consecutive seasons from 1992 to 2004 [22].
Barry Bonds is also a seven-time American League MVP, a 14-time All-Star, eight-time Gold Glove, and 12-time Silver Slugger.
He also holds the record for the most home runs (HR) in a season and in MLB history.
He continued dominating even past his mid-30s when most players naturally diminished.
While his enduring performance was quite suspicious, the Balco Federal Grand Jury confirmed what many feared; he was on steroids [23].
5. Manny Ramirez
Manny's 18-year career is decorated with outstanding achievements as an MLB player.
He helped end the Red Sox's 86-year title drought and was instrumental for the Indians by assisting them in reaching the World Series twice [24].
 

View this post on Instagram

 
He was voted to the All-Star team 12 times, won two Hank Aaron awards, and won nine Silver Slugger awards, besides being a two-time champion. Up to this point, many felt that he was one of the baseball greats [25].
But that came tumbling down when he tested positive for high testosterone levels in 2009. This led to his 50-game ban [26].
He tried to blame it on a doctor's prescription, but as fate would have it, his name popped up among the list of players that had failed drug tests in 2003 [27].
As if that was not enough, he tested positive again in 2011. Facing a 100 games suspension with no more excuses up his sleeve, he was forced into early retirement [28].
6. Sammy Sosa
Sammy was relatively unknown in the early part of his career. This was back in 1989-1992, when he was averaging about nine home runs a season [29].
Then out of the blue, he started putting up 30 HRs in 93. He consequently shot up to among the top-tier players in the league. Something had definitely changed.
"To be clear, I have never taken illegal PEDs. I have never injected myself or had anyone inject me with anything. I have not broken the laws of the United States or the laws of the Dominican Republic. I have been tested as recently as 2004, and I'm clean."

- Sammy Sosa
After denying PED use in the hearing, an article from the New York Times showed that he was among the 104 players that had failed steroid tests in the Mitchell Report [31].
Sammy Sosa was still hoping for an induction into the HOF when he retired in 2009. But thirteen years later, he is still waiting, as his past steroid usage still haunts him.
 

View this post on Instagram

 
Besides becoming the first 30/30 for the Cubs, Sammy Sosa made it to the All-Star team seven times, had six Silver Sluggers, and was a one-time MVP [30].
All these accomplishments went down the drain in the 2005 congressional hearing on PEDs.
7. Rafael Palmeiro
Rafael Palmiero averaged 33 home runs throughout his 20-year career. These were pretty decent numbers but nothing too astounding [32].
 

View this post on Instagram

 
He made it to the All-Star team four times, won Gold Glove three times, and the Silver Slugger two times.
He played the part for a while until the bombshell dropped; Canseco claimed to have personally administered Rafael Palmiero with PEDs [33].
When they called him to testify in the 2005 congressional hearings on PEDs, he blatantly lied, saying he was never a steroid user [34].
A year later, Rafael tested positive for stanozolol and was consequently suspended for ten days [35].
Other Stars rumored to be on steroids:
FAQs
Do Steroids Help Baseball Performance?
Steroids can help baseball performance by enabling players to hit 50% more home runs and boosting their muscle mass by 10%. This is according to Roger Tobin, a physicist from Tufts University in Boston [36].
How Many Yankees Used Steroids?
Exactly 26 Yankees were implicated in using steroids during Baseball's steroid era. This included 14 pitchers and 12 position players. While some Yankee players denied using PEDs, others might have used them before or after playing for the New York Yankees.
Who Was The First Baseball Player On Steroids?
Pud Galvin was the first baseball player on steroids. He was a pitcher for Pittsburgh Alleghenys back in 1889 and is known to have used Brown-Sequard Elixir, testosterone extract from animals.
Safe Alternatives to Steroids
Baseball athletes who use illegal steroids often pay the price for that with their reputation and health.
The risk of a heart attack and kidney and liver failure is just not worth it, especially considering there are far safer alternatives, such as legal steroids.
These are based on natural minerals, vitamins, amino acids, and herbs. We've tested dozens of these products to come up with this list of the most effective natural steroid supplements.
They won't work overnight, but when combined with a proper diet and workout routine, they can make a big difference over the long run.
---
References:
https://pubmed.ncbi.nlm.nih.gov/28130115/

https://www.espn.com/mlb/story/_/id/33238595/major-league-baseball-stops-testing-players-steroids-nearly-20-years-report-says

https://www.baseball-almanac.com/legendary/Mitchell_Report.shtml

https://thegamehaus.com/mlb/steroids-and-how-they-effect-baseball/2022/01/10/

https://quod.lib.umich.edu/j/jsas/6776111.0004.102?view=text;rgn=main

https://www.nytimes.com/2006/02/28/sports/baseball/schmidt-an-open-book-on-greenies.html

https://pubmed.ncbi.nlm.nih.gov/1523237/

https://baseballhall.org/hall-of-famers/rodriguez-ivan

https://bleacherreport.com/articles/1151986-ivan-pudge-rodriguez-retires-ped-rumors-shouldnt-affect-hall-of-fame-status

https://baseballhall.org/hall-of-famers/bagwell-jeff

https://www.usatoday.com/story/sports/mlb/columnist/bob-nightengale/2017/01/18/baseball-hall-of-fame-ivan-rodriguez-jeff-bagwell-tim-raines-steroid-era/96742034/

https://bleacherreport.com/articles/126195-jose-canseco-from-possible-hall-of-famer-to-buffoon

https://www.latimes.com/archives/la-xpm-2002-may-18-sp-bbnotes18-story.html

https://bleacherreport.com/articles/19306-vindicated-brings-canseco-no-vindication

https://edition.cnn.com/2013/08/16/us/alex-rodriguez-fast-facts/index.html

https://www.espn.com/mlb/news/story?id=3894847

https://www.theguardian.com/sport/2017/sep/25/aaron-judge-rookie-home-run-record-yankees

https://www.britannica.com/biography/Mark-McGwire

https://www.espn.com/mlb/news/story?id=4819250

https://www.espn.com/mlb/news/story?id=4816607

https://www.ncbi.nlm.nih.gov/pmc/articles/PMC3195140/

https://bleacherreport.com/articles/668584

https://edition.cnn.com/2013/10/31/us/balco-fast-facts/index.html

https://www.britannica.com/biography/Manny-Ramirez

https://www.mlb.com/player/manny-ramirez-120903

https://www.reuters.com/article/us-baseball-dodgers-ramirez-sb-idUSTRE5465DR20090508

https://www.espn.com/mlb/news/story?id=4366335

https://www.nytimes.com/2011/04/09/sports/baseball/09ramirez.html

https://www.baseball-reference.com/players/s/sosasa01.shtml

https://bleacherreport.com/articles/164257-all-1990s-chicago-cubs-team

http://www.nytimes.com/2009/06/17/sports/baseball/17doping.html?_r=2

https://bleacherreport.com/articles/2569973-why-you-should-appreciate-the-outstanding-baseball-career-of-rafael-palmeiro

https://www.heraldtribune.com/story/news/2005/02/25/palmeiro-threatens-lawsuit/28793073007/

https://www.espn.com/mlb/news/story?id=2219460

https://www.spokesman.com/stories/2005/aug/03/palmeiro-test-showed-stanozolol/

https://www.reuters.com/article/us-baseball-steroids-effects-idUSN1320020520071213
Was this article helpful?