We're usually very skeptical when we see hyped-up home gym equipment. But let's be honest, when you see a fitness machine endorsed by Chuck Norris, then you simply can't ignore it.
The problem we see time and time again is that home gym equipment is often either flimsy or very limited in use.
So we decided to put one of the most recent Total Gym sets to the test to see if we could recommend it to our clients.
As part of this Total Gym XLS review, you'll find out exactly what's included, the benefits and downsides, as well as what kind of exercise it's suitable for.
What Is The Total Gym XLS?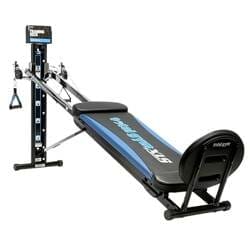 The Total Gym XLS is a home exercise system that combines multiple different machines to allow you to do targeted body weight exercises.
Through an easy adjustment system, you're able to rearrange some of the parts to allow for everything from pilates reformer to high-intensity cardio, and core training.
As far as home gyms go, that's a lot of functionality to be promising in one machine. So we had to look at how this is actually achieved.
Overall, it should allow you to do over 80 exercises that would be suitable for weight loss and building up strength.
What Comes With The Total Gym XLS?
The Total Gym XLS comes with several accessories that allow you to add a few parts and extend beyond the basic exercises.
Here's what's included:
This padded stand attaches to the bottom of the machine and allows you to get your body into quite a low squat position.
Because you'll be at a slight incline with some of your weight on the frame, this could be a good way to reduce the pressure on your lower body joints [1].
"If people are not squatting correctly, they may experience knee pain. Performing this movement incorrectly can put pressure on the knees rather than the thigh muscles and glutes."

- William Morrison, Medical Doctor
This is one of the parts that we thought was quite innovative. Depending on how you attach it to the frame, you'll be able to add either pull-ups or incline ab crunches to your workout routine.
One thing many other home gyms seem to be lacking is a wide enough range of leg workouts. With the leg pull gear, users are able to take advantage of their own weight to strengthen all leg muscles.
This is a great addition and should get you going within about 10 minutes of setting up the machine. There are several different routines with 35 different exercises to provide a range of different fitness training options.
5 - Training Deck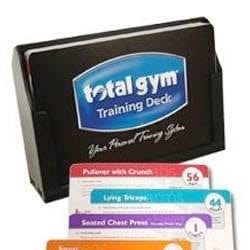 This is even more convenient than the wall chart. Basically, it's 80 different cards with training exercises.
They fit into a cardholder that attaches to the top of the frame so that you can easily read the instructions.
6 - Nutritional Program
The final item on the accessories list is a nutritional program. We always tell our clients that at least 70% of any weight loss goals are diet related [2], so having some sample meal plans is a great way to tackle your fitness goals from home.
Technical Specifications

One of the important things to factor into any home gym is the size and dimensions. You don't want to end up in an argument with your significant other over a bulky machine arriving.
1 - Dimensions
The dimensions of the Total Gym XLS are:
Unfolded (WLH): 19″ x 90″ x 43″
Folded (WLH): 19″ x 51″ x 9″
That's pretty compact and should fit in the corner of a garage and even a wardrobe.
2 - Weight Capacity
This is where many other home workout products fall short for anyone weighing more than 180 lbs. The maximum body weight capacity of the Total Gym XLS is 400 lbs.
3 - Assembly
Unlike other home gyms, this one doesn't require extensive assembly. For people like me, who have practically no DIY skills, that could be a big plus.
Total Gym XLS Benefits
Our team has spent about three months testing Total Gym XLS both at home and in the office.
And we've gone through all possible workouts we could find and come up with.
Here are the main features we liked with this home gym machine.
1 - Easy to Fold Away
Unlike other home equipment, this machine does seem to be quite easy to fold up and store. As mentioned above, the folded dimensions are compact, making it easy to keep your garage tidy after training.
Check out our reviews on best compact home gym equipment here.
2 - Sturdy Construction
Pretty much every home exercise machine we have tested in the past is too light, made with flimsy parts, and just doesn't seem stable enough.
The Total Gym seems quite different, and some users say it's pretty close to a commercial quality product.
3 - No Assembly Required
Yes, you won't have to spend half a day before you find out that you missed a step or don't have the right tools. For me, this is one of the main features I like, as I'm just not into the whole DIY thing.
4 - Allows For A Wide Range Of Exercises
Between the wall chart, training deck, and videos, there are at least 80 unique exercises already included.
Our team here came up with about another 20 ways of using the pulley system. That should be more than enough for most people.
5 - Good Warranty
The frame itself has a lifetime warranty, and there is a 6-month warranty on the parts. And given the quality construction, I'd be surprised if you ended up with a warranty claim.
Does It Have any Downsides?
To be honest, there's only one downside we found with the Total Gym XLS. But it's quite common with this type of home gym devices.
So, always make sure you keep track of the incline settings as well as your weight when journaling your workouts.
Because you're reliant on your own body weight, it's a bit more difficult to keep track of performance over time. Technically, you should be losing weight, which would decrease the resistance.
The simple answer is that the Total Gym XLS is suitable for a ton of unique exercises. The included training plans and videos will cover more than 80 exercises, which is not something you usually get with home fitness machines.
What's great is that it's easy to adjust the incline of the glideboard to help increase or decrease the intensity.
That way, you should be able to start off with light cardio for a warm-up routine.
2 - Core
There are at least ten workouts you could do that engage all of your core.
You could even go for a gradual increase within a set by changing the glideboard settings.
3 - Upper Body
The pulley system is an excellent way to train your arms and chest muscles. At maximum height, you would probably feel quite a lot of strain.
4 - Legs
I saw quite a few people do well with squat variations. The reason is that this normally could cause quite a lot of joint strain, but the board reduces that impact.
5 - Shoulders
The wing attachment should work well for anyone who struggles to do a pull-up. By gliding on the board, you should still get the range of motion with less weight.
FAQs
Does the Total Gym Really Work?
Yes, the Total Gym XLS really does work well as a home gym. With a choice of more than 80 exercises, you should be able to create an excellent fitness workout. And you'll be able to do so from the comfort of your home.
How Many Days a Week Should You Use the Total Gym?
You should use the Total Gym XLS 3 to 4 times a week for better results. Of course, you could do some additional workout routines for light cardio on rest days, which is what many users take advantage of.
Is Total Gym XLS Worth Buying?
Yes, the Total Gym XLS is a good investment if you want to set up a home gym.
It folds away easily and allows you to exercise within just a few minutes of pulling it out of storage.
It has plenty of features to provide a wide range of workouts. You would probably struggle to get bored with it.
Once you have bought the Total Gym XLS, make sure you report back to us with your own results, and if you found some new ways to train on it.
We Recommend
Pros
Easy to fold away
Sturdy construction
No assembly required
Allows for a wide range of exercises
Good Warranty
Was this article helpful?