No wonder Brian Shaw's workout routine and eating regimen are extreme and rigorous when you know that he's won the titles of America's Strongest Man, four-time World's Strongest Man, and Arnold Classic competition.
The advice Shaw gives to inspire young people who look up to him and want to follow in his career footsteps is to work hard, eat big, and keep consistent.
Let's see how he trains and what he eats to become super strong and achieve all those notable results.
Learn more about Brian Shaw workout routine, which incorporates both weight training and strongman training, to maximize strength and performance during each training session. Discover valuable workout tips that can help you enhance your own training regimen.
Quick Summary
Brian Shaw's workout routines range from leg curls, safety bar squats, standing military presses, deadlifts, lat pulldowns, log presses, sled drags, and cable triceps extensions.
Shaw's exercises are designed to work on the legs, shoulders, chest, triceps, and back muscles.
Brian Shaw diet contains organic eggs, beef, broccoli, vegetables, chicken breast, carbs, and fruits.
Shaw takes supplements like pre-workouts, whey protein, weight gainer, and post-workouts to boost results after a workout.
Body Stats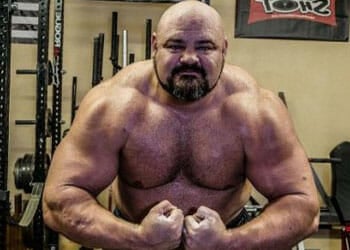 Height: 6ft8in (203cm)
Weight: 419-440lbs (190-200kg)
Neck: 20.9in (53cm)
Biceps: 23in (58.4cm)
Chest: 60in (152.4cm)
Thigh: 32.7in (83cm)
Calf: 21.7in (55 cm)
Competitions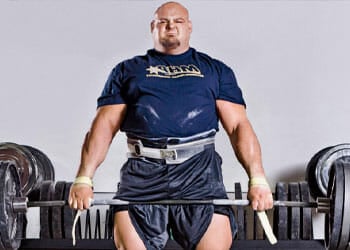 Strongman Deadlift (with straps): 1022.9lbs (464kg) – Arnold Strongman Classic 2016
Hummer Tire Strongman Deadlift (with straps): 1,128lbs (511kg) – Arnold Strongman Classic 2014
Hummer Tire Strongman Deadlift (with straps): 1,122lbs (509kg) – Arnold Strongman Classic 2013
World's Strongest Man: 2008-2015
Personal Records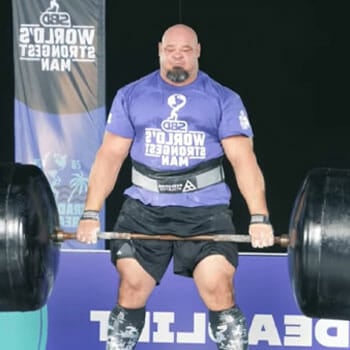 Bench press: 640lbs (290kg)
Deadlift: 1001lbs (454kg) with straps, 925lbs (420kg) without straps
Strongman Deadlift (with straps): 985lbs (448kg)
Hummer Tire Strongman Deadlift (with straps): 1,140lbs (517kg)
Log Lift: 441lbs (200kg)
Squat: 900lbs (410kg)
What Is Brian Shaw's Workout Philosophy?
Brian Shaw, known as the world's strongest man, incorporates weight training into his workout routine to prepare for the World's Strongest Man Championships. One of his key exercises is the incline bench press, which Shaw trains alongside other exercises like the flat bench press to build his incredible strength.
Shaw got hooked on lifting weights while he was a basketball player attending Black Hills State University on a full basketball scholarship.
Currently, Brian Shaw's workout routine consists of 2-hour training sessions four days a week, focusing on different body parts or areas each day.
"All the strongman events are dangerous, so you have to know exactly what you're doing. For example, with the log press, not only do you have to lift it off the floor, you also have to balance the log, which is over two feet in diameter at the ends, on your chest before you press it. It can really put a kink in your neck if you're not careful."

- Brian Shaw, American Professional Strongman
He combines strongman-specific training with a typical workout routine that includes free-weight compound exercises like squats, dumbbell and barbell bench press, deadlifts, barbell rows, dips, and others, targeting particular muscle groups.
He starts each training with a 15-minute stretch and light cardio to warm up and help prevent muscle strain and injury.
Shaw typically rests for three days per week for a full recovery.
 

View this post on Instagram

 
Brian Shaw's Workout Routine Sample
Monday - Legs
Good mornings: 3-5 sets of 8-15 reps
Safety bar squat: 5-8 sets of 2-5 reps
Isolation hammer leg press: 3-5 sets of 8-15 reps
Leg curls: 4-5 sets of 8-15 reps
Leg extension: 4-5 sets of 8-15 reps
Tuesday - Chest, Shoulders, and Triceps
Note: Have a 60/120-second rest between each exercise
Standing military press: 5-8 sets of 8-15 reps
Incline dumbbell press: 3-5 sets of 8-15 reps
Close-grip flat bench press: 4-5 sets of 8-15 reps
Cable triceps extension: 3-5 sets of 8-15 reps
Wednesday - Rest
Thursday - Back
Deadlift: 5-8 sets of 8-15 reps
Lat pulldown: 3-5 sets of 8-15 reps
Seated cable row: 3-5 sets of 8-15 reps
Frame shrugs: 3-5 sets of 8-20 reps
Back pushdowns: 4-5 sets of 8-15 reps
Friday - Rest
Saturday - Strongman Training Program
This event training session may vary depending on the particular events he's preparing for.
Log press: 6 sets of 8-15 reps
Atlas stones lift: 4-5 sets of 8-15 reps
Farmer's walk: 5 sets of 80-feet walk
Sled drag: 4-5 sets of 8-15 reps
Sunday - Rest
His Diet And Nutrition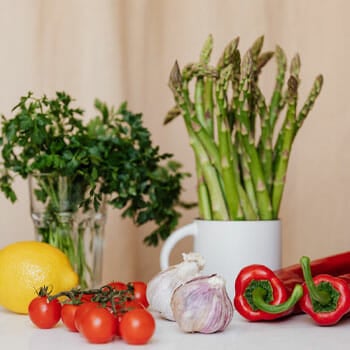 Brian Shaw's diet is specially crafted by his nutritionist and includes around 10,000-12,000 calories consumed throughout several daily meals every two hours.
His plates are loaded with easily digestible protein and carbs from various sources -- not entirely surprising for the world's strongest man.
Shaw cooks most of his meals and eats lots of eggs and organic, grass-fed, ground beef. He also drinks plenty of water.
What Does Brian Shaw Eat?
Organic grass-fed beef

Organic turkey

Organic chicken breast

Organic eggs

Coconut milk

Peanut butter

Simple carbs (pasta, cereal) 

Jasmine rice
Potato

Organic veggies

Organic fruit

Asparagus 

Broccoli 

Blueberries 

Granola bars

Cheesecake
Non-organic, GMO food

Junk food

Artificial additives
Preservatives

Chemical ingredients
Brian Shaw's Sample Diet Plan
Meal 1:

8 whole eggs (scrambled)
Cinnamon Toast Crunch cereals with milk
Peanut butter
Multivitamin

Meal 2:

3-4 scoops of whey protein shake
Peanut butter
2 granola bars

Meal 3:

Bison or turkey burgers (12oz)
2 cups of cooked white Jasmine rice, pasta, or mashed potatoes with 1 tbsp of duck fat
Red sauce

Meal 4:

3-4 scoops of whey protein with 2 cups of unsweetened almond milk
Blueberries
Peanut butter

Meal 5 (pre-workout):

Salmon or lean beef burgers (12oz)
1 cup of cooked white Jasmine rice or 1 bag of sweet potato fries
1 cup of green beans
Red sauce

Meal 6 (post-workout):

Beefsteak (14oz)
Baked potato or rice noodles (4oz)
Asparagus or mixed green salad with balsamic dressing
Red sauce
1 apple or another piece of fruit

Meal 7:

Whey protein shake (around 3oz)
Cheesecake (2-4 pieces)
Multivitamin
And here's an example video showing what this pro strongman ate in a single day while preparing for the world's strongman competition in 2020: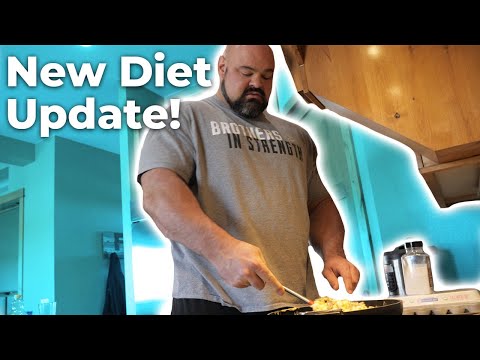 What Supplements Does Brian Take?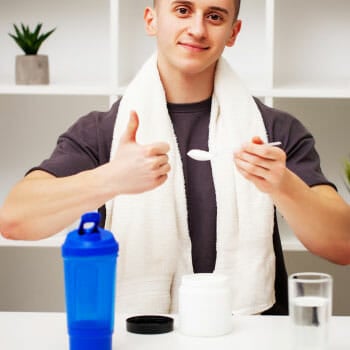 One of the world's strongest man in history [1] uses these supplements:
FAQs
How Often Does Brian Shaw Workout?
Brian Shaw works out four days a week on average.
How Many Hours a Day Does Brian Shaw Workout?
Brian Shaw works out two hours a day.
Does Brian Shaw Use Creatine?
Yes, Brian Shaw uses creatine within his post-workout supplement.
When Did Brian Shaw Start Lifting?
Brian Shaw started lifting weights when he played basketball at Black Hills State University, but he started his strongman career in October 2005 when he won his first strongman competition - the Denver Strongest Man - without prior formal training. [2]
What Protein Does Brian Shaw Use?
Brian Shaw Uses whey isolate protein.
Could You Train and Eat Like Brian Shaw?
Brian Shaw's workout routine includes a variety of exercises such as bench presses, shoulder press, and cable rows to build strength and grip strength. Alongside his workout, he incorporates nutritional supplements and follows a carefully designed diet plan. Throughout his fitness journey, Shaw has worked closely with a strength coach to ensure he maintains the right technique and optimizes rest time during his strongman workout.
Now when you have detailed information on what the world's strongest man typically eats and what his weekly workout routine looks like, do you think you could follow it?
Eating over 10,000 calories in a single day isn't much fun, although it may seem so at first.
Even Shaw himself says that eating is the hardest part of being a professional strongman competitor.
Not to mention the workout routines for strongman athletes like him, which include deadlifting around 1,000lbs.
So, would you dare to try it out?
Don't forget to share your impressions with us.
---
References:
https://www.history.com/shows/the-strongest-man-in-history
Was this article helpful?