No doubt you've heard of that badass lightsaber-wielding Jedi known as Rey Skywalker.
But when it comes to achieving a Jedi-like physique, there's a lot more going on than simply utilizing the force.
For fitness enthusiasts looking to get their body into shape in as short of a time as possible, here's everything you need to know about the Daisy Ridley workout.
Quick Summary
Daisy Ridley's workouts range from lateral raises, push-ups, barbell curls, ab crunches, overhead presses, bicycle crunches, lateral raises, military presses, and squat jumps.
Ridley's training sessions are divided into abs, strength training, plyometrics, and full-body workouts.
Daisy's diet plans comprise vegetables, salads, fish, nuts, fruits, legumes, and spirulina shakes.
Who is Daisy Ridley?
Born in April 1992, Daisy Ridley is an internationally acclaimed English actress.
Her rise to prominence in the movie industry was fueled by her role as Rey in Star Wars.
She has starred in The Force Awakens, The Last Jedi, and The Rise of Skywalker.
Unlike most celebrities, Daisy is probably one of the very few international actresses that does not use social media or post videos.
What is the Daisy Ridley Workout?
To prepare for her role as Rey and pull off those athletic moves, Daisy Ridley had to undergo an intense full body workout routine to get in shape and lose weight physically.
Daisy's training schedule consisted of daily gym sessions for five days each week, with a single session sometimes going for as long as five hours.
While this may seem a bit excessive, the actress claims it is not a hindrance and instead claims "training is sort of a therapy session, I guess."
Now, as crazy as it may sound, research supports Daisy's beliefs! Studies show:
"The link between exercise and mood is pretty strong... usually within five minutes after moderate exercise you get a mood-enhancement effect [1]."

- Michael Otto, Ph.D. Psychology Professor
Unfortunately, Ridley had little time to spare for her training sessions, as she spent most of her time filming on a tight schedule.
In order to make accommodations, this meant occasionally squeezing in those workout routines while filming on set.
Thus, her workout routine focused on full-body workouts and getting the most out of her time.
To burn fat quickly, her exercises consisted of cardio, rock climbing, kickboxing, sprinting, and mountain climbers.
To quickly increase muscle mass, Daisy's gym and weight training workouts consisted of preacher curls, military press, and box jumps.
She is also fond of incorporating her lightsaber into her training, which is where things get interesting.
Her Jedi-Inspired Workout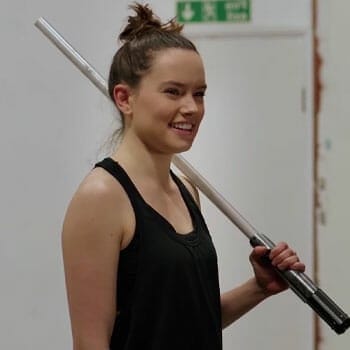 The neon-blue lightsaber was often a staple sight while training for The Last Jedi.
According to Daisy, the lightsabers they use are pretty heavy, with the weight being unevenly distributed.
She even had to take a martial arts class to learn how to wield it properly.
So how does one utilize a lightsaber in their workout routine? By swinging it the way they would on screen!
These exercises involved performing a series of thrusts in one of four directions - left, right, up, and down.
Additionally, there are countless workout video programs that have been inspired by Daisy's workouts, with Daisy posting her workout videos on Instagram before she quit using this social network.
Each of Daisy's workouts always starts with a warm-up session that consists of an 800M jog.
While Daisy herself never performed push-ups due to weak wrist strength, that doesn't mean you can't customize your routine to include them in.
Below is a sample plan for a five-day full-body workout program:
Monday: Full Body Workout and Strength Training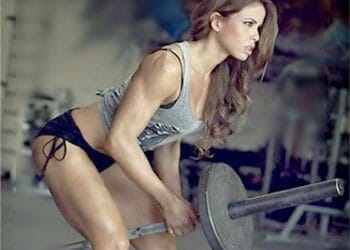 Three sets of each of the following exercises:
3, 5, 8 reps of deadlifts
12 reps of lateral raise
8, 8, 6 reps of T-bar row
10 reps of Barbell curls
10 reps of push-ups
Tuesday: Plyometrics, Speed and Abs
Three sets of each of the following exercises:
10 reps of ab crunch
10 reps of lying floor leg raise
Plank for 20 seconds
Bicycle crunch - 10 reps for each leg
Heel touches – 10 reps for each leg
Wednesday: Strength Training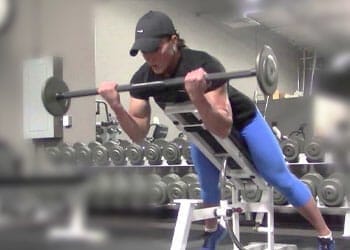 Three sets of each of the following:
8,8,6 reps of overhead press
8,5,3 reps of barbell back squats
8,8,6 reps of the bent-over row
10 reps of spider curls
12 reps of lateral raise
Thursday: Speed and Abs
Three sets and 10 reps of each of the following:
Sit-ups
30-second plank hold
Military press
Preacher curls
Thrusters
Friday: Full Body Workout
Two sets and 10 reps of each of the following exercises
Squat jumps
Band pull apart
Weighted lunges
Chest press with dumbbells or bar
Mountain climbers
Satuday & Sunday
Rest, recovery, fun, and self-care days.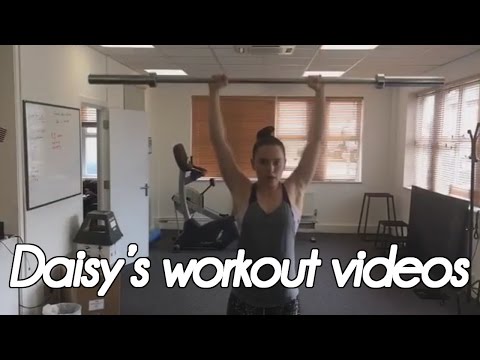 Daisy Ridley's Diet Plan
Due to her intense workout routine, Daisy Ridley required a healthy diet packed with plenty of essential nutrients.
Her diet plans consist of salads, nuts, seeds, fruits, vegetables, avocados, legumes, fish, and tons of spirulina shakes.
Daisy Ridley also has a liking for Asian cuisines, with Japanese food being a favorite.
To make her body transformation a reality and become a completely new person, Daisy Ridley had to be very strict with her diet routine.
Her diet regimen meant avoiding foods with empty calories, red meats, items with high trans-fat or gluten content, and FODMAP foods.
Daisy Ridley is a self-proclaimed 'cheating' vegan who cuts out a lot of things.
This includes many protein sources such as dairy, beef, poultry, and pork.
Daisy Ridley also does not take sugar as it messes up her skin.
As an alternative to sugar, Daisy Ridley enjoys honey alongside her green tea.
FAQs
Is the Daisy Ridley Workout Hard?
The Daisy Ridley workout routine can be challenging, depending on your fitness level.
Beginners can opt to do fewer sets and reps of the same exercise if they find the full workout routine too difficult.
How Often Does Daisy Ridley Workout?
Daisy Ridley works out five days a week, using the weekends to relax, recover, and have fun.
What movies did Daisy Ridley star in?
Daisy Ridley is known for starring in the Star Wars trilogy.
The first of the sequel trilogy is The Force Awakens, which was released in 2015. The second is The Last Jedi which was released in 2017, and the last of them is The Rise of Skywalker, released in 2019.
Daisy Ridley has also appeared in several other works of art, with Ophelia being a romantic drama in which she played the main character.
Will Daisy Be in Any Other Star Wars Sequels?
Daisy Ridley will most likely not be in any other sequels.
In a previous interview, Daisy Ridley admitted to feeling lost and empty when the trilogy ended, and on multiple occasions, has grieved about not being able to play the role of Rey anymore.
This has led many fans to speculate that she may have said goodbye to the Star Wars franchise.
Our Final Thoughts On The Daisy Ridley Workout
Daisy Ridley has inspired millions of people to eat well and exercise, thanks to her role as Rey.
Before she first starred in the first of the Star Wars trilogy, almost no one knew her.
Once her debut in the trilogy took off, her efforts paid off to grant her the recognition and respect she now enjoys.
To fulfill her role as Rey, she had to create her own full-body workout routine, train hard and watch her diet.
Her efforts paid off, with the films garnering much love and popularity and scores of articles written about how Rey was the best character amongst the Star Wars movies.
As a result, Daisy Ridley's masterful performance and dedication will continue to impact women's lives beyond the Hollywood big screen.
If you want to achieve a Jedi-like physique, try the Daisy Ridley workout today!
---
References:
https://www.apa.org/monitor/2011/12/exercise
Was this article helpful?