I first learned about Neila Rey and the hundreds of workouts she came up with a few years ago. And I'm a big fan of the site Darebee she created to share all those exercises for free.
Not surprisingly, that has also caught the attention of our readers.
It's not just Neila Rey's graphic style as a designer that appeals to our readers, as many have asked for a routine of home workouts they can do.
So, if you're trying to build some muscle with home workout routines, then let me show you some of my favorites from her collection.
Quick Summary
Neila Rey created the site Darebee entirely funded by users, to make it easier to share cardio and strength workout plans.
The great thing about these routines is that you have complete control over where you do them and don't need access to a gym.
Going through these workouts will help you burn fat and boost your overall fitness levels a lot.
Neila Rey Workout Routine
Let's take a closer look at what the Neila Ray workouts look like. Darebee offers many different workout plans, and it's very easy to follow.
Gone Rogue
This is one of my favorite workout plans from the Darebee team. It's a full-body workout, and you'll feel plenty of muscles once you're done.
You start with 20 high knees, then do two reverse lunges, then another 20 high knees, followed by two push-ups. Next, it's 20 jumping jacks and two push-ups, and you finish with 20 high knees.
Start off by doing three sets and see if you can build up to seven sets.
Back On Track
Here's another great workout for your legs and arms.
Start with 20 squats, followed by six push-ups and 20 knee-highs.
Then do 20 calf raises and six plank climbers, and finish off with 20 jumping jacks. Do at least three sets and try to keep your rest time to less than 90 seconds.
So Good It Hurts
Yup, this one will hurt a bit once you're done.
Start with ten jump squats, followed by ten push-ups. Then you're going back to leg work with ten jump lunges.
Next up, you'll get on your yoga mat and do ten crunches followed by ten flutter kicks.
It's great for building muscle in your own home as you'll have no excuse for not having the right gym equipment.
Fighting Fit
OK, for this Neila Rey workout, you'll need a heavy bag as you'll be doing some martial arts moves.
Start with setting a 3-minute timer and do some freestyle punching with jabs, hooks, and crosses.
Follow this by doing three minutes of freestyle kicks. Then you'll do another three minutes of a mix of kicks and punches.
And finally, do three minutes of shadow boxing and kicking without a bag.
100 Burpees Challenge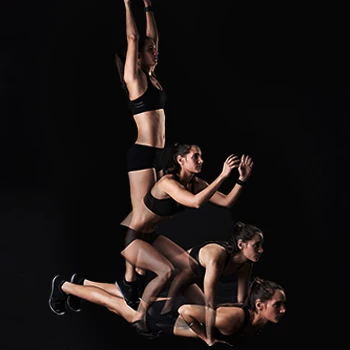 Some people who hate exercise might not want to start with this one as you're going to put your fitness level to the test. Each set consists of 20 basic burpees, and make sure that you do the exercises in good form and not for speed.
Give yourself a few minutes to catch your breath, and then do another four sets. If you can do this a few times a week, you'll get fitter than you've ever been.
Monster Core
And I'll finish off with a great workout exercise for your core. Start with 20 plank crunches to really activate all your core muscles.
Then switch to doing 20 body saw planks to lower your heart rate a bit. Next up, do 20 side bridges followed by 20 hollow holds. And to wrap things up, do 20 back extensions.
Most people will struggle with this training routine, but if you do this 2-3 times a week, you'll build up huge core strength.
What Are Her Training Principles?
Neila Rey created Darebee to create a whole new approach to workout routines.
Darebee offers more than just individual workout plans. The site also has entire programs that are very easy to follow and give you exact details on how to structure your weekly training program.
There are also challenges that you can sign up for. These give you a 30-day calendar that combines workout and nutrition plans.
And then, there are designated sections for running and general fitness. Neila Rey has put these up so that people can easily navigate training plans to achieve very specific goals. It's very convenient, regardless of your prior experience in training and workouts.
 

View this post on Instagram

 
Neila's goal is to create many different routines that will reduce the chances of people quitting before they achieve their weight and fitness goals [1].
"I already know what giving up feels like. I want to see what happens when I don't"

- Neila Rey
Neila Rey's Diet Plan
Neila Rey has put together some great resources to help you come up with better and healthier meal plans [2].
And don't worry, these aren't crazy diets where you need to eat extremely low-calorie food.
Here's a sample for a day. 
Breakfast: Bowl of oatmeal with berries and a green smoothie
Snack: Cheese stick with a cup of grapes
Lunch: Baked salmon with veggies and sweet potato
Snack: Greek yogurt with berries and honey
Dinner: Chicken breast with green beans and brown rice
Are You Ready To Start A Neila Rey Workout Routine?
Neila Rey has created an incredibly easy way to do many different workouts in your home without the need for extensive equipment.
You can start each of the workouts at a slower pace with fewer sets to start making an impact on your fitness. And then simply ramp up the sets to become increasingly fitter.
I would also recommend that you start taking some pre-workout supplements for women on your workout days. These won't turn you into The Hulk, but they can make enough of a difference so that you can push yourself further and make more rapid progress towards your fitness goals.
---
References:
https://www.lifehack.org/649556/90-of-people-quit-after-3-months-of-hitting-the-gym-heres-how-to-be-the-exception

https://darebee.com/mealplans.html
Was this article helpful?