No matter whether you love or hate Rob Gronkowski, he obviously has a workout routine that makes him one of the biggest and strongest NFL players.
And as a personal fitness and strength coach, I'm always interested to find out how professional athletes like Rob achieve this from a workout, diet, and mental perspective.
So, our team got together and spent a few days going through his social media profiles and interviews to see what it would take to achieve Rob Gronkowski's physical fitness level.
Here's what we found.
Quick Summary
Rob Gronkowski's workouts include barbell squats, leg curls, bench presses, hammer curls, cable crossovers, deadlifts, reverse cable rows, dips, burpees, and split curls.
Plant-based protein shakes, and fat burners are the supplements Rob Gronkowski takes.
Rob Gronkowski takes the following meals; chicken, vegetables, eggs, oatmeal, unsalted nuts, sweet potatoes, and almond butter.
Rob Gronkowski Stats
Born: May 14, 1989
Height: 6'6"
Weight: 270 pounds
As a player in the critical Tight End position, Rob has become one of the key players for Tom Brady to rely on. And considering his massive physical build, you can see how he has become such an unstoppable force.
Rob Gronkowski Workout Routine
Rob works out five days a week, even in the off-season, and that's just the part that involves weight training. One unique thing Rob does is an abs exercise in between workout sets rather than dedicate a few training days to abs.
Here's what each day involves.
Monday Routine: Legs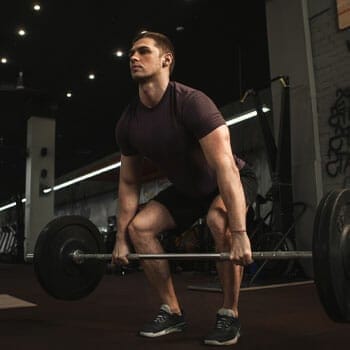 His Monday workout focuses on the legs, which are critical for pro football players to give them explosive speed.
Barbell squats (3 sets of 8 reps)
Dumbbell lunges (3 sets of 8 reps)
Calf raises (3 sets of 8 reps)
Deadlifts (3 sets of 8 reps)
Leg curls (3 sets of 8 reps)
Leg extension (3 sets of 8 reps)
Tuesday Routine: Arms And Chest
Tuesday is dedicated to a chest and arms exercise routine, and you're likely to end up with jelly arms.
Bench press (4 sets of 8 reps)
Dips (3 sets of 8 reps)
Hammer curls (3 sets of 8 reps)
Overhead triceps extensions (4 sets of 8 reps)
Preacher EZ bar curls (3 sets of 8 reps)
Cable crossovers (3 sets of 8 reps)
Wednesday Routine: Back And Shoulders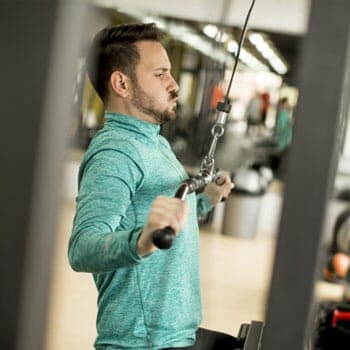 Today is all about achieving all the physical goals for the upper body to gain full strength potential.
Lat pulldowns (4 sets of 8 reps)
One-arm dumbbell rows (4 sets of 8 reps)
Reverse Cable rows (4 sets of 8 reps)
Weighted wide grip pull-ups (4 sets of 15 reps)
Front Raises (3 sets of 8 reps)
Deadlifts (3 sets of 8 reps)
Thursday Routine: Arms & Core
Today it's time to return to those arms and build more explosive strength for tackling and defensive pushing.
Close-grip incline bench press (3 sets of 8 reps)
Arnold press (3 sets of 8 reps)
Barbell curls (3 sets of 8 reps)
Rope triceps pushdown (3 sets of 8 reps)
Dips (3 sets of 8 reps)
Burpees (3 sets to failure)
Leg raises (3 sets to failure)
Farmers walk (3 sets to failure)
Friday Routine: Legs
It's back to working those legs until they feel like jelly.
Split squats (3 sets of 8 reps)
Dumbbell lunges (3 sets of 8 reps)
Calf raises (3 sets of 8 reps)
Leg press (3 sets of 8 reps)
Leg curls (3 sets of 8 reps)
Weekend Routine:
During the season, Rob would still focus on training with some body weight exercises. He also says that weekend cross-training helps with weight management.
At the very least, you should aim for active rest days and not sit on the couch all day long [1].
Related Articles:
Rob Gronkowski Workout Principles
Rob Gronkowski talks a lot about his training approach in interviews. He follows the approach of high-intensity aerobic exercises and weight training taught at his family's Gronk Fitness Programming session [2].
It's like a traditional workout but in about half the time, meaning that the aim is to keep the heart pumping and reduce the amount of downtime in between sets.
He also takes an approach of all-out intensity exercises and stability workouts, which improves Rob's agility for game time.
So, if you're planning to try the above routines, then set your time for sets and don't sit around, letting your heart rate drop before you get onto the next workout.
Rob Gronkowski's Diet Plan
Rob isn't a dedicated vegetarian or vegan, but he does prefer plant-based food most of the time.
Breakfast: 4 to 6 egg omelet; or a large bowl of oatmeal with chia seeds and unsalted nuts
Snack: Large plant protein shake with almond butter
Lunch: A large portion of fish or chicken; quinoa or sweet potatoes; a large bowl of salad with blue cheese dressing
Snack: Protein bars
Dinner: a large portion of chicken; a large portion of steamed vegetables
"I like to go with mostly plant-based diet. I'd say about 75% and then the other 25%, just keeping it clean but eating whatever. Always making sure I get my fruits and veggies in every day."

- Rob Gronkowski
Rob Gronkowski Supplements
Rob generally likes to take the natural diet approach, but sticking with this exercise and diet approach would require two types of supplements.
Plant-Based Protein Shake
Most types of plant proteins don't have the full amino acid profile, and that's why it's important to choose one with a blend of different plant sources like pea and rice protein [3]. And there are plenty of products that cover the full amino acid range.
Fat Burner
Supporting this much muscle building will require eating more calories [4]. And even a small surplus could lead to more fat storage. But with the help of thermogenic fat burners, you could gain more control over your BMI [5].
Are You Ready To Try Rob Gronkowski's Training Routine?
This is not one of those workout routines that you can take light-heartedly. You don't have to stick to the exact routine, but if you keep up with the pace and fix your diet, then you'll start seeing results within weeks.
It's a routine modeled on actual sports programs for professional athletes, but there's no reason anyone with access to a fully equipped weight room can't achieve the same.
And if you need some help choosing supplements to support this effort, check out our plant protein and fat burner recommendations.
Was this article helpful?