When it comes to getting fit and staying fit at any age, Tamra Judge can definitely teach everyone a thing or two.
Over the years, the former "RHOC" star has generously shared tons of fitness and diet advice to her fans on Instagram.
Luckily, I've been following her on the platform for quite some time now. And I've got all the deets on the lifestyle that got her that jaw-dropping bod.
Here's everything you need to know about Judge's workout routine and diet plan.
Quick Summary
Tamra Judge's diet plan consists of protein-rich foods, vegetables, nuts, fruits, olive oils, complex carbs, and good fat.
Judge's workouts are normally high-intensity interval training, weight training, and cardio workouts.
Flaxseeds, calcium, vitamin D, ginseng, and black cohosh are examples of supplements Tamra regularly consumes.
Tamra avoids processed foods, bad fat, sugar, bread, alcohol, and sodas.
Career Highlights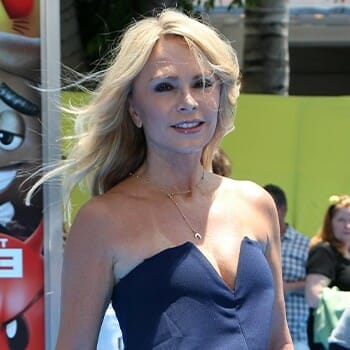 Tamra Judge worked as a realtor before landing a spot on the "Real Housewives of Orange County," joining the show on its third season in 2007 and leaving it after 12 seasons.
In 2013, she created a spin-off reality show called "Tamra's OC Wedding," which documented her marriage to her third and current husband, fitness trainer Eddie Judge.
Proving to everyone that it's never too late to reach new milestones, Judge became a competitive bodybuilder in 2016 and won her first Musclemania competition at 48.
Judge is now 53 years old and is a mother to four children. Although she doesn't look like it, the TV personality has been a grandma since 2015.
She puts in tons of hard work to maintain her incredible physique and beauty. Naturally, many women couldn't help but wonder how she does it.
Let's start with her exercise routine.
View this post on Instagram
Tamra Judge Workout Routine
In one of her previous Instagram stories, Judge revealed to her fans that she is 5 feet, 3 inches tall. Her weight fluctuates between 114 and 120 pounds.
Judge's workout routine starts as early as 4:30 in the morning. She begins with a low-intensity sustained-state cardio workout like walking and follows that with a weight lifting session.
This "Real Housewife" follows the classic training schedule of doing splits, which means that she focuses on two body parts per day, which could be shoulders, legs, triceps, or biceps.
She alternates between lifting weights and cardio and does abdominal work every single day.
Judge also does high-intensity interval training, which boosts her metabolism, speeds up her weight loss, and helps her burn fats fast.
Here's a summary of her exercise routine.
Weight training: 4 times a week (don't be afraid of lifting heavy weights to get those sculpted biceps)
Cardio: 3 times a week (do both low- and high-intensity for best results)
HIIT: 2 times a week
Core/Abdominals: Daily
Her Workout Principles and Ideas
Judge rarely misses a day of working out, even when she's filming "Real Housewives." Talk about dedication.
Her favorite place to work on her body is, of course, at C.U.T. Fitness, the gym she co-owns with Eddie.
Judge also works with a trainer to intensify her routine and know which body parts she should focus on.
The star also tells women not to be afraid of weightlifting. When done right, she says that it can actually help them shed a few extra pounds and achieve a toned figure without looking overly muscular.
Just take it from someone who won a bodybuilding competition. She said:
"I have the muscle in there, you just have to lean out and get your body weight so low to show the muscle."
In fact, here's her advice for menopausal women wanting to get fit:
"Girls, eat your protein all day long, and lift heavy weights!"
When she started going through menopause, she didn't like the changes she saw in her body. So, she started taking her fitness more seriously and got into bodybuilding.
As part of her training for the Musclemania competition, Judge had to drop her body fat percentage from 28% to 14%. And she achieved that goal by committing to her daily workouts and eating right.
Here are the details of Judge's diet plan.
Tamra Judge Diet Plan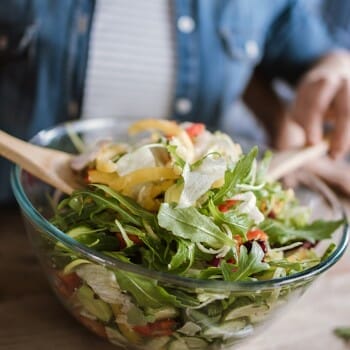 Tamra Judge's diet plan consists mainly of protein-rich food, including ground turkey, chicken, egg whites, and seafood.
She also eats lots of veggies (usually steamed or raw), good fats, and complex carbs.
Eating nuts, olives, avocados, and olive oil will give you good fat. As for complex carbs, excellent sources include fruits, vegetables, and beans.
The fitness buff also avoids processed foods, sugar, bread, bad fats, alcohol, and sodas.
Although she's not carb-averse, Judge sticks to sources that contain fiber, like berries and brown rice. She also prefers to have them early in the day, so she has time to burn them off.
Judge only drinks water at home and strives to drink at least a gallon of it a day to stay hydrated.
She eats her first meal at 6 a.m. and will often have oatmeal with blueberries, four egg whites, a side of veggies, and coffee for breakfast.
She also makes sure to have protein, healthy fats, and veggies at every meal. For lunch, she likes to have fruit and whole grains.
Judge will often have nuts as a snack and choose something healthy like a salted caramel protein bite to satisfy her craving for sweets.
When she was training for her bodybuilding competition, eating became the most important part of her preparation.
Judge needed to fuel her muscles for her intense regimen, so she had to eat a lot of protein and eat her meals every couple of hours.
Her Diet Principles
Judge says that anyone can easily stick to a clean diet if they remain consistent and don't starve themselves.
Staying committed to her healthy eating habits also became the secret to her success. She said:
"My whole body composition has changed. I truly believe that working out, eating well and taking your supplements is really the key to staying young."
Other celebrities' workouts and diets:
Supplements
To help grow and repair her muscles, Judge takes a supplement that contains BCAAs.
And if you're a middle-aged woman like her, here are other products you can take that your bodies will thank you for [1].
Black cohosh and DHEA: Helps minimize symptoms of menopause
Flaxseed oil: Helps tame night sweats
Calcium and Vitamin D: Promotes strong bones and proper muscle function. (See best vitamin D brands.)
Ginseng: Boosts your mood and energy
Final Thoughts on Tamra Judge's Workout Routine
Judge looks phenomenal even in her early 50s, all thanks to the hard work she puts in every single day to improve herself.
This fitness icon has managed to make incredible changes in her body by doing it the old-fashioned way. As she said so herself: "Eat clean & train mean."
But what I love most about her is the courage she has to try new things—a quality that makes her all the more inspirational.
Tamra Judge has shared many useful tips on getting and staying fit over the years. Which of them resonated with you the most? Leave a comment below.
---
Reference:
https://www.webmd.com/menopause/ss/slideshow-menopause
Was this article helpful?