I recently found out that 1UP Nutrition offers a protein supplement, and the online reviews I researched were mixed.
While many say it lives up to its promise, some critics say it doesn't taste great and hasn't delivered the expected results.
As usual, I wanted to give you an objective and unbiased 1UP Nutrition review. To do this, I spent several weeks researching all the ingredients and their supposed effects while consulting with my dietitian.
Here's my analysis.
What Is 1UP Nutrition?
1UP Nutrition is a powdered whey protein supplement that provides the extra nutrients you need if you work out regularly.
1UP Nutrition sets itself apart by having a huge variety of flavors and containing both whey isolate and whey concentrate instead of one or the other.
It also uses sucralose as a sweetener instead of stevia, which some people report as having a bitter aftertaste.
How Does 1UP Nutrition Work?
1UP Nutrition works by providing you with the nutrients you need if you're getting in shape or bulking.
These nutrients include proteins and other essential compounds that your body needs to build muscle.
1UP Nutrition's protein supplement can also help you lose weight.
The high protein content will keep you feeling fuller longer, and the taste will satisfy cravings, helping you stay away from empty calories.
1UP Nutrition Ingredients

One of the things I liked about 1UP Nutrition is that all its ingredients serve a purpose. Everything you'll find on their ingredients list is either for nutrition or flavor – no fillers or cost-saving extras.
Here are the five most important ingredients in 1UP Nutrition's whey protein supplement.
Whey Protein Concentrate
1UP Nutrition's main ingredient is whey concentrate. Whey-based supplements have been proven to help build lean muscle and improve strength [1].
Whey is a natural protein source because it is derived from milk. It is also fast-digesting, making it effective as a pre-workout protein boost [2].
Companies use different sources when making protein supplements, including casein and soy, but whey is the best option.
Research shows that whey-based proteins increase muscle protein synthesis more than casein or soy-based proteins [3].
"Whey protein has a very high nutritional value, and it is one of the best dietary sources of high-quality protein."

– Atli Arnarson, BSc, PhD
Hydrolyzed Whey Protein Isolate
Whey protein isolate is a more refined version of whey concentrate. It contains fewer essential minerals but also has more protein by percentage [4].
The inclusion of whey isolate allows 1UP Nutrition's supplement to provide more protein per scoop.
Scientific research also shows that hydrolyzed proteins are better at augmenting fat loss than regular proteins [5].
Sucralose
The sweetener used in 1UP Nutrition's supplements is sucralose. Sucralose is an all-natural, zero-calorie sweetener derived from natural sugar [6].
The use of sucralose in protein powders is supported by science. One study showed that people who ate sucralose tended to have lower body weight than those who consumed other zero-calorie sweeteners [7].
Sucralose may be able to fulfill your cravings for sweets and sugars without the added calories of the real thing.
Amino Acids
Whey concentrate, and therefore 1UP Nutrition's protein supplement, contains all nine essential amino acids [8].
These are crucial to many bodily functions, including muscle building and repair [9].
Amino acid supplementation has been shown to help athletes recover more quickly, build tissue at a faster rate, and have more endurance [10].
1UP Nutrition also contains all three branched-chain amino acids (BCAAs). BCAAs have many proven fitness benefits, including decreasing muscle soreness, reducing exercise fatigue, and preventing muscle wasting [11,12,13].
"Supplementing with BCAAs may decrease muscle soreness by reducing damage in exercised muscles."

– Gavin Van De Walle, Master of Science, R.D.
Lecithin
Another great ingredient of 1UP Nutrition is non-GMO sunflower lecithin. Lecithin is known to have many health benefits, including the ability to lower cholesterol [14].
In addition, it is used to treat stomach issues and may aid in the digestion of other components in protein supplements [15].
Some users of whey proteins report dealing with stomach problems afterward, but it's possible that the use of Lecithin could mitigate this.
5 Benefits of 1UP Nutrition

1UP Nutrition's supplement is advertised as a significant source of protein that can quiet cravings and encourage muscle growth and endurance. Here's how these claims stack up.
1. Significant Source of Protein
Research suggests that people who frequently participate in physical activity should consume about 1.5 grams of protein per kilogram of body weight and more if they're high endurance athletes [16].
This recommendation means that an average-sized man who works out a few times a week should consume 135 grams of protein daily.
That's more than you might think – one egg has six grams of protein, so getting your recommended protein would require you to eat more than 22 eggs daily [17].
One serving of 1UP Nutrition contains half of your daily recommended protein, which makes a significant dent in your everyday needs.
2. Satisfies Diet Cravings
There are many delicious kinds of 1UP Nutrition. Some of their sweeter flavors may help you satiate your appetite while dealing with weight loss cravings.
Many supplement companies make protein powders, but none taste or satisfy cravings for my clients the way 1UP Nutrition does.
3. Decreases Workout Recovery Time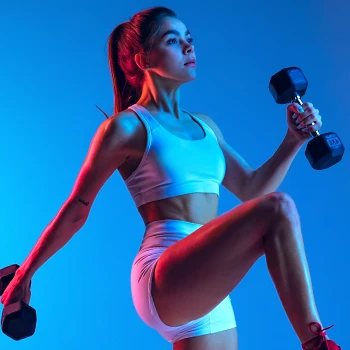 The BCAAs in 1UP Nutrition can help decrease your recovery time between workouts and reduce pain during recovery time [18].
This pain reduction keeps many of my clients wanting to return to the gym. They're geared up and ready to exercise because they're not as focused on the soreness and aches of the previous workout.
4. Encourages Lean Muscle Growth
High-protein and low-sugar diets are essential for building lean muscle. 1UP Nutrition fits the bill on both.
1UP Nutrition only uses sucralose, not sugar, which keeps it low calorie. It's also very protein dense, especially because it contains whey isolate.
Despite these claims, my clients have not noticed much difference after using this protein supplement. If you want to see these gains, it's best to stick with a traditional fat burner or a different company's protein powder.
5. Greater Strength and Endurance
Using 1UP Nutrition as a pre-workout supplement consistently will produce excellent results. Amino acids in this product can help increase endurance, strength, and muscle building.
After using it for a few workouts, you might just find that you have the energy to keep going and work harder than before.
Pros
Contains high-quality ingredients
It is a whey-based protein
Tastes better than other protein supplements
It has many different flavors
Cons
It could include more whey isolate
Side Effects of 1UP Nutrition
Any whey-based protein powder can have a few side effects. For the most part, because 1UP Nutrition is milk-derived, it may cause mild stomach issues like nausea or stomach cramps for people that are dairy sensitive.
Some people have also reported migraines or headaches from using zero-calorie sweeteners like those in 1UP Nutrition.
While not everyone experiences these side effects, they can be very disruptive if you do have them.
The risk of migraines is a big reason I don't recommend this supplement to some of my clients.
How to Use 1UP Nutrition Protein Supplement?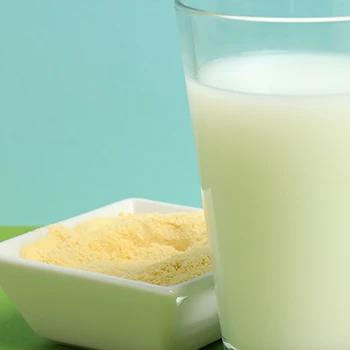 To use 1UP Nutrition Protein Supplement, mix one scoop of powder with 8 ounces of water or milk.
You can also use the 1UP Nutrition protein supplement as a meal replacement or nutrition supplement by blending it into a drink or adding it to your meals.
One of the most popular ways to use 1UP Nutrition protein is by adding it to a post-workout shake.
You can also use protein supplements with fat burners to burn more calories.
Who Should Use 1UP Nutrition?
Anyone working on weight loss or struggling with a high appetite should use 1UP Nutrition.
It also may be beneficial to those that want to build muscle mass, as it's a super lean source of protein with added nutrition.
Those looking for a pre-workout supplement will find that it gives them the energy they need to get started.
Who Should Not Use 1UP Nutrition?
Anyone with severe lactose or milk allergies should not use 1UP Nutrition. Whey is derived from dairy.
While it does not contain enough lactose to upset most lactose-intolerant people, anyone with a severe allergy will be better off avoiding 1UP Nutrition.
Where to Buy 1UP Nutrition?
You can buy 1UP Nutrition at multiple locations, including Amazon and their official website.
They sell all kinds of different flavors, including (in my opinion) their two best: chocolate peanut butter blast and coconut ice cream.
Shipping and Delivery
Orders are typically processed within 24 hours. Once your order has been processed, it usually arrives in 3 to 5 business days.
Though, in my experience, my orders would arrive on the low end of that range.
Money-Back Guarantee
1UP Nutrition has a complete money-back guarantee, which should indicate that they believe in their product.
They do use the highest quality ingredients and have perfected delicious flavors that won't disappoint you.
1UP Nutrition Customer Reviews
"Best tasting protein I have yet to find. I've tried a couple, and they're all amazing"

– Mayeli R. on 1UP Nutrition's website
"This tasted chemically, had a terrible after taste."

– Marisa V. on 1UP Nutrition's website
"This stuff tastes so good."

- Danielle C. on 1UP Nutrition's website
"1UP Nutrition has the WORST customer service I've ever seen… These are by far the most expensive protein bars in the market and not worth it. Especially if the company cannot do the right thing and have some basic customer service decency"

– Chrissy on reviewopedia.com
Alternatives to 1UP Nutrition

Many companies offer products similar to 1UP Nutrition's protein supplements. Here is how three of 1UP Nutrition's top alternatives stack up.
Onnit Whey Protein
Onnit uses more whey protein isolate than concentrate, which means that it has higher overall protein content than many competitors.
Onnit whey protein supplement also uses only grass-fed cows as their source of whey, which is a claim that 1UP Nutrition can't make. It utilizes Organic stevia extract as a sweetener, which has a slightly lower carbohydrate content than sucralose.
With that in mind, Onnit is slightly more expensive than other protein supplements, but it's worth it for the increase in quality and protein content.
Ritual Essential Protein
Ritual Essential Proteins are plant-based rather than milk-based. Ritual derives its protein from peas, which don't contain as many BCAAs as whey-based proteins. Pea proteins also have more fat and carbohydrates than whey.
Regarding alternatives to 1UP Nutrition, I would stick to whey proteins over plant-based brands unless you're going vegan. Whey has far more nutrients than other ingredients.
Transparent Labs Whey Protein Isolate
Transparent Labs protein powder contains more isolate than concentrate, which means it has more protein per scoop.
While Transparent Labs has a slightly higher price than 1UP Nutrition, I fully believe it's worth the cost.
The extra dosage in Transparent Labs is essential in a protein powder.
In addition, they have a good spread of flavors, including chocolate peanut butter, and all of their powders blend well and don't leave lumps.
Transparent Labs uses some of the highest-quality ingredients on the market, and everyone I know that has used this protein has noticed the difference.
FAQs
Is 1UP Nutrition FDA Approved?
No, 1UP Nutrition is not FDA-approved. The FDA does not approve supplements, but 1UP Nutrition is made in the United States in an NPA-certified and FDA-inspected facility.
Is 1UP Nutrition Third-Party Tested?
Yes, all ingredients in 1UP Nutrition are third-party tested.
Who Is The Owner Of 1UP Nutrition?
The owners of 1UP Nutrition are Vadim Mordovin and John Hilton. Mordovin and Hilton founded 1UP Nutrition and have co-owned it ever since.
The Verdict on 1UP Nutrition Protein Powder
1UP Nutrition protein is high in essential amino acids, which is great, but my clients have not been able to nail down the gains they are looking for with this supplement.
It also doesn't have as much protein as other supplements on the market, and the fact is, there are better options.
Out of all the protein powders that my clients and I have tried, Transparent Labs Whey Protein Isolate definitely takes the top spot.
It's densely packed with protein, keeps your cravings at bay, and blends remarkably well into smoothies or shakes.
If you're interested in giving it a shot yourself, make sure to keep us updated about the results.
Our #1 Recommendation
Transparent Labs Whey Protein Isolate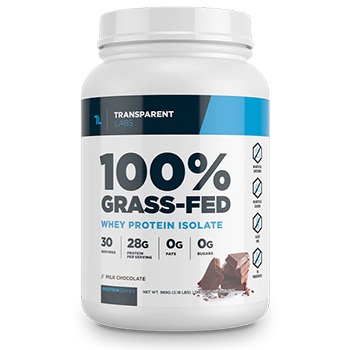 Click For Best Price

Pros
Grass-fed protein source for highest quality protein powder
28 grams of protein per serving is ideal for bodybuilders
Great flavors, especially chocolate peanut butter
Bulk orders make it a very reasonable product
Get the BEST PRICE until the end of March
Cons
Free shipping only available over $150
Was this article helpful?