Most patients think that stomach upset from a protein shake is a normal occurrence, but it usually happens due to artificial additives and food intolerances.
Throughout my years as a physician, I've recommended protein powders to many of my patients.
With additional precautions for consumption and protein selection, we avoided causing discomfort even to those with food intolerance.
In this article, you will learn why certain protein powders cause an upset stomach and how to avoid it while reaping its full benefits.
Quick Summary
Protein powders may cause stomach upset due to unnecessary fillers like artificial sweeteners, sugar alcohols, and thickeners.
These additives in protein powders can lead to digestive issues like stomach ache, indigestion, and bloating.
A significant portion of the global population, about 68%, has a reduced ability to digest lactose, affecting their reaction to certain protein powders​​.
In my opinion, It's important to choose protein powders carefully, considering individual dietary tolerances and avoiding those with unnecessary additives to minimize stomach issues.
What Is In Common Protein Powders That Causes Stomach Cramps?

In my professional experience, many standard protein powders I've recommended to my patients contained fillers like thickeners, sugar alcohols, and artificial sweeteners, which my body struggled to digest.
This often led to uncomfortable stomach aches, indigestion, and bloating. It's crucial to read the labels carefully to avoid these additives.
Common artificial sweeteners include:
Sorbitol
Xylitol
Maltitol
Furthermore, proteins are derived from various sources, which may be the reason for digestive distress. Here are the sources of some well-known protein powders:
Whey Protein Isolate
Quality and affordable whey protein, which comes from cow's milk, is the most common type of protein found in dietary supplements.
Milk contains the highest lactose content of all dairy products; people who have lactose intolerance or milk allergy due to enzyme lactase deficiency are likely to experience an upset stomach when consuming dairy-based whey protein shakes [1].
Research conducted by the National Institute of Diabetes and Digestive and Kidney Diseases suggests that 68 percent of the human population has a reduced ability to digest lactose, and Southeast Asians have a startling 90 percent rate of having lactase deficiency [2].
When lactose is not fully digested, it travels to the intestines to be fermented. The process of fermentation may result in a stomach ache.
Fortunately, whey protein powders can be made from either whey isolate or whey concentrate. Most people prefer whey isolate because it contains less lactose than whey concentrate, containing 3.5 times more lactose.
Hydrolyzed Collagen Protein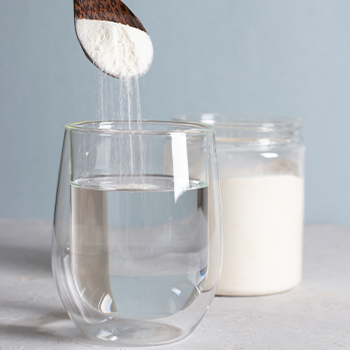 The collagen in dietary supplements is derived from animal tissues such as skin, hides, cattle and pig bones, and fish scales.
Though collagen is beneficial to your gut health, you may experience diarrhea, bloating, and fullness as your body attempts to break down its high levels of the amino acids glycine, glutamine, and proline.
Fortunately, most collagen supplements are hydrolyzed, which means that the amino acid chains have been subdivided into smaller units, making them more convenient for the body to digest and absorb [3].
Plant-Based Protein
Protein-rich powders made from soy, pea, rice, and hemp naturally contain soluble and insoluble fibers.
However, soluble fibers such as xanthan gum, cellulose gum, and guar gum used as fillers can cause an upset stomach because the bacteria ferment them in the colon [4].
Inulin, another soluble fiber found in plants, can dissolve quickly in your gut. However, it forms a gelatinous substance that slows digestion and causes an upset stomach [5].
Furthermore, insoluble fibers like plant cellulose may cause diarrhea due to their laxative effects, especially when you have a sensitive stomach.
Are There Other Side Effects To Taking Protein Supplements?

For most people, taking protein supplements can cause other digestive issues and discomfort. However, these side effects may vary from one person to another.
From my personal journey, I've found that whey protein caused stomach cramps, bloating, and gas, as I later discovered I had a mild lactose intolerance.
This often left me feeling unexpectedly exhausted and irritable, with frequent headaches and nausea. Switching to a lactose-free option made a significant difference for me.
Research from Live Strong shows that a small percentage of people allergic to whey have also reported having a stuffy nose, congestion, and mucus build-up due to an inflammatory immune response [6].
It is critical to seek medical supervision to address your symptoms because taking proteins for an extended period may also increase the risk of developing kidney problems.
"Overconsumption of protein can damage your kidneys over time since they have to work extra hard to metabolize the protein."

- Nikola Djordjevic, Doctor of Medicine, Surgeon, Medical Writer
Also, improper protein shake consumption for weight loss may increase the risk of nutritional deficiencies and caloric deficits.
Related: Does Pre-Workout Cause Bloating?
What Causes These Side Effects?

The improper use of high-quality, digestible proteins could be the source of digestive problems.
Here are some instances of missteps you might be making:
Benefits Of Taking Protein Shake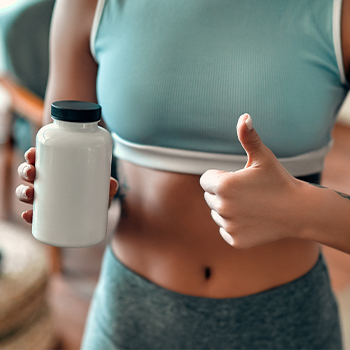 Experts recommend that you drink a protein shake after your workout to replenish your protein stores.
Proteins comprise amino acids, which are the building block of your muscles and organs. It gives your body plenty of nutrients to build from while living an active lifestyle [7].
They are essential in building muscle because your body needs enough proteins to maintain, repair, and grow muscle tissues [8].
Having enough proteins after the workout helps you recover from microtrauma or small-scale damage to the muscle fibers during exercise.
Taking proteins regularly also helps you lose weight by reducing your hunger hormone levels and curbing your appetite. Eating whole food with the right amount of proteins may help you eat less while feeling more satisfied.
How To Choose The Best Protein Powder Supplement

You should not experience protein powder side effects if you have the right protein shake and drink it correctly. Rather than bloating after a workout, you should be able to recover from muscle soreness and feel better quickly.
When choosing a post-workout protein supplement, keep the following factors in mind:
Digestibility: Speaking from experience, digestibility is key when choosing a protein supplement. Digestive enzymes help break down nutrients for better absorption.
Bioavailability: Opt for highly absorbable supplements. Hydrolyzed forms or those packed with quality digestive enzymes are great, especially if you're enzyme-deficient. This boosts protein absorption.
Protein Type: Your diet and lifestyle dictate your protein needs. Feather Stone Nutrition suggests hydrolyzed collagen for endurance athletes for faster connective tissue rebuilding [9]. Whey is great for quick muscle recovery unless you're lactose intolerant - then, try a non-dairy option. A plant-based protein powder like hemp protein may be the answer if you're looking for a gut-friendly option. It is easy to digest, dairy-free, allergen-free, and gluten-free, and highly absorbable.
Added Ingredients: Read all of the ingredients in your protein supplement to avoid sugar alcohols, sweeteners like xylitol, and unnecessary fillers. A good protein shake should include all of the essential amino acids.
---
References:
https://www.webmd.com/diet/
https://www.niddk.nih.gov/health-information/digestive-diseases/lactose-intolerance/
https://www.medicinenet.com/
https://www.drinkwholesome.com/the-best-protein-powder-for-sensitive-stomachs/
https://www.healthline.com/health/food-nutrition/
https://www.livestrong.com/article/
https://medlineplus.gov/ency/article/
https://www.uofmhealth.org/health-library/abs1199
https://www.featherstonenutrition.com/how-endurance-athletes-can-use-collagen-effectively/
Was this article helpful?