Toddlers at the age of 2 years old are at a crucial stage of growth in their lives. At this stage in development, their bodies are already starting to determine what systems should be prioritized.
That's why you'll want to ensure they get all the key nutrients early.
If you want to give your toddler a head start to grow big and strong, here's our research-based list of the eight best organic vitamins for two-year-olds containing both vitamins and minerals.
Editor's Choice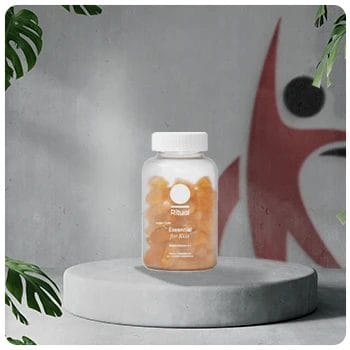 Ritual
Click For Best Price
#2nd Best Choice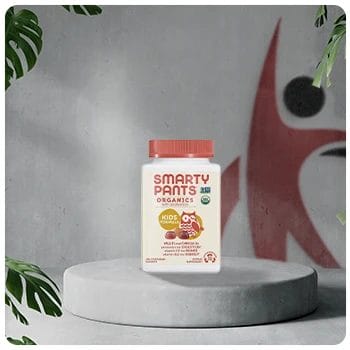 Smarty Pants
Check Current Price
#3rd Best Choice
Zarbee's Naturals
Check Current Price
8 Best Vitamins For 2-Year-Olds (May 2023)
1 - Ritual Essential Multivitamin for Kids (Editor's Choice)
If you're looking for a complete multivitamin that covers all your bases, Ritual is by far the best vitamin and mineral supplement for your growing toddler.
Containing 12 traceable ingredients and no sugar, Ritual provides your toddler with all the essential vitamins they'll need to grow strong and healthy.
It's also flavored with natural sweeteners like monk fruit, lemon oil, and raspberry extract, making it a great part of any balanced child's diet that tastes great, too.
Additionally, consumers can utilize the company's Ritual app to monitor daily vitamin or mineral supplement intake. It's an especially important feature for parents who want to ensure everything in order.
This prevents your toddler from accidentally consuming more vitamins than necessary and serves as a handy reminder for days when you might forget to give them a multivitamin. As a result, they will be able to make the most out of their multivitamins and grow healthier.
Pros
Vegan-friendly
Made with natural-based ingredients
Free shipping and easy cancellation on orders
3-in-1 formula combining omega 3 DHA, fiber, and multivitamins
Cons
Product shipping limited only to the U.S.
Vitamins: A, B, C, D, E, K
International buyers should look towards other choices, as the company only ships to residents in the U.S.
2 - Smarty Pants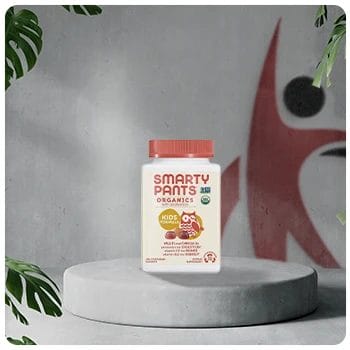 Created by nutritional scientists, each serving of Smarty Pants packs just the right combination of key nutrients and vitamins to ensure your toddler's body gets exactly what it needs.
Smarty Pants is gluten-free, gelatin-free, and contains no synthetic ingredients, making it a top contender for the best multivitamins for kids as it won't trigger any food allergies.
These gummy vitamins for kids are also chewable and easily digested, preventing choking hazards and making them great for toddlers with sensitive tummies. At the same time, the key nutrients contained within will help fill nutritional gaps.
The product also contains additional probiotics that further aid with digestion and omega 3s, which are crucial to overall health and found in only a few select foods.
If your toddler is a picky eater and won't tolerate omega-3-rich foods like fish, this probiotic supplement can bypass those dietary restrictions while still providing them with what they need.
Pros
Non-GMO and allergen free
Gummy vitamins are easy to swallow and digest
Third-party lab tested
Vitamins: A, B, C, D, E, K
The product can be rather sticky, making it a nuisance if it gets stuck in kid's teeth.
3 - Zarbee's Naturals
Zarbee's Naturals is one of the best multivitamins for healthy children ages 2-3 and is an especially great choice for toddlers needing a Vitamin B complex.
Made without harmful additives or triggering allergens, Zarbee's Naturals stands out as one of the best liquid multivitamin options.
As a complete multivitamin, Zarbee's Naturals contains 12 essential vitamins and minerals like Vitamin D3, C, and their Vitamin B complex, ensuring your toddler gets everything they need to grow up healthy.
The product is also free of animal gelatin, making it one of the best multivitamins to choose from for vegans or vegetarians.
Additionally, Zarbee's Naturals is flavored with honey without artificial sweeteners, which is especially important for minimizing harmful sweeteners.
Pros
Free of nuts, wheat, shellfish, and dairy
No high fructose corn syrup
Fruit pectin makes it easy to chew
Vitamins: A, B, C, D, E
Despite being honey-flavored, the product contains a small amount of sugar.
4 - Renzo's Iron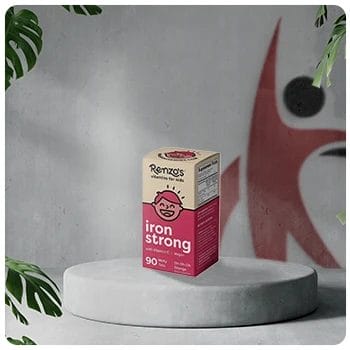 Unlike the majority of vitamins on this list, Renzo's Iron only contains two ingredients: Iron and Vitamin C, which are perfect for toddlers who only have these mineral deficiencies.
With no artificial sweeteners or flavors, Renzo's Iron is one of the best multivitamins to maintain healthy skin.
The product is also 3rd party tested in their FDA-registered lab, which ensures the integrity and safety of the vitamin, especially when it comes to your toddler's health.
Additionally, Renzo's Iron contains a special type of iron that makes it gentle on a toddler's tummy while being easily absorbed compared to other vitamin brands.
With no added sugars, being non-GMO, and a perfect addition to any vegan diet, Renzo's Iron contains two of the most essential nutrients a toddler needs to aid them with their healthy growth spurts.
Pros
Money-back guarantee for picky eaters
No artificial flavors or sweeteners
Non-GMO
Cons
A high amount of iron can be potentially dangerous
Vitamins: C, Iron
If your toddler accidentally takes more than the recommended dosage, contact a poison control center immediately.
5 - Trace Minerals
A formulated supplement that helps individuals become healthier, Trace Minerals contains all the essential nutrients needed to fight off a cold and flu season.
These natural vitamins contain all the minerals commonly found in fortified foods - all packed into one convenient wafer-shaped supplement, making it one of the best vitamins for kids and their immune systems.
As a complete multi-mineral and multivitamin supplement, Trace Minerals is a great choice for picky eaters or those on a restrictive diet.
If your toddler is missing out on certain vitamins in their diet, these chewable vitamins can ensure your kids get adequate nutrition regardless of what they eat.
Pros
Made from natural-based ingredients
Friendly for vegetarian or vegan diet
Includes both micro and macro minerals
Cons
Product may have issues regarding shipping and packaging integrity
Vitamins: A, B, C, D, E, K
In terms of product integrity, some customers may find themselves missing a bottle or receiving damaged packaging.
6 - Llama Naturals Plant-Based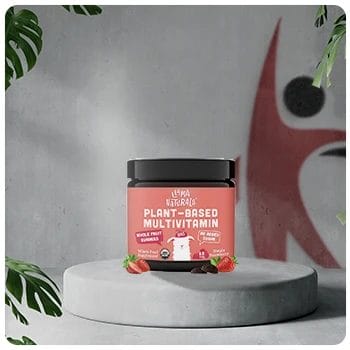 With no added sugar and sourced from naturally grown US fruits and vegetables, it's no wonder why Llama Naturals Plant-Based gummies won the 2019 best multivitamin award.
These organic plant-based gummies are free of animal byproducts, making them a great part of any vegan or vegetarian diet.
The company also offers a money-back guarantee to ensure customer satisfaction.
For individuals that are environmentally conscious or wary about product packaging, the product also comes in a plastic-free container, with the company partnering with other organizations to remove plastics from the environment.
Pros
No animal products
Free of common allergens like wheat, nuts, and dairy
Made in the USA and sourced from local ingredients
Cons
Must be taken alongside a meal
Vitamins: A, B, C, D, E, K
Just be sure to take these vitamins with a serving of food to avoid stomach irritation.
7 - Olly Kids Multi
Olly Kids Multi are playful nutrient-packed gummies that contain a full blend of day-to-day vitamins and minerals such as Vitamin C and Vitamin D to promote overall wellness and help children grow and thrive.
Olly Kids Multi is especially tailored towards picky eaters, as the company's culinary and food science experts are constantly innovating their products' taste to provide a kids vitamin that your toddler will love.
Pros
Gummy vitamins are tasty and easy to chew
Fast shipping within 2-3 business days
A high amount of probiotics for healthy gut bacteria
Cons
It can take time to separate gummies from each other
Vitamins: A, B, C, D, E, Zinc
8 - Lil' Critters
Proclaimed America's #1 Gummy Vitamin Brand, Lil' Critters are an assortment of Jurassic dinosaurs perfect for fussy toddlers who like to play with their food.
With no high-fructose corn syrup, synthetic dyes, as well as being gluten-free, Lil' Critters are naturally flavored and a great addition to a healthy diet.
The liquid vitamin also comes in strawberry, orange, and pineapple flavors, famous for their award-winning taste - ensuring your toddler will eat their vitamins with minimal hassle.
Additionally, as they are liquid vitamins, the minerals inside each gummy are absorbed by the body right after being ingested compared to fat-soluble vitamins.
Pros
No high-fructose corn syrup
Award-winning fruit flavors and taste
Dairy and gluten-free
Cons
Ineffective for iron-deficient individuals as it does not contain iron
Vitamins: A, B, C, D, E
If you need a multivitamin that contains iron, it's best to look for other choices.
What Are Essential Vitamins For 2-Year-Olds?
The essential vitamins for two-year-olds are vitamins B, D, and E. They also need fiber, iron, and calcium.
B Vitamins
B vitamins are essential for maintaining overall health and wellness. There are eight types of Vitamin B, which include:
B-1 (thiamine)
B-2 (riboflavin)
B-3 (niacin)
B-5 (pantothenic acid)
B-6 (pyridoxine)
B-7 (biotin)
B-9 (folic acid)
B-12 (cobalamin)
Vitamin D
Vitamin D regulates the absorption of minerals like phosphorus and calcium to promote bone health and prevents diseases as an individual grows older.
The easiest way to get a healthy dose of this vitamin is to ensure your toddler gets enough sunlight per day.
In situations where the weather is cloudy, a Vitamin D supplement can also do the trick.
Vitamin E
Vitamin E is a nutrient that plays an important role in the body's immune system, vision, and the creation of healthy red blood cells. It also contains antioxidant properties, which combat free radicals and prevent cell damage.
Natural foods that are rich in Vitamin E include seeds, peppers, spinach, and peanut butter.
Fiber
While fiber isn't considered part of a group of essential nutrients, it's still an important nutrient for developing a healthy digestive system. Many foods rich in fiber also contain other vitamins and minerals, such as Vitamin E, iron, magnesium, and potassium.
If you can't get fiber from your multivitamins, it can also be found in a number of natural food sources such as beans, leafy greens, fruits, and oatmeal.
Iron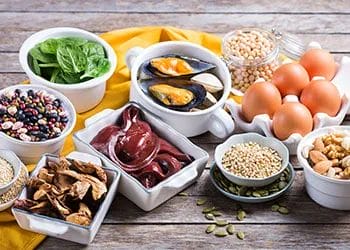 Iron is a vital mineral found in abundance in our blood cells, and it promotes circulation, immune function, sleep, and muscle endurance. Iron-rich foods include nuts, seafood, lean meats, and fish.
Additionally, iron plays a critical role in promoting brain development - especially in young, underdeveloped brains such as toddlers' [2].
Common symptoms of an iron deficiency include weakness, cold hands and feet, poor appetite, and dizziness.
To prevent these problems, make sure the dietary supplements your kids take contain the right dose of iron they need.
Calcium
As an essential mineral for building healthy bones and teeth, calcium is essential for developing a strong skeletal system. This is especially important at a young age, as we naturally undergo bone density loss as we age.
To prevent your child from encountering bone problems later on in life, make sure to provide them with at least 700 mg of calcium between children ages of 1 to 3.
What Ingredients To Avoid
Ingredients to avoid in a multivitamin for two-year-olds are preservatives, gluten, artificial ingredients, and dairy.
Preservatives
Preservatives are a big ingredient to look out for when it comes to organic vitamins. Besides wreaking havoc on a child's growing system, they can also inhibit the absorption of minerals and key nutrients, leading to health consequences later on.
In most cases, vitamin and mineral supplements have a long shelf life by themselves and do not need to contain any additional preservatives.
Gluten
Gluten is another key ingredient that's quickly becoming a protein to avoid. To avoid side effects such as bloating and stomach pain, ensure the mineral supplements you choose are gluten-free.
Artificial Ingredients
Anything that's 'artificial' should be frowned upon, especially when it's being fed to your still-growing toddler.
Vitamins that contain artificial flavors, artificial sweeteners, and artificial colors should be avoided as these chemicals can have adverse impacts on the health of young children whose body systems may not have the resources necessary to fight them off.
Read More: How Are Multivitamins Made? (Everything You Should Know)
Dairy
With more and more individuals succumbing to food allergies every single day, dairy is an ever-popular ingredient that takes the last spot on this list.
As dairy is mainly consumed for calcium, it's an unnecessary ingredient to be included in multivitamin supplements.
Choosing a dairy-free organic multivitamin allows your toddler to still get the calcium they need without the risk associated with any dairy allergies like hives or lactose intolerance.
Related Articles:
FAQs
Do Kids Have Different Nutrient Needs than Adults?
Kids have different nutrient needs than adults in the sense that they need more of the essential vitamins and minerals. The most important ones include calcium and vitamins A, B, and D, which are crucial for bone and brain development.
Can Adults Take Children's Vitamins?
Adults can take children's vitamins, but the number of vitamins and minerals in the product may not be enough to satisfy the needs of a fully grown adult.
In situations where an adult only requires a small amount of extra vitamins and minerals as part of a balanced diet, taking children's vitamins can be a good choice.
Do Kids Need Multivitamin Supplements?
Kids need multivitamin supplements if they are picky eaters with mineral and nutrient deficiencies. But if your child eats a well-balanced diet, they don't need vitamin supplements.
Our #1 Choice of Vitamins For 2-Year-Olds
If you're looking for dietary supplements that are safe and provide all the essential vitamins and minerals your toddler needs, I'd recommend Ritual.
As a mineral supplement with no artificial colors or flavors, it's a top choice amongst the best multivitamins for kids, according to plenty of happy customers' reviews and comments.
Ritual is also made with all-natural vegan-friendly ingredients, making it a suitable option alongside a vegan's diet or lifestyle.
Our #1 Recommendation
Ritual Essential Multivitamin for Kids
Click For Best Price
Pros
Vegan-friendly
Made with natural-based ingredients
Free shipping and easy cancellation on orders
3-in-1 formula combining omega 3 DHA, fiber, and multivitamins
Get the BEST PRICE until the end of May
Cons
Product shipping limited only to the U.S.
Was this article helpful?