As a vegan personal trainer, I spend a lot of time researching plant-based sports supplements. Some of my bodybuilding clients often ask me for recommendations on vegan mass gainers.
The problem with most mass gainers is that they contain amino acids from dairy and other animal products.
So, I teamed up with a few clients and my dietitian to research the best vegan mass gainer supplements and test them over six weeks.
We allocated three clients per supplement and measured the muscle gains. And our dietitian provided careful analysis on the scientific and medical research into the ingredients.
Editor's Choice
Vegan Naked Mass
Check Current Price
#2nd Best Choice
Iron Vegan
Check Current Price
#3rd Best Choice
Gorilla Gulps
Check Current Price
Our Top Product Recommendations (September 2023)
1 - Vegan Naked Mass (Editor's Choice)
The product that all of our test group clients liked the most is this vegan mass gainer from Naked Nutrition.
It's one of the leading brands in the vegan supplement space, and they have sourced great quality ingredients.
It delivers all essential amino acids by combining pea and brown rice protein powder to help with muscle recovery as well [1].
And with a good dose of complex carbs to avoid blood sugar spikes, this product seems to deliver a sustained energy boost [2].
Quick Facts:
Calories : 1230 per serving
Protein : 50g per serving
Carbs : 248g per serving
Fat : 4g per serving
Pros
Provides enough calories to add an extra main meal to your daily calorie intake
Seems to make it a lot easier to gain weight without an additional large meal
Low-fat option to avoid negative impacts on cholesterol
Available in tasty flavors as well as an unflavored option
Cons
You'll need to use a blender to mix it into a smooth shake
2 - Iron Vegan Athlete's Gainer Vanilla
This vegan mass gainer has become popular with some of the professional athletes I train because the company tests the product for banned substances, and that can provide some extra confidence when it comes to random drug testing.
It's not the highest for calorie boosting, but we found the higher amount of carbs than protein sets it up for easier digestion [3].
"Carbohydrates, as the body's primary source of energy, generally pass through the digestive tract more rapidly than either protein or fats."

- Sharon Perkins, Writer at healthyeating.sfgate.com
Quick Facts:
Calories : 720 per serving
Protein : 42g per serving
Carbs : 120g per serving
Fat : 8g per serving
Pros
Based on brown rice and premium pea protein powder to provide essential amino acids
Independently tested for banned substances to provide peace of mind
Available in tasty flavors that mix quite easily
Cons
Contains a higher dose of iron that may cause an upset stomach for some people
3 - Gorilla Gulps Vegan Mass Gainer
Next on our list of best vegan mass gainers comes a product from Gorilla Gulps. It's a great name with an even better formula.
While a single serving might not be enough for bodybuilders to achieve maximum weight gain, it seems to also provide a well-balanced carb, fat, and protein ratio.
Just keep in mind that this weight gainer will deliver more calories from sugar, which might not suit all diets.
Calories : 530 per serving
Protein : 42g per serving
Carbs : 65g per serving
Fat : 13g per serving
Pros
Contains no artificial ingredients for flavor or sweetening purposes
Contains 13 grams of predominantly healthy fats
Good source of vitamin B12 for added energy
Cons
This mass gainer contains quite a bit of sugar
4 - Vegun Nutrition VEGANMASS
This is another vegan weight gainer that our team liked as a way to get a smaller boost in calories.
Unlike other weight gainers, this one delivers only 280 calories, which also makes it a good option for a breakfast replacement shake.
There's also a good dose of BCAAs to help with muscle growth and recovery periods [4].
Our testing results showed a positive effect on muscle soreness after training when we took this mass gainer about an hour before training.
Quick Facts:
Calories : 280 per serving
Protein : 30g per serving
Carbs : 30g per serving
Fat : 5g per serving
Pros
Lactose, soy, and gluten-free mass gainer to avoid stomach upset
Great for topping up meals with a 1-to-1 protein and carb ratio
Provides almost 5g of BCAAs for faster muscle recovery
Cons
Contains added iron so avoid taking too many scoops
5 - GNC Earth Genius PurEdge Plant-Based Gainer
The final product on our list of best vegan mass gainers comes from GNC, and it's a great choice for athletes to get a boost of several important minerals like magnesium and zinc, which can also help with exercise performance and recovery times [5].
As a weight gainer, it also allows you to take a moderate approach to adding more calories, and with the right exercise routine, the test group that took this product was able to boost muscle mass without gaining too much body fat.
Quick Facts:
Calories : 280 per serving
Protein : 25g per serving
Carbs : 35g per serving
Fat : 5.5g per serving
Pros
The lower calorie count provides more flexibility for athletes
Comes with added magnesium for muscle growth and recovery
It has a tasty vanilla flavor with a nice texture out of a blender
Cons
Each tub only has 14 servings with no bulk order tubs available
Buyer's Guide

Now let's turn to a guide I put together for everyone who is considering taking a mass gainer should keep in mind.
Check The Protein Content
The first thing you need to look at is the protein type and dosage. If you want to gain muscle mass, you'll need to boost your protein intake. Studies suggest that you should take in at least 0.5 grams per pound of body weight [6].
I generally recommend at least 25 grams for each serving.
The other thing that's important is that you need a mix of pea protein and organic brown rice protein to get all the essential amino acids [7].
Amino acids are the building blocks of muscles, and getting the right boost will go a long way towards gaining weight in the form of muscle tissue.
Check The Carbohydrate Content
A typical weight gainer will have quite a large dose of carbs as these are easy to digest and turn into blood sugar [8]. But when excess energy comes from simple instead of complex carbs, then you could end up with fat gain instead of muscle mass.
Ideally, you want a weight gainer to have complex carbohydrates and a protein-to-carbohydrate ratio of about 1:2 or higher. Naked Mass weight gainer is at the extreme end with a 1:5 ratio, but that can work very well for bodybuilders.
Check The Fat Content
The majority of vegan weight gainers that we researched were low on fat, and that probably has to do with the fact that they don't contain any dairy products.
A typical non-vegan mass gainer shake tends to have a bit more fat, and that can make macro-balancing a lot more complex.
The ideal option for this is the Naked Mass supplement we recommend above because these vegan weight gainers only contain about 4 grams of fat. That's very low, considering that each weight gainer serving has over 1,000 calories.
Work Out Your Calorie Needs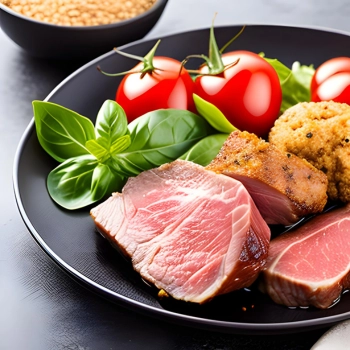 This is an important thing to be conscious of. Many bodybuilders I work with need an extra mass gainer meal a day that delivers 1,000 or more calories per serving.
In some cases, it can be over 2,000 calories.
But an amateur cyclist who's just trying to build muscle mass in their legs might only need a few hundred extra calories.
Whatever amount you have calculated for your daily needs, aim to find a product that comes close to that. Check out our TDEE calculator to check your energy use daily.
You can always slightly increase or decrease the dosage as needed.
Of all the best vegan weight gainers we tested, we found that Naked Mass was most suitable for maximum weight gain, as it provides over 1,200 calories per serving, and it's easy to adjust the dose.
Avoid Artificial Fillers And Sweeteners
Unfortunately, vegan protein powders and mass gainer supplements are just as likely to have chemical flavors and sweeteners in them. It's a practice that just doesn't seem to go away.
The problem with these artificial ingredients is that they can have a negative impact on your digestive system. Studies have also shown that they can impact metabolic processes [9].
If your digestion and metabolism are impacted in this way, then it can become very difficult to build up lean muscle gains.
Find Flavor Reviews
While you can't taste a product before you buy it, one thing I have found in years of researching supplements is that people will always comment on the flavor in online reviews.
All you need to do is go to the official online store or other e-commerce sites and have a quick look through the comments. You'll find that the best vegan weight gainer supplements also have generally positive comments about the flavors.
The product we all liked the best was Naked Mass, which has a delicious natural vanilla flavor.
Assess The Texture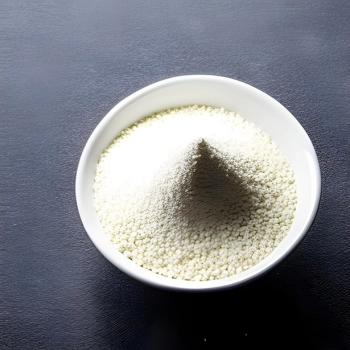 Just like flavor, the texture of the shake is going to be another very important consideration.
One thing you need to keep in mind with any vegan weight gainer you choose is that you'll most likely need to mix it in a blender.
This is different from a standalone pea protein powder, for example, where you can generally mix it in a shaker bottle with water after your workout.
Because of the volume and consistency of weight gainer powder, you'll want to use a blender, and this will give pretty much any product a nice texture.
Find Organic Ingredients
And finally, I generally like to see weight gainers with organic certifications on the label. These tend to have higher purity and come from more sustainable farming practices.
This is again where the Naked Vegan mass gainer stands out the most as everything from the rice protein to the organic tapioca maltodextrin comes from certified sources.
This will give athletes added peace of mind that they are achieving maximum quality with everything they put in their bodies.
Who Should Take A Vegan Weight Gainer?
Anyone who is on a plant-based diet and is going through a bulking phase for workouts should consider taking a vegan mass gainer. But it's also a great option for non-vegans to diversify their protein, fat, and carb sources.
See, many plant protein powders and complex carbs are easier for the stomach to digest than dairy-based ones, which can be particularly problematic for people who are lactose-intolerant [10].
Athletes should also only take these products if they actually have a goal of gaining weight in the form of muscle mass.
Who Shouldn't Take A Vegan Weight Gainer?
Any athlete who is looking to maintain or lose overall fat storage and muscle mass shouldn't consider taking a vegan mass gainer.
These are highly effective ways to take in a lot of extra calories without having to resort to eating an extra full-size meal.
While the protein powders they contain can influence whether you gain fat, the added calories and carbs could counteract that a lot [11].
Most weight gainers aim to provide a calorie surplus, but there is one way you could use them without aiming for muscle gain.
You could use it as a vegan mass gainer meal replacement to get an ideal balance of macronutrients.
Can You Make Your Own Vegan Mass Gainer?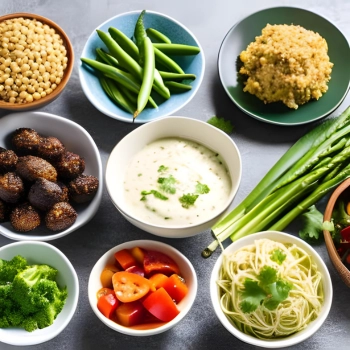 Yes, you can make your own vegan mass gainer.
What you will need is a high-quality organic vegan protein powder and a selection of fruit, vegetables, and some plant-based milk to come up with your own favorite combination.
Start with measuring out a combination of leafy greens and fruit to give you about 2/3 of your calories per serving needed.
Then add enough protein powder to the mass gainer mix to get you to your total.
Finally, start with eight ounces of almond milk and blend it for 30 to 60 seconds. You can add more milk as needed to give you an ideal texture for the mass gainer.
FAQs
How Do Vegans Use Mass Gainers?
Vegans use mass gainers by adding these shakes as an extra meal during the day. With the additional calorie load, they make gaining muscle mass a lot easier. And the boost of protein also helps to build muscle.
Can You Gain Weight With Vegan Protein Powder?
Yes, you can gain weight with vegan protein powder through a mass gainer. The added plant-based protein intake promotes muscle growth and helps to reduce fat storage. On balance, this will lead to a healthy gain in weight.
When Should You Take A Vegan Mass Gainer?
You should take a vegan mass gainer in between two of your main meals. Some people prefer taking the weight gainer as a mid-morning snack, while others find it better to boost energy levels in the afternoon.
Are Vegan Mass Gainers Bad For Cholesterol?
No, most vegan mass gainers aren't bad for cholesterol. These weight gainer products tend to be low in fat and contain complex carbs that shouldn't have a negative impact on your LDL cholesterol.
Which Vegan Mass Gainer Should You Order?
We tested many other vegan mass gainers than the ones above, with a lot of them falling short on nutritional value.
But for anyone on a vegan diet or looking for some diversification in non-animal food sources, the Naked Mass weight gainer product is going to be the best option for building muscle mass.
Not only does the weight gainer have the highest concentration of calories, but the plant-based protein powder is of very high quality.
Order your first supply of Vegan Naked Mass today and see how much of a difference the weight gainer will make for your goals.
Our #1 Recommendation
Check Current Price

Pros
Provides enough calories to add an extra main meal to your daily calorie intake
Seems to make it a lot easier to gain weight without an additional large meal
Low-fat option to avoid negative impacts on cholesterol
Available in tasty flavors as well as an unflavored option
Cons
You'll need to use a blender to mix it into a smooth shake
Was this article helpful?