The debate between weight loss supplements and over-the-counter prescriptions isn't new. A recent discussion with our dieticians on whether weight loss pills work led to an interesting debate between Phen375 and Phentermine.
While we had already done research on Phentermine — when comparing it with PhenQ – information on Phen375 was scanty. So I decided to consult our medical doctors and clients who had used Phen375 to understand how its ingredients work.
Here is what we found in the Phen375 vs Phentermine review.
What Is The Key Difference Between Phen375 And Phentermine?
The main difference between Phen375 and Phentermine comes down to their ingredients. Phen375 is a fat burner made up of natural ingredients with thermogenic properties while Phentermine is a prescription diet pill that stimulates your central nervous system to suppress hunger and increase your energy levels.
We'll get to the exact ingredients shortly, but it's important to note that in our experience, natural fat burners have limited to no side effects, and that's not the case with prescription medication.
Our Testing Approach
Several of our male and female clients expressed interest in comparing the effects of Phen375 and Phentermine. To maintain a uniform and focused experiment, we included both genders in our participant pool.
We split them into two distinct groups, with each group testing one of the supplements over an eight-week period. Note that only two of our testers qualified for a Phentermine prescription, but that still gave us good test data.
Before starting the experiment, we analyzed their current diet, exercise habits, body fat ratio, and ongoing weight loss rate to set a baseline.
Both groups witnessed encouraging outcomes in fat loss, as validated by body metrics. Yet, one supplement had a slight edge over the other due to fewer side effects.
What Is Phentermine and How It Works?
Phentermine is a prescription appetite suppressant similar to Amphetamine, and according to Drugs.com is known by various brand names like Phentride and Adipex-P [1].
It stimulates the brain to reduce hunger and boost mood. It's often prescribed alongside a low-calorie diet and exercise for those with a high BMI (higher than 27-30 kg/m2).
What Is Phen375?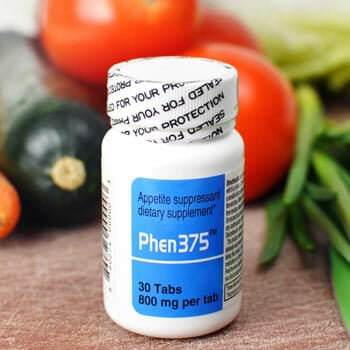 Phen375 is an over-the-counter weight loss supplement produced by RDK Global in FDA-approved facilities.
It aims to suppress appetite, boost metabolism, and burn fat. Suitable for everyone, including vegans, it's made of natural, clinically-tested ingredients. Despite the name, it doesn't contain Phentermine.
Also, Phen375 is suitable for men, women, vegans, and vegetarians as it doesn't contain any dairy, animal, or artificial ingredients.
Phen375 Ingredients

Phen375 is an over-the-counter weight loss supplement produced by RDK Global in FDA-approved facilities.
It aims to suppress appetite, boost metabolism, and burn fat. Suitable for everyone, including vegans, it's made of natural, clinically-tested ingredients. Despite the name, it doesn't contain Phentermine.
Also, Phen375 is suitable for men, women, vegans, and vegetarians as it doesn't contain any dairy, animal, or artificial ingredients.
Citrus Aurantium
This highly potent thermogenic substance a.k.a. Bitter Orange contains 10% of Synephrine and substitutes Ephedra. [3]
It can help you losing weight, curb hunger cravings, improve sports performance, and give metabolic and energy boost, particularly in combination with caffeine. [4]
It's safe in a small dose, but studies show that higher doses in fat burners may cause problems. [5]
Caffeine Powder Anhydrous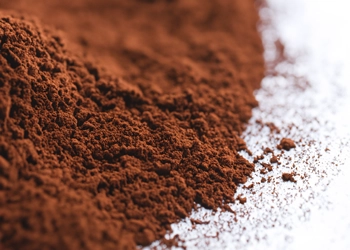 Another powerful central nervous system stimulant in the Phen375 formula can help you rapidly burn excess fat by boosting your metabolic rate.
It can also reduce your appetite, enhance your mental alertness, endurance, and physical performance [6]. But, be careful as high doses can cause headaches, jitters, rapid heartbeat, and other similar problems [7].
L-Carnitine
Among many other benefits, 68% of this essential amino acid in Phen375 is used to rev up your metabolism, help turn stored fats into energy to fuel your muscles, reduce fatigue, and improve athletic performance [8].
Dendrobium Nobile Extract
This extract from orchids is also believed to enhance exercise performance, digestion, immunity, and motivation.
Coleus Forskohlii Root
This component is said to assist L-Carnitine in releasing stored body fat from cells, enabling it to burn it as energy to lose weight without affecting lean muscle mass.
Paired with workouts and reduced-calorie dieting, it can also be beneficial for your mental performance, hunger suppression, blood flow, libido, etc.
Cayenne Pepper
With its proven thermogenic effects, Capsaicin in Cayenne Pepper brings about speeding up metabolism, burning fat, reducing appetite, relieving muscle pain, etc. [9]
Chromium Picolinate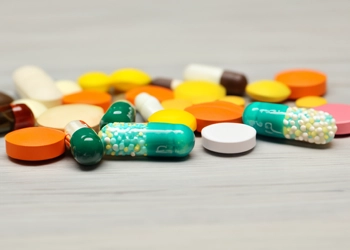 This mineral can block your sugar cravings, keeping your blood glucose and lipid levels balanced to prevent fat storage and increase lean muscle mass. [10]
Calcium Carbonate
Research claims this ingredient plays a critical role in bone health, increasing fat breakdown, and slowing down fat absorption and storing. [11]
Our #1 Recommendation
How to Take These Weight Loss Pills?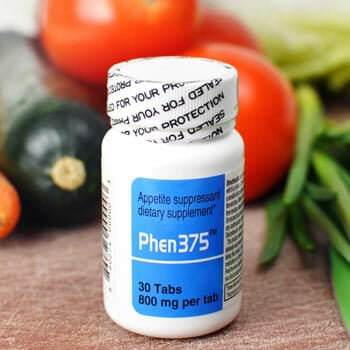 Take one Phen375 weight loss pill per day with a large glass of water some 20 minutes before breakfast. Typically, people take one Phentermine pill an hour before or after breakfast. It ensures you reap the benefits of the supplement as you progress the day.
I personally only take Phen375 and PhenQ, and have found taking it first thing in the morning helps me to extend my fasting time.
Where Can I Buy Phen375 and Phentermine?
You can buy Phen375 directly from its manufacturer's official website to ensure you get the genuine product at the lowest price, with the promised 60-day money-back guarantee, plus some special offers and discounts.
You can get Phentermine in a pharmacy only if you have a doctor's prescription.
Our #1 Recommendation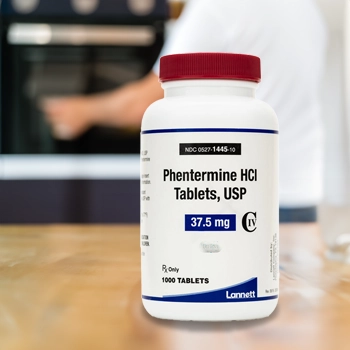 Possible Side Effects

Phen375
If taken in the recommended dosage, Phen375 is considered safe as there has hardly been any side effect of this diet supplement reported in numerous customer reviews. My personal experience is very positive and none of our test group reported issues.
But, if you're oversensitive, stimulants like Caffeine Anhydrous and Citrus Aurantium in the Phen375 formula might cause some mild side effects such as insomnia.
"Like stress, caffeine boosts your body's adrenaline levels, which produces symptoms like high blood pressure, sweatiness, jittery sensations, and a host of other symptoms we associate with overcaffeination. When caffeine blocks the action of adenosine, things can get 'out of whack'."

 

James Lane, Professor of Psychiatry and Behavioral Sciences
Phentermine
Phentermine may cause serious side effects, ranging from cardiac issues to stomach problems and primary pulmonary hypertension (PPH). And it's important that you only take this medication after consulting with a doctor.
Natural vs. Synthetic Supplements
Natural weight loss supplements, such as green tea extract and garcinia cambogia, are derived from plants and believed to aid weight loss through organic compounds. They often have fewer side effects but may vary in potency.
On the other hand, synthetic supplements like Orlistat and Phentermine are chemically formulated to target specific weight loss mechanisms. While they can offer potent and consistent results, they might come with a higher risk of side effects.
Long-Term Dangers of Phentermine
Phentermine can be effective for weight loss in the short term. However, long-term use poses risks. Extended intake can lead to potential addiction due to its amphetamine-like properties.
It may also elevate blood pressure, increasing the risk of heart disease. Additionally, prolonged use can lead to tolerance, necessitating higher doses for the same effect, further escalating risks.
Interactions with Other Medications
Weight loss supplements can interact with common medications, potentially reducing their efficacy or causing adverse reactions. For instance, supplements like St. John's Wort may reduce the effectiveness of birth control pills.
Garcinia cambogia might adversely interact with diabetes medications, leading to dangerously low blood sugar. Additionally, supplements containing caffeine can exacerbate the effects of stimulant drugs.
Our Verdict on Phentermine vs. Phen375
Comparing our test results and the safety of Phen375 vs Phentermine weight-loss supplements undoubtedly makes Phen375 the winner of this battle.
Still, if we're talking about the most effective and beneficial appetite suppressant and fat burner out there, even though it wasn't part of this comparison, we'd have to go with PhenQ.
Our personal experience and testing have shown excellent results for this product in fast weight reduction with negligible negative effects.
Our #1 Recommendation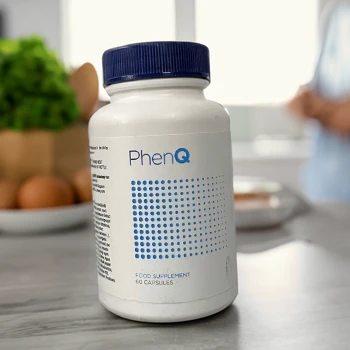 Click For Best Price

Pros
Helps boost fat burning metabolism to target stored body fat
Good appetite suppression reported by users
Helps reduce fat storage process
Helps boost physical and mental energy
Get the BEST PRICE until the end of December
Was this article helpful?