Testosterone production in men naturally declines as they age. So, if you are currently struggling with low testosterone levels, this product could offer a solution.
After conducting thorough and unbiased research, examining various studies and user reviews, I found that Virmax T is a testosterone booster made from all-natural ingredients.
Intrigued by its science, I decided to try it myself to provide an honest and firsthand account.
In this Virmax T review, I will share my personal experience and facts about the product. Let's take a look.
What is Virmax T?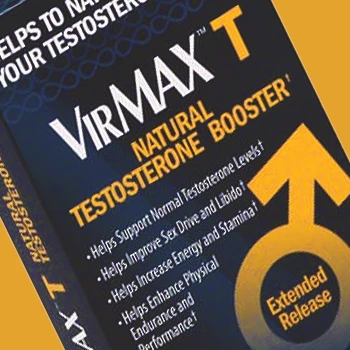 Virmax T is a dietary supplement designed to help men increase their testosterone levels and physical endurance.
It's also used to support sexual stamina and improve blood flow in older men and athletes.
This product is suitable for all individuals who exercise regularly and older men whose sexual performance declined naturally over the years.
Virmax T supports optimal levels of testosterone, but it shouldn't be used to treat any health condition.
If you have a particular health problem, it's best to consult your qualified healthcare provider before using this male enhancement product.
What Are the Benefits of Virmax T?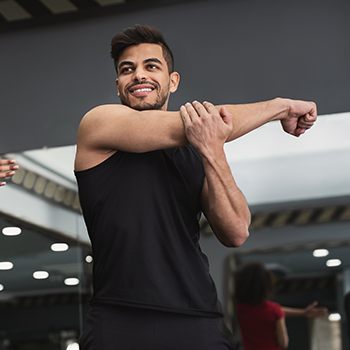 The benefits of Virmax T are the following: increased energy, increased stamina, enhanced sex drive, and better body composition. Let's discuss each below.
Increased energy
Testosterone has a significant role in increasing muscle mass, regulating fat mass, and boosting energy [1]. I felt like I had more power and strength while using this product.
Increased stamina
Healthcare providers say that T boosters can positively affect stamina because of their composition. Increased stamina also helps you to feel more motivated and focused on your exercises.
My sexual endurance improved while using Virmax T as well.
Enhanced sexual desire
Virmax T can enhance arousal, increase libido and sex drive by maintaining healthy blood circulation.
Increased sexual desire leads to regular sexual intercourse, which is beneficial for:
Lower blood pressure
Lower chances of heart attack
Higher immunity
Better body shape
Virmax stimulates muscles to grow and helps burn excess fat, thereby helping you reach the desired body shape. Good physical appearance also affects the growth of your self-confidence.
Pros
Increases endurance and stamina
Improves mood and confidence
It helps to increase sexual performance
It contains vitamin B and zinc
Cons
It can cause vomiting, shaking, and loss of appetite
Virmax T Ingredients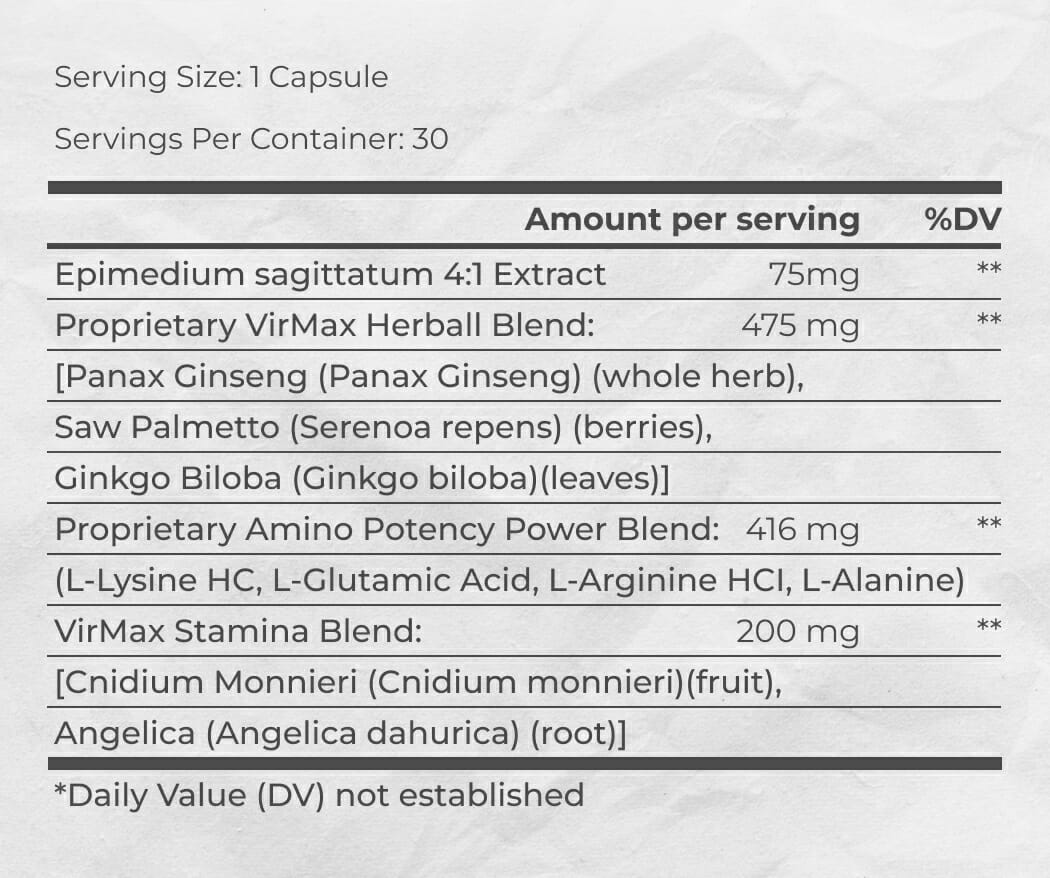 Virmax T is an effective male enhancement product due to its exceptional combination of natural ingredients. Let's explore ingredients and learn more about them:
Tribulus Extract
Tribulus extract has been studied for its potential benefits in liver health, particularly in cases of hepatitis, and its potential to alleviate dizziness and headaches.
In my experience with Virmax, I noticed a decrease in joint pain and an increase in my appetite, which aligns with some of the known effects of Tribulus extract.
By increasing your appetite, this product may also help you build muscle mass faster [2].
Fenugreek Extract (Seed)
Fenugreek seed is known to increase testosterone production.
It's one of the active ingredients in this product that helps increase testosterone. People often turn to male enhancement products with fenugreek seeds to boost sperm levels [3].
Korean Ginseng Extract
According to a study published in the American Journal of Men's Health, Korean Ginseng extract effectively reduces stress and improves exercise endurance.
It's important to clarify that it does not work in the same way as Viagra, a medically approved drug used to treat erectile dysfunction.
This study also suggests that Korean Ginseng may help regulate blood flow in the genital region, potentially enhancing sexual performance.
When the blood flow is increased, it usually results in greater sexual performance [4].
Epimedium Extract
Epimedium Extract is also known as horny goat weed. Research has shown that Epimedium significantly helps with ejaculation problems and erectile dysfunction (ED) [5].
It can be good for your bones and joints and also helpful with fatigue problems.
LJ100
Lj100 is also known as Tongkat Ali, Longjack, or Eurycoma Longifolia. One of the reasons Virmax T chose Tongkat Ali for their product is because it increases muscle mass and boosts athletic performance.
Building muscle mass is important because it also stimulates a stronger immune system and increases self-confidence.
Dicalcium Phosphate
Many clinical studies have shown that it is safe to consume dicalcium phosphate. It's an active ingredient in Virmax T, added to maintain healthy calcium levels. Calcium is vital for building and maintaining strong bones.
Also, calcium makes your heart, muscles, and nerves function properly [6].
Microcrystalline Cellulose
Microcrystalline Cellulose's primary role is to properly blend the content of the product and make it easy to consume. It is most commonly used as an absorbent, filler, or diluent.
Many studies have reported that Microcrystalline Cellulose is safe for consumption if used in the recommended doses. MCC is a term for refined wood pulp and purified cotton linters.
Stearic Acid
Stearic-Acid is an ingredient that keeps the other components well-merged, but it also has other health benefits.
We consume it through some animal and plant foods, and it is a popular immunity booster and a skincare ingredient [7].
Magnesium Stearate
Magnesium Stearate is a fine white powder made up of two substances:
Stearic Acid (Saturated fat)
The mineral magnesium
It may cause a laxative effect such as muscle weakness or diarrhea if you consume it in large amounts, but its primary role is to ensure the quality and consistency of the product [8].
Silica
The last ingredient of Virmax T is Silica, also known as Silicon Dioxide. Silica has an excellent ability to strengthen your bones. You can find this ingredient in natural sources such as:
Red algae
Crystal quartz
Diatomaceous earth
How to Take Virmax T?
Virmax T is taken once a day before breakfast, as the label suggests.
I followed the recommended dosage, and within a week, I noticed a significant boost in my energy levels throughout the day.
Plus, I was falling asleep faster at night and waking up feeling more refreshed than ever.
The manufacturer claims that it may take a few days for Virmax T to start working and a few weeks to see results of increased testosterone levels.
"Your body produces a lot less testosterone every single year no matter who you are. We are all human; nobody is superhuman."

- Ronnie Coleman, Retired American Bodybuilder
If you have any serious health problems, I suggest you consult your doctor or healthcare provider before using this product.
How VirMax T Compares to Other Testosterone Boosters

We tested VirMax T against three leading testosterone-boosting supplements, and here is what we learned.
Testogen
Based on our research and reviews, Testogen's natural testosterone-boosting formula can revitalize your energy, increase focus, and increase muscle mass. We thought it almost sounded too good to be true, so we included it in our testing.
One thing that sets Testogen apart from VirMax T is its transparent labeling. Testogen lists all its ingredients, including amounts, making it easy to compare and evaluate.
Our testing confirms that Testogen truly delivers on its promises. In just two months of use, our volunteers reported increased strength and better mood, and measurements showed as much as a 2% reduction in body fat for some.
Testogen's formula includes a blend of zinc, boron, Korean red ginseng, nettle-leaf extract, and vitamins B6 and K1, all known to support healthy testosterone levels. The only common ingredient between Testogen and VirMax T is ginseng.
I ordered from the Testogen website and was pleasantly surprised to receive free bottles with our multi-bottle order and fast and free shipping.
Aphro-D sets itself apart from other testosterone boosters by containing just four ingredients to boost testosterone production. We tested it over several weeks to see if Dr. Farhan's formula was effective.
Like many supplements we tested, our test group yielded mixed results. Some users experienced impressive changes in mood, confidence, and performance. Others didn't see much of a difference during our testing phase.
It's worth noting that consistent use for at least two months may be necessary for the full benefits to take effect.
Aphro-D contains Tongkat Ali, Shisandra berry, pearl powder, and He Shou Wu. Although, like VirMax T, the exact amounts of each ingredient are not revealed.
When I visited the website to purchase Aphro-D for testing, I immediately noticed one potential downside. Purchasing automatically enrolled me into recurring shipments that required me to remember to cancel. The upside is the company offers an industry-high 365-day money-back guarantee.
Testofuel is a 100% natural testosterone booster from the renowned supplement company Roar Ambition. Testofuel is engineered to elevate testosterone levels, paving the way for higher energy levels and improved muscle growth.
With 2000 mg of D-aspartic acid and 10 mg of zinc, and reasonable amounts of Fenugreek, oyster extract, Asian Red Panax ginseng, and Vitamin D3, our dietitians confirm it is a solid formula for delivering on its promises.
Our volunteers experienced mixed results, with some reporting heightened energy levels and noticeable muscle growth, while others didn't notice much difference. I tested along with our volunteers and my standard workout routine and saw faster recovery times over several weeks of use.
Like most supplements I order for testing, I went straight to the official website, where I found bulk purchase discounts and free shipping. We also received complimentary e-guides and training videos I dove into with our test group to maximize our results.
See more of our testosterone booster reviews:
Is Virmax T Safe for Use?

Virmax T is safe to use, and users have reported no severe side effects from taking the product.
However, my research has led me to the fact that some users have experienced minor side effects such as:
Vomiting
Loss of appetite
Unusual weight loss
Virmax T is formulated with plant extracts, proteins, minerals, and vitamins, generally considered safe for human consumption.
However, it's important to note that some ingredients, such as dicalcium phosphate, have been associated with mild side effects, including vomiting, loss of appetite, and unintended weight loss, as per a study published in the Journal of Dietary Supplements [9].
Although these side effects are mild and generally don't last long, I recommend that you stop using the product as soon as you feel discomfort. I did not encounter any side effects during the two months I used it.
The healthcare providers and the doctors do not recommend using T boosters if you have had a history of heart conditions or any severe medical conditions.
If you have a particular serious medical condition, I suggest you seek professional medical advice from your doctor or health care provider before using any male enhancement products.
What Are Consumers Saying About Virmax T?
Let's take a look at the feedback from some satisfied Virmax T users:
John is a 66 years old man who has consumed this product for about eight years. He said that he felt younger, had extra energy, and had a better sleep while taking these pills. He had never experienced any adverse effects.

- John Alec, Texas, USA
Mike liked this product and described it as effective for recreational purposes. He also said that it is one of the best T boosters he has tried. He will continue to buy it and recommend it to others.

- Mike, California, USA
We also found one verified customer who stated in his review that he was not satisfied with this purchase.
Alec used this product for nine months but did not feel any positive changes. In addition, he did experience a certain side effect - shivering.

- Alec, Texas, USA
Where to Buy/Cost?
You can buy Virmax T from supplement stores and Amazon, where you can avail of free shipping.
One box contains 30 capsules for a month's supply, so I can say it's very affordable compared to other testosterone boosters.
Amazon says that shipping takes around 5-10 working days, but in my experience, it took about 12-20 working days.
It is best to be careful when ordering online. I have encountered countless male enhancement supplements forged and sold online by submitting fake reviews and descriptions.
Unofficial websites are not reliable. My advice is to check product specifications when buying online and compare them to the original bottle on the manufacturer's official website.
Virmax T Review – Does This Product Really Work?
I wrote this Virmax T review from my experience to show you that it is an effective male enhancement product with entirely natural components.
But since I had difficulty maintaining energy levels after the gym, that led me to try Testogen - another product that I highly recommend. Testogen is a natural supplement that supports normal testosterone levels, sexual health, and sexual stamina.
Although you need to take Testogen for 6-8 weeks, the results are much more noticeable. When I started using it, I felt my body producing more testosterone- I started having more energy and my endurance improved.
Having tried both, I can say that if you don't need instant results but want to achieve a more potent effect, Testogen is a great product that you can check out here.
We Recommend This Instead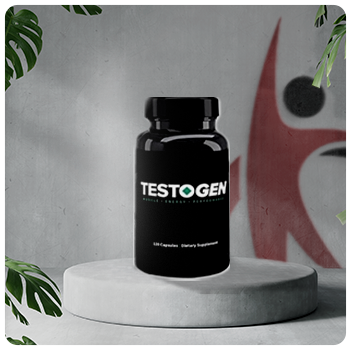 Click For Best Price

Pros
May work well as a natural testosterone booster
Positive reviews about improved physical and mental energy
Seems to boost confidence levels
100% money-back guarantee if you're not satisfied
Get the BEST PRICE until the end of September
Cons
You can only buy it on their website
Was this article helpful?