I'm always cautious when clients ask me about the latest and greatest supplement their friend or relative has recommended to help them lose weight.
One such product is Xenadrine Ultimate. When I started doing some research, I found that it's actually part of a collection of weight loss products with different formulas for different goals.
It seemed like a great idea, so our team sat down with a dietitian, and we got a few clients to help us with some testing.
And we found a few surprises.
What Is Xenadrine Ultimate?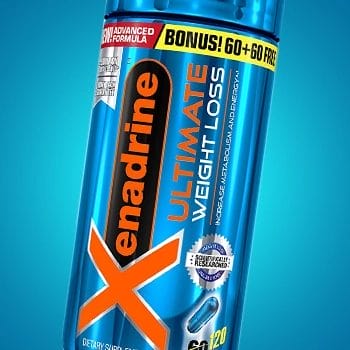 Xenadrine Ultimate is a weight loss supplement that uses natural ingredients to trigger metabolic processes in your body for healthy weight loss.
The company also claims to have based its Xenadrine Ultimate formula on scientific evidence, and that's always a challenge for us to see if we can back up those claims.
We did like that this isn't a company that claims to have invented a magic weight loss pill that allows you to get to your weight loss goals while watching Love Island with a box of donuts.
They do highlight that you'll need a reduced-calorie diet and strict exercise routine to succeed.
SUITABLE FOR MEN AND WOMEN
Who Makes The Xenadrine Products?
Xenadrine is a company that has been making supplements for healthy weight loss and detox for quite a few years.
They have also built up quite a following online, which seemed to be a promising sign.
It doesn't often happen that supplement companies get a lot of repeat business for weight loss products.
It's also one of a few companies that have created supplements from some individual ingredients like turmeric and Garcinia Cambogia. This could allow you to make your own blend to lose weight and boost energy.
Let's take a closer look at the Xenadrine ingredients.
Xenadrine Ingredients
We looked at the supplement facts on the labels of all the Xenadrine weight loss pills. Then we checked for scientific support that would help you get rid of fat.
Xenadrine Ultimate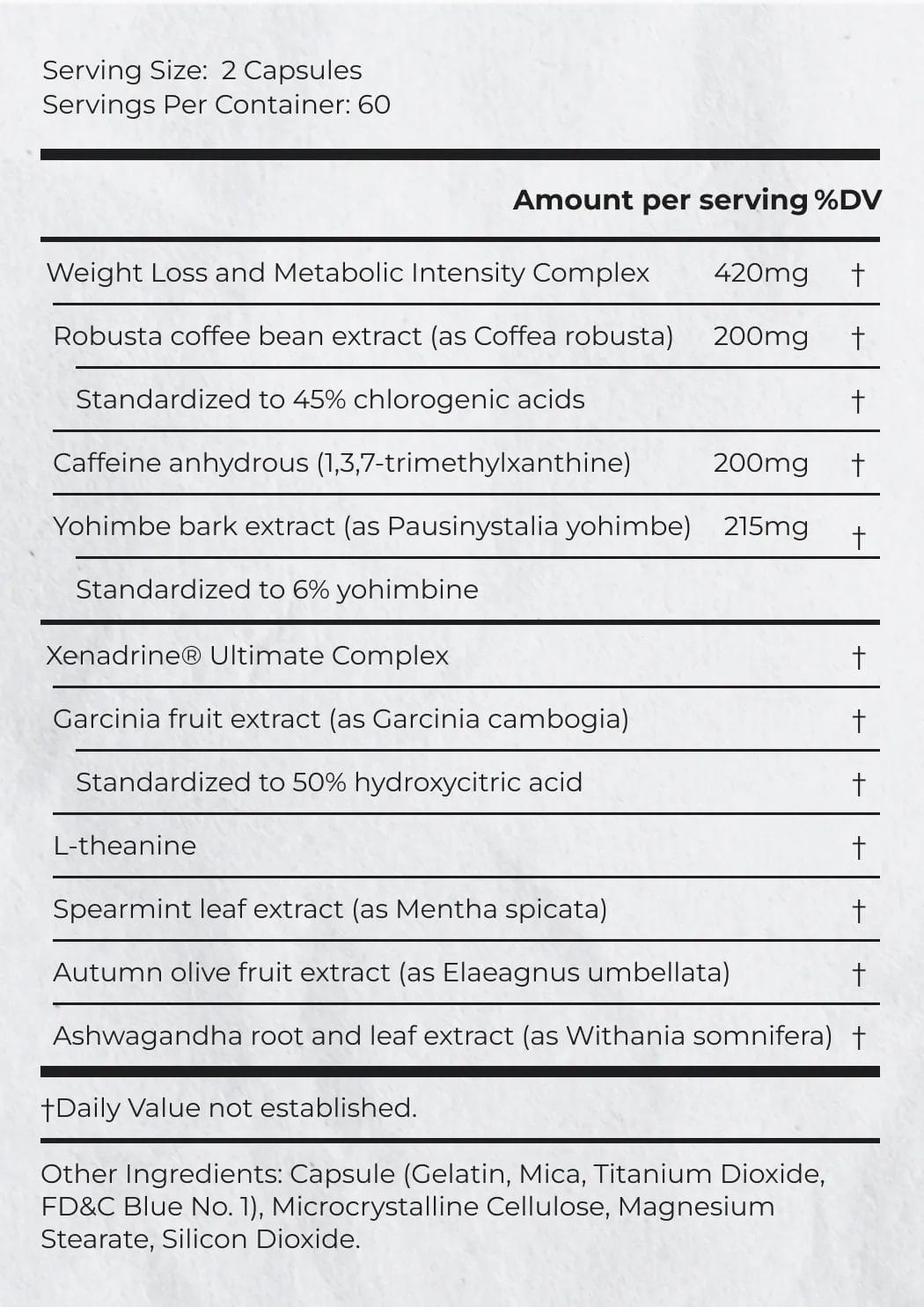 Xenadrine Ultimate weight loss has just five ingredients, which is usually a good sign.
1 - Green Coffee Extract: The green coffee bean is unroasted, and it does have some antioxidant properties. But because it's the roasting process that creates the caffeine, we're not 100% convinced that this will make a big difference to weight loss when using Xenadrine Ultimate.
2 - Garcinia Fruit Extract: The Garcinia fruit is something you probably have found more often in health food stores, and there is evidence that it might support body weight loss [1]. However, the evidence from studies is pointing to a limited impact on fat burning.
3 - Spearmint Leaf Extract: We have some big question marks about this Xenadrine Ultimate ingredient, especially since the company lists it on the Xenadrine Ultimate label because of its aromatic qualities. And we were unable to find enough scientific evidence that it may impact weight management.
4 - Yohimbe Bark Extract: The Xenadrine Ultimate weight loss pills also contain yohimbine which is an African bark that has been studied a lot. One clinical trial, in particular, found a direct link to weight loss [2], but it's important to consider that the trial included only elite athletes.
5 - Ashwagandha Root Extract: You'll find this regularly in supplements like Xenadrine Ultimate, and it's mainly included for antioxidant properties. It may be helpful as weight loss also releases toxins.
SUITABLE FOR MEN AND WOMEN
Xenadrine NextGen
Supposedly, this is one of the more powerful Xenadrine supplements, and it includes quite a lot of ingredients compared to Xenadrine Ultimate.
1 - Caffeine Anhydrous: You might think of this as just boosting mental focus, but caffeine may also act as a potent thermogenic. It may boost your metabolic rate even when resting to burn off more calories [3].
2 - Myristica Fragrans: We only found a few studies on this nutmeg seed, and none of them were able to conclusively prove good weight loss effects.
3 - Phoria Longana: There may be a link with this ingredient to appetite control, but without clinical trials to confirm it, we wouldn't recommend this as a suitable weight loss ingredient.
4 - Teacrine: This is some sort of trademarked ingredient, and there is very little information about how it would improve energy and metabolic rates.
5 - MCT Oil: I personally take MCT oil on a regular basis, but its main benefit is for brain function. I couldn't find any evidence that it would help you lose more weight.
6 - Rhodiola Extract: This is an interesting ingredient and one that we did find scientific support for. It seems like it may directly target belly fat [4].
7 - B Vitamins: These are generally a good idea for energy levels and to support your metabolism. However, traditional methods like multivitamins would bring the same positive effects.
8 - CLA: Conjugated linoleic acid does have a close link to weight loss, supported by studies [5]. It's also becoming a lot more common in these types of supplements.
"Conjugated linoleic acid (CLA) is a contender for the weight-loss miracle pill. One group of overweight women lost 9% body fat in one year's time. Not bad, since they didn't change their lifestyle or eating habits."

- WebMD.com
9 - C. Canephora Robusta: Xenadrine claims that there are human studies to support that this ingredient may lead to significant weight loss. But unfortunately, we weren't able to verify that these studies used a control group.
SUITABLE FOR MEN AND WOMEN
Xenadrine Clear
This is one of the company's original products, and it's focused on just a few ingredients.
1 - Turmeric: Turmeric has been studied a lot, and there is plenty of evidence to support that it works as a thermogenic similar to caffeine [6].
2 - ALA: Alpha lipoic acid is important for cells to process glucose energy. In theory, a higher supply may ensure that released fat energy doesn't hit a bottleneck in different body cells.
3 - CLA: We mentioned a study above regarding CLA, and it has been shown to potentially support weight loss in obese people.
4 - MCT Oil: This is great for providing a brain energy boost, but we have struggled to justify it here for a weight loss effect.
5 - Bioprene: Black pepper extract may help slow down your body's ability to form new fat cells. That might be an indirect weight loss effect that helps users maintain their weight.
Xenadrine Pure
This is another simple product and one that we thought might have the highest chances of success.
1 - Turmeric: The Asian spice is very common in diet pills, and the products that we have had the most success with all included turmeric. It's also suitable for taking over long periods as it doesn't tend to cause problems.
2 - ALA: We mentioned this one above, and we would say that it's a positive ingredient to ensure all the released energy from fat can be processed in your body. That increased energy supply might hit a bottleneck which could then slow down the release of fat cells.
3 - Apple Cider Vinegar: Some people believe that apple cider vinegar might directly influence belly fat. Studies are still a bit inconclusive about this, but they have shown a direct link to digestive health, which may make a big difference in your fat loss journey.
4 - Garcinia Cambogia: I regularly take Garcinia Cambogia in cutting phases, but I find it's more helpful for appetite suppression than actually burning fat. It's still a good ingredient to have on your side.
5 - Bioprene: We highlighted above that this extract from black pepper plants is generally considered to be a good ingredient. There is a fat blocking effect linked to it that may be more effective than the green coffee bean and caffeine.
Xenadrine Neuroheat
Neuroheat was the last product we looked at, and because of its hyped-up name, we were a bit suspicious.
1 - Choline: Choline is a trace mineral that studies have linked to helping with fat release [7]. It's also generally classed as safe and may also impact your appetite in a positive way.
2 - Huperzine-a: This is one of those mysterious ingredients where nobody is really sure what it is, and details are hidden behind a proprietary formula. And without peer-reviewed studies and trials, we would dismiss this ingredient as unproven.
3 - C. Canephora Robusta: We mentioned above that this is one of the top scientifically proven ingredients claimed by Xenadrine, but all of our research showed that the few existing studies shouldn't be taken at face value.
4 - Caffeine Anhydrous: This is a good ingredient to have in a diet pill because of the thermogenic effect of caffeine. The dose is quite high at 220 mg, which is more than a large cup of coffee and probably too much caffeine to make some people jittery.
5 - Satsuma Orange: During our research, we found a few references to the benefits of this orange extract, but none of those were able to reference clinical tests that confirmed that it would help.
6 - Grains Of Paradise: And this is the final ingredient we researched, and also the one we came up empty for any kind of scientific support for using it. That doesn't mean that they don't work, but the products we have recommended to clients all include proven ingredients.
SUITABLE FOR MEN AND WOMEN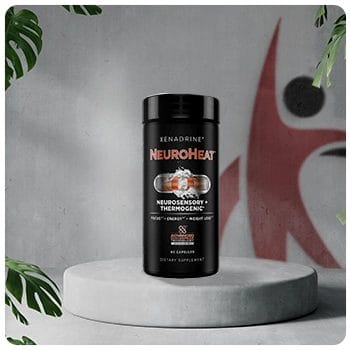 Xenadrine Side Effects
We analyzed a lot of online reviews to see if there was any reason to believe that Xenadrine Ultimate or any of the other products would be possibly unsafe.
We also checked if there were any FDA reports about safety issues.
The good news is that we couldn't find any references to serious issues like kidney failure or heart attack.
But we did find that quite a few people commented on Xenadrine Ultimate with some upset stomach and cramping. Surprisingly, this even happened to a few people after taking one pill and not because of taking larger doses.
There have also been a few reports of negative effects from yohimbine, including irregular heartbeat. It's certainly something to avoid if you have heart issues.
And finally, some of the products have quite a high dose of caffeine. Not everyone has just positive results from this stimulant, and jitters are common.
Our Experience With Xenadrine
We tested out all five products with clients and then reviewed their experience and the product's effectiveness. While some of the dietary supplement products aim to do more than promote weight loss, we just wanted to look at the main claimed benefit.
The clients we tested with were already on a low-calorie diet, and we monitored their progress over about two months.
We thought that Xenadrine Ultimate might be the one product with the best results because of the formula with a small number of ingredients.
Unfortunately, none of the five products gave us anywhere near the same results we got with another supplement that we've been using for a few years.
Other weight loss products:
Pros
Good dose of caffeine to promote fat-burning
No negative safety reports found
Apple cider vinegar may help reduce belly fat
Cons
Gelatin capsule not vegan/vegetarian friendly
Online Xenadrine Reviews
We also want to add a few details we got from online Xenadrine reviews.
Cathy had a goal of losing weight after having children, and she took Xenadrine Ultimate for eight weeks. She thought there was a benefit from the first pill, but she hit a plateau after four weeks and ultimately switched to a different product.

- Cathay, Delaware
Jason kept the same exercise plan and diet but found there was practically no difference in his progress. He also increased to two pills per dose and still didn't see a difference.

- Jason, New York
Fat Burner Alternatives
We took a look at how Xenadrine compares to three leading competitors.
PhenQ
PhenQ is a fat-burner supplement with an all-natural ingredient list scientifically tested to target all aspects of weight loss.
Some great additions to PhenQ are caffeine, capsimax, and l-carnitine, which boost metabolism and energy and rev up thermogenesis to ensure maximum fat-burning benefits.
There are many things to like about PhenQ over Xenadrine, including its transparent labels. PhenQ does not hide ingredient dosing behind "vitality complexes" or other proprietary blends.
PhenQ contains effective doses of nopal and chromium to keep your appetite in check. Our test group reported a significant snack reduction and fewer cravings within just a few weeks of use.
As a fitness trainer, I always advise my clients to be mindful of what they put in their bodies. That is why while PhenQ may be pricier than Xenadrine, its fully transparently label tip the scales in PhenQ's favor.
PrimeShred
PrimeShred is a game-changing supplement combining the benefits of a fat burner and nootropic. Our test group had impressive results after a few weeks of testing, particularly in reduced stress, focus, and cognitive function.
Each serving contains 250 mg of caffeine, which can be high for some, though most in our test group liked the boost to energy and focus.
In addition, our dietitians noted the thermogenic effects of caffeine present in PrimeShred.
PrimeShred utilizes veggie capsules, unlike Xenadrine's gelatin capsules, making it a suitable choice for vegans and vegetarians.
While PrimeShred is pricey, this supplement is transparent, effective, and fat burning while also providing nootropic benefits. Order directly from the website to take advantage of exclusive incentives and ensure you get the real deal.
Instant Knockout
Instant Knockout, initially made for bodybuilders and athletes, became increasingly popular among everyday gymgoers because it is a powerful, vegan-friendly fat burner.
Instant Knockout isn't for the faint of heart, as it has a massive 300 mg of caffeine to ignite your metabolism and kickstart thermogenesis.
What sets Instant Knockout apart from Xenadrine is its unique blend of appetite suppressants like Glucomannan and chromium, which our test group found to be highly effective in reducing snacking, leading to improved overall body composition.
The addition of L-theanine for improved focus and alertness was the perfect addition to power me through intense workouts.
Instant Knockout will hit your wallet harder than Xenadrine, but order directly from the website, and you'll receive freebies and avoid receiving a knockoff product.
Should You Buy Xenadrine Products?
We wouldn't recommend taking Xenadrine products as we have tested other weight loss supplements with far better results with hardly any negative effects.
PhenQ is the one product that the majority of our clients have had the best results with.
Not only has it helped them get over a plateau, but they have reported practically no issues.
Order yours today and check out our full review to see if PhenQ could be the right option for you.
We Recommend This Instead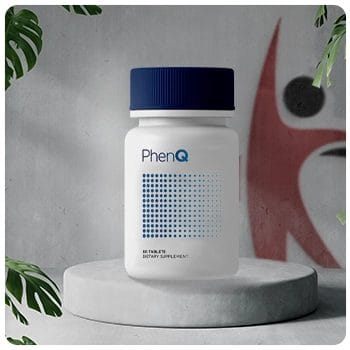 Click For Best Price
Pros
Suppresses your appetite
Blocks body fat production to stop weight gain
Improves your mood and energy levels
High-quality, all-natural formula
Get the BEST PRICE until the end of May
Cons
Can be only purchased through the company website
Was this article helpful?