As a certified fitness instructor, I enjoy researching these topics, especially when it involves strong athletes I've only read about.
I've been following Brian Shaw for quite some time. He is a professional Strongman, not just in dollars but also in passion for the sport.
During my study, I discovered he had created a full gym with all the equipment required for his exercises.
In this article, we'll look deeper at Brian Shaw's gym and the equipment he employs to shape his body into the ultimate machine.
Quick Summary
Brian Shaw's Garage Gym is among the best equipped in the world, with over $500k in equipment.
Brian Shaw modified various equipment to fit inside them or allow him to put on more weight to better prepare for his upcoming competition.
Brian Shaw began training in his parent's garage and has established one of the world's best personal gyms.
Strongman Brian Shaw
Brian Shaw is one of only five men who have won the World's Strongest Man (WSM) competition at least four times.
Not only has he won four Worlds Strongest Man championships (one fewer than the all-time great Mariusz Pudzianowski), but he also holds several world records in almost every lift category conceivable.
Shaw has updated his gym numerous times after making his World's Strongest Man debut in 2008, reaching the sport's peak four times and being in the mix for the WSM summit for 14 straight WSM events.
Shaw took to his YouTube channel on July 8, 2022, to take his fans on a tour of his upgraded gym in Colorado.
Brian Shaw's Garage Gym
Shaw didn't skimp on the details when constructing his home garage gym because he would spend significant time exercising in it.
His gym has been in the works for months, and the current revelation demonstrates why it has taken so long to finish.
His gym is revealed to be enormous and full of machines that will help Shaw train for his upcoming challenge to the best of his ability.
Since his home gym contains $500k worth of devices, some items that stand out immediately are the Rogue "Donkey," Rogue 203 lbs monster kettlebell, Circus Dumbbells Powerlifting Monolift, and dumbbell full-stack rack.
He also contains plates upon plates of varying size, weight, and functionality, accompanied by a slew of barbells.
Let's look at some of the tools available in Brain Shaw's home gym.
Brian Shaw's Gym Tour
Shaw claimed that nearly nothing in his gym is normal after showing off his initial two pieces of equipment, the Reverse Back Extension and a Back Attack.
He adjusted various machines so that he could either fit inside them or put on additional weight.
"Anything may be adjusted and strengthened. That is what I have to go through with a lot of equipment. Just because I crush it up."

- Brian Shaw, American Strongman
1. Rogue Calibrated Steel Plates
Like any powerlifting-style Garage Gym, Shaw Strength contains a lot of black iron.
But I'm seeing Shaw use Rogue Calibrated Steel Plates ever more, and it makes sense. They are not just among the best-calibrated plates available but also among the most affordable.
Before Rogue began producing calibrated plates, there were a few other choices that were far too expensive.
Rogue has now used its manufacturing skills and knowledge of supply chain and pricing to create a high-quality calibrated steel power plate that looks good and works well.
2. Specialty Bars and Barbells

Shaw has many barbells. Instead of going through them, I will list them and detail a few most interesting ones.
Farmers Walk Handles
Crepinsek Safety Squat Bar
Axle Bars, featuring an Ironmind Apollon's Axle
Rogue Tb-1 Trap Bar
EliteFTS Cambered Spider Bar
Bandbell StrongMAXX Bar
Deadlift Bars, a Crain's Okie Deadlift Bar
Slater's True Log Bar
Bamboo Bandbell Bars
Rogue 12" Log Bar
Multi-Grip EliteFTS Bar
There are a lot of straight bars. Possibly several Texas Power Bars and a variety of Rogue Bars.
Bamboo Bandbell Bars
This is the most distinctive bar at Shaw Strength. Utilizing chaos training enables the user to do exercises such as yoke walks and deadlifts [1].
Rogue Tb-1 Trap Bar
Rogue unquestionably manufactures the most excellent trap bars on the market.
Because of the additional handles, I own and frequently use the TB-1 Trap Bar. You may load these bars with whatever weight you choose and pull, push, or carry them.
A Trap Bar provides a lot of versatility, probably why Shaw has one [2].
Crepinsek Safety Squat Bar
The Crepinsek Safety Squat Bar is widely regarded as one of the most significant safety squat bars available.
That being said, the EliteFTS SS Yoke Bar has excellent padding and the presence of handles.
3. Rogue RM-6 Monster Rack
The high-quality power rack is the focal point of every garage gym.
This is where most of the Brian Shaw workout routine is done, and if you're as huge as Shaw, you'll need a large rack.
As a result, Shaw has the sturdiest squat rack I could imagine, the Rogue Fitness RM-6 Monster Rack.
It is a six-post power rack made of 3x3 11-gauge steel tubing, oversized 1′′ gear, and a bolt-together construction for easy transport and adjustment on the floor.
The Rogue RM-6 was among the first power racks that provided customized colors and configurations.
Shaw's rack is built not just with 108-inch uprights but also with every attachment imaginable, such as an endless rope trainer.
4. Legend Fitness Smith's Machine
In every video I've watched, they're nearly always utilized solely for overhead training, allowing the Strongman to throw in greater volume and emphasize shoulder strength than free weights alone can [3].
"For some reason, people believe that Smith machines are dumb. However, I have used a Smith machine since I began adding more equipment. Many powerful men exercise on them."

- Brian Shaw, American Strongman
5. Reverse Hyper
One of the first Westside Barbell models was Brian Shaw's Reverse Hyper.
Looking at old Westside clips, you'll notice Louie using the identical model.
Rogue Fitness later rebuilt and enhanced it.
The enhancements are minor in terms of design but significant in terms of functionality.
6. Cold Tub
Contrast treatment for recovery is gaining popularity among strength athletes and trainees.
Jumping into an icy cold tub can do wonders for your recovery and mental health. Shaw owns one of the world's largest Cold Tubs.
7. Concept 2 Rower
Can you fathom how much power Brian Shaw can generate on the erg?
It's amazing to see Strongman training employ a gadget commonly used by CrossFitters for conditioning.
This may be another explanation for why Brian Shaw is a champion.
8. Various Training Equipment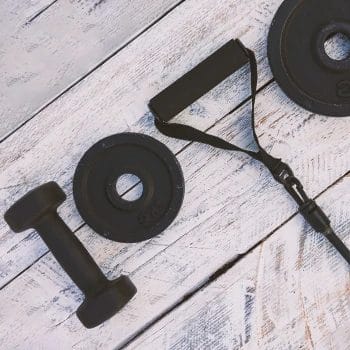 Even though I included several of Brian Shaw's home gym's larger pieces of machinery, he also owns a lot of other items.
Chains, Wraps, and Straps
Mark Bell sponsors Brian Shaw and utilizes various products, including the Strong Sleeves, slingshots, shin shavers, and more.
Shaw, in addition to the supporting equipment, employs a large number of chains to accommodate resistance.
Shaw is also seen utilizing EliteFTS's EZ Chain Loaders and the smaller model for the deadlift platform.
Dumbell
Shaw has every dumbbell conceivable, including a complete set of pre-loaded dumbbells.
He also has several Rogue Plate Loadable dumbbells and Rogue Monster Bells.
Implementation of the Strongman Event
More equipment is helpful while training to be a Strongman.
At least, Shaw believes this, and it appears to be effective for him.
Shaw has almost every even tool that might be employed, in addition to all the standard gym equipment.
This includes the following:
Fingal Fingers
Hercules' Hold
Atlas Stones Loading Platform
Yoke
Keg Toss
Throwing Bags
Frame Carry
And possibly a slew more that I'm missing.
Brian Shaw has also hung posters and mirrors to make the gym feel like a home.
It's astonishing to imagine that he began training in his parent's basement and has now established one of the world's best among all the gyms.
Other celebrity home gyms:
FAQs
Does Brian Shaw Have a Gym?
Yes, Brian Shaw has his own updated gym in Colorado.
How Much Can Brian Shaw Bench Press?
Brian Shaw can bench press 535 pounds. He begins his workout warm-up progression with 135-pound bench presses, then progresses to 235-pound, then 315-pound bench presses.
How Much Can Brian Shaw Deadlift?
Brian Shaw can deadlift up to 1,140 pounds.
Building Your "Brian Shaw's" Home Gym
Brian's strongman home gym is probably the best non-commercial gym ever created. It's put together by a dedicated gym geek for other tough gym heads.
It contains a lot of sturdy, long-lasting equipment that everyone dreams of having in their home gyms.
And as you already know, I've dedicated my time to testing many home gym equipment and made many guides, such as the best compact home gym machines, that can help you start building your own "Brian Shaw's" gym.
---
References:
https://etd.ohiolink.edu/apexprod/rws_etd/send_file/send?accession=ohiou1478797600526658&disposition=inline

https://www.ncbi.nlm.nih.gov/pmc/articles/PMC5969032/

https://pubmed.ncbi.nlm.nih.gov/22228113/
Was this article helpful?