Emma Chamberlain has lost significant weight over the years, which has sparked various rumors and speculations about why this happened.
While some of my clients believe that her workout and diet are the reasons for her weight loss, many people chatting on online forums assume that her eating disorder is taking a toll on her health.
Curious about what had kept her slim, I decided to spend a week watching videos and social media posts and discussing with a dietician friend to verify if her mental health, diet, and workout routine could be the cause of her weight loss.
Emma Chamberlain Body Statistics
Emma Chamberlain started making videos about the California native's life in 2017.
Since then, the young star has amassed over 10 million subscribers, worked with Louis Vuitton, covered Cosmopolitan magazine, and established herself as one of YouTube's best [1].
View this post on Instagram
So, what could Emma's secret be? For me, it's her down-to-earth, unique, and refreshing personality, to which almost every person can relate.
Not to mention the fact that she did not use photo editing software to alter her appearance.
However, in late 2021, she decided to discontinue her YouTube channel, and she was rumored to have body dysmorphia, which she apparently gained as a result of her eating issues [2].
Her whole family thought she looked terrible but believed the other way around, saying she appeared obese multiple times.
Growing up on social media her whole life, Emma developed an eating disorder, which she openly discusses in some of her videos.
Many people assume this is the cause of her weight loss, while others believe it is due to her workout and diet.
Before we get into it, let's take a look at her current stats.
Age: 21 years old (Born: May 22, 2001)
Height: 5 ft, 4 in (162 cm)
Weight: 50 kg (110 lbs)
Body Measurements: 34-24-34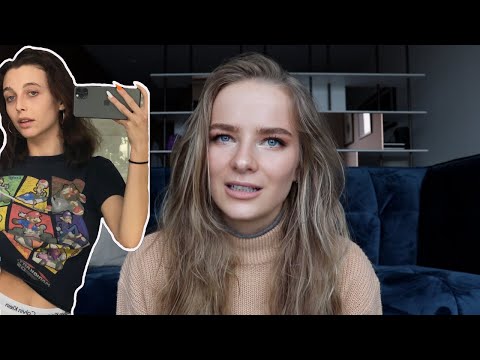 What's her Workout Plan?
Emma doesn't really have a solid workout plan. According to several YouTube videos I found, she works whenever it suits her schedule.
On average, she tries to work out for about an hour and a half, four to five days a week.
Here's what Emma's at-home workout routine looks like:
Cardio
Jumping Rope: 60 seconds
Sprints: Five times up and down the staircase
Ab Workout (with an eight-pound weight ball)
Rowboats: 20 reps
Russian twists: 10 - 20 reps per side
Toe touches: 20 reps to 30 reps
Bicycle crunches: 10 - 20 reps per side
Leg raises: 10 - 20 reps
Front planks: 30 seconds
Front plank with hip rotation: 10 -20 reps
Dynamic Strength Training Exercises
Pile Squats: 60 seconds
Squat pulse: 30 seconds
Squat jumps: 30 seconds
Alternating split squats or reverse crunches: 30 seconds
Floor Exercises
Fire Hydrants: 30 seconds per side
Kickbacks: 30 seconds per side
Push-ups: 30 seconds
Her Workout Principles
Emma isn't too concerned with following a strict workout regimen, maybe because she's never been overweight in her entire life.
In one of her videos, she admits that she just squeezes in a workout whenever she can and enjoys it.
View this post on Instagram
She doesn't punish herself for not working out on any given day.
While watching her attempt to run a marathon on an empty stomach in one of her posted videos, I learned that she enjoys trying out new, exciting, and fearless activities at random.
"I've always envied people who get runners high all the time, which is basically when you run for so long that you start to feel euphoric and happy."

- Emma Chamberlain
Emma Chamberlain's Diet
After watching a lot of Emma's YouTube videos, I discovered that she's a certified coffeeholic, always starting her day by making coffee or getting coffee with someone.
She brews her own Chamberlaine coffee at home to make a latte.
She mixes two shots of espresso with unsweetened vanilla almond milk and vanilla nut pod creamer.
When she goes out for coffee, she usually orders a cold brew with almond milk.
When she gets hungry before lunch, she'll make toast with two fried eggs (very well done), sliced avocados on top, and salt, pepper, and bagel seasoning.
For lunch, she typically orders a salad of kale, lentils, carrots, and boiled eggs with a salty vinaigrette at nearby restaurants. She occasionally orders burritos or burrito balls.
Furthermore, dinner is Emma's favorite meal of the day.
This time, she prepares her own meal by heating frozen vegetables, mixing them with fried tofu and yellow curry, seasoning them with salt, pepper, and sesame seeds, and serving brown rice.
Her Diet Principles
Emma's food preferences stem from her childhood experiences as a vegetarian and picky eater.
Her honest observations about which foods work best for her body made her eating approach real and relatable to many health-conscious people, including myself.
Although she struggles with an eating disorder and body dysmorphia, according to a dietician, Emma's main food choices are non-restrictive and well-balanced.
This means that she always gets an adequate supply of all macronutrients, including proteins, fiber-rich carbohydrates, and healthy fats.
So, whether she gets her regular meals from vegan restaurants or prepares quick and easy meal preps, I believe she has mastered the art of combining healthy foods in practical and time-efficient ways.
Is Emma Chamberlain Taking Any Supplements?
Emma is most likely taking supplements like ashwagandha, Bacopa monnieri, or Rhodiola Rosea to improve her mood and reduce stress.
As one of the most popular YouTubers on the planet, she's probably aware that people are always looking for new and exciting videos from her.
This can be highly stressful, and she admits to staying up late editing videos.
FAQs
Is Emma Chamberlain a Healthy Weight?
Emma Chamberlain is a healthy weight because she weighs 50 kg, which is within the average weight range for a woman standing five feet four inches tall [3].
Although she appears to have lost weight over the years, she may only have lost fat while maintaining muscle mass.
Does Emma Chamberlain Have An Eating Disorder?
Yes, Emma Chamberlain has an eating disorder, which she openly discusses in some of her YouTube videos. She admits that growing up on social media gave her an eating disorder, which she still struggles with today.
Conclusion: What Happened To Emma Chamberlain 2022
Emma Chamberlain took a break from YouTube and started doing podcasts called Anything Goes with Ramble Podcasts.
Also, she currently operates her own business, Chamberlain Coffee.
Although she has enjoyed many privileges as a YouTube sensation in her early life, it has also caused her to struggle with eating disorders, her personal life, and mental health.
When my clients experience difficult times in life, as we all do, I usually advise them to introduce yoga, meditation, and high-quality multivitamins in their daily routines to combat stress and get back on track with their psycho-physical health.
---
References:
https://www.nytimes.com/2019/07/09/style/emma-chamberlain-youtube.html

https://www.sportskeeda.com/pop-culture/did-emma-chamberlain-quit-youtube-influencer-shares-podcast-coffee-company-plans

https://www.medicalnewstoday.com/articles/321003
Was this article helpful?