Kylie Jenner has become one of the most influential women in the world. And despite her young age, she's managed to learn exactly what her body needs to stay fit and mentally sharp to run a billion-dollar cosmetic company.
That's a lot to juggle, and given her busy schedule, we were very interested in finding out what her workout routine and diet look like.
Let's get right into it.
Quick Summary
Kylie Jenner's workout routines range from crunches, squats, leg raises, medicine ball slams, mountain climbers, planks, and lateral dumbbell raises.
Fresh fruits, coffee, oatmeal, unsalted nuts, leafy green salad, organic celery juice, lean chicken, mashed potatoes, and yellow rice are examples of meals Kylie eats.
Vitamins and detox tea are the supplements Kylie Jenner consumes.
Kylie Jenner Stats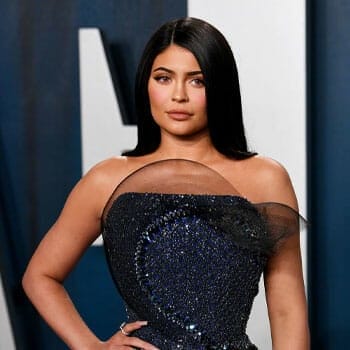 Born: August 10, 1997
Height: 5'5"
Weight: 130 lbs
Kylie first gained public exposure when she appeared alongside her half-sisters Kim, Kourtney, and Khloé Kardashian when she was just a young teenager.
By the time she was 14 years old, she had started her first line of clothing and cosmetics with her sister Kendall.
She also has a huge social media following on Instagram, Twitter, and Facebook, where she regularly shares posts about her lifestyle, home-cooked meals, workouts, and family photos with her daughter.
We spent some time reading through her social media posts and interviews to see how she achieves a supermodel body while staying on top of all her other business and family priorities.
Workout Routine
The first thing we gathered from all the comments she has made online is that she's not a big fan of fitness workouts. But she understands that in order to stay fit, she needed to change her preferences.
Maybe it's a combination of great genes and youth that allows her to limit intense physical workouts to just twice a week.
What's most interesting about her approach, though, is how she relies on her sister to keep up with a weekly routine.
1. Exercising With A Supportive Family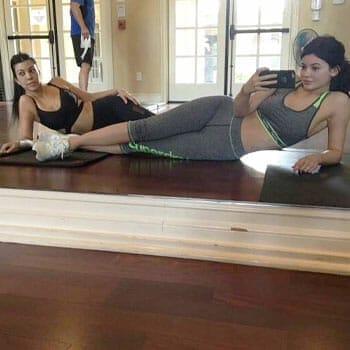 I can personally confirm that exercising with siblings or close friends is the best way to have accountability partners.
Kylie relies on the same concept as you often see her on Snapchat and other social posts where she teams up with her sister for support.
If you've struggled to keep turning up for your workouts, then find some people who have the same goal as you.
2. Family Activities
Since the birth of her daughter Stormi, she has maintained an active life that includes walking and jogging with her baby in a stroller.
The reason she approached it like this is that regular exercise after pregnancy is the best way to rebalance your metabolism.
I will say that it's a lot easier for a mom who has support staff and only one daughter than it might be for the average woman having gone through a pregnancy.
Now, let's take a look at what her exercise routine looks like.
3. High-Intensity Interval Training (HIIT)
The great thing about HIIT is that you can adjust the intensity depending on whether you have weight loss and strength-building goals.
The way Kylie has kept her body in shape is to pick a list of many different compound exercises using a mix of gym equipment and free-weight exercises.
The trick with keeping it interesting is to switch around the moves on a regular basis.
You'll find it more interesting and motivating than doing the same exercise over and over again.
Warm-up (20 minutes jogging, cycling, and jumping jacks)
Skater lunge (3 sets of 12 reps)
Squats (3 sets of 12 reps)
Lateral dumbbell raises (3 sets of 12 reps)
Planks (3 times 90 seconds)
Medicine ball slams (3 sets of 12 reps)
Mountain climbers (3 sets of 12 reps)
Dumbbell rows (3 sets of 12 reps)
Crunches (3 sets to failure)
Shoulder flys (3 sets of 12 reps)
Walking lunges (3 sets of 12 reps)
Leg raises (3 sets of 12 reps)
After each set, switch to the next exercise and repeat as many circuits as you can.
Even as a mother of a young baby, these exercise moves allow you to do as many sets as you have time and energy to do.
Other workout routines:
Diet Plan Guidelines

Diet is one area where Kylie and sister Kendall are much more proactive.
And it's a point proven that weight management is probably 70% dictated by the diet and foods you eat. Before we get to a sample diet plan for a day, let me point out a few things that have influenced at least a part of Kylie's diet.
1. Lactose
Kylie was struggling with some weight gain in her late teens, and she ultimately put it down to inflammation and water retention. She liked drinking milk and eating dairy, and it turned out that she was lactose intolerant [1].
"I feel like it made me gain a lot of weight. I've now cut out dairy, and it's helping me get back in shape."

- Kylie Jenner
It's quite a common food intolerance, and as soon as she switched to almond milk, many of her health issues were gone.
2. Junk Food
Apart from the dairy issue, here's another thing that surprised us.
Kylie eats fast food, including bacon, pizza, and the occasional In 'n Out burger.
The key is, though, that she does so in moderation and makes up for the odd cheat meal by giving her body high-quality foods with limited carbs.
3. Macronutrients
When it comes to monitoring nutrients, the easiest thing to do is use an app like Noom.
Simply enter everything you eat and drink, and Noom will calculate the macros and tell you exactly how much sugar and other crap you're exposing your body to.
By limiting sugar [2], Kylie has a macro profile that is a lot more balanced.
If you also want to know your macro profile, try out our free macro calculator, which provides reliable data on your body's needs for fats, proteins, and carbohydrates.
Sample Daily Meals
Breakfast:
Fresh fruit and berries
Oatmeal with non-dairy milk
Coffee
Snack:
Lunch:
Organic celery juice or fruit smoothie
Leafy green salad
Dinner:
Fresh fish or lean chicken
Steamed vegetables
Yellow rice or mashed potatoes
Kylie Jenner's Supplements

While Kylie makes it a high priority to focus on eating healthy foods that give her body what it needs, there are a couple of supplements that she has regularly mentioned online and in magazine interviews.
1. Vitamins
Even with the healthy juice drinks Kylie has for lunch, she makes sure she regularly tops up with a high-quality multivitamin.
2. Detox Tea
It's a daily ritual, and she's said a few times that she doesn't leave the house before she's had a detox tea. It's a great option to stay on top of free radicals you might be exposed to through your diet.
Should You Train and Eat Like Kylie Jenner?
If you want a body like Kylie Jenner, then I wouldn't necessarily advise that you follow her occasional junk food approach until you have achieved your weight goal.
But with the right diet and a good cardio-based workout program, you'll find success within a few months.
And if you need some help choosing supplements, check out our high quality protein powder recommendations:
Just remember to report back to us about how it worked out for you.
---
References:
https://www.mayoclinic.org/diseases-conditions/lactose-intolerance/symptoms-causes/syc-20374232
https://my.clevelandclinic.org/health/articles/15416-carbohydrates
Was this article helpful?