I'm pretty sure that every one of our younger female readers would be more than happy to sign up for a body as Lisa Rinna has in her late 50s.
And while that is entirely possible for anyone to achieve, I would say that the earlier you get started, the better.
I've seen this in my many years of training -- if you prioritize your shape early, it'll be easier for you to stay fit in your golden years.
See, staying in shape has always been a priority for this TV star, and in this post, we'll show you how Rinna has organized her life, diet, and exercise to stay so fit.
Quick Summary
Lisa Rinna's workouts for fitness are yoga, spinning, jazzercise, hiking, nature walking, and jogging.
Rinna's diet is categorized into plant-based diet, juices, whole foods, and cheat meals like jelly sandwiches.
Lisa Rinna's supplements intake is Vitamin C, Vitamin D, Vitamin B12, and magnesium.
Rinna's fitness level has been attributed to working out six days a week.
Lisa Rinna Stats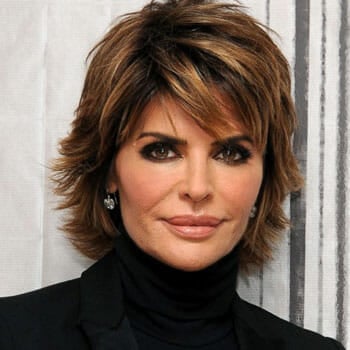 Born: July 11, 1963
Height: 5'6"
Weight: 115 lbs
As a major TV personality from Days Of Our Lives to The Real Housewives of Beverly Hills, Rinna has always maintained a supermodel figure, and her current stats are very impressive.
She has even been able to maintain a steady weight since marrying fellow actor Harry Hamlin and having two daughters.
The thing we like about her approach to dieting and exercise is that she's as honest about it as she was when she hosted Soap Talk.
She's not a big fan of going to the gym and instead focuses on exercise classes. And as you'll see shortly, some of her exercise favorites have been around for quite a long time.
She's also a vegan who occasionally eats meat.
Yes, it sounds crazy, but I'll explain the meat part shortly.
Workout Routine

Lisa Rinna's fitness routine is unique in one way. She constantly switches things around to make sure her workout doesn't get boring.
Oh, and yoga has always been a part of her routine since her early twenties.
Staying fit has been a priority for her lifestyle ever since she planned a modeling career. And she often said in interviews that consistency is the most important thing in life.
For Rinna, that means exercising six days a week, with only a rare exception.
Here's what she does throughout a typical week.
1. Yoga
Rinna has probably gained enough experience not to need a yoga class, and she has often mentioned that she does some form of yoga stretching and exercise on a daily basis.
With the California weather, that also involves taking her yoga mat outside in the garden to spend some quality time in the fresh air.
2. Spinning
She says that she joins a spin class several days a week to get some more intense cardio sessions for heart health.
And considering that she doesn't carry much or any excess fat, I would say that she takes these classes seriously.
3. Jazzercise
Jazzercise predates Zumba but works on a similar principle. Rinna had mentioned that she first discovered it back when she was in her teens, and she recommends it to all women.
I generally say to clients that the more fun you can have while working out, the more successful you'll be in sticking with a routine.
If you'd like to check out how she uses dance as a form of exercise, then check out her DVD called "Dance Body Beautiful." It's easy to follow along and will get you dancing like nobody's watching.
4. Outdoor Activities
The other thing Rinna makes sure she has in her routine is plenty of physical activity outside.
She started playing tennis from a young age and loves the competitiveness of it. As long as it's dry, Rinna heads for a court with her husband or friends multiple times a week.
And the final thing she recommends for both physical and mental wellbeing is getting out into nature and hiking.
Whether that's choosing a well-established trail or just exploring new areas, a good hike can become the best type of cardio.
Diet Plan

We love Lisa Rinna's diet approach as she doesn't take things to extremes. She believes in eating healthy and giving your body everything it needs through food.
But she also applies the idea of moderation, even when it comes to her vegan diet.
1. Plant-Based Diet
I found one of her funniest interview statements where she referred to herself as a dirty vegan.
What that means is that she sometimes craves meat and dairy products. And when that happens, she lives life and allows herself to escape veganism.
"I tend to call myself a dirty vegan. I'm mostly plant-based—but if I do need to eat some meat, I'll have it."

- Lisa Rinna
2. Juicing
Rinna is a big fan of juicing and really got into fresh celery juice in 2019. It's a flavor that takes a bit of getting used to, but there's plenty of research that has shown it to be a powerful antioxidant [1].
This would explain her always vibrant appearance.
3. Whole Foods
Rinna generally takes the approach of preparing all her food using only fresh and organic ingredients as much as possible.
She has found that her body functions better and that she has more energy to be a mother and celebrity when her diet isn't full of crappy food and sugary treats.
Also Read: Miranda Kerr's Diet Plan
4. Cheat Meals
Whether it's a peanut butter and jelly sandwich, a slice of cake, or some other fast food products, Rinna will allow an occasional cheat meal or snack.
That also includes occasional meat, despite generally only eating plant food.
Now, I would have to say that I doubt Rinna cheats every day or even every week. But by not being totally rigid in your meal planning, you still get to enjoy some of the treats in life without feeling too bad about it.
Other celebrities' diet plans:
Lisa Rinna's Supplements

Her main aim is to get as much of her micronutrient intake from foods as possible. But to make sure she doesn't end up deficient in some of the most important vitamins and minerals, she aims for a daily supplement boost.
1. Vitamin C
Vitamin C works as an antioxidant and plays a critical role in your immune system. Eating a large orange a day can provide enough, but some people would want to avoid the volume of fructose that comes with that.
2. Vitamin B12
Everyone that adopts veganism would need to take vitamin B12 supplements, as plant foods don't provide any. Fortunately, there are plenty of suitable supplements to help avoid animal sources of B12.
3. Vitamin D
While Rinna does live on the sunny west coast, where she could get plenty of vitamin D from sun exposure, it's not generally the best option.
She is very conscious of sun damage to her skin and therefore chooses the health benefits of sunscreen and a D supplement instead.
4. Magnesium
When you have a very active life through sports, acting, and being a mother, then your muscles will require a boost of magnesium to function better. It's also one of the top tips for avoiding leg cramps after exercising [2].
Will You Try Lisa Rinna's Diet & Workout?
What's great about this whole approach is that it's heavily based on dieting in the right way to support a healthy weight and even a super slim figure.
And it won't require starving yourself or spending endless hours at the gym.
With the right level of daily physical activity and eating the right food, you'll quickly transform your appearance.
Try it out, and then share your experience with us on social media.
---
References:
https://www.ncbi.nlm.nih.gov/pmc/articles/PMC5871295/
https://pubmed.ncbi.nlm.nih.gov/22972143/
Was this article helpful?