As a fitness coach, what I love most about weight loss success stories from celebrities is that they motivate people to work out.
Tessa Brooks, a YouTube vlogger, recently lost 20 lbs, sparking curiosity among fans.
I studied Brooks' weight loss journey to inspire my clients, including her before and after photos and YouTube videos.
Here's what we dug up.
Tessa Brooks' Weight Loss Journey
Before we dive into how Brooks lost weight, let's take a minute to understand what sparked her desire to transform.
How She Started Out
In one of her videos, Brooks mentioned that she's always had a tiny body type from her youth.
So, any junk food would quickly reflect itself in the form of a noticeable increase in body weight.
Soon, this became a bigger problem because she couldn't control her eating habits.
Brooks shared that she often experienced stress growing up and that her go-to method of coping was stress-eating.
She shared the story of her weight loss journey on social media back in 2019, but we noticed that she considered it back in 2016 when she tweeted, "How am I supposed to lose weight when the best part about life is mozzarella sticks," implying that carbs were her go-to comfort food [1].
"My body type has always been muscly and tiny. I am the person that eats my feeling away, and so that's when I kind of started to gain weight, and it just stayed like that for a while."

- Tessa Brooks, American YouTuber, Model
Brooks gained weight easily as the pounds from the extra calories began to add up. When she got to a point where she realized she'd taken it too far, she decided it was time to lose weight.
Tessa Brooks' Stats
Let's first take a look at her stats and measurements [2].
Date of Birth: April 5, 1999
Height: 5'7" (170 cm)
Weight: 123 lbs (54 kgs)
Chest: 34 inches (86 cm)
Waist: 25 inches (63.5 cm)
Hips: 36 inches (91.5 cm)
Dress Size: 8 (US) or 40 (EU)
How She Lost Weight
Brooks' approach to fitness was unique. She didn't rely on gyms or personal trainers.
Instead, she crafted a simple and effective routine tailored to her preferences.
Here's exactly what she did to lose weight.
Brooks' Workout Routine
Brook's workout consisted of cardio, yoga, and weight training.
Brooks' Cardio Training
Brooks did most of her cardio outdoors. According to her social media, she reported going on hikes, walks with her friends, attending a regular pilates class, and dancing at home.
Given that dancing is one of her hobbies and an activity that can easily be done in the comfort of one's home, it's safe to assume that she chose this as her primary form of cardio.
Before her yoga and weight training routine, Brooks would do 30 minutes of cardio to break a sweat and warm up for her lifts.
Brooks' Weight Training
Now, we'll get into Brooks' exercises to build muscle and lose weight more efficiently after her cardio session.
While Brooks never shared all the details on her weight training frequency and routine, we've decided to recommend what worked best based on our experience.
Perform the following cycle three times a week on alternate days:
Abdominal crunches: 3 sets x 20 reps
Cycling: 3 x 5 minutes
Planks: 3 x 2 minutes
20 push-ups
Band bicep curls: 3 sets x 12 reps
Tricep extensions: 3 sets x 10 reps
Shoulder press: 3 sets x 10 reps
Jumping lunges: 3 sets x 15 reps
30-minute yoga session
"Cardio is the biggest part ... I never want to lose my muscle, so that's why I do all these other exercises."

- Tessa Brooks, American YouTuber, Model
Dance Preferences
Tessa loves dancing. This fusion of exercise and expression benefits our minds and bodies.
She mentions four main important factors:
Emotional Connection: For Tessa Brooks, dance is not just a physical exercise, but also a form of emotional expression that helps her release stress and anxiety.
Flexibility and Toning: Through dance, Tessa improves flexibility and body toning.
Calorie Burning: Depending on the intensity of her routines, dancing has allowed Tessa to burn as many calories as running or swimming.
Balance and Coordination Improvement: Tessa's dance routines often require precise movements and balance, which has enhanced her overall coordination.
Brooks' Workout Principles
Tessa Brooks' weight training and cardio routine offer us a couple of key workout principles.
Daily Cardio at Your Pace
The essence of cardio training for fat burning doesn't necessarily have to be about losing weight immediately. Brooks chose what was convenient for her and lost weight doing cardio at her own pace.
What's also important to note, based on her choices, was that she seemed to have fun doing her cardio. Walking with her friends and dancing were 'easily-accessible' and enjoyable forms of cardio.
I tend to use this principle with clients who seem to lack the motivation to do their daily cardio. You simply give them something they enjoy and have them do it at a comfortable pace.
Building Muscle
Brooks' weight training also helped her lose weight. While gaining muscle mass might sound counterintuitive in terms of losing weight, you should keep two things in mind:
Muscle is heavier than fat, but you don't gain it as quickly as fat. However, that weight will only show on the scale, and it can only improve your appearance.
Muscle is much more metabolically active than fat, so building muscle and losing weight go hand in hand [3].
Also, building muscle assists in weight loss because it improves your muscular endurance, enabling you to do longer and more intense cardio.
Her Diet
Like her workout routine, there's nothing overly complicated about Brooks' diet. It didn't involve grueling fasts or eating anything special.
Brooks' Diet Plan
Based on her social media posts, here's a list of all the initial healthy foods Brooks ate to lose weight:
Salad

Chicken tacos

Assorted vegetables

Celery juice
In addition to eating healthy foods, Brooks drank plenty of water between her meals to keep her from eating outside of meal times.
In a YouTube video, Tessa Brooks mentioned that a big part of her diet was avoiding unhealthy or high-calorie meals such as:
Chips
Sour cream
White rice
Other dairy (especially cheese)
Corn
Anything with trans fats
Here's how you can incorporate Brooks' meals into your diet plan:
Breakfast: Smoothie
Lunch: Chicken tacos and vegetables
Snacks: Healthy, low-calorie snacks
Dinner: Grill chicken and celery juice
Brooks' Diet Principles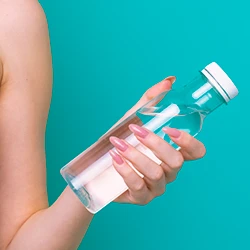 Regarding eating healthy food, Brooks focused on a few important diet principles.
Drinking Plenty of Water
Any person who's lost weight will tell you drinking water is important.
Many studies show the correlation of increased hydration with weight loss [4].
This is because drinking water, especially before meals, can help suppress your appetite and increase your metabolism [5] [6].
Brooks stated that stress-eating increased her appetite and made her gain weight.
Related Articles:
Eating in Moderation
Eating in moderation is a straightforward and effective way to lose weight [7]. As we've seen from her diet plan, Brooks neither starved herself nor gorged on low-calorie meals. She picked regular foods and ate them in moderation.
Avoiding Junk Food
All the healthy food in the world won't help if you don't cut out the junk. In Brooks' case, she avoided junk and dairy food as these unhealthy foods made her gain weight over time.
Mental Health and Weight Loss
Mental health and weight loss are intrinsically connected, each influencing the other.
In our research, we discovered Tessa had faced moments where stress and anxiety led her to overeat or make unhealthy food choices. This aligns with her self-esteem and her perception of her mental health issues.
Maintaining a positive mindset has been crucial for Tessa's weight loss journey. She found value in having an emotional support system through therapy or support groups.
FAQs
How Long Did Tessa Brooks' Weight Loss Journey Take?
Tessa Brooks' weight loss journey took around one to two years. That's because she went on and off her diet until she finally decided to be strict with herself.
How Much Did Tessa Brooks Weigh at Her Heaviest?
Tess Brooks weighed 143 lbs (65 kgs) at her heaviest. Now that she's lost 20 lbs, she's maintaining her weight loss.
How Does Tessa Brooks Maintain a Constant Weight?
Tessa Brooks maintains a constant weight by taking vitamins and drinking celery juice every day. She's able to maintain her weight loss despite not following a super strict diet as before.
Did Tessa Brooks Take Any Supplements to Speed Her Weight Loss?
Yes, Tessa Brooks took vitamins to speed up her weight loss. She never reported taking other weight-loss supplements, but we can't say for sure.
Did Tessa Brooks Use the Help of a Personal Trainer to Lose Weight?
No, Tessa Brooks did not need the help of a personal trainer to lose weight. As far as we know, she went through her weight loss journey without any help.
---
References:
https://twitter.com/TessaBrooks/status/782102623902019584
https://celebsfitnes.com/
https://www.ncbi.nlm.nih.gov/pmc/articles/PMC3661116/
https://www.ncbi.nlm.nih.gov/pmc/articles/PMC4901052/
https://www.ncbi.nlm.nih.gov/pubmed/25893719
https://pubmed.ncbi.nlm.nih.gov/14671205/
https://pubmed.ncbi.nlm.nih.gov/25544317/
Was this article helpful?