38
Supplements
Considered
93
Hours
of Research
88
Reviews
Examined
8
Experts
Interviewed
Choline supplements are one of the lesser-known nutritional products on the market, yet they offer a host of benefits that can boost your overall health.
Choline is an essential nutrient that improves cognitive function, supports fetal development in pregnancy, promotes liver health, and more.
Today, there's a multitude of brands offering choline products, but not all of them are made equally.
Our team, with the help of a certified dietitian, pharmacist, and 15 clients, spent the last few months reviewing the best choline supplements available to help you make the best choice.
Here are our top recommendations.
Editor's Choice
Nested Naturals Choline
Check Current Price
#2nd Best Choice
Alpha GPC
Click For Best Price
#3rd Best Choice
Solgar Choline
Check Current Price
Our Top Choline Recommendations (September 2023)
1 - Nested Naturals Choline (Editor's Choice)
This supplement promises to give its users a sharper mind, quicker muscles, a deeper focus, and a stronger memory.
Since choline is noted for its ability to prevent the buildup of fat and cholesterol in your body, the brand claims that this product can also support cardiovascular and liver functions.
My student clients have reported an average of 15% higher grades after two months of using Nested Naturals Choline. Clients from other categories have all noted feeling more energized, both mentally and physically.
Choline may also be beneficial for pregnant women and their offspring, as it has been proven to assist in improving cognition and neurodevelopment in babies [1].
Pros
Effectively sharpens memory and thinking
Suitable for vegans
Easy to swallow, medium-sized pills
Backed by a money-back guarantee
Cons
Deceptive labeling; users need to take two capsules to get a 500 mg dosage
Nested Naturals Choline contains finely balanced dose of 500 mg of L+ Choline Bitartrate per capsule.
2 - Double Wood Alpha GPC
This one from Double Wood can effectively replenish choline levels much quicker than other choline supplements of its kind.
Aside from supporting acetylcholine synthesis, having high choline concentrations in your body may help improve your brain function and increase motivation.
This product is made in the USA and safety tested for heavy metals and microbes in New York.
Our testers reported that they noticed an improvement in their motivation, as they had more will to do daily tasks.
Pros
Improves sleep quality
Helps alleviate fatigue
Helps lower anxiety levels
Cons
Derived from soy; Not for people with soy allergies
You'll get 600 mg choline per serving of two capsules.
3 - Solgar Choline
Established in 1947, Solgar has been serving science-backed nutritional supplements to its consumers for over 70 years.
The brand prides itself on using only responsibly sourced ingredients to create their products.
Our pharmacist told us that Solgar is one of the most reliable supplement manufacturers.
They don't use artificial fillers and do in-house manufacturing in small batches to ensure that each bottle maintains its freshness for a long time.
Their choline supplement is no exception. Aside from supporting brain health, choline bitartrate is known to aid liver function, fat metabolism, and healthy cell growth.
Pros
Effectively improves concentration and mental clarity
Produced by a reputable and long-standing company
Good for people with fatty liver disease
Cons
Might cause some users to feel anxious when taken more than once a day
Each Solgar Choline capsule contains 350 mg choline per serving.
4 - Jarrow Formulas Citicoline
Jarrow Formulas is another brand that places a premium on producing high-quality and effective nutritional supplements.
This product's formulation contains a stabilized form of CDP choline (also known as cytidine 5'diphosphocholine).
CDP choline is a naturally-occurring biological compound that plays two essential roles. It acts as an intermediate for the synthesis of phosphatidylcholine—a major constituent of the grey matter of brain tissue—and the key brain neurotransmitter acetylcholine.
With this, the brand claims that this supplement can improve brain function and metabolism and directly impact memory.
Of our 15 clients, 9 noted that they noticed an improvement in their long-term memory.
This CDP choline supplement is free of wheat, gluten, soybeans, dairy, egg, fish/shellfish, and peanuts/tree nuts.
Pros
Increases feelings of motivation
Great for users with Alzheimer's disease and other forms of dementia
Improves overall mood
Cons
Some users experienced side effects such as headaches and jitters
Each capsule contains 250 mg of citicoline.
5 - Standard Process Choline
Standard Process says their choline supplement offers a myriad of health benefits. This includes supporting healthy fat metabolism, cell membrane structure and function, and liver and gallbladder function.
Additionally, choline may help in methylation—a biochemical process involved in a wide range of important bodily functions [2].
Senior clients showed the most notable results using this product, as their basal metabolism increased by 6% in 60 days, according to our dietitian.
The brand sources more than 80% of its raw plant ingredients from its 623-acre certified organic farm. This proves that the company stands by its promise of delivering "whole food nutrient solutions" to its consumers.
Pros
Helps with gallbladder issues
Produced by a reputable company known for offering high-quality supplements
Also helps with digestion
Cons
Won't work for users with nut, milk, and soy allergies
This product has a serving size of one tablet, each of which contains 175 mg choline.
6 - Dr. MaxWell Alpha GPC
This 2-in-1 supplement features a powerful combination of Alpha GPC choline and Uridine, with the latter functioning as a choline enhancer.
The brand claims these two ingredients work together to help boost your memory and overall cognitive function.
Our pharmacist also said that this combination of ingredients, in the right proportions, can be a very potent cognitive booster.
Alpha GPC is also the most bioavailable (most easily absorbed) form of choline, which means it's more potent and effective.
This product's choline is sourced from sunflower lecithin instead of soy lecithin, which is the safer choice considering that the latter's extraction process involves using harsh chemicals.
This choline supplement is vegan, non-GMO, soy-free, and contains no harmful inactive ingredients and fillers.
Pros
Potent 2-in-1 formulation
Competitive pricing; users get two supplements for the price of one
Gives tangible benefits in terms of mood, cognition, relaxation, focus
Cons
The formula might be too strong for people sensitive to medication and supplements
You'll get 600 mg choline per serving of two capsules.
7 - Bulksupplements Choline DL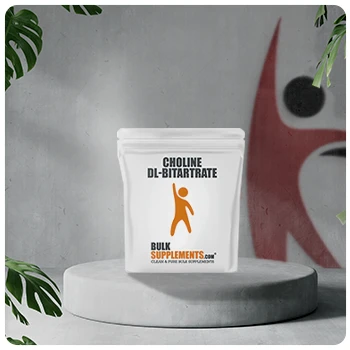 This choline supplement is the first on this list that comes in powder form.
Choline bitartrate is the salt form of choline, and it's commonly used to help boost athletic endurance and assist in muscle recovery, making it an ideal supplement for active people.
A total of 15 clients reported feeling less sore after exhausting workouts after using this product for 30 days.
The brand also claims that it can support cognitive abilities and promote liver and heart health.
Each ¼ teaspoon of this powder will give you 600 mg of choline.
Pros
Helps cure fatty liver
Enhances alertness and mood almost instantly
Dissolves easily in water and juice
Cons
Has a slightly bitter/sour taste
It's synthetically made, does not contain any allergens and is suitable for vegans/vegetarians. It's also non-gmo.
8 - Now Alpha GPC
NOW is a family-owned and operated enterprise that has been around since 1968.
The company has been offering natural products on the market, even when dietary pills weren't still mainstream.
NOW claims that this supplement can help promote normal cognitive function and support mental acuity.
This product is gluten-free, vegan, and A-rated by the NPA GMP, which means every aspect of their manufacturing process has been determined to meet a high level of compliance.
Our pharmacist has confirmed, after examining it, that this product has high standards in its production process.
Each capsule contains 300 mg of choline.
Pros
Gives an amazing sense of clarity
Combats fatigue
Provides a significant boost of energy
Cons
Might cause heart palpitations and anxiety
9 - 1 Body Brain support
Aside from its primary choline component, 1 body incorporated other nootropics in this supplement's formulation, such as Bacopa Monnieri, Ginkgo Biloba, Huperzine A, and more.
Bacopa Monnieri may help boost brain function and ease anxiety and stress [3]. Ginkgo Biloba is noted for its ability to enhance brain function, especially in older people [4], while Huperzine A can improve the levels of neurotransmitters in the brain [5].
Of our clients, 80% reported feeling more calm and improved sleep.
Another great thing about this dietary choline is that it doesn't contain any caffeine or harsh stimulants, which means it provides clean energy using only "real" ingredients.
Pros
Boosts energy, focus, and drive
Contains multiple nootropics
Made with clean ingredients
Cons
Some users experienced increased urination while taking this product
This product is non-GMO, gluten-free, and vegetarian. Each capsule contains 200 mg of choline.
10 - Vitamonk Alpha GPC
Vitamonk claims that this nootropic supplement (cognitive enhancer) may help support mental performance, memory and learning, and boost your focus even in stressful situations.
Alpha GPC is the only source of choline that can easily cross the blood-brain barrier. Once absorbed, the nutrient then turns into acetylcholine—a learning neurotransmitter—that, in turn, helps supercharge your mental performance.
Our testers reported improvements in both short-term and long-term memory while using this product.
This product has 325 mg of L-alpha glycerophosphocholine per capsule.
Pros
Contains no artificial fillers
Quickly improves focus, energy, and concentration
Great price for the quality
Easy to swallow capsules
Cons
Some users reported quality control issues (e.g. capsules looked barely filled)
This choline supplementation is free of artificial fillers and is manufactured in facilities following strict GMP compliance standards, which guarantees its safety and purity.
How To Choose The Best Choline Supplement
To choose the best choline supplements, you must first know its different types and the dosage required for you.
Types of Choline
There are two types of choline supplementation: choline bitartrate and CDP-choline. Each type offers specific benefits, and once you get to know them, you'll easily be able to narrow down your choices.
Choline bitartrate
This is the most affordable type of choline supplementation. Choline bitartrate is known for improving liver function, but it may not be as effective as a brain booster compared to other forms.
If you don't plan on taking choline supplements for its nootropic effects, this plain form of choline might be the best one for you.
CDP-Choline
This type is also known as Citicoline and Alpha GPC choline. CDP-choline are more expensive, but they're the best at supporting nervous system functions. They're also the most bioavailable types of choline, which means your body absorbs the nutrient more efficiently, thereby making CDP-choline more effective.
If you plan to take choline for its cognitive benefits, Citicoline and Alpha GPC choline supplements are your best options.
Now that you know the different forms of choline, the next step is to show you the exact benefits before we determine the adequate choline intake for your age, gender, and condition.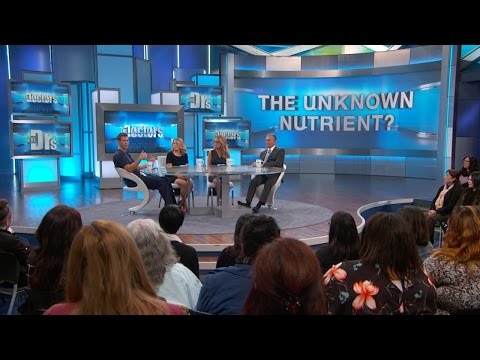 Benefits of Choline
I spent several days with a dietitian and nutritionist to come up with this list of benefits that you might notice once you start your choline supplementation.
Keep in mind that this isn't the full list of medical benefits of taking choline supplements, as there would be too many. So we focused on those that might be most relevant to athletes and people trying to get fit.
1. Boosted Metabolism
This was one of the most surprising things I ended up spending a lot of time reading about.
Several studies have shown through clinical trials that people who regularly take choline supplements may see stabilization and reduction in their BMI.
Scientists also believe that choline may help your body process fats more easily.
As a result, there may be less fat in your bloodstream that could end up in your liver. In extreme cases, that might lead to fatty liver disease, but even a slight accumulation of fat could negatively impact your toxin levels and metabolic rate.
So, not only might it reduce the amount of cholesterol floating around and slowly making you sick, but it might actively help to maintain and reduce your body weight.
I take choline supplements during my cutting phases because I believe they help me shed excess fat more smoothly.
2. Improved Brain And Memory Functions
Look, this isn't going to make you a Mensa-grade genius overnight, but improved brain function may help with everyday tasks as well as motivation at the gym.
Scientists have done some extensive clinical trials that look at brain development and function in older men and women to see if there was a correlation to choline levels.
Ready for some surprising results?
All studies showed that higher levels of choline, zinc, and vitamin C provided significantly better brain performance and ability to remember things more easily.
It might not seem like a must-have bonus for athletes.
But improved brain function can work wonders on keeping you focused and motivated.
3. Better Heart Health
There has been a lot of talk in the medical profession about how choline impacts the heart to prevent some common diseases and possibly even strokes.
One current theory is that the body needs choline to produce an important neurotransmitter.
Don't worry; I won't start a physiology lecture here.
But neurotransmitters help the body to send signals from the brain to muscles and organs.
And the one that choline impacts has been shown to help regulate heart and lung function.
There is still a bit of uncertainty about how effective choline is here, but the clinical test results so far have been promising.
4. Increased Muscle Growth
My nutritionist spent several hours explaining the details here, and I'll give you my CliffsNotes to not risk making you fall asleep.
Choline may contribute to muscle health and recovery as it's an important factor in cell membranes. As the body repairs damaged muscle tissue and creates new fibers, there are plenty of new cells that will need a choline boost.
But it has also been shown to play a role in protein synthesis, which is an important factor for anyone trying to build up muscle mass.
So, if you've already taken care of post-workout shakes, BCAAs, and all the other stuff to support your muscles, then this could be the final boost to get you to your goals.
5. Support Liver Function
I'll only touch on this complicated topic, as the words my dietitian used sent even this nerdy head spinning.
There are several processes in the liver that involve breaking down and metabolizing fat. Your liver essentially deals with excess amounts of fat from your diet and released from storage.
Are you with me so far?
What can happen, though, is that excess fat builds up, and in the long term, that might result in liver damage.
Several studies have shown that choline levels have a correlation to the amount of fat build-up in the liver, which might further influence your BMI.
My dietitian suggested that I also list out some good natural sources of choline, which we'll get to next.
Natural Choline Sources
While your body does produce choline, nutritionists still classify it as an essential nutrient. That means that you need to take it in with your diet, and it's always a good idea to get as much as possible from your food.
Here's a list of choline sources that you should be able to boost in your meal plans.
And they don't take crazy efforts to find an obscure herb. I've listed these food sources out in an order that looks at the amount of choline for a normal size serving.
1. Lean Chicken
The average 6 oz chicken breast may provide about 199 mg choline, which is about 36% of your recommended daily value.
You'll get slightly lower amounts from other parts of the chicken like legs and wings, but it's still a great way to get a natural and tasty boost.
2. Fish
Dietitians tend to recommend salmon for all sorts of nutrients, and a 6 oz piece of salmon fillet should give you about 194 mg choline, or about 35% of your daily needs.
Add all the healthy fats, protein, and omega fatty acids, and you can see why it's a good choice for your healthy meal plans.
3. Lean Pork
Yup, those trimmed chops might actually be a helpful source of choline with about 153 mg per 6 oz of pork. And if your calorie intake allows it, then a second chop could bring you above 50% of your daily need.
Roasted ham is also a good option; just make sure it's a lean cut to avoid saturated fats.
4. Eggs
A lot of bodybuilders will likely already be eating a lot of eggs, but did you know that the average large egg contains about 147 mg choline?
That's 27% of your daily requirement, which makes the average breakfast omelet with some lean ham quite a good option for your meal plans.
5. Beef
A 6 oz steak contains about 132 mg choline, which is good news for any meat lovers reading this.
Even a relatively small steak might provide you with 24% of your daily choline needs, and that means you don't have to be a big-time carnivore to get a reasonable boost.
6. Shrimp
Shellfish are another good source, and 3 oz of shrimp contain about 115 mg choline. That's just over 20% of your daily intake needs.
I've started adding shrimp to salads a lot more as they also contain a lot of healthy fats that make reducing carbs in your diet a little bit easier.
7. Navy Beans
These are really easy to add to your meals, and a serving size of just one cup may provide about 81 mg choline or 15% of your intake needs.
Try adding them to your main meals, especially if you have something with a nice sauce to soak into the beans. An alternative would be baked beans, which contain marginally less choline.
8. Milk
A large 16 oz glass of milk contains 80 mg choline or 15% of your daily intake.
Sounds like a lot of milk, right?
But if you add up the milk in your morning cereal and cups of coffee throughout the day, and you'll quickly see it all add up.
9. Broccoli
A serving size of one cup will contain 63mg of choline, and there's no reason not to have a few cups of broccoli with your lunch and dinner.
Each cup will cover about 11% of your daily need.
10. Green Beans
These might not be everyone's favorite, but a cup of beans will contain about 48 mg of choline or 9% of your requirement.
You should be able to easily add these into a salad, and with a nice sauce in your main meal, they can become rather tasty.
As you can see, it doesn't take a huge amount of changes to your meal plans to quickly build up your choline intake. If you picked 3 of these a day, you could have a good amount of your intake covered, and a supplement should easily take care of the rest.
Side Effects
Because choline is an essential nutrient, it's generally classed as safe. But that doesn't mean you can just take huge doses of choline supplements, as there are some side effects.
Dosages up to about 3 g per day would be classed as within safe limits for adults. Significantly increasing the dose beyond this could lead to fishy body odor, sweating, stomach cramps, vomiting, and diarrhea.
Doesn't sound too appealing, right?
However, if you consider that pretty much all choline supplements contain less than 600 mg, it becomes clear that you'd have to be taking a lot more than what is recommended to run into trouble.
Overall, my dietitian and nutritionist told me that there is likely a higher risk of negative effects from choline deficiency than from taking choline supplements.
How Much Choline Supplements Should You Take?
Males and females 19 years old and above should take 550 mg and 425 mg of choline supplements per day, respectively. On the other hand, pregnant and lactating women should take 450 mg and 550 mg of choline daily, respectively [6].
Early research suggests that women who consume a lot of choline in their diet have a lower risk of having babies with a neural tube birth defect. - WebMD
Additionally, it's best to choose choline supplements that are FDA-approved or Good Manufacturing Process certified so that you are assured of their safety and potency.
If you want to get the best benefits from your choline supplement, ask a nutritionist for the most optimal dosage. That way, you won't suffer from the side effects of over- or underdosing.
Other Products That Contain Choline:
FAQs
Who Should Take Choline Supplements?
Athletes, individuals who consume high amounts of alcohol, postmenopausal women, and pregnant women should take choline supplements.
Choline deficiency is rare, but certain people are at an increased risk of it.
If you're one of these people, you should take choline supplements to increase your daily choline intake.
How Can I Increase Choline Naturally?
You can increase choline naturally by consuming food sources rich in choline such as beef liver, chicken liver, eggs, fresh cod, salmon, cauliflower, broccoli, and soybean oil [7].
How Long Does It Take for Choline Supplements to Work?
It takes choline supplements between one to two hours to work. Research shows that choline bitartrate elevates choline in the plasma an hour after ingestion. Its effects on brain function peak around two hours and lasts at least three hours after consumption [8].
The Best Choline Supplement Is…
After careful evaluation of some of the best choline supplements in the market, our team's top recommendation is Nested Naturals Choline.
This product offers the most bioavailable and preferred type of choline for brain health. Since it's absorbed more quickly, its effects start kicking in faster than other kinds of choline supplements on the market.
With 500 mg choline per serving, this one boasts a high amount of choline among all the other supplements we've reviewed.
For all these reasons, we believe that it might be the best choline supplement on the market today.
Our #1 Recommendation
Check Current Price

Pros
Effectively sharpens memory and thinking
Suitable for vegans
Easy to swallow, medium-sized pills
Backed by a money-back guarantee
Cons
Deceptive labeling; users need to take two capsules to get a 500 mg dosage
Was this article helpful?