I advise my clients to invest in a good testosterone booster, especially if they are over 30 or struggling with weight issues or bulking.
Over the years, our team has tested many such supplements for testosterone production, and we recently came across a new one called Bulk Complete T-Booster from Bulk Powders.
So, we got five clients to help out with testing it, and we also got them to do a before-and-after test to verify testosterone levels.
I also got a nutritionist to research proven ingredients to see if the formula on this T-booster was supported by science.
What Is Bulk Complete T-Booster?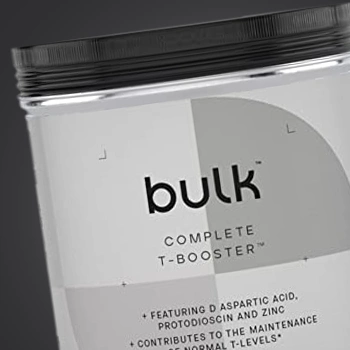 Bulk Complete T-Booster is a dietary supplement that claims to have a proven formula that will increase testosterone levels in a legal and natural way.
This should then help to promote healthy fertility and reproduction, as well as weight loss and better muscle growth.
One of the main ingredients in this Bulk Powders product is d-aspartic acid, and it's one of the more common natural ingredients in T-boosters.
However, recent studies have revealed that it's not an ideal ingredient to boost testosterone [1].
More on this shortly.
This Bulk Powders product has been around for a couple of years, and the formula has stayed the same.
Our Rating
Ingredients
Here is some information my nutritionist provided about Bulk Complete T-Booster:
D-Aspartic Acid (3000 mg): This is one of the higher doses of d-aspartic acid that I've seen in T-boosters, but as mentioned above, recent clinical trials are not in favor of it.
Tribulus Terrestris Extract (1500 mg): Similar to d-aspartic acid, recent studies of this ingredient using clinical trial methods have not been able to prove a clear link [2].
Zinc Monomethionine (150 mg): Zinc is a critical ingredient for helping the body deal with low testosterone, as it's a key mineral that is a building block of hormones [3

].
Bulk Powders Benefits
What I would say, first of all, is that the Bulk Complete T-Booster capsules are small enough to swallow easily.
And because the full dose is six capsules, you can easily adjust your intake to not take the same dose each day.
However, when we checked if it would boost testosterone after five weeks, the increase measured by our testing team was very low.
Pros
The Bulk Powders capsules are small enough to easily swallow
Allows you to easily adjust the dosage
Available in large bottles to bulk-order at a significant discount
Suitable testosterone booster for vegans and vegetarians
Cons
Doesn't significantly boost production of testosterone as measured by blood tests
Mainly based on unproven d-aspartic acid
Known Side Effects
Overall, our testing didn't reveal any major side effects with Bulk Complete T-Booster, and my nutritionist highlighted that none of the ingredients are associated with major issues.
The one item she did mention is that there are no long-term data on taking D-aspartic acid, which might be something you need to keep in mind [4].
"Two of 10 men taking D-aspartic acid reported irritability, headaches, and nervousness."

- Grant Tinsley, PhD
Who Should Take Bulk Complete T-Booster?
People with a minor deficiency in testosterone should consider taking Bulk Complete T-Booster from Bulk Powders.
The main reason I say this is that our blood test results didn't show it could increase testosterone production significantly.
If you need a significant boost to achieve faster muscle growth or normal fertility, then there are other products that can work better than Bulk Powders.
More on this below.
Who Shouldn't Take Bulk Complete T-Booster?
People who are dealing with a significant drop in free testosterone or who have an underlying medical condition shouldn't take Bulk Complete T-Booster from Bulk Powders without first talking to a doctor.
While the Bulk Powders' ingredients are generally safe to take, it's important that your doctor determines whether they don't interact with other medications.
Where Can You Buy It?
You can buy Bulk Complete T-Booster on the official Bulk Powders website.
While I have seen it on a few other reseller websites, I always recommend that you buy supplements directly from highly trusted sources.
Our Rating
Other Customer Reviews
Here are some interesting Bulk Powders reviews we found online.
"This company uses high-quality ingredients, always ships on time, and delivers promptly, I have had no issues despite being with them for over three years now."

- Ruleta, Trustpilot
"Buyers beware : the loyalty scheme where you pay once for "next day delivery", for a whole year, isn't really "next day". I used it 4 times so far and only once they managed to do "next day". I live in the center of a quite big town, very easy to access. There is no excuse."

- Christos, Trustpilot
Comparison With Other Products

Another important part of this Bulk Powders review is our comparison with other products.
To do this, we took the blood test and exercise performance results and compared them to testosterone boosters that we have seen great results with.
First of all, Aphro D is one supplement that has proven results that it can raise levels of testosterone after 3-5 weeks.
Tongkat Ali is the main ingredient, and unlike d-aspartic acid in Bulk Powders, this one is backed by scientific evidence, which confirms that high doses provide significant improvements [5].
TestoPrime is another product we've seen good results with, and the most noted benefit from our testing team was that it might provide more energy for physical and mental work.
It's one thing we were lacking with Bulk Powders that didn't deliver significant energy boosts.
And then there's Testogen, which seems to be a favorite with bodybuilders but can work just as well for regular athletes.
While it also has a strong dose of DAA, it delivers ingredients like Fenugreek with proven impacts on testosterone [6].
Should You Buy Bulk Complete T-Booster?
Based on our research and testing, we wouldn't recommend investing in the T-booster from Bulk Powders.
It just doesn't deliver enough of an increase, as our blood test results showed that it delivered only half the increase of other products we've tested.
The one testosterone booster we consistently see great results with is Aphro D. In our testing reviews with clients, it made quite a difference in terms of libido, weight management, and performance on training days.
Order your first supply today and find out how much of a difference it can make.
Our #1 Recommendation
Aphro D
Click For Best Price

Was this article helpful?