As a fitness coach, I've come across many nootropic supplements that claim to boost energy, clarity, focus, critical thinking, and brain health, and Neuriva Plus is one of those products.
As some of my clients asked about its authenticity, I began doing my own research following consultation with my dietitian.
Finally, I decided to try out Neuriva Plus to get the actual results and determine if it gives all the benefits it asserts.
This Neuriva Plus review will discuss its ingredients, effects, and whether it is worth buying.
Let's get into it.
What Is Neuriva Plus?
Neuriva Plus is a dietary supplement marketed by Schiff Vitamins, created to support healthy brain function.
Schiff Vitamins is a well-known brand that produces a wide range of supplements.
While they are known worldwide, they are not necessarily well-regarded by the research community.
In certain areas, Schiff Vitamins are charged with producing good-looking items that fall somewhat short and make assertions difficult to support with real facts.
This is not to disregard it outright; far from it. It is an extremely versatile product. It's available as gummies, pills, and even liquid shots.
This renders it ideal for anyone on the go – you can take it anywhere you want and any time that suits you.
How Does Neuriva Plus Work?
Neuriva Plus works by incorporating two active components, cherry coffee fruit extract as well as phosphatidylserine, to impact the five markers of brain performance.
This includes assisting in the improvement of focus, cognition, learning, precision, and concentration.
This is accomplished by raising levels of brain-derived neurotrophic factor (BDNF).
BDNF is an amino acid that may aid brain function by improving neurotransmission.
With that in mind, reduced BDNF levels have been connected to impaired learning capacity and cognitive deterioration [1].
Neuriva Plus Review: Ingredients
Neuriva Plus is a basic supplement that contains only two active compounds: phosphatidylserine and coffee fruit extract.
Let's look at the two active ingredients in detail.
Plant-Sourced Phosphatidylserine
Phosphatidylserine is a common substance since it's been clinically proven to boost brain performance.
A 2015 review of PS and brain health research discovered compelling scientific proof that it impacts mental function, brain atrophy, and functional ability [2].
It is abundant in the brain, accounting for 15% of complete brain lipids, also referred to as phospholipids [3].
Your brain uses phosphatidylserine to sustain its cell mobility, preserve neurotransmitters like dopamine and acetylcholine, and improve receptors.
As a result, phosphatidylserine is perfect for promoting long-term brain health [4].
It also aids in regenerating defective brain cells, preventing them from harming normal brain cells.
Although you may not see any immediate advantages from phosphatidylserine, long-term supplementation aids in avoiding mental decline signs like memory loss.
Evidence supports its application in treating neurodegenerative illnesses such as Alzheimer's disease [5].
Nevertheless, data on its usage in healthy young people is limited. We can't say for sure if it works.
Phosphatidylserine strikes me as a potentially beneficial addition. It should not be utilized as a prominent player anyway.
While Neuriva contains this beneficial ingredient, it provides a dose of 100mg per serving, which is not a sufficient amount required for seeing significant results.
Coffee Cherry Extract
The red berry wrapped around the coffee bean is used to make the cherry coffee fruit extract. Unlike coffee, the extract does not have caffeine.
There have been several studies on the relationship between coffee cherry extract and brain-derived neurotrophic factor (BDNF) levels in the body.
According to 2013 research, daily consuming 100 mg of the substance raised BDNF by approximately 143% [6].
The coffee fruit extract has also been found to increase the levels of BDNF when compared to normal coffee or a placebo [7].
A 2019 research looked at the effect of cherry coffee fruit extract on cognitive function in 71 persons with moderate cognitive deterioration.
For 28 days, individuals were given either 100 mg of the whole coffee fruit concentrate powder or a placebo.
Those who took the coffee extract saw substantially increased response speed and work accuracy [8].
This implies that consuming whole coffee fruit concentrate may help people with moderate cognitive impairment improve their processing speed, attentiveness, and focus.
"Coffee fruit extract includes a number of strong chemicals that may enhance your immune system and cognition without causing the crash that caffeine or other 'focus' supplements do."

– Jaimie Wisniowski, Coffee Writer
Even though most of them are short studies, they are only a tiny sample of the numerous randomized controlled trials that confirm the use of 100 mg of this extract daily to boost BDNF and mental function.
Generally, the extract in Neuriva Plus looks to boost BDNF and has been well studied. However, there isn't much evidence that raising BDNF will greatly influence brain health.
Other Ingredients
Neuriva's formulation also includes the following components in their totality:
B vitamins compounds that include 1.8 mg of vitamin B6 as pyridoxine hydrochloride, 681 mcg of folate (folic acid), and 2.5 mg of vitamin B12.
Carrageenan, pectin, titanium dioxide, and hydroxypropyl methylcellulose combined as a 100 mg phosphatidylserine pill.
Rice bran, silicon dioxide, and microcrystalline cellulose.
It also contains thickeners, fibers, French melon concentrate, and anti-caking agents.
This may appear to be a lot. However, only two of them are active substances (as mentioned above).
Neuriva Plus Benefits
Neuriva Plus Brain Health supplements include coffee cherry extract, a whole fruit extract, which is claimed to be a brain performance supplement that may support cognitive health.
Now that we've covered all the ingredients, let's go over the potential benefits of the product and its shortcomings.
1. Improved Focus
Neuriva Plus includes coffee fruit extract, which is a natural stimulant.
It works by activating the central nervous system, making you feel more alert and less tired.
The coffee fruit extract has been shown to increase energy and enhance focus and response time [9].
I noticed a slight increase in my focus in the morning hours after using Neuriva Plus. I was able to complete my morning routine without too much brain fog.
2. Enhanced Memory
Since Neuriva Plus contains phosphatidylserine, it may protect against memory loss and mental deterioration.
Several studies show that it may enhance your memory power. Individuals who consumed the substance performed better on tests of short-term memory and mood [10].
After using Neuriva Plus for five weeks, my moods were elevated to a point; however, I did not notice any substantial changes regarding my memory.
3. Improved Cognitive Performance
Neuriva Plus has ingredients like vitamin B6 that aid in improving brain health.
Vitamin B6 helps in the creation of neurotransmitters, which are important messengers in the brain. It also helps regulate brain energy, leading to better brain performance.
Vitamin B6 is necessary for proper brain growth and the functioning of the immune and nervous systems.
What's more, is that everyone can use this brain supplement. This is always a plus. The entire formula is devoid of GMOs and gluten and is vegan-friendly.
It is also caffeine-free, which is unique for a nootropic. This has both benefits and drawbacks.
That said, I cannot say that the improvements I noticed while using Neuriva Plus were significant.
This, however, could be related to the lack of caffeine, which makes me more focused and active in my everyday activities.
Pros
Phosphatidylserine promotes long-term mental performance
Low chance of negative effects due to low ingredient dosages
It is also offered in gummy form with strawberry flavor for easy consumption
Free of caffeine, gluten, soy, and GMOs
Cons
It is pricey, considering you can purchase phosphatidylserine more affordably
There are only two active ingredients
Does Neuriva Plus Cause Side Effects?
No, Neuriva Plus does not cause any known negative effects. The majority of the components are typically harmless as they are vitamins.
Since the extracts generally come from a well-documented source, there is very little potential for contaminants that might have an undesirable impact.
While the typical dose is about 300 mg, excessive amounts might cause stomach discomfort or sleep problems.
However, Neuriva Plus may interact with other daily medications and produce further complications.
In addition, when taken orally, phosphatidylserine is reasonably safe for both children and adults.
However, you may experience insomnia and gastrointestinal problems. Both are quite mild, but if you have a history of these problems, you should consult your physician first.
How to Use Neuriva Plus?
To take Neuriva Plus, the company recommends using one capsule of the supplement daily at bedtime.
This is an unusual way to consume a nootropic, as most brain performance pills are used in the morning to prepare your brain for the task ahead.
Most nootropics have immediate effects, so I usually recommend taking them one or two hours before beginning work or studying for the greatest results.
By using Neuriva Plus at night, you may lose part of its advantages when sleeping and be unable to attain optimum brain performance throughout the day.
Who Should Take Neuriva Plus?
People who are 18 years and above and want to improve their brain performance may consider taking Neuriva Plus.
However, the product's beneficial assertions are not FDA-approved and aren't meant to cure, diagnose, or treat any condition.
With that in mind, before taking this brain supplement, you should consult your healthcare practitioner.
Furthermore, precise data on how effectively this product and its dosage will function depend heavily on your DNA.
Related Articles:
Who Shouldn't Take Neuriva Plus?
You should avoid taking Neuriva Plus brain supplements if you are pregnant, breastfeeding, or under 18 years of age.
If you suffer from high or low blood pressure or have any other health disorder, you should also reconsider taking Neuriva Plus.
Where to Buy and Price
Neuriva Plus is available on the company's website for around $45 per bottle, as well as on Amazon, Walgreens, CVS, GNC, and Walmart.
The company doesn't provide money-back assurance; however, you can return it within 30 days after purchase. Products must be returned unused and undamaged in their original packaging.
There is, however, a return shipping charge, and containers that have been unsealed, used, or are no longer in selling condition will be charged a 15% restocking fee.
Other retailers, like Walmart and Amazon, sell the product for roughly $33 and $22.8, respectively.
That said, Neuriva Plus has average pricing when compared to other brain supplements containing PS or coffee cherry extract.
When testing it, I joined Neuriva's reward program and obtained my product at a discount. The manufacturer also offers a Neuriva brain gym app that you can access with the purchase of the supplement.
Shipping and Delivery
On their official website, the standard shipping takes five to eight days to be delivered to its destination.
They charge a shipping fee of about $5. You can also get free shipping of their products if you meet their requirement of orders above $30.
From my experience, I received my product 3 days after placing the order.
For expedited shipping, they charge a fee of about $8 with delivery done by USPS Priority Mail.
In addition, they offer a 30 days return policy from the date of purchase. However, they will not refund you for shipping costs.
Furthermore, you might be charged a 15% restocking fee for willingly returned products that have been opened, damaged, or are no longer marketable.
Other Users' Testimonials
"This product put me in a stressful psychedelic state during the night. I could feel it physically and mentally. It woke me up in a pool of sweat due to its intensity and then continued throughout the night after going back to sleep. I found it difficult to wake up to my alarm because I was trapped in this crazy state of consciousness."

– Ryan, United States
"After taking this for one-and-a-half years. I have seen a big difference, especially in my short-term memory. I'm faster at recalling information and retaining newly learned subject matter. The product did begin to work for me after about 2-3 months of use and seems to work better the longer I use it. It got me through Nurse Practitioner school."

– Taunyana, United States
"I have been taking this product for almost a year. It seems to help me very much in remembering and in my cognitive function. At 73, I still have trouble remembering names and of people & places, but that was an issue when I was in my 40s and 50s. I take the Neuriva brain supplement at night before sleep. The only thing I've noticed is crazy dreams some nights. I will continue to take these."

– Eloise, United States
How Neuriva Plus Compares to Other Nootropics
Neuriva Plus Brain Health claims to target overall brain health with clinically proven ingredients that may improve brain performance and have a positive effect on cognitive decline.
Product comparisons are an important part of our reviews here at Total Shape, so we tested Neuriva Plus against three leading nootropics supplements. Here's what we found.
Mind Lab Pro
Unlike Neuriva Plus, Mind Lab Pro is a vega-friendly nootropic supplement containing 11 active ingredients to boost your brain power.
One of the key benefits of Mind Lab Pro is that it's stimulant-free, allowing caffeine-sensitive users to enjoy the benefits without adverse side effects.
B vitamins, L-theanine, Lion's Mane mushroom, and citicoline are some scientifically approved ingredients in this supplement, more than Neuriva's single clinically proven ingredient [11].
Our test group experienced noticeable improvements in energy, a greater sense of calm, and higher scores on cognitive tests that we administered at the beginning and end of the testing phase.
The synergistic effect of the ingredients working together results in maximum benefits noticed after sustained use. Essentially, the longer you take it as directed, the better. I can attest to this, having improved memory and cognitive function after a couple of months of use.
Alpha Brain
ONNIT Alpha Brain promises to enhance your brain health and processing power with active ingredients, including BCAAs like L-leucine, that help improve neural communication and cellular integrity [12].
Some of our test group participants raised concerns about its non-transparent label. The ingredient amounts are hidden behind three blends: Flow, Focus, and Fuel.
As a fitness trainer, I don't like to see supplements take this approach because I can't determine if each ingredient is at a level where it will work as promised. Neuriva Plus contains only two active ingredients.
Despite some of our test users reporting side effects like mild stomach discomfort and headaches, many also experienced noticeable improvements in alertness, focus, and multitasking.
"Some research shows that branched-chain amino acids may help benefit cognition in persons with diminishing brain abilities due to liver problems."

– Ana Aleksic, MSc, R.D.
Gorilla Mind Smooth
Gorilla Mind Smooth has a formula promising to promote concentration and reduce anxiety, making it perfect for both mental and physical tasks.
Our nutritionist explains that Gorilla Mind Smooth's acetylcholine content can even increase strength, making it a great option for pre-workout use. Plus, the latest update to its formula includes even more cholinergic compounds for even better cognitive performance.
Our test group experienced significant improvements in anxiety and stress levels, focus, mental clarity, and multi-tasking ability - all key ingredients for a productive day.
You'll take 3-6 capsules of Gorilla Mond Smooth compared two a single pill daily of Neuriva Plus.
While it may not provide the same strength boost as a traditional pre-workout, Gorilla Mind Smooth's green tea extract and Alpha GPC increase neurotransmitter levels, reducing anxiety and improving overall cognitive ability.
FAQs
What Medications Should Not Be Taken With Neuriva Plus?
Medications that should not be taken with Neuriva Plus are cephalexin, bortezomib, ceftibuten, capecitabine, and colesevelam. Neuriva Plus interacts with these medications and poses a risk of side effects such as cognitive impairment.
Does Neuriva Plus Have Side Effects?
Yes, Neuriva Plus has side effects such as stomach discomfort, drowsiness, or difficulty sleeping when taken in excess.
What Are the Two Ingredients in Neuriva Plus?
The two active ingredients in Neuriva Plus are phosphatidylserine and coffee cherry extract.
Neuriva Reviews: Is It Worth Buying?
Neuriva Plus Brain Health is a gluten-free dietary supplement that contains clinically tested brain-boosting ingredients, which may potentially support brain health, but individual results may vary, so consider your needs before purchasing dietary supplements.
If we consider the ingredients and the lack of clinical testing, it's hard to recommend this nootropic supplement. The doses are low, and there is no proof that the components may improve brain function or memory.
If you are looking for a high-quality booster with less to no adverse effects, we recommend Mind Lab Pro.
It is designed to help with anxiety reduction, mental clarity, and cognitive function enhancement. Mind Lab Pro is GMO-free, vegan-friendly, and FDA-approved.
It does not contain caffeine or other stimulants and aids in preventing brain degeneration.
Our #1 Recommendation
Mind Lab Pro® Universal Nootropic™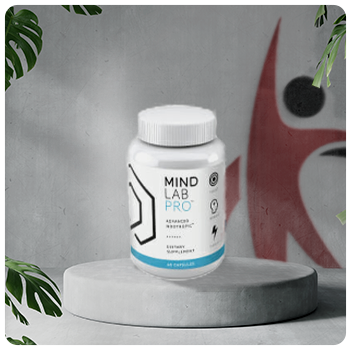 Click For Best Price

Pros
Great combination of herbs and amino acids that work as a cognitive enhancer
Added B vitamins to support red blood cell production and boosted energy levels
Great feedback from users that it can help with relieving anxiety
Get the BEST PRICE until the end of September
Cons
The capsules are not the smallest ones to swallow
Was this article helpful?