I have to say that I've seen some pretty crazy marketing names for pre-workout supplements, but Psychotic is possibly one of the craziest I've seen. Normally, products like this have a ton of marketing but spend very little on a scientific formula.
Still, our team of personal trainers at Total Shape always keeps an open mind, and we spent a couple of months testing and researching it with a few clients.
As it turns out, there were a few surprises, both positive and negative, and we can show you those in this full Psychotic pre-workout review.
What Is Psychotic Pre-Workout?
Psychotic pre-workout is a dietary workout supplement that claims to trigger long-lasting energy levels, focus, and huge pumps. It's based on natural ingredients and comes in powder form.
It was first marketed in 2020, and the proprietary formula has remained the same so far based on the label information.
You simply mix a one scoop serving size of Psychotic with 8 ounces of cold water and drink it about 30 minutes before you start your warm-up routine at the gym.
It's available in a few different strange flavors like sour cherry colada, and one thing I have to say right away is that you would probably need a high tolerance for caffeine.
More on the ingredients shortly.
Tailored for Men and Women
Psychotic Pre-Workout Benefits
The strong caffeine dose is a plus as long as you don't tend to get jittery from caffeine or you're planning to take Insane Labz Psychotic later in the day. Studies have shown a link between exercise and mental performance at the gym with a strong dose of caffeine [1].
We also got positive test results with clients and from online reviews that Psychotic does seem to deliver good pumps during a weight lifting workout.
And the fact that you don't need a shaker to mix up the powder into a tasty drink sets it apart from other similar supplements. The gummy candy and cotton candy flavors seem to be particularly popular.
Does Psychotic Have Downsides?
Psychotic has downsides, including its proprietary blend and weak effects.
First of all, I have to point out that Insane Labz has decided to hide the detailed amounts of the ingredients behind a proprietary formula. For many athletes and bodybuilders, that may make it very difficult to stack Psychotic with other supplements.
The other thing we noticed during testing is that we didn't really get that huge boost in promised energy levels. While beta-alanine has been proven to have a link to physical performance levels [2], it just seems like there isn't enough in each serving size.
Pros
High caffeine content seems to work great for mental focus
Positive user reviews on the effect for muscle pumps
The powder mixes quickly with water, so you don't need a shaker
Cons
Insane Labs hides behind proprietary blends
It doesn't seem to have enough active ingredients for an energy boost
The big problem is the proprietary formula and some missing key ingredients.
Psychotic Pre-Workout Ingredients
We took the list of ingredients, and my dietitian helped look at scientific studies to support them.
For the most part, they seem to be supported by clinical studies. DMAE was the only new ingredient for me, and it could be helpful for mental focus [3].
The problem is a proprietary blend as it doesn't allow us to say whether each of the ingredients is included in a strong enough dose.
The other thing to be aware of is that there's a high dose of stimulants, so make sure you think of that before taking git for an evening workout.
Here's the full list from the label:
Beta-Alanine
L-Citrulline
Creatine Monohydrate
Caffeine Anhydrous
DMAE Bitartrate
Caffeine Citrate
Rauwolfia Vomitoria Extract
AMPiberry
OxyGold
How Does It Compare To Other Products?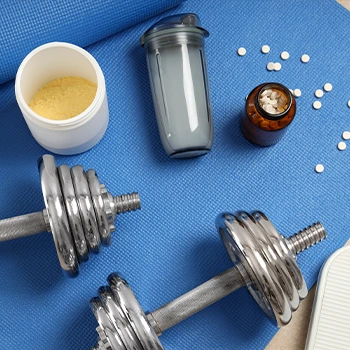 We compared Insane Labs Psychotic to other products like Gorilla Mode, 4 Gauge, and Transparent Labs. Here's what our data shows.
First of all, there's Gorilla Mode, and this has become the most favored by my bodybuilder clients. It delivers a great pump and energy boost mainly due to a stronger dosage of creatine [4].
The two other products we recommend to athletes of all fitness levels are 4 Gauge and Transparent Labs.
4 Gauge is a great supplement if you can tolerate stimulants. And if you generally go training later in the day, then Transparent Labs has a pre-workout free of stimulants, but that still delivers good fitness results.
Where Can You Buy Psychotic Pre-Workout?
You can buy Psychotic Pre-Workout on Amazon.
I tried ordering it a few times using a Prime account. Delivery times were usually two days, which is about normal for Amazon.
The problem I had was that it's constantly out of stock, making keeping a good supply difficult.
And even if it's in stock, a lot of the flavors are often not available. So I got stuck with one that I don't particularly like.
It just makes keeping your supply levels stocked a lot more difficult.
Tailored for Men and Women
Other User Reviews

We also look at what other user reviews on the company website have to say about the performance benefits from this supplement.
"Pump and focus was great, best I've experienced using pre-workout. However, it made me **** a bunch and gave me insomnia if I used more than a half scoop."  - Daniel R.
"I started with half a scoop like a container said but still it was too much. I had a good pump however, I believe my body did not respond well to the yohimbine " - Saul R.
FAQs
What Does Psychotic Pre Workout Do?
Psychotic pre workout provides a variety of fitness advantages, such as improved energy, increased strength output, and enhanced endurance.
How Much Caffeine Is in Psychotic Pre?
The amount of caffeine psychotic pre workout is approximately 300 mg.
Can I Take Two Scoops of Psychotic Pre-Workout?
No, you can't take two scoops of psychotic pre workout. Take 1 scoop with eight to ten oz of water once a day, 30 minutes before your workout. Avoid taking more than one serving daily, and don't take within four hours of bed to avoid sleeplessness.
Should You Consider Investing In Psychotic?
Overall, our testing results suggest that the proprietary blend is simply not strong enough to deliver on its promises. We saw the same in other online reviews, and for that reason, it's not a product we would recommend.
We've had the best overall results with Gorilla Mode. It has a great dose of L-citrulline and creatine that should help you push harder and hit your goals sooner. It also delivers a lot more when it comes to pumps, and I find it works for training sessions up to 90 minutes.
The focus and motivation you get are also a lot better than other pre-workouts without feeling jittery from overstimulation.
If you're interested in finding out more, you can check out our full Gorilla Mode review.
Our #1 Recommendation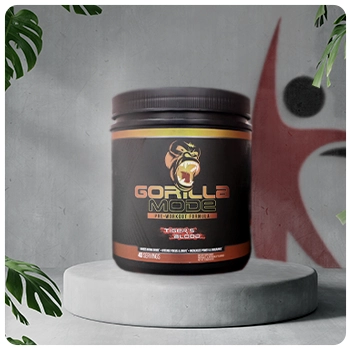 Click For Best Price

Pros
Contains nitric oxide for insane pumps
Many positive comments about good endurance and energy boost
High dose of caffeine may help with mental focus and fat burning
Tastes good
Get 10% off using code:

TOTALSHAPE
Cons
Does not list calorie count
Was this article helpful?