No matter your fitness level and goals, whether you like to train indoors or outdoors, or you want to make your workouts more challenging and exciting, you could greatly benefit from adding a high-quality battle rope to your home gym.
I hope one of the best battle ropes reviewed in this guide will help you sculpt and strengthen your entire body in no time.
So, let's cut a long story short and get on with our recommendations.
Table of Contents
Editor's Choice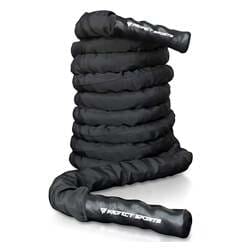 Profect Sports
Check Current Price
#2nd Best Choice
Comie Poly
Check Current Price
#3rd Best Choice
Garage Fit
Check Current Price
Our Top Battle Ropes
1 - Profect Sports Pro Battle Ropes (Editor's Choice)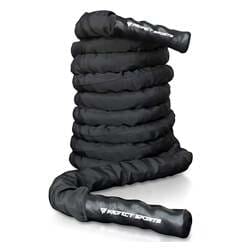 This is one of the best battle ropes made from ultra-sturdy 100% PolyDac fiber, which makes it a perfect addition to your CrossFit, cardio, endurance, strength, or any other training indoors or outdoors.
Wondering what sets it apart from the other reviewed best battle ropes? How about two reinforced heavy-duty anchor straps with stainless steel carabiner? You get them to secure your battle rope anywhere in a minute.
That gives you peace of mind no matter how vigorous your battle rope workout is, so you can focus on your movements and goals without worrying about the security.
What's more, it comes with an upgraded DuraMax protective sleeve to prevent fraying, and extra-long, ergonomic, coated handles which provide an excellent grip and protect your hands.
Length: 30, 40, 50ft
Diameter: 1.5, 2, 2.5in
Pros
Top-quality extra durable materials
Comes with an anchor
Available in different sizes
100% money-back guarantee, plus a 10% discount if you buy two ropes
Cons
Meant for more serious athletes rather than beginners
2 - Comie Poly Dacron Battle Rope
Comie Poly Dacron rope is another practical and versatile product that can be used as a battle, undulation, fitness, or power training rope for improving your coordination, shaping and strengthening your muscles.
Also, it's suitable for a wider population as it comes in various lengths, widths, and weights. Super durable nylon and a 600D Oxford waterproof sleeve for additional protection and easier maintenance make it excellent for outdoor workouts.
The heat shrink cap ends enable easy non-slip grips because they help the rope to keep its shape.
Length: 30ft (40' and 50' also available)
Diameter:1.5in (2'' also available)
Pros
Sturdy construction ensures maximum rope strength
Resistant to water and fraying
Reasonably priced
Cons
Thicker models might not be flexible enough at first
3 - Garage Fit Heavy Ropes
This rope may ensure superior sturdiness and durability thanks to its highly durable polyester blend combined with 3-strand twisted construction. That's how heavy-duty ropes on sailboats are usually made.
It's great for outdoor full-body and cardio training. Covered with a 20-inch protective waterproof sleeve, this battle rope is better resistant to dirt and water, plus suitable to use without gloves.
The 10-inch handles with heat shrink caps are long enough to provide a good grip. However, some users claim the handles are not well attached to the rope, so they might fall off during heavy workouts.
Length: 30ft (40', 50' also available)
Diameter: 1.5in (2'' also available)
Pros
Convenient storage and portability
A strap with a hook included for anchoring the rope
Nice design, various colors, and sizes
Cons
Some users say it may unravel and fray, and the handles could be better
4 - Titan Battle Ropes
Titan fitness and other equipment is known as reliable, and this product is no exception.
Made from a heavy-duty and water-resistant material, this battle rope can withstand seriously vigorous workouts.
Since it comes in different dimensions, it's also suitable for a variety of exercises at all levels outdoors or indoors.
The handles are fantastic, allowing you comfortable, firm grips even with sweaty hands, and protecting your palms from blisters, making this rope great for high-intensity workouts.
Length: 30, 40, 50ft
Diameter: 1.5, 2in
Pros
Long-lasting, sturdy material
Top-quality handles
Worth the investment
Cons
Neither an anchor nor protective cover included
5 - NEXPRO Battle Rope
The tensile strength of polypropylene and polyester combo prevents the rope from snapping or fraying even when slammed hard.
Which makes it perfect for CrossFit, MMA, and other athletes and enthusiasts who train for explosiveness, power, endurance, cardio conditioning, and upper body strength.
NEXPRO Battle Rope is also ideal for undulation exercises for beginners. Its ends are covered with heat shrink caps for better strength and grip.
The 600D Oxford waterproof sleeve improves durability and prevents damage from friction.
Length: 30, 40, 50ft
Diameter: 1.5in
Pros
Extremely durable
Resistant to water, UV rays and dirt
Reasonably priced
Cons
Only 1.5-inch thickness available without anchor
Still, some users claim their ropes started fraying quickly, so they advise using this rope indoors on soft surfaces and mats.
6 - Giantex Battle Rope
This high-quality rope constructed from strong, tightly woven material can enable you to upgrade your cardio, strength, and other types of training, and to get your body ripped and shredded.
Being extremely resilient and protected by the 600D Oxford sleeve, this rope is excellent for outdoor use. It's also suitable for smaller spaces and beginners.
Length: 30, 40, 50ft
Diameter: 1.5in
Pros
Super durable, water and weather-resistant
Good price-quality ratio
Easily transportable
Cons
Only 1.5-inch diameter available, so it may not be ideal for seasoned athletes or those with bigger hands
7 - Yaheetech Battle Rope
This multi-purpose battle rope can be used for undulation, climbing, or pulling exercises, as well as for CrossFit, strength, endurance, and other training sessions.
It may also be ideal for beginner to intermediate sports lovers, but perhaps not challenging enough for experienced athletes.
As many other models reviewed above, it's made from 100% Poly Dacron with triple-strand twisted design to enhance durability, while the sturdy, comfortable handles enable easy grips.
Some users said it might be a bit stiff at first, but it becomes more flexible with use.
Length: 50ft
Diameter: 1.5in
Pros
Excellent quality and construction
Widely applicable
Competitive price
Cons
Not suitable for use on all indoor surfaces
8 - Super Deal Poly Dacron Battle Rope
If you want to focus on developing muscles and strength, this might be a great rope to add to your home gym equipment. You can use it for indoor or outdoor training sessions.
Its three-strand-thick construction made from Poly Dacron in combination with a waterproof nylon sleeve and caps on ends is synonymous with durability.
Plus, users say the rope is flexible, and the handles provide secure grips.
Length: 30, 40, 50ft
Diameter: 1.5, 2in
Pros
Made to last
Good value for the money
Easy to roll up, store and transport
Cons
May not be the best choice for professional users
9 - ZENY Poly Dacron Battle Rope
This solid battle rope features durable wear, water, and fray resistant three-strand twisted Poly Dacron construction with a protective sleeve to prevent breakage.
Long enough heat shrink handles ensure firm grips, but many users say this battle rope is quite heavy and stiff, so it may not be an ideal choice for high-intensity waves or any other similar exercise.
Anchor straps aren't included as with most ropes on the market.
Length: 30, 40, 50ft
Diameter: 1.5, 2in
Pros
Durable with high tensile strength
Easy to maintain
Reasonable price
Cons
Not best for beginner cardio training, but perfect for muscle growth battle rope exercises
10 - Fitness Solution Battle Ropes
The manufacturer claims this versatile, hand-crafted, weather,  water, shed, and fray resistant rope is fantastic for heavy rope training, climbing, undulation, and other rope exercises outside or inside.
Any sports enthusiast can use it for a full-body workout to gain muscle, burn fat, and improve metabolism and overall fitness.
Length: 16.5, 20, 25, 30, 40, 50ft
Diameter: 1.5, 2in
Pros
High quality and strength
Has military-grade heat shrink caps
Offers the widest variety of lengths
Cons
Might be too light for advanced sportspeople, but great for newbies
What to Look for in Battle Ropes
Here are the essential characteristics you need to take into account when figuring out what's the best battle rope for you.
Material and Durability
The most commonly used materials for a battle rope include:
Manila
Nylon
Polyester
Polypropylene
PolyDac
Dacron
Poly Dacron
All except manila are synthetic materials, mostly quite sturdy and durable. Manila is a natural material that tends to leave strands all around, so it's not ideal for indoor use. But it's good to use outdoors as it's resistant to heat.
Battle ropes provide you with a unique full-body workout, and it's a change of pace from the everyday dumbbells, barbells and machines - Shane McLean, Online Personal Trainer.
Also, if you usually train outside on concrete or any other hard surface, you'll need a rope made of a water-resistant material or possibly with a waterproof nylon sleeve to prevent fraying and damage.
Size - Length, Thickness, Weight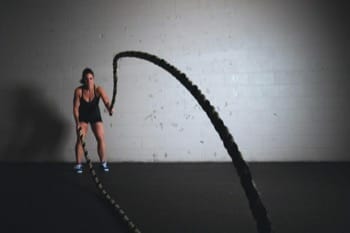 Your workout intensity will depend on the size of the rope you choose.
The most common rope dimensions are these:
Length: 30, 40, 50, 60 feet (although there are various other models 10-100 feet long)
Thickness: 1.5-inch diameter (thinner), 2-2.5 inches (wider and thicker)
Weight: 12-24lbs on average (but can be much heavier)
Shorter ropes are suitable for more explosive training, whereas long ropes are useful for developing strength and muscle mass because they're typically heavier.
Thinner ropes are better for explosiveness, cardio, and other intense training sessions, as well as for beginners.
Wider i.e. thicker ropes are more demanding to exercise with because they're usually heavier and harder to grip. Also, they're great for endurance and strength training.
In short, the longer, thicker, and heavier the rope, the more challenging your workouts will be which is seen with lots of performance athletes, especially in calisthenics.
Available Space
Another key factor when choosing the best battle rope to buy for yourself is the space you have available. If you're going to use it indoors, it's particularly important that you have a minimum of 20-25 feet long room.
Obviously, shorter ropes are lighter and easily portable, while longer ones will take up more space in your home gym.
Handles and Anchor
Your palms will get sweaty during heavy workouts, and you don't want your battle rope handles to be slippery. Instead, you want handles that'll provide you with a firm, secure grip, don't you?
Then, it's advisable to choose at least 10 inches long handles with heat-shrunken caps to ensure durability and excellent grip.
Next, you need something stable and heavy enough to anchor your battle rope. Some models come with an anchor included, but sometimes you'll have to improvise. Whatever you decide to anchor your rope to, be it an iron hook, bar, weight bench, dumbbells, or anything else, make sure it's fixed to the floor or wall for better security.
Flexibility
It's true that a battle rope becomes more flexible with use, but some models tend to stay stiff, which might be good for building strength and HIIT workouts.
Since you'll probably be using your battle rope for various exercises, you'd better go with a more flexible rope because it allows better fluidity of motion.
Value
You'd certainly want to hit the best price-quality balance, right? Sure.
However, don't forget that a long-lasting and strong battle rope that perfectly fits your workout routine and goals is worth the investment, as this is not a cheap toy.
Your Goals And Personal Preferences
The battle rope you'll choose will be the means of achieving your fitness goals. That's why it's critical to select it with your goals in mind.
So, if you want to:
Burn fat, lose weight, increase speed and explosiveness, improve coordination, cardiovascular and overall conditioning - opt for a highly flexible, thinner, and lighter rope paired with HIIT training, then gradually progress
Build strength or muscle mass - go for a thicker, heavier, and longer option.
Battle ropes are a great addition to any circuit, or as a standalone, total body workout with nearly an endless amount of exercise variations. Because they work the entire body in all planes of motion, battle ropes have the potential to burn more calories during the workout than single-joint exercises alone. Plus, they can create a greater metabolic demand than traditional resistance training exercises.

- Alex McBrairty, Certified Personal Trainer
Also, you may want to get a rope that is of a particular color and design, with specific decals or other details you like. And that's fine, as long as it satisfies the main criteria we've discussed above.
Whichever you choose, make sure you're able to track your goals. Made easier with the help of either a weightlifting fitness tracker
FAQs
What Is a Battle Rope Good For?
What Muscles Do Battle Ropes Strengthen?
Battle ropes strengthen and activate every muscle in your body, including your arms, shoulders, upper back, core, hips, knees, and feet muscle groups. In short, using battle ropes is perfect for your full-body workout if you use them correctly. [4] [5]
Battle ropes provide a tremendous total-body workout, but variety of movement is key.

- Dr. John P. Porcari
Do Battle Ropes Tone Arms?
Yes, battle ropes do help to tone your arms and strengthen them. For a better effect, you may want to alternate your movements and arms and play with the wave length.
Are Battle Ropes Good for Abs?
Are Battle Ropes Bad for Your Shoulders?
Battle ropes can be bad for your shoulders if you're not cautious because the majority of the movements involve excessive and frequent use of your shoulder joints. So, if you already have problems with your shoulders or back, you may want to consult your physician before using a pair of battle ropes or buying them for your home gym.
What Is the Best Length for Battle Ropes?
The best length for battle ropes is the one that fits your goals and available space. The optimum and most popular battle rope length among many users is 50 feet.
Keep in mind that shorter battling ropes require more strength and are more suitable for muscle building and use indoors, whereas longer ropes allow for more fluid motions and are great for developing explosiveness and outside training.
Can I Combine Battle Ropes With Weights?
Yes, you can combine battle ropes with weights. Indeed! Such a powerful training combination will enable you to boost your strength, stability, stamina, and endurance faster, as well as to target specific muscle groups more precisely and effectively.
Which Battle Rope Should You Pick?
After rigorous testing, the best battle rope for me is Profect Sports Pro Battle Rope because it comes as a full kit of superior quality, durability, and versatility.
Whether you're a man or a woman, if you use this rope regularly and adequately, you probably won't have to wait long before you see the amazing workout effects.
Since best battle ropes come in various sizes and weights, it's crucial that you find the rope that's within your fitness, ability, and strength range.
Choose one to help you shape and strengthen your body, add some fun to your workout routine, and smash up the stress.
What's the best battle rope brand that you've tried? Share your experiences in the comments.
Our #1 Recommendation
Profect Sports Pro Battle Ropes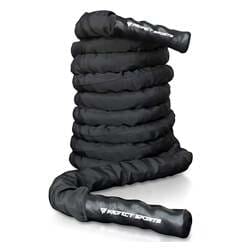 Check Current Price

Pros
Top-quality extra durable materials
Comes with an anchor
Available in different sizes
100% money-back guarantee, plus a 10% discount if you buy two ropes
Cons
Meant for more serious athletes rather than beginners
About the author
You may also like