People are often surprised when I tell them that I still struggle sometimes with getting my five servings of fruit and veg per day.
Fortunately, there are green superfood powder supplements to solve that problem, and we've recently been testing one by Amazing Grass.
The problem we've encountered with most of these products is that they fall way short in the flavor department. They often taste like you've mowed your lawn and blended the clippings.
Apparently, this product solved that problem, so we decided to do a full Amazing Grass Green Superfood review with our dietitian.
Here's what we found.
What Is Amazing Grass Green Superfood?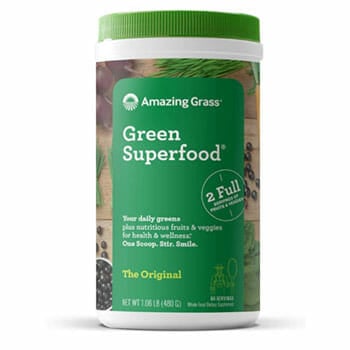 Amazing Grass Green Superfood is a powder supplement that may provide digestive and immune health benefits as well as a general wellness boost.
By combining green veggies, fruits, and digestive nutrients, the company claims to have formulated concentrated nutrients that are backed by science.
More on the ingredients shortly.
Our conclusion from looking at the label is that the product claims to address three key areas:
Nutritional balance
Support for detox
Healthy digestion
But what stood out the most for us was that it's one of the few supergreen supplements that come in multiple flavor options like berry and chocolate.
Because many things that are healthy for you don't taste that great, we were a bit suspicious that the reports of a nice taste might have come at the expense of effective ingredients.
Let's see what our dietitian had to say about that in this Amazing Grass Green Superfood review.
Ingredients
I'm going to have to start on a negative note about Amazing Grass Green Superfoods.
You'll notice that the company hides behind a proprietary blend as soon as you look at the label.
Pretty much all the supplement products we recommend to clients have a transparent label, which is important if you're carefully planning your diet and stacking with other products.
The nutrition label is broken down into four categories of ingredients, and we looked at each one with our dietitian.
1 - Green Food Blend (5.7 g)
Wheat grass: An extensive study in 2015 revealed that wheat grass may have wide-ranging health benefits, including detox, digestion, metabolism, and immunity [1].
Barley grass: Barley grass is a superfood that's been extensively studied. A review pointed to barley grass working as a blood pressure regulator, immunity booster, and anti-inflammatory [2].
Alfalfa grass: Our dietitian mentioned that alfalfa is often used as a natural solution to help regulate blood sugar and lower cholesterol.
Spinach: I think Popeye cemented the benefits of spinach for an entire generation, but there is actual nutritional evidence behind it. It's a great source of iron and is being increasingly recommended to people who may be suffering from heart disease.
Spirulina: It's kind of difficult to find a good way to add green-blue algae to your diet plan, but the benefits have been shown in many studies. These include providing B vitamins and many minerals, including iron. But it also may be a more powerful antioxidant and anti-inflammatory.
Chlorella: Some recent studies have revealed that the antioxidants contained in chlorella may play a critical role in transporting toxins in a more effective way to make removal easier.
Broccoli: This is a veggie that people either love or hate. But your body could benefit a lot from its potential anti-inflammatory effect as well as having a rich vitamin content.
Most green superfood powders typically have the same whole food and green superfood ingredients in them. This could have been better if they weren't in a green food blend.
2 - Antioxidant Blend (1.1 g)
Rosehips: While being a potent antioxidant, studies have also revealed that it could reduce inflammation [3]. Perfect for athletes who may suffer from joint pain and swelling.
Pineapple: There have been many nutritional studies on the benefits of pineapple. This fruit is high in three specific antioxidants: phenolics, flavonoids, and vitamin C.
Carrot: The beneficial compound in carrots is called carotenoids, and this simple nutrient is what gives these root vegetables their detox benefits.
Acerola cherry: These are a bit more difficult to find in supermarkets, but studies have shown that it may be one of the most vitamin C rich fruits available.
Green tea leaf: Personally, I don't like the flavor of green tea. But I fully understand that it has been used for detox purposes for hundreds of years.
Acai berry: This is another fruit that may have some unique detox benefits that could directly impact the overall health of brain cells [4].
Beetroot: This veggie does make it into my salads on a regular basis, and along with being a good antioxidant, it may also help to protect your heart health.
Raspberry: These berries are also popular in the beauty industry, where it's believed that it may reduce free radicals that could impact your skin and hair.
Maca root: There are two detox nutrients that maca seems to contain in quite a high dose: glutathione and superoxide dismutase. These may help prevent heart disease.
So far, this green superfood from Amazing Grass is showing some impressive nutritional profile. It seems to be nutrient dense and the green tea leaf and acai berry are strong antioxidants that sure work wonders on the body.
3 - Fiber Blend (668 mg)
Flax seed: We were surprised to hear that organic flax seed might actually be better ground up into a powder than whole [5].
It's a rich source of fiber, which might be a good way for you to help make your digestive system a bit more efficient.
"Flaxseed is commonly used to improve digestive health or relieve constipation.

Flaxseed may also help lower total blood cholesterol and low-density lipoprotein (LDL, or "bad") cholesterol levels."

- Katherine Zeratsky, registered dietitian
Apple Pectin: This is another soluble fiber that is also believed to help with controlling your blood sugar levels.
The only thing we would say about the Amazing Grass Green Superfood fiber blend is that it seems to be quite a small amount, which might not be all that helpful.
4 - Digestive Enzymes And Pre/Probiotic Blend (426 mg)
List of digestive enzymes:
Fructooligosaccharide (FOS)
Amylase
Protease
Lipase
Lactase
Cellulase
These digestive enzymes in the Amazing Grass Green Superfood seem like a good mix as they should help your gut to break down macronutrients more effectively.
Our dietitian did say that it's a good mix that might help to make you feel less bloated.
It also claims to contain some lactobacillus acidophilus. But given the small amount of less than half a gram, we don't believe that there are enough probiotics to create a meaningful enough culture.
How Does It Taste
So, we already hinted at the fact that Amazing Grass claims to have solved the flavor problem that is so common with green superfood powders.
We tried out 3 of the flavor options.
First was the original, which is the unflavored natural taste you'd get. And it basically is like taking a big bite out of your lawn.
Then we tried the berry and chocolate.
Chocolate was actually quite OK as we didn't find it overpowering or sweet. And it seems that it's also the favored product with a lot of buyers.
The berry product was just a bit too sweet with a bit of an aftertaste as well.
Overall, it wasn't such a bad experience. Amazing Grass did find a way to slightly off set that earthy, grassy green superfood taste.
Pros and Cons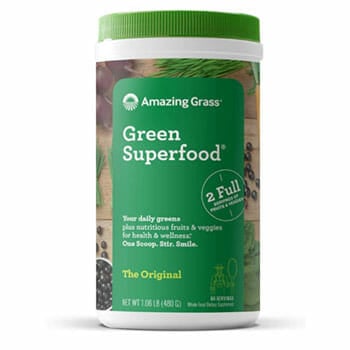 We did like the fact that this green superfood from Amazing Grass has an organic certification, which a lot of people like to pay extra for. But it's also gluten free, non-GMO, and has no added sugar.
It also scored well in our taste test, but you may need to experiment a bit with the flavors.
The main downsides are that you don't get to see the exact amounts of ingredients. Yes, Amazing Grass hides behind a blend.
Our dietitian concluded that the digestive support ingredients didn't seem to be in a high enough dosage for a green superfood.
We were just not entirely convinced.
Pros
Claims to use only trusted organic sources
GMO and gluten free option for added peace of mind
The powder seems to mix well with water, juice or milk
Cons
It doesn't have a high concentration of probiotics
Could be more powerful for digestive support
The company hides behind a proprietary blend
Possible Side Effects
Generally speaking, all the Amazing Grass ingredients are considered to be safe to take, as most green superfood products that we have tried.
We couldn't identify anything that would cause some of the more common allergies.
The online reviews that we read also seemed to suggest that people weren't having much trouble with it.
If you tend to have a sensitive stomach, then you might want to take a half scoop to start with.
You could then gradually increase it to a full scoop of green superfood if you don't have side effects.
Some people also try to mix it with food or a morning smoothie to avoid stomach problems.
Where To Buy Amazing Grass?
There really are only two safe places to buy supplements.
We always send our clients either directly to the company that makes them, or to their trusted online retailer. It's the only way that you can be sure that you avoid a fake product.
Unfortunately, there have been many reports of counterfeit supplement products being offered through online retailers where you could end up taking some health risks.
You also might get some better deals for buying in bulk when you order directly, which is always worth checking out.
Amazing Grass Green Superfood Reviews
As with all of our product reviews, we wanted to make sure that we also bring you a selection of online user comments about the Amazing Grass green superfood.
This way, you won't just get our opinion.
He preferred using the original flavor despite the taste not being great. But he did report good results on his overall health and energy levels. It's now a part of his daily green smoothie.

- Eugene from Miami
Matt says that he likes the berry flavor mixed with orange juice or a smoothie. His results have been positive for his health, and he reports that he's managed to avoid the common cold for an entire winter.

- Matt from Sacramento
She had been using it for several years, and it had helped her improve allergies and energy levels. But a sudden change in the formula meant that the flavor and texture didn't make it suitable for her smoothies anymore.

- Ruth from Toronto
She has tried this for two months but unfortunately didn't end up getting the digestion benefits she was hoping for. Switching to stronger superfood greens with added probiotics seemed to be her solution.

- Janice from New Jersey
Check out our other Green Superfood Reviews:
FAQs
Is Amazing Grass Green Superfood Safe?
Yes, Amazing Grass Green Superfood is generally classed as safe.
All the ingredients are from natural whole food sources, and they don't contain common allergens.
If you do have a sensitive stomach, then try taking a half scoop at first to see how you react.
Is Amazing Grass Green Superfood FDA Approved?
Amazing Grass Green Superfood is not FDA approved.
But it only uses ingredients from certified food production facilities that are registered with the FDA.
This means that you'll have added peace of mind about the safety of the product.
How Many Times a Day Should You Drink Amazing Grass Green Superfood?
You should drink Amazing Grass Green SuperFood once a day, ideally with your breakfast.
This should give you all the beneficial nutrients you need for the day and could also help to improve your energy levels right from the start of your day.
Does Amazing Grass Green Superfood Really Work?
Amazing Grass Green Superfood really does work for immune and detox benefits.
It might not work quite as well for your digestion as some of the ingredients don't seem to be included in a strong enough dose.
Should You Buy Amazing Grass Green Superfood
Our conclusion has been that we won't be recommending Amazing Grass Green Superfood. It's a good supplement product offered at a fair price.
We did like the taste, which seems to work well with smoothies.
But we found that the ingredients to help your digestion just don't seem to be there in a strong enough dose.
It also lacks on the probiotics side of things.
Organifi remains our top superfood greens supplement because it ticks all the right boxes for immunity, energy, and digestion.

Reviews about the Organifi green superfood seems to be more consistent with the health benefits, too.
Place your order today and let us know how quickly you were able to improve your health.
We've scored our readers 15% when you order with coupon code: TOTALSHAPE
Our #1 Recommendation
Click For Best Price

Pros
GMO free, gluten free, soy free, and dairy-free to help avoid food intolerances
100% organic and plant based certified for best quality ingredients
Very easy to mix so you don't need a blender
Tastes good with no synthetic or artificial sweeteners
Get the BEST PRICE until the end of March
Cons
It doesn't have a high concentration of probiotics
Could be more powerful for digestive support
The company hides behind a proprietary blend
Was this article helpful?