I always tell my readers and clients that there's no way around working hard at the gym and focusing on a proper diet to achieve sustainable weight loss.
But once you have those two things covered, there are ways to trigger fat-burning effects with natural supplements.
One product that readers were constantly asking me about is Cardalean. So, I got together with the Total Shape team, my dietitian, and a few clients to test and research this supplement over four weeks.
Here's what we found for this Cardalean review.
What Is Cardalean?
Cardalean is a fat loss product created by supplement company Brutal Force aimed at making weight loss and cutting phases more effective.
It also claims to contain ingredients that support maintaining lean muscle mass.
It comes in capsule form, and according to the company, Cardalean targets fat cells in a more effective way to reduce your body fat percentage.
The name is a play on a medical drug called Cardarine GW501516, and the goal was to achieve similar results with natural ingredients that are not on a banned substance list.
It's used for treating arthritis and preventing painful muscle spasms [1].
Cardarine GW501516 is a selective androgen receptor modulator (SARM) and a prescription-only drug often misused by athletes.
Cardalean is a relatively new supplement introduced in 2021, and so far, the company has not modified the formula.
Let's see if it lives up to the claims.
Tailored for Men and Women
How Does Cardalean Work?
Cardalean works by triggering thermogenesis, increased energy output, and boosted vascularity.
After four weeks of testing, we gathered feedback from the team to see what kind of changes they experienced.
What Are the Benefits of Cardalean?
The benefits of Cardalean are enhanced fat-burning, promoted vascularity, and increased energy levels.
Fat Burning
Brutal Force claims that this is an extreme fat burner. I'll get to a breakdown of the ingredients shortly, but I can say here that it didn't cause particularly rapid fat loss.
In our four-week test, we recorded a 1.5% reduction in body fat percentage while using Cardalean. To put this in perspective, intense workouts alone yielded a 1.3% reduction, indicating that Cardalean's impact is marginally better but not significantly so.
Vascularity
The company also claims that Cardalean promotes extreme vascularity. And we did note a few ingredients like L-Arginine and L-Citrulline that have proven links to boosting nitric oxide levels [2].
That triggers faster blood flow to muscle cells that helps them swell up and gives you better pumps in more intense training sessions. And we did notice more defined muscles during workouts.
Energy Boosting
The company highlights improved aerobic capacity as a benefit of Cardalean. In our tests, we observed a 10% increase in aerobic capacity, as measured by VO2 max, although results varied among test subjects.
I think that this product could be improved with more ingredients that trigger the energy-producing capabilities of the body.
If that's an important factor for you, then you'd probably need a pre-workout supplement to stimulate your body to produce energy more efficiently for your workouts. Be careful, however, since you might be caffeine-sensitive and could end up with the jitters if you end up taking a supplement with high levels of this ingredient.
Ingredients
Here are the main active ingredients.
Wild Yam Root Powder (750 mg)
Brutal Force claims that wild yam extract can make burning fat more efficient. However, there is not enough scientific evidence for this, and one study, in particular, highlighted that it had no effect on body mass [3].
Ginseng (375 mg)
This is a good ingredient for weight loss and developing lean muscles. Studies have shown a direct link between ginseng and the amount of fat the body will store, and there is a link to testosterone production as well [4].
However, most studies use a stronger dose of ginseng than Cardalean provides.
L-Arginine (150 mg)
This is one of the more interesting amino acids as it has been linked to improved blood flow and the body's ability to process stored fat [5]. The dosage is also good, lining up with what many studies have used.
Acetyl-L-Carnitine (75 mg)
There is evidence that L-Carnitine can help with improved muscle function, and you can find it in many different pre-workouts [6]. However, those products typically include a significantly higher dose.
L-Citrulline (75 mg)
This is another good ingredient that influences blood vessels by boosting nitric oxide [7]. I did notice better pumps during training but keep in mind that a good pre-workout would have about ten times as much.
"Taking L-citrulline increases plasma levels of ornithine and arginine and improves the ammonia recycling process and nitric oxide metabolism. Consequently, it is used in areas where nitric oxide is relevant, namely athletic performance, vascular health, and erectile dysfunction."

- Kamal Patel, Health Editor
Puncture Vine Extract (37.5 mg)
You'll often see this in natural testosterone boosters, but some studies are now questioning the real effect it has [8]. It's also included in a small dosage that might not have a significant effect.
Supplement Form
Cardalean comes in small veggie capsules that you should take at the same time every day.
The recommendation is to take it about 20 minutes before a meal, and because there's no caffeine, you could take it later in the day.
During our testing, we took it first thing in the morning, at least 20 minutes before breakfast, to allow the body to absorb the ingredients.
I personally like taking capsules as it's easier to bring them with you if you want to take them while you're on the go.
Pros
Caffeine-free formula means you can take the capsules later in the day
Positive trial results for muscle pumps during training
Comes in small enough capsules that are easy to swallow
Cons
We noticed a few online reviews mentioning that they got muscle cramps
CardaLean Side Effects: Are There Any Risks?
Yes, there are some risks. A few users commented online that they got cramps during the day while taking Cardalean. This seems to be isolated, but one of our clients also reported this.
The other thing that I highlighted above in the ingredients section is that Cardalean doesn't have a particularly strong formula.
While some ingredients have proven benefits, the dosage is too low to make a major difference. That's probably why we weren't able to lose fat as effectively as we expected.
How Does It Compare To Other Products
We took a look at how Cardalean compares to three leading fat burners. Here is what we found.
PhenQ
I have seen fantastic results in burning fat, boosting metabolism, and improving overall health for my clients struggling with weight loss while using PhenQ.
But, PhenQ isn't just about weight loss. As a test user, I personally experienced increased energy levels, mental clarity, and focus. And best of all, no one in our test group experienced any side effects.
PhenQ contains caffeine, but Cardalean does not. The caffeine content in PhenQ isn't too much at 75 mg, but it was enough for an energy kick without adjusting my morning coffee routine.
Along with caffeine, PhenQ uses capsimax, L-carnitine, nopal, and a-Lacys Reset® to target fat stores and appetite suppression [9].
I found PhenQ to be one of the pricier weight loss supplements but one of the very few that is well worth the investment, particularly if you are struggling to lose weight. I ordered for testing and was surprised at the deals I found on the website.
LeanBean
Many of my female fitness clients struggling with stubborn fat prefer LeanBean based on our experience, a weight loss supplement specifically designed for their needs and light on stimulants.
LeanBean contains natural ingredients like chromium, Glucomannan, zinc, chromium, and turmeric to suppress appetite and kick metabolism into overdrive [10].
And thanks to caffeine sourced from green coffee beans, it gives you a much-needed energy boost without the dreaded crash [11]. That said, I would like to see more caffeine in the formula.
Both Cardalean and LeanBean are suitable for plant-based diets. Cardalean contains no caffeine, so it is okay to take it later in the day. LeanBean has a small amount of caffeine content, so users, mainly those sensitive to stimulants, would be better off taking it earlier in the day.
Some of our test participants were initially intimidated that they had to take six pills a day, mainly when Cardalean requires only two. However, once they got into the routine, they reported good results after just a few weeks.
Instant Knockout
Initially created for top-level bodybuilders and athletes, Instant Knockout quickly gained popularity among gymgoers due to its powerful formula.
This supplement contains potent doses of caffeine and L-theanine, which our dietitians confirm can enhance performance, fat control, and focus [12,13].
If you're sensitive to caffeine, Instant Knockout may not be your best option. Other stim-free options are available, like Cardalean. However, for those that can handle it, the combination of 300 mg of caffeine, green tea, and cayenne delivers a potent punch to your metabolism and thermogenesis [14].
In addition to caffeine, Instant Knockout contains Glucomannan, a natural appetite suppressant, which our testers have praised for its ability to reduce snacking [15]. Participants who followed our designed diet and exercise plan while taking Instant Knockout reported some weight loss.
While results may vary, Instant Knockout can be a great addition to your workout routine; I loved the energy kick I got from the caffeine and noticed an improvement in focus that helped me get through intense workouts.
Where to Buy Cardalean?
You can occasionally buy Cardalean on Amazon, but the official place to buy it is on the Brute Force website. One thing I would say is that buying from resellers at Amazon can be a bit risky.
There are too many counterfeit products out there that, at best, will do nothing.
But they could also cause side effects that are not common with the real product, so I always suggest avoiding them.
If you decide you want to give this product a try, then I would suggest buying it on the official website. Aside from getting the actual product, you will sometimes get discounts and other deals such as free shipping. You also benefit from the returns and refunds policy in case something happens.
But keep in mind that, as described above, it's not as effective as other products that we have tested.
Tailored for Men and Women
Customer Reviews
We also looked at Cardalean users' comments on the company's website to see how other people rated it.
"Brutal force has helped me grow huge muscles by giving me the stamina to push past the fatigue and get the extra strength to get that last rep."

- Richard
"I wanted to bulk and cut at the same time. Brutal Force Bulking and Cutting Stack has helped me shed the unwanted body fat while packing on lean hard muscle mass."

- Rikki, The Official Website
FAQs
Does Cardalean Make You Jittery?
No, Cardalean doesn't make you jittery. This product has a stimulant-free formula that doesn't contain caffeine or taurine. That means you can take it later in the day without having to worry about it messing up your sleep and recovery time.
Can You Use Cardalean Long-Term?
Yes, you can use Cardalean long-term. The ingredients are classed as generally safe to take, and if you don't have a reaction to the supplement, then taking it for months should be fine.
Just be aware that some people have reported joint discomfort and cramps.
Should You Invest In Cardalean?
Based on the feedback and test results from clients and our team and the research from my dietitian, I would not recommend buying Cardalean. Our testing results showed a limited effect on fat loss and preserving lean mass, and we have had far better results with other supplement products.
If you want to make your diet and exercise efforts bring you to your weight goals faster, then I would suggest you try PhenQ.
It has a scientifically-proven formula, and I have had great results controlling fat storage during a muscle growth phase. I have also not heard of any side effects since I first started recommending it to clients a few years ago.
Order your first supply today and see how much of a difference it can make.
Our #1 Recommendation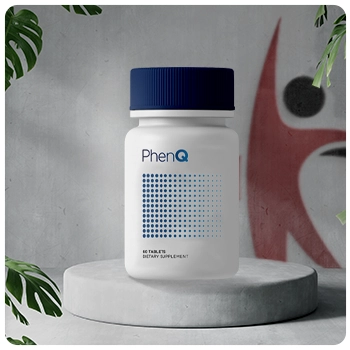 Pros
Suppresses your appetite
Blocks body fat production to stop weight gain
Improves your mood and energy levels
High-quality, all-natural formula
Get the BEST PRICE until the end of September
Cons
Can be only purchased through the company website
Was this article helpful?