I, as a personal fitness trainer and nutritionist, always tell my clients that if they want to lose weight faster in a cutting phase, they have to get their diet and workouts right first. Only then should they consider taking fat burners like Inno Shred.
The problem with many products like Inno Shred is that they spend way more on marketing than on creating a useful and effective formula to help lose weight and burn fat.
So we brought in our dietitian along with nine clients to help us out with research and testing, and we also compared our test results to other fat burners on the market.
Let's dive into our findings for this Inno Shred review.
What Is Inno Shred?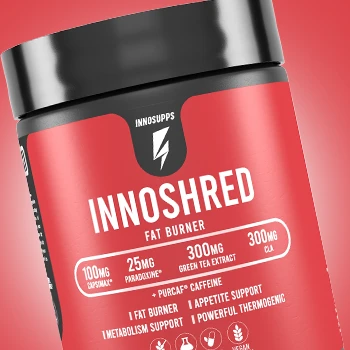 Inno Shred is a fat-burning supplement made by Inno Supps. It's a popular dietary supplement company that has a range of weight loss, pre, and post-workout products.
Inno Supps claims that Inno Shred is a potent thermogenic supplement that can burn fat rapidly for weight loss.
Now I will say that they don't claim this is a magic pill that will get you beach body fit by sitting on the couch.
What they are referring to is using ingredients that trigger metabolic thermogenesis, which is a natural response in the body that slightly raises your temperature by burning more calories from fat reserves [1].
We'll see how well that works and what science says about the Inno Shred ingredients, such as grains of paradise and green tea extract.
Inno Shred Benefits

Inno Shred is a fat burner that utilizes green coffee bean extract to target stubborn body fat and promote fat loss, making it a potential option for individuals looking to reduce their body fat percentage.
For our research, we had some clients help out with running our own trial with this fat-burning supplement. We went through one week of cutting without any intake.
And then went through a couple of weeks using Inno Shred daily to compare the results to the baseline from week one.
Let's take a closer look.
Fat Burning
Inno Shred contains ingredients like caffeine and green tea that have been linked to fat oxidation through thermogenesis [2]. That should mean that you burn more energy throughout the day and ultimately lose weight.
During our testing phase, we specifically measured white body fat and observed a 12% reduction over a span of 7 weeks. This was particularly interesting as white body fat is the visible fat, often seen as belly fat.
We did record a slight improvement in stubborn body fat loss because in the weeks with Inno Shred, there was a faster reduction in BMI. The big question was whether it was fast enough to make a decent difference.
I'll get back to that shortly.
Appetite Suppression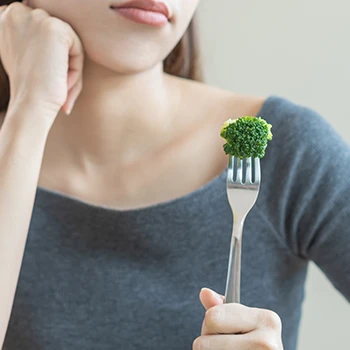 When you want to lose weight and burn fat, you have to limit your calorie intake. And the best way to do that is to avoid snacking and extend intermittent fasting periods [3].
And one way to lose weight is to take fat loss supplements that help you stay full for longer.
Unlike other fantastic appetite suppressant pills, during our testing phase, we didn't notice such an appetite suppressant effect with Inno Shred.
I was taking it every morning, and I still started feeling hungry at 9 am, which is the same time I get the first signs of hunger every day.
Energy Boosting
So, while Inno Shred is a weight loss and not a pre-workout supplement, we have found that other products from this category release a lot of energy in the process of burning fat. And in our experience, that can then boost overall physical and mental energy levels.
Because we found that Inno Shred seems to burn fat in a limited amount for weight loss, it would explain why we didn't feel any significant physical energy boost.
However, with the good dose of caffeine, we did notice better focus during the hours after taking Inno Shred for weight loss.
Inno Shred Dosage
Like many other weight loss supplements, Inno Supps has chosen to supply this product in capsules.
The standard dose is two capsules per day to help burn fat, and you should take those in the morning. However, the company does say that for the best weight loss results, you'll need to increase to four capsules a day gradually.
That's a lot of capsules to swallow, and some people prefer having a powder that they can mix into their morning breakfast smoothie for weight loss.
Science-Backed Ingredients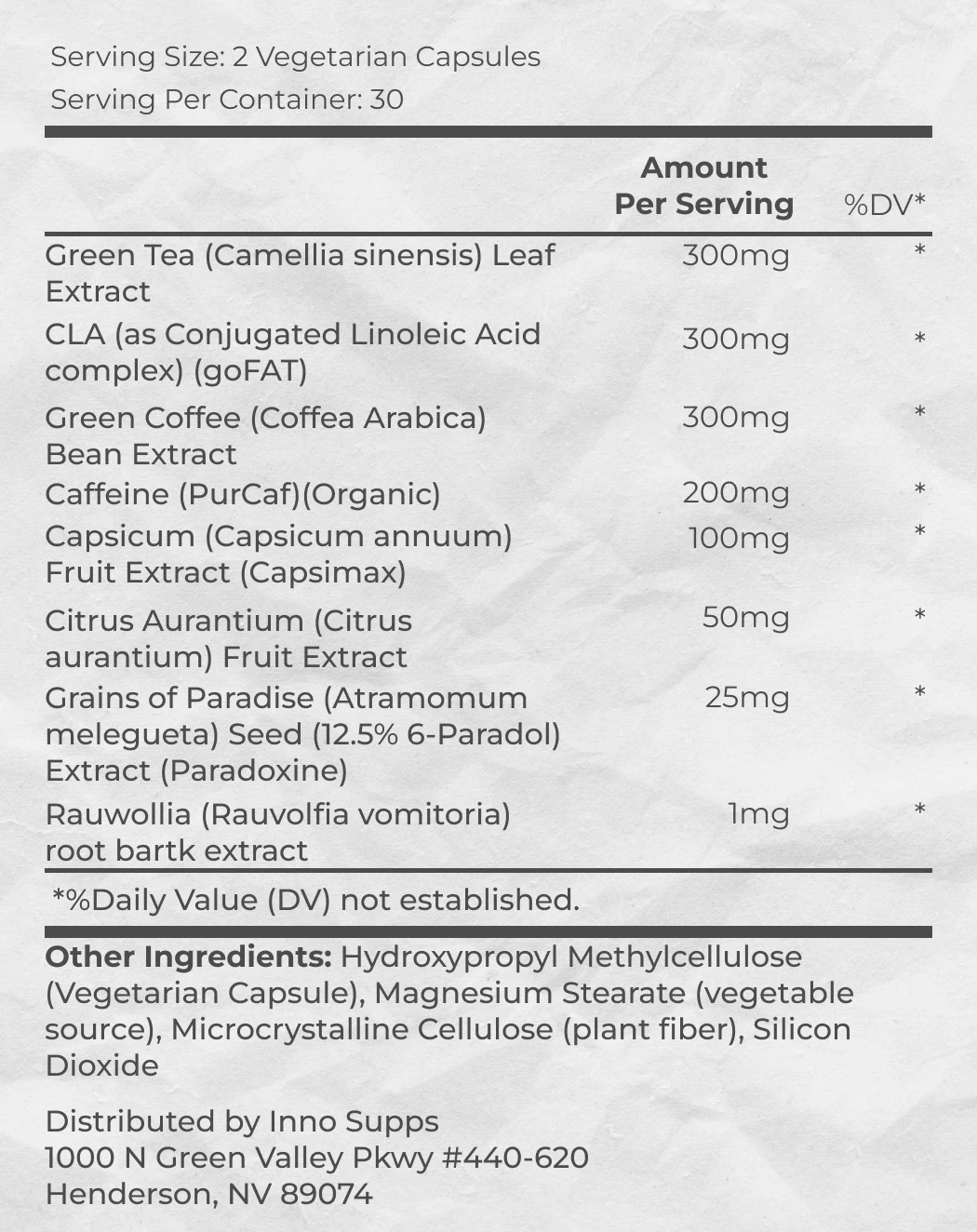 Inno Shred is a fat burner that aims to enhance fat burning and energy expenditure through the use of organic caffeine, grains of paradise extract, and other ingredients, making it potentially beneficial for individuals looking to reduce visceral fat and boost metabolism and energy expenditure. It is worth noting that the product does not contain artificial sweeteners.
Next, we had our dietitian investigate the natural ingredients that Inno Supps has chosen for the weight loss formula.
1. Green Tea Extract
Green tea extract has been linked to improved metabolic rates and how the body processes and stores fat [4].
However, most studies that we found used significantly higher doses than the 300 mg that Inno Supps has chosen for weight loss.
That might also explain the limited fat burning and lower impact on hunger cravings.
2. Conjugated Linoleic Acid
Studies on conjugated linoleic acid are mixed, but we have seen good results with some other fat burners that contain this ingredient [5]. It's a fatty acid, and most other products provide quite a lot more of it than 300 mg.
"CLA are fatty acids that act on a system known as PPAR to induce fat loss. At least, that is what the theory says. CLA too weakly affects PPAR receptors to really induce fat loss in an appreciable amount."

- Kamal Patel, Editor & Cofounder at Examine.com
3. Green Coffee Bean Extract
There is good evidence for using green coffee beans in fat burners, as scientists have linked it to improved weight loss when taken consistently [6].
And in this case, it looks like Inno Shred contains a dose of 300 mg that is higher than what most studies have used during trials.
4. Organic Caffeine
Caffeine is possibly one of the most common ingredients in weight loss supplements. Countless studies have shown that it can help with achieving and maintaining a healthy BMI [7].
A dose of 200 mg is about the same as two cups of coffee, which isn't too much. But if you're sensitive to stimulants, then there is an Inno Night Shred alternative.
5. Capsicum Fruit Extract
This extract from peppers has been scientifically linked to maintaining a healthy metabolism [8].
I would like to see the dosage increase a bit from 100 mg as other products we've tested tend to provide around 150 mg.
6. Citrus Aurantium
This is another ingredient that has some scientific backing for its impact on metabolic rates [9].
The dosage also looks like it's in line with clinical trials, and my dietitian mentioned that this is becoming a more commonly recommended ingredient.
7. Grains Of Paradise
Grains of paradise has some conflicting studies about its use as a weight-loss supplement. Some more official resources say that grains of paradise has no reliable scientific proof, so we couldn't confirm if this was having much of a benefit [10]. Regardless, having grains of paradise is a nice thing to have in Inno Shred.
8. Rauwolscine
Also known as Yohimbine, this ingredient has shown some early positive results in scientific studies [11]. However, the ingredient doses in those studies were up to 15 times higher than the 1 mg contained in Inno Shred.
Pros
Easy to swallow capsules that you can bring with you for taking later in the day
Little to no recorded side effects from the ingredients
Inno Supps doesn't hide behind proprietary blends to make stacking easier
Cons
Some of the ingredient doses are a bit low to achieve the desired effect
Does It Have Downsides?
Capsules a day to get the best possible results is a bit much. It also makes this product very expensive as there are only 30 servings per bottle when you take two capsules.
The bigger issue is the fact that while there are quite a few ingredients that have reliable scientific backing as a weight loss promoter, they are mostly included in a dosage that is too low.
That would explain why we reported some, but limited, impact on fat metabolism.
How Inno Shred Compares to Other Weight Loss Supplements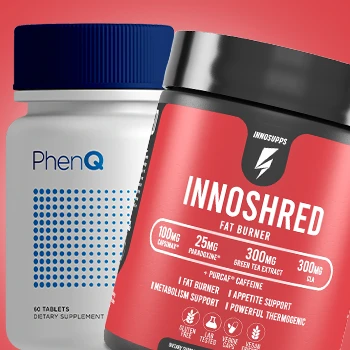 Inno Shred is a fat burner that aims to promote rapid fat burning and enhance fat metabolism by increasing whole body energy expenditure. With its natural ingredients and potential appetite suppression effects, it could be a viable option for individuals seeking to target stubborn fat and support their weight loss journey through dietary supplements.
We test many diet pills and fat burners, so we have a lot of testing data to go back over to see how products like Inno Shred compare. Let's take a look.
PhenQ
Based on our thorough review of PhenQ, as a fitness trainer, I confidently recommend this weight loss supplement to clients struggling with weight loss. The all-natural formula includes A-Lacys Reset® to boost basal metabolic rate, caffeine, L-carnitine to burn fat, and chromium to curb hunger cravings [12].
Our own testing showed remarkable results within just a few weeks, including improved body composition confirmed with measurements. I used PhenQ with our test group participants and was impressed with how fast PhenQ improved my energy levels.
Inno Shred contains much more caffeine at 200 mg versus PhenQ's 75 mg, which is worth noting for users sensitive to stimulants. I liked that PhenQ has caffeine but not enough to bother any other daily caffeine intake.
Both InnoShred and PhenQ are suitable for plant-based diets. PhenQ is one of the pricier fat burners available, but its transparent label, effective formula, and proven results make it worth the investment.
LeanBean
As a personal trainer, I understand the frustrating experience many women face when trying to shed unwanted pounds. According to our LeanBean review, it provides a vegan thermogenic fat burner specifically designed to address the unique needs of women.
Unlike many fat burners hiding behind muddled blends, LeanBean transparently lists all its ingredients, including turmeric, Glucomannan, zinc, and green coffee bean extract, which work together to target fat receptor cells and suppress appetite effectively.
Our test group users found LeanBean highly effective at tackling hunger cravings and snacking, which our dietitians said was likely due to the addition of choline to the formula [13].
Initially, our test group, myself included, worried about the six-pill daily dose, but positive reviews from our participants demonstrated that these benefits are sustained throughout the day.
While the caffeine content is minimal, LeanBean is an excellent option for those sensitive to stimulants, although I would love to see more.
Instant Knockout
Instant Knockout's formula is not for the faint of heart. Packed with high concentrations of stimulants, metabolism boosters, mood enhancement, and quality-sourced ingredients, this supplement guarantees to shred body fat.
Like Inno Shred, Instant Knockout is contained in a vegan-friendly capsule. The caffeine and L-theanine combo unlocks a mental and physical performance scientifically proven to be potent [14].
What piqued my interest with Instant Knockout was the promise of appetite suppression. I am prone to snacking, so I set out to specifically test how Instant Knockout curbs cravings. The 1800 mg of Glucomannan does the trick because I barely snacked during our testing phase.
Our test group users who could tolerate the 300 mg of caffeine, more than Inno Shred, experienced good results in reduced body fat over the several weeks of testing and enjoyed the energy kick. Others struggled with the high caffeine content.
Who Should Take Inno Shred?
Based on 1st hand experience, anyone that doesn't require maximum fat burning effect could take Inno Shred and be pretty happy with the results.
It works OK for weight loss and will trigger thermogenesis. But a lot of users and our testing group commented that it's fairly slow progress.
We also found that it might be OK to get through a weight loss plateau, but again, there are better products to help with that as well.
Who Shouldn't Take Inno Shred?
Based on 1st hand experience, anyone who suffers from high blood pressure, heart conditions, or other significant underlying health issues shouldn't take Inno Shred or any other fat-burning supplements.
Stimulants like caffeine are known to impact heart rate and blood pressure, so consult your doctor first [15].
I would also not recommend this for anyone who needs to lose a lot of weight or really needs to speed up a cutting phase.
The results from our testing just show that Inno Shred is a bit too slow-working for great results.
Where Can You Buy It?
You can buy Inno Shred at Amazon, but you need to be careful with some of the resellers.
There have been reports of counterfeit dietary supplements being sold online, and I would always check if it's supplied by an official supplement company or Amazon.
If it's a reseller, especially with a very low price, then I wouldn't take the chance.
Other User Reviews

We also had a look for some Inno Shred review comments on the official Inno Supps website. Here are some interesting ones we found.
"So far haven't seen major results but will continue product as it does seem to give me a little more energy and I have not had any side effects thus far!"

- Landry B.
"I've been taking this fat burner for about a week now- along with diet and exercise. I haven't seen a significant amount of faster weight loss. I will get on after I finish the bottle and update this. We will see if it works over time."

- Victoria S.
"After taking it for about two weeks, it started to give me awful nausea. Like needing to lay down for two hours or I thought I would puke everywhere."

- Kear
FAQs
Can You Take Inno Shred Every Day?
Yes, you can take Inno Shred every day. The ingredients are safe for taking on a regular basis, and the company recommends sticking with it for a month to get the full benefits.
Does Inno Shred Contain Stimulants?
Yes, Inno Shred contains stimulants. There's a reasonable amount of caffeine that shouldn't be too strong to make you jittery. In most cases, only people with extreme caffeine sensitivity will suffer from the jitters and other side effects.
Regardless, avoid coffee immediately before and don't take it too late in the day. Otherwise, the stimulants within Inno Shred will cause you to suffer from sleeplessness.
Should You Invest In Inno Shred?
No, we are not advising our clients and readers to take this weight loss product. The Inno Shred's ingredients are not bad, but just not strong enough to make a considerable enough difference, based on 1st hand experience.
The product we've had the best results so far for losing weight and cutting phases is PhenQ. It has a better formula of science-backed ingredients in the right dosage amount to help burn off fat and also suppress appetite.
Order your first supply today and find out how much more effective your cutting phases can be.
We Recommend This Instead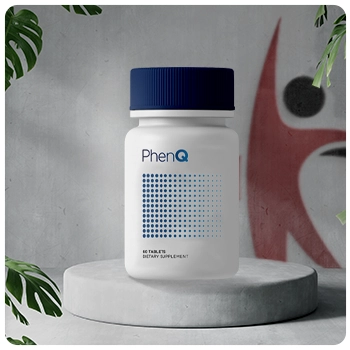 Click For Best Price

Pros
Suppresses your appetite
Blocks stubborn body fat production to stop weight gain
Improves your mood and energy levels
High-quality, all-natural formula
Get the BEST PRICE until the end of September
Cons
Can be only purchased through the company website
Was this article helpful?