As a fitness trainer, I understand the pivotal relationship between my clients' T-levels and overall vitality.
My goal is to offer them expert advice and a solution, so when I kept hearing chatter about Inno Supps T-Drive at the gym, I had to take a closer look at this product.
With the help of a dietician, I did extensive research, and a number of my clients were more than willing to commit several months to test T-Drive and report back their results.
Could this be the testosterone booster my clients were looking for? Let's see.
What Is Inno Supps T-Drive?

Inno Supps T-Drive is a supplement designed to improve blood testosterone levels and overall male health with its blend of natural ingredients.
Relatively new to the male enhancement supplement scene, T-Drive launched in October 2021.
The company promises this natural-ingredient testosterone booster will:
Enhance male vitality
Promote natural testosterone production
Support cardiovascular health
Improve muscle growth
Increase energy levels
That's not all; the T-Drive website also claims increased sperm count and support for immune function.
That is a lot of promise in one bottle, so I had my dietician analyze all the ingredients to see if this supplement lived up to its claims.
Inno Supps T-Drive Ingredients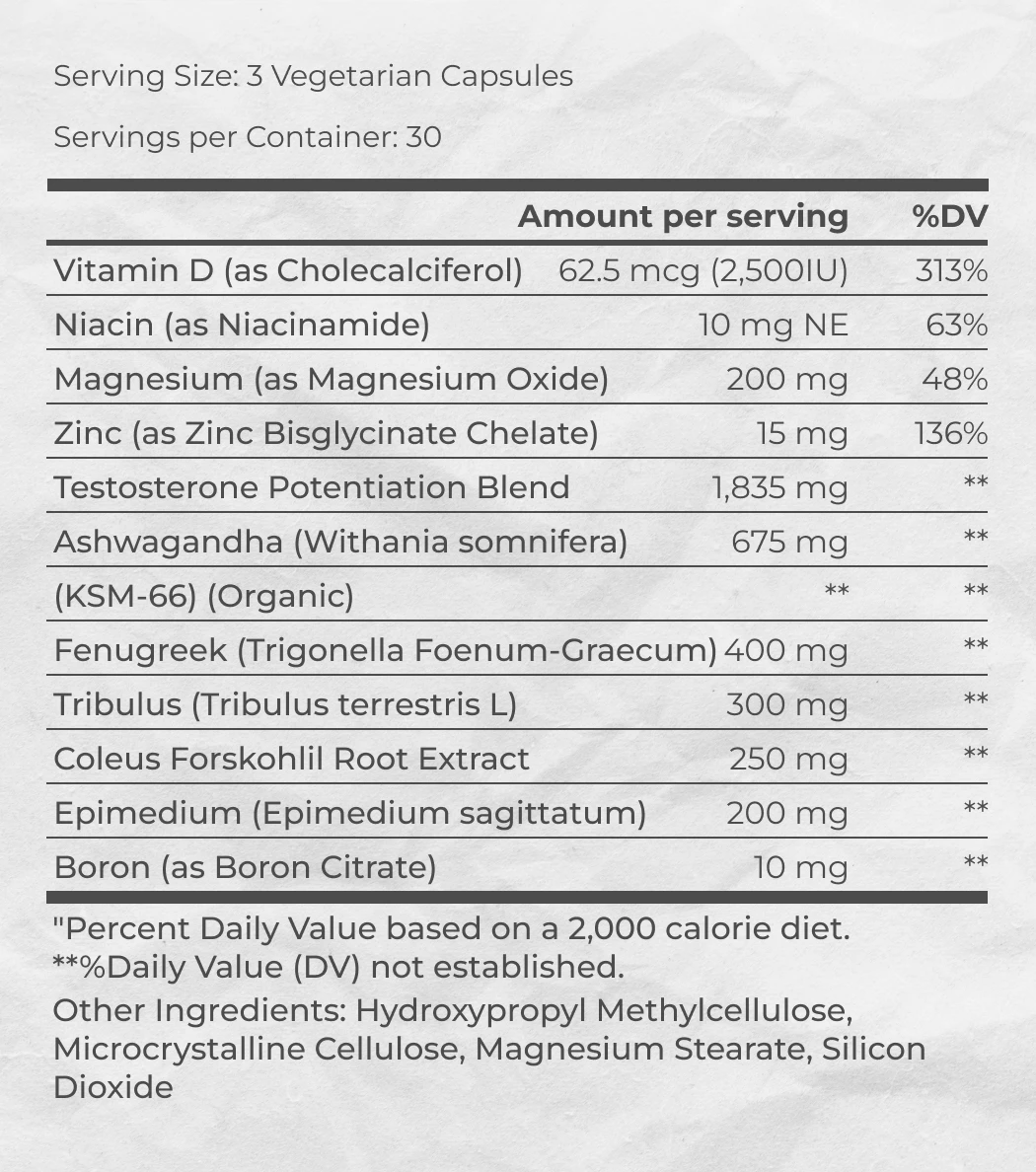 Unlike other supplements that state proprietary blends, Inno Supps was transparent with its labeling, so I was able to take a close at their formula.
Here's what goes into this supplement.
1. Vitamin D3 (62.5 mcg)
I was happy to see vitamin D as an ingredient in this supplement since it plays an important role in muscle and bone health [1].
Vitamin D supplementation is also directly correlated to testosterone levels; a deficiency may lead to low testosterone levels [2].
"Because vitamin D is so cheap and so clearly reduces all-cause mortality, I can say this with great certainty: Vitamin D represents the single most cost-effective medical intervention in the United States."

- Dr. Greg Plotnikoff
2. Niacin (10 mg NE)
Also known as vitamin B3, niacin is another essential nutrient for promoting lower blood pressure, cholesterol control, and cognitive function.
Research shows that niacin plays a vital role in sexual health by improving erectile dysfunction [3]. So, it only makes sense for T-Drive to include this ingredient.
3. Magnesium (200 mg)
One thing I learned early on in my fitness career is the significant impact magnesium has on physical performance.
Also, evidence suggests it's important for natural T-production [4].
4. Zinc (15 mg)
Zinc goes hand-in-hand with magnesium and offers a wide range of health benefits. Studies show a direct relationship between zinc deficiency and low testosterone [5].
5. Ashwagandha Root Extract (675 mg)
Ashwagandha, also known as Indian ginseng, is clinically proven to impact cognitive function, cortisol levels, and inflammation positively.
These are all great reasons to include it, but I am sure Inno Supps packed 675 mg of ashwagandha root extract into a serving because of its significant contribution to enhanced sexual function and increased sperm count [6].
6. Fenugreek Seed Extract (400 mg)
Fenugreek, native to Asia, Europe, and the Mediterranean, is rich in vitamins and minerals. Research shows it improves testosterone levels, which will increase libido [7].
7. Tribulus Terrestris - Whole Herb Extract (300 mg)
Tribulus Terrestris may promote increased libido, sexual performance, and sperm count. Clinical trials show it may increase strength and improve body composition, which is essential as men age and T-levels decline [8].
8. Coleus Forskohlii Root Extract (250)
Native to places like India and Nepal, Coleus Forskohlii root extracts show promise in weight loss and improving body composition [9].
9. Epimedium - Whole Herb Extract (200 mg)
Also known as horny goat weed, epimedium is a centuries-old Chinese herbal remedy used to increase libido, aid erectile dysfunction, and lessen fatigue and pain.
A lab study supported its positive effect on erectile dysfunction that showed epimedium blocked an enzyme that restricts the flow of blood to the genitals, indicating that epimedium acts as a phosphodiesterase inhibitor, which many ED medications contain [10].
10. Boron (10 mg)
Boron promotes bone growth and maintenance, wound healing, and high serum testosterone levels. One study showed a significant boost to free testosterone levels with boron supplementation [11].
Inno Supps has encased all of these key ingredients into a vegetarian capsule.
T-Drive Benefits and Highlights

Inno Supps T-Drive seems to have a blend of ingredients designed to:
Boost testosterone, including free testosterone levels
Increase muscle growth
Increase semen volume
Improve mood
Some clients who came on board to test T-Drive had clear goals to increase testosterone, while others were looking simply to increase muscle growth.
During the trial period, many noted moderately improved mood and muscle growth. After several weeks of testing, the clients looking for increased T-levels reported marginally improved testosterone, better libido, and higher energy.
Side Effects
Based on what clients reported to me, T-Drive does have side effects. Although these aren't severe, some may find them frustrating enough to look at other options.
Many clients reported back side effects that included digestive issues, nausea, headaches, and sleep issues that varied in severity.
An online search of user reviews found this was a common experience among those taking T-Drive.
Pros
Made in the USA in an FDA-approved facility
25% discount for subscription purchase
Veggie capsules appeal to vegan/vegetarian lifestyle
Cons
Some users report empty capsules in the bottle.
How Inno Supps T-Drive Compares With Other T-Boosters

This Inno Supps review wouldn't be complete if we didn't show you how the T-Drive compared with three of the top T-boosters in the market.
TestoFuel
Road Ambition's flagship testosterone booster, TestoFuel, has been around for some time and has an excellent reputation among gym enthusiasts like myself.
I implemented Testofuel into my fitness regimen a long time ago with great success, and this is the product my clients had the best results in obtaining muscle growth, increased strength, and reduced body fat.
Roar Ambition took vitamin D's ability to increase testosterone levels seriously, packing the maximum recommended daily value (RDV) of vitamin D (100 mcg) into one serving, compared to 62.5 mcg in Inno Supps T-Drive [12].
Oysters are a zinc-rich food believed to increase libido, making oyster extract a logical addition to the ingredients list.
Testogen
Our assessment of Testogen claims that it contains 11 natural, scientifically proven ingredients as a natural remedy for low testosterone/hormone levels, low sperm count, decreased semen volume, and even erectile dysfunction.
Testogen contains common ingredients found in other testosterone boosters, including vitamin D, D-aspartic acid, fenugreek extract, and zinc.
The Testogen website offers a slightly lower price point and a wide variety of purchasing options, including combo packages with Testogen liquid drops. I stuck with just one month's supply of Testogen capsules and enjoyed $10.00 off and free shipping.
Aphro-D
In this unique formula, Dr. Farhan Khawaja combines Tongkat Ali, pearl powder Schisandra berry, and He Shou Wu to boost testosterone levels.
Many believe Tongkat Ali can improve sexual desire, which may relate to its ability to boost T-levels [13]. Schisandra may increase energy and stamina, and He Shou Wu is frequently marketed to improve longevity and combat age-related cognitive decline.
Aphro-D is subscription-based at a premium cost, though bulk buying gets you a discount. It also offers a free monthly live Masterclass with a health professional and a Q/A discussion with Dr. Farhan Khawaja.
Where to Buy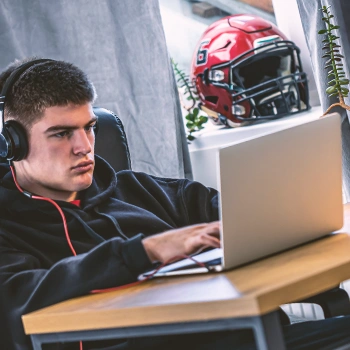 You can buy Inno Supps T-Drive on the Inno Supps website or on Amazon.
Unlike some other well-known testosterone boosters for men on the market, Inno Supps T-Drive does not offer free shipping.
Customer service states most customers in the US will receive their order once shipped in 5-7 business days. Order processing takes 24-48 hours.
I received my order in 5 days, the lower end of their estimate.
International shipping takes 7-21 business days.
If you'd like to save on T-Drive, I recommend taking advantage of the bulk purchase options for a discount.
What Users Are Saying About It

Given that it is the new testosterone booster on the market, I pored over many reviews to find out what people thought about this product, and there seem to be mixed feelings when it comes to Inno Supps T-Drive.
He thinks that it helps define the male body, and the only issue he had was swallowing it because the pill was a bit on the big side.

- Estevan, California
After having taken the entire bottle and he saw no difference.

- Joel, Utah
He thinks the product is good but that it sucks that you pay a premium and get empty pills in the bottle.

- Diego, Nevada
FAQs
Is Inno Supps FDA Approved?
Innos Supps is FDA approved because it is manufactured in FDA-approved facilities in the United States.
Is T-Drive a Good Product?
T-Drive supplement is a good product, but it might not be the best testosterone booster on the market today.
Our Verdict: Should You Try T-Drive?
Inno Supps T-Drive supplement is a decent T-boosting health supplement, but with the reported side effects from my clients and only moderate success, I believe there is a better option.
The product I always recommend to my clients because it hasn't failed to deliver on its promises so far is Testogen. It reliably increases blood testosterone for my clients, as well as muscle growth and strength.
I also trust Roar Ambition for its brand reputation and market longevity, so order yours today to see if it's going to make as much of a difference to your fitness journey.
Our #1 Recommendation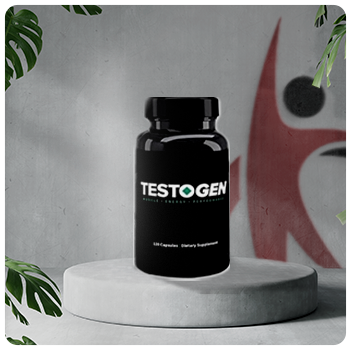 Click For Best Price

Pros
May work well as a natural testosterone booster
Positive reviews about improved physical and mental energy
Seems to boost confidence levels
100% money-back guarantee if you're not satisfied
Get the BEST PRICE until the end of December
Cons
You can only buy it on their website
Was this article helpful?