As a certified trainer, the first thing I tell my clients who want to get into shape is, "Get. Quality. Sleep." Otherwise, workouts and diets will have little-to-no effect on your weight loss.
The folks at Inno Supps understand how your busy life affects your sleep. And so, they made Night Shred, a PM fat burner designed to help you burn away body fat as you slumber.
We decided to test its claim, so we got our team at TotalShape together, along with our resident dietitian and a few curious clients, to test out this product, learn about its ingredients, and see If and how it can benefit your personal fitness goals.
What Is Night Shred?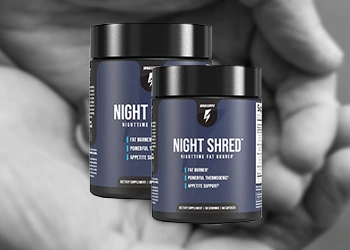 Night Shred is an all-natural sleep support and PM fat-burner designed to help you fall asleep faster, stay asleep, and burn fat. It is manufactured by Inno Supps, a vegan-friendly manufacturer of workout-recovery and fat-burning supplements. It was founded in 2019 by Kevin Gunderson and is based in Henderson, Nevada.
Kevin partnered with a group of scientists and doctors to offer a high-quality supplement to the market. Thus, Night Shred was born.
How Does It Work?
Night Shred works as a natural sleeping aid and nighttime fat-burner that promotes quality sleep while burning body fat throughout the night. It also improves your mood and helps your muscles recover faster after a workout.
Don't expect immediate results. It takes about 90–180 days of daily consumption to achieve noticeable results.
While most fat burners keep you wide awake at night (like caffeine and green tea extract), Night Shred's product blend contains a mix of natural ingredients to burn fat and give you a good night's rest.
As a mood enhancer, it helps your body "feel good" by boosting serotonin levels. This reduces stressful and depressive thoughts before bedtime.
As a recovery agent, the ingredient blend is great for muscle recovery. It promotes a good night's rest and gets you to REM sleep. This, in turn, aids weight loss by reducing any workout soreness.
Lastly, the ashwagandha and melatonin in Night Shred work hand in hand to reduce stress and aid sleep, which helps you feel refreshed and energized in the mornings.
Benefits of Taking Night Shred

Sleep Benefits
As natural sleep support, Night Shred has many sleep-related benefits.
1. Faster Sleep
Night Shred calms you down right before bedtime thanks to ingredients like magnesium and GABA, a neurotransmitter that blocks impulses between nerve cells [1]. It's helping your body relax by freeing your mind from depressive and anxious thoughts. Being relaxed before going to bed will ensure that you fall asleep faster.
2. Maintain Restful Sleep
Once you've fallen asleep, staying asleep is essential for your mind and body to recover. Night Shred's natural ingredients, which will be discussed later on, ensure that you achieve and remain in a deep sleep.
Health Benefits
1. Curb Late Night Cravings, Minimize Morning Hunger
People usually crave junk in the middle of the night. Night Shred helps curb those nighttime cravings, and the effects stay till after you wake up. This makes it perfect for starting your morning with fasted cardio (for additional fat loss) and not falling for hunger pangs.
2. Burn Fat and Lose Weight
Fat burning translates to weight loss. Night Shred contains a blend of fat-burning supplements designed to boost your metabolism and burn stored fat as you sleep.
Ingredients That Go Into Night Shred
The ingredients in Inno Supps Night Shred come in five categories. Let's look at how each of them can benefit you.
Mood Enhancement Complex
This blend (35.5 mg) consists of two ingredients: 5-HTP and L-Tryptophan. These ingredients work as a "feel good" support for the human body.
1. 5-HTP
5-HTP is a mood enhancer your body needs to produce serotonin. Serotonin is responsible for making you feel relaxed and joyful. Later in the day, it becomes melatonin, a hormone that helps promote sleep by reducing depressive thoughts ailing you [2].
"5-HTP has been used as an oral supplement alternative to boost serotonin. It has been shown in studies to improve depression, but only preliminary evidence is available suggesting that 5-HTP also may improve anxiety."

- Roberta Lee MD
2. L-Tryptophan
L-Tryptophan is a form of amino acid that converts to serotonin and is essential in promoting proper sleep, mental wellness, and essential body functions [3].
PM Fat Burning Complex

Night Shred's PM fat-burning complex curbs morning hunger, boosts growth hormone levels, and keeps your metabolism up and running. This contributes to your overall weight loss.
This blend contains 76 mg of the following ingredients: Grains of paradise, L-Carnitine, and CLA.
1. Grains of Paradise
Grains of paradise is a ginger-related spice that has been shown in some studies to help the body burn fat efficiently [4].
2. CLA
Conjugated Linoleic Acid (CLA) is a group of omega-6 fatty acids found in milk, meat, and vegetable oils, mostly in grass-fed beef. It reduces your body fat storage by oxidizing and breaking down fat [5].
L-Carnitine
This is a commonly used fat-burning ingredient that allows your mitochondria to better utilize food sources and create energy [6]. Both CLA and L-Carnitine move fatty acids into your cells, so your body burns them for energy.
Night Time Recovery Complex

Inno Supps Night Shred nighttime recovery complex (510 mg) is the natural sleep support your body needs for overnight recovery after a workout. Good quality sleep ensures your muscles quickly recover, and this blend treats your post-workout soreness.
The blend is composed of the following ingredients: Chamomile, Passionflower, Valerian, and GABA.
Chamomile
Chamomile tea is usually consumed to relax the body and mind. This soothes your mind and muscles right before bedtime to help you fall asleep. Its additional benefits include treating spasms, nausea, digestive health, and diarrhea [7].
Passionflower
Passionflower is often used to treat anxiety and insomnia. However, there is limited research to show its effectiveness [8]. But on the plus side, it does not trigger any side effects, so there's no harm in consuming it.
Valerian Root
Night Shred uses Valerian root for many of its sleep supplements. People have reported that it gives you a mild hypnotic effect, making it a good aid for achieving deep sleep [9].
GABA
Your brain produces a chemical called GABA to reduce anxiety and relax your nerves. Maintaining optimal GABA levels can help with restful sleep.
However, research has shown that GABA from most supplements has poor bioavailability [10]. So, in addition to Night Shred, you'll need to take supplements with specific GABA-containing nutrients (like L-Theanine) for it to cross your body's blood-brain barrier.
"It is worth mentioning that GABA has long been thought to be unable to cross the blood-brain barrier which raises questions about the mechanisms of action behind its health benefits."

- Piril Hepsomali, Senior Lecturer at Whitelands College, University of Roehampton, London
Adaptogen Cortisol Reduction Compound
This blend is composed of 200 mg Ashwagandha, an Ayurvedic herbal medicine that reduces cortisol [11].
So, if you have trouble sleeping at night because of stress, the Ashwagandha in Night Shred may help you sleep better.
Melatonin
Melatonin is a natural hormone that helps you stay asleep while boosting your antioxidant activity. It protects your brain cells from harm and regulates your body temperature, blood pressure, and hormone levels [12].
Night Shred contains 3mg of melatonin.
Does It Have Any Downsides?
Inno Supps Night Shred has a few downsides, including its high cost and potential side effects on the digestive system.
To be fair, the company never advertised it as a cheap product because high-quality supplements also mean a higher price.
Another downside is that some people have complained about having certain digestive issues after consuming it.
This is most likely because some people's physiology might not allow them to process the product. This is why I recommend my clients speak to the physician before going on any new supplements.
Diarrhea
Bloating
Headache
Constipation
Frequent Urination
Pros
It's a fat burner that is also designed to aid with sleep
It's vegan-friendly, gluten-free, lactose-free, soy-free, and non-GMO
It claims its ingredients burn fat during sleep
It claims it curbs cravings
How It Compares To Other Fat Burners On The Market

We compared Night Shred Fat Burner to three leading fat burner supplements to see how it stacks up. This is what we learned.
Night Shred does aid sleep, has features that make it accessible to a wider market, and is vegan-friendly, gluten-free, lactose-free, soy-free, and non-GMO. However, there are other fat burners on the market that do a better job at actually burning fat.
PhenQ
According to our research and reviews, PhenQ's scientifically-backed formula targets multiple aspects of weight loss, making it a top choice for many of my fitness clients looking for a weight loss supplement.
Like Night Shred, PhenQ is vegan-friendly and similarly priced.
Our test group achieved outstanding results in just a few weeks, reporting significant energy levels and body composition improvements. Some even lost as much as 2% body fat.
During my personal testing, I noticed a significant reduction in food cravings. Thanks to its transparent label, a feature Nigh Shred lacks, I took it to our dietitians to see if our testing results matched the ingredients and amounts.
After consulting our dietitians, I discovered that PhenQ's optimal levels of thermogenic and appetite-suppressing ingredients, such as capsimax powder, nopal, L-carnitine, and caffeine, all work together for maximum effectiveness.
Though I felt the caffeine could be a bit higher than 75 mg, I liked that it didn't wreck my morning coffee routine.
LeanBean
Experts shared in our review that LeanBean is a natural vegan-friendly fat burner made to cater specifically to the weight loss needs of women. Though LeanBean is not completely stim-free like Night Shred, it contains only a tiny amount.
The primary goal of LeanBean is to suppress appetite and increase thermogenesis with natural ingredients like Glucomannan, zinc, turmeric, and chromium.
Night Shred only requires users to take two pills daily, whereas LeanBean's dose is six. Some in our test group found this number of pills intimidating but reported good results in reduced snacking and energy.
LeanBean offers a more transparent label than Night Shred, clearly listing all ingredients and amounts, which I appreciate as a fitness trainer.
LeanBean combats fatigue with natural sources of caffeine from green coffee beans. I like more caffeine content in a fat burner.
I ordered LeanBaan from the official website, where I could take advantage of bulk discounts and free shipping.
Instant Knockout
Instant Knockout, initially designed for elite athletes and bodybuilders, has become a go-to supplement for gym enthusiasts everywhere due to its powerful formula.
With 300 mg of caffeine combined with green tea and cayenne, Instant Knockout delivers a one-two punch to metabolism and thermogenesis.
While some in our test group found the caffeine levels high, others, including myself, enjoyed the heavy energy boost, though we had to adjust our morning coffee intake.
If you are looking for a stim-free fat burner, Instant Knockout differs from what you want and where Shred Fat may be optimal.
Instant Knockout also includes Glucomannan, a natural appetite suppressant, and our testers praised its effectiveness at curbing snacking. Though individual outcomes varied, many reported some level of weight loss.
The pricing is competitive, and I found bundle deals and free shipping on the official website when I placed the order for testing. I was incredibly pleased to receive the or in record time.
Where Can You Buy It?
You can buy Night Shred from the Inno Supps website and Amazon. However, based on the shared experiences of many users, you might get a better deal on Amazon, as customers report shipping errors, delays, and mix-ups with website shipping.
You're also more likely to land a higher discount on your purchase with Amazon.
Other Users' Night Shred Review

Most people reported that Inno Supps helped them achieve a higher sleep quality, better post-workout recovery, and more refreshed mornings. We think these benefits are most likely because of the night-time recovery ingredients, ashwagandha and melatonin.
Below are some user testimonials:
"I received Night Shred as a sample. I have only been using it for three days. I normally don't get as much sleep as I should, and I usually feel tired and groggy when I wake up. After three days of taking Night Shred, I feel like I slept for 12 hrs. I am also waking up PAIN-FREE. I normally have back pain and pain in my finger joints. I am truly amazed!!!"

- Lisa H. (Inno Supps Website)
"I am extremely happy with the results that I have seen from using night shred! This product has helped me lose weight faster than ever before while also suppressing my appetite for unhealthy foods. The only downside is that it can be a bit expensive, but if you are looking for an effective way to boost your weight loss results, then Night Shred is definitely worth checking out!"

- Chloe (Inno Supps Website)
FAQs
Do I Have to Work Out for Night Shred to Work?
You don't have to work out for Night Shred to work. However, taking Night Shred and working out will guarantee quicker, more positive, and more effective results.
Exercising will definitely add more benefits to your entire Inno Supps regime.
Is Night Shred FDA approved?
Night Shred is not FDA approved because the agency isn't authorized to review dietary supplements for safety and effectiveness before they're sold. However, every capsule of Night Shred is made in a GMP-certified and FDA approved facility that follows the highest standards.
Is Inno Supps Night Shred Safe for Pregnant Women?
There isn't enough research confirming that Night Shred is safe for pregnant women. So, if you're pregnant or breastfeeding, we recommend that you consult your physician before taking any supplements.
Will Night Shred Show Up on a Drug Test?
Night Shred won't show up on a drug test because the product is free of performance-enhancing drugs. However, the company recommends that you look through the label with your regulation committee before taking it.
How Do I Use Night Shred?
You should take two capsules of Night Shred 30 minutes before going to sleep. Since it's primarily a sleep aid, you can take it with or without food.
Final Thoughts: Is Night Shred A Good Fat-burning Supplement?
After many hours of research for this Night Shred review and especially based on my personal experience, I must admit that it is a good product.
However, I'm definitely not convinced of its effectiveness as a fat burner because I think where it actually shines is aiding sleep rather than weight loss.
If your goal is to lose weight efficiently, the product that has consistently served me well and the one I always recommend to my clients is PhenQ, check our complete PhenQ review. My clients regularly report how much faster they're able to achieve their weight-loss objectives.
Although it's a proven and reliable product, PhenQ won't be able to melt your fat away on its own. A nutritious diet and regular exercise simply must be a part of any healthy weight-loss equation.
But this supplement can surely make that challenging but worthwhile process much easier and more effective.
We Recommend This Instead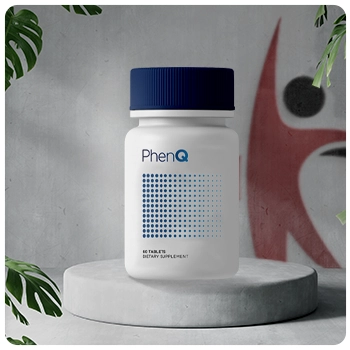 Click For Best Price

Pros
Suppresses your appetite
Blocks body fat production to stop weight gain
Improves your mood and energy levels
High-quality, all-natural formula
Get the BEST PRICE until the end of September
Cons
Can be only purchased through the company website
Was this article helpful?