As a fitness trainer, one of my more important responsibilities is to recommend reliable fat burners to my clients when they ask me for advice on how to shed extra pounds.
When Arsyn made its way into the market, I was curious about its claims, so I spent a month researching its history, ingredient list, and the science behind it.
It has since been rebranded as Arsynist, so a few of my clients and colleagues from TotalShape volunteered to test it out for a couple of weeks to enrich this in-depth review with unbiased user feedback.
What is Arsynist?
Arsynist is a fairly new fat-burning supplement created by Condemned Labz, a US-based supplements company founded in 2016.
It was created to be an aggressive and powerful fat-burning agent for athletes trying to cut weight quickly.
Arsynist previously went by the name ARSYN. The main reason for the name change was trademark legalities.
However, Condemned Labz did not change the formula despite changing its name and packaging.
However, many websites still sell the old product ARSYN.
Similar product: Ghost Burn Review
Arsynist's Benefits
According to claims by its creators at Condemned Labz, Arysinist offers the following benefits:
Increases focus and energy
Curbs hunger
Enhances mood
Accelerates fat loss
Prevents fat storage
Boosts metabolism
Increases thermogenesis
Enhances mental acuity
Ingredients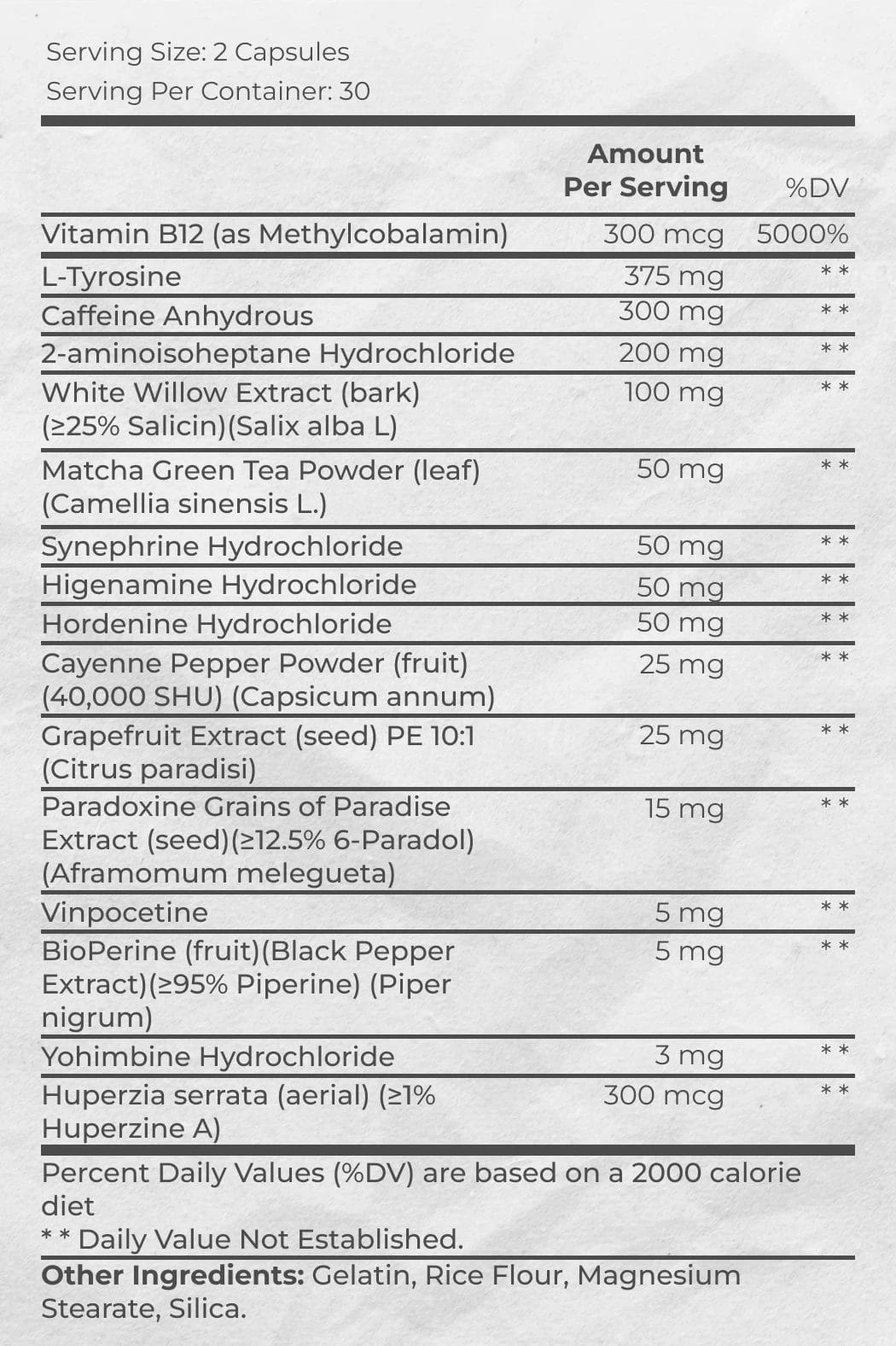 The ingredient list found in Arsynist is quite long compared to some other weight loss supplements on the market, but let's see what kind of scientific backing lies behind those choices.
Here's a breakdown of those ingredients:
Vitamin B12
Vitamin B12 plays a critical role in energy metabolism and is often promoted as an energy and endurance enhancer for athletes [1].
Arsynist contains vitamin B12 in the form of methylcobalamin (at 5000% of your daily value), which is considered the most effective form of vitamin B12 used to treat complications associated with vitamin B12 deficiency [2].
We did notice some clients experienced a boost in their workout endurance about one month in.
L-Tyrosine
L-Tyrosine is an amino acid that your body produces using another amino acid called phenylalanine. This ingredient may effectively enhance memory and thinking skills, especially under stressful situations [3].
However, its effects on improving your physical performance are very minimal [4].
Caffeine Anhydrous
Caffeine anhydrous is a dehydrated form of caffeine made from the leaves and seeds of coffee plants. This ingredient is often found in energy bars and sports drinks, and it's known to improve athletic performance [5].
A 2016 study found that caffeine anhydrous may be an effective pre-workout before high-intensity exercise [6].
We noticed, most likely due to the caffeine, that Arsynist didn't sit well with our clients who already had sleep issues.
2-Aminoisoheptane Hydrochloride
This compound, also known as dimethylhexylamine (DMHA), is often used as an ingredient in dietary supplements to boost workout performance.
A 2018 study found that DMHA affects the body within 15–60 minutes of consumption: it heightens mental focus, increases energy, helps with appetite control, and raises feelings of wellbeing [7].
Despite its benefits, research has shown that certain stimulants appear under the guise of "2-aminoisoheptane" and may cause health risks to consumers [8].
White Willow Extract
This ingredient is obtained from the bark of the white willow tree. A 2015 study reported that willow bark is widely used to possibly increase sports performance and weight loss due to its anti-inflammatory effects [9].
However, none of our clients reported these benefits after using Arsynist.
Matcha Green Tea Powder
Matcha green tea powder is a traditional Japanese type of powdered green tea. It's often considered the highest quality of tea.
Matcha green tea is included in the formula for the purported weight-loss benefits. A review of 11 studies showed that matcha green tea might not only help with weight loss but also maintain body weight [10].
As I've mentioned, some of our clients appeared to show some weight loss after being on Arsynist for a few months.
"In addition to providing trace minerals and vitamins (A, B-complex, C, E, and K), matcha tea is rich in catechin polyphenols – compounds with high antioxidant activity."

- Dr. Andrew Weil, MD, Director of Andrew Weil Center for Integrative Medicine
Related Articles:
Synephrine Hydrochloride
Synephrine Hydrochloride is a naturally-occurring ingredient found in bitter orange extract, and it has been linked to enhanced fat burning, energy expenditure, and fat oxidation following acute resistance training [11].
It may also help curb your appetite and increase energy levels [12].
Quite a few of our clients reported that their appetite had somewhat decreased over the testing period.
Hordenine Hydrochloride
Hordenine hydrochloride is a chemical found in barley, algae, cacti, and certain grasses. It's used in many products that label themselves as a dietary supplement because it has been linked to better athletic performance and increased weight loss [13].
Cayenne Pepper Powder
Cayenne pepper is a popular hot chili in the capsicum family, and it's used in many traditional Ayurvedic and Chinese medicines.
It contains many antioxidants and is known to help manage weight, relieve pain, reduce swelling, and protect the nervous system [14].
Grapefruit Extract
Grapefruits may help you regulate diabetes, manage fat loss, lower the risk of stroke, control blood pressure, maintain heart health, and promote regularity [15].
A 2006 study showed that including grapefruit in your diet may assist with weight loss [16].
Yohimbine Hydrochloride
Yohimbine is a chemical extract from the native African tree Yohimbe which may also enhance athletic performance, boost weight loss, control high blood pressure, and treat dizziness [17].
"Yohimbe has been proven a potentially effective option for men. The chemical may help to improve sexual function."

- Dr. Ahmed Zayed, MD, Founder of Zayed MD
Arsynist also contains Grains of Paradise Seeds, which have been associated with enhanced energy expenditure and the prevention of visceral fat accumulation [18].
It also contains ingredients like Vinpocetine, Higenamine Hydrochloride, and Huperzia Serrata, which have all been linked in some way or another to enhanced cognition.
To round up the list there's Bioperine® which, in addition to possibly helping with the weight loss as well, is included to help with digestion and bioavailability of all these ingredients [19].
Pros
Increases energy levels and prevents extreme mental fatigue
Accelerates your body's fat-burning ability
Curbs your appetite, thereby helping you to lose weight
60-day money-back guarantee if the product doesn't work for you
Cons
It may cause jitters and indigestion for some users
Some ingredients may be considered harmful
Does Arsynist Have Any Side Effects?
Yes, Arsynist does have reported side effects like jitters and indigestion, which may be due to the 150 mg of caffeine it contains. If you're sensitive to this substance, consider avoiding coffee and other supplements that contain it.
Some of my clients also complained about getting sweats, feeling sick, and having an upset stomach.
Arsynist also contains some questionable ingredients like the aforementioned 2-aminoisoheptane, which may pose some health risks to consumers.
It also contains lab-made chemicals such as vinpocetine, for which, in 2019, the FDA issued a warning not to be used during pregnancy. Its status remains controversial even though it's used in dietary supplements.
There's also a substance banned by the World Anti-Doping Agency called Higenamine Hydrochloride.
So, Arsynist might not be the best fat burner to consume before a contest.
How Does OxyShred Compare to Other Similar Products?
This Condemned Labz Arsyn review wouldn't be complete if we didn't analyze it in the context of the most popular and widely used fat burners on the market today.
PhenQ
PhenQ is one of the most effective weight loss supplements on the market.
It promotes fat loss by reducing stored body fat, suppressing appetite, blocking fat production, and increasing energy levels.
Unlike Arsynist, which contains banned substances and potentially harmful stimulants, PhenQ contains only natural enhancers and stimulants.
It may be a bit expensive, but in my experience so far it is well worth the price.
Leanbean
Like Arsynist, I had the opportunity to try Leanbean, a fat burner that accelerates weight loss by enhancing appetite control and thermogenesis.
Leanbean contains a very small dose of caffeine, thermogenic ingredients like turmeric and green coffee bean, and B vitamins that help reduce fatigue and boost your immunity.
It also contains appetite suppressants like glucomannan and chromium, which you won't find in Arsynist.
The only downside is that you have to take six Leanbean pills a day compared to two with Arsynist
Instant Knockout
Instant Knockout is also a fat burner that accelerates thermogenesis and metabolism to promote fat loss.
However, unlike Arsynist, Instant Knockout users have not reported getting any jitters or an upset stomach.
In my fitness career, Instant Knockout proved to be an all-around fat burner particularly loved by fitness enthusiasts, athletes, and bodybuilders, because it also appears to support muscle growth and strength.
Related Articles:
Where Can I Buy Arsynist?
You can buy Arsynist on the Condemned Labz official website.
However, they seem to not have the product in stock as of now.
But they give you the option of signing up for an email notification when they're stocked up with enough units.
Although it's not available on Amazon, Arsynist can be purchased from various supplement websites.
Given that Arsynist went through a recent name change, many websites still sell it as ARSYN.
If you choose to buy this product, we recommend buying directly from the Condemned Labz website.
This is because we noticed a significant difference in selling prices on the other websites.
What Do Users Have To Say?
We looked at Arsynist reviews from various websites, and the results seem to be pretty mixed:
"Curbs my appetite like crazy. I wasn't hungry all day. I had to force myself to eat, and was full after a couple bites. Lots of energy without feeling anxious. I love it!!" - Alesia M., Arsynist Website
"I've used Arsyn before to help cut some weight and it helped so much during my training. It definitely curbs my hunger and keeps me focused throughout the day." - Jay O., Arsynist Website
"I haven't seen any visible results from this product, I have been taking it for about 3 weeks. Not lost a pound and have not seen a difference in my body fat. Especially in the abdominal area. The only positive thing is that it makes me more alert. That's due to high caffeine in this product. Not so happy with this product as of today." - Rene V., Arsynist Website
"Gives me the shakes, sweats, and sick to my stomach. Had to stop taking it" - Lora S., Arsynist Website
FAQs
Who Should Avoid Arysnist?
People under 18 should avoid Arsynist, as well as those who have a medical condition, are under any prescription drugs or happen to be pregnant or breastfeeding.
Do seek professional medical advice before taking this product, especially if you have a serious medical condition.
No, Arsynist is not FDA-approved even though it's made in an FDA-registered facility.
No, Arsynist isn't vegan-friendly. While all the main ingredients are vegan-friendly, Arsynist capsules contain gelatin.
Yes, Arynsist works for women too. Even though most users of this supplement seem to be men, it can also help women burn fat.
What Do We Think About Arsynist?
The number one piece of advice I give to my clients is to always opt for a completely natural supplement. That being said, Condemned Labz Arsyn didn't quite make this cut since it's not 100% natural and it contains some potentially harmful ingredients.
The good news is that there is an all-natural fat-burning formula that, in my professional experience, proved to be a much better option, and that's PhenQ.
It contains 100% natural and well-balanced ingredients to help you curb hunger, prevent fat accumulation, enhance energy levels, and burn excess fat.
It's not a magic pill, but you'll get to your goals noticeably quicker and without any harm to your health.
Our #1 Recommendation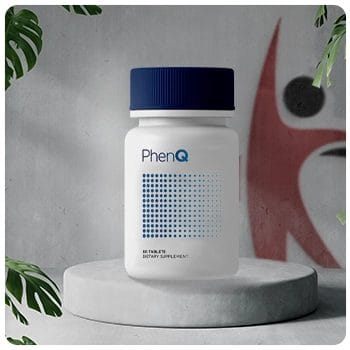 Click For Best Price
Pros
Suppresses your appetite
Blocks body fat production to stop weight gain
Improves your mood and energy levels
High-quality, all-natural formula
Get the BEST PRICE until the end of June
Cons
Can be only purchased through the company website
Was this article helpful?