The world of nootropic supplements has changed a lot in the last year. And one thing that I have noticed is that more and more companies are introducing nootropics for specific goals.
One of these trends has been that you can now get supplements that can help boost your creative process, which can be very helpful for work and study-related activities.
So, our team got over 30 clients to help out with testing dozens of these products, and I got a nutritionist to provide research support.
And here is the list of best nootropics for creativity.
Editor's Choice
Mind Lab Pro
Click For Best Price
#2nd Best Choice
Onnit
Click For Best Price
#3rd Best Choice
Gorilla Mind
Click For Best Price
Our Top Nootropics For Creative Thinking (June 2023)
1 - Mind Lab Pro (Editor's Choice)
At the top of our list of best nootropics for creativity is this one from Mind Lab Pro, which is one of the leading brands in the nootropics space.
Clients who tested this product reported it induced a state of relaxed focus and provided consistently better creative output.
According to the company, the ingredients impact multiple brain pathways for creativity, memory, and brain health.
My nutritionist highlighted the Lion's Mane Mushroom ingredients, which have gained significant popularity with people who rely on creativity for work and study [1].
Vitamin B6 : 2.5 mg
Rhodiola Rosea : 50 mg
Lion's Mane Mushroom : 500 mg
Phosphatidylserine : 250 mg
Pros
Positive feedback about significantly improved creative abilities
Also seems to have a calming effect that reduces anxiety
No reports of nasty side effects like headaches and stomach upset
Comes in small capsules for more convenient intake at different times of day
Cons
You can only buy it from the official website
2 - Onnit Alpha Brain
Our testing team also highlighted that Onnit Alpha Brain helped them get their creative juices flowing.
They also noted that within an hour of taking the small capsules, they were able to focus a lot better without getting distracted.
The reason for this is that it contains Alpha GPC, and studies have linked this to improvements in alpha brain wave activity that contribute to focus and motivation and can help with enhancing human creativity [2].
It's mainly because of a proprietary label that we bumped this down on our list of cognitive enhancers, as this can make stacking with other supplements more difficult.
"Alpha-glycerophosphocholine (alpha-GPC or α-GPC) is a cholinergic compound that is used for cognitive-enhancement, and to increase power output in athletes."

- Mike Murray, RDN at Examine.com
Alpha GPC : n/a
L-Theanine : n/a
Vitamin B6 : 10 mg
Cat's Claw Extract : 350 mg
Pros
Can help to significantly improve levels of focus on creative problem solving
Seems to reduce stress levels, especially during busy times at work
The capsules are nice and small with no tendency to get stuck in your throat
Cons
The company uses a partial proprietary formula that makes stacking difficult
3 - Gorilla Mind Smooth
Gorilla Mind has also created a nootropic for boosting cognitive function as part of its brain function stack.
Our testers all highlighted that they found Gorilla Mind Smooth helped to increase creativity and that they could work on problems for longer without feeling tired.
One of the more interesting ingredients my nutritionist highlighted is Ginkgo Biloba, which has been linked to helping with improving mild cognitive impairment and even mood disorders [3].
Ginkgo Biloba : 180 mg
Kanna : 250 mg
L-Tyrosine : 750 mg
Alpha GPC : 600 mg
Pros
Noted increase in creativity and motivation to stay focused
Stimulant-free supplement that can help lift brain fog first thing in the morning
It can increase creativity and artistic thinking for most of a working day
Cons
The full dose will require taking six capsules each day
4 - Hunter Focus
Hunter Focus was mainly designed for boosting cognitive abilities that help you maintain motivation and focus by balancing neurotransmitters in the human brain.
We found that people with stressful jobs were able to calm their brain chemistry. The Rhodiola Rosea is the most likely reason for this effect, as studies have linked it to reductions in stress [4].
And when you have fewer distractions from feeling stressed, you can focus better on creative ideas.
L-Carnitine : 800 mg
Ginkgo Biloba : 120 mg
Rhodiola Rosea : 50 mg
Vitamin B6 : 2.5 mg
Pros
Works well for motivation and improved mood during the workday
Stops divergent thinking allowing you to focus on creative work
No reported side effects like jitters, headache, or stomach issues
Cons
Taking six capsules a day can be an inconvenience
5 - Gorilla Shroom
Gorilla Shroom came out of our testing phase as another favorite for cognitive function and focus on creative work and tasks.
Our testing team highlighted that they were able to concentrate on tasks for hours without fatigue.
It seems like a good dose of Ashwagandha could be contributing to these impressive creative benefits, as randomized controlled trials have shown that it's linked to improving the balance of neurotransmitters [5].
This could be helpful for long study times where you need full concentration.
Lion's Mane Mushroom : 1,500 mg
Ashwagandha : 500 mg
Vitamin B6 : 10 mg
Yerba Mate Extract : 200 mg
Pros
Uses scientifically proven mushrooms to provide cognitive and creative benefits
Positive feedback about boosted productive thinking with fewer distractions
Ideal for long periods of problem-solving
Cons
You can only order on the official website as it's not available in stores
6 - Now Foods L-Theanine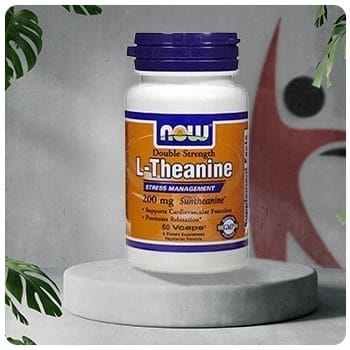 Now Foods has also created nootropics for creativity, and this one caught our attention because it focuses on only one ingredient.
With a good dose of L-Theanine, some people might recognize this ingredient as a common one in post-workout supplements.
Our testing team highlighted that it helps with boosting creativity, and studies have shown that it can help with cognitive boosts [6].
But I would highlight that for massive cognitive benefits, you'd want to stack it with other nootropics.
Pros
Simple formula focuses on a high-quality amino acid L-Theanine
Seems to work well to promote relaxation and mental recovery
Boost cardiovascular and overall brain health
Cons
You'll need to stack this with other products for maximum benefits
7 - Thorne Memoractiv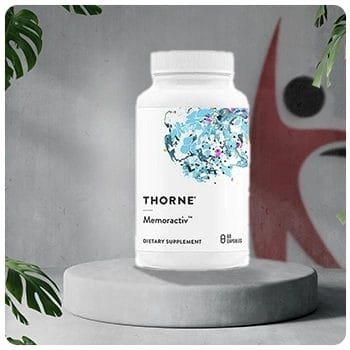 Here is a dietary supplement for cognitive enhancement that takes a broader approach with multiple proven ingredients that can improve memory, problem-solving skills, focus, motivation, and creativity.
My nutritionist pointed me to interesting studies on Acetyl-L-Carnitine, which have shown preventative benefits for reduced cognition associated with Alzheimer's [7].
And our testing team had great things to say about how much more productive they felt and how it helped to improve cognitive function for over five hours.
Ashwagandha : 300 mg
Acetyl-L-Carnitine : 250 mg
Ginkgo Biloba : 240 mg
Bacopa Extract : 100 mg
Pros
Seems to be working well for motivation and improved mood and happiness
A great option for getting rid of brain fog in the morning without stimulants
Good choice of ingredients to promote healthy brain chemical balances
Cons
The capsules seem to be larger than average
8 - Qualia Mind
Qualia Mind is another product that our team highlighted as helping them boost creativity at work.
Our testing also revealed that it could have a great impact on your mood and happiness, making it easier to deal with work-related stress to overcome.
Rhodiola Rosea is one of the key ingredients here, and it's included in a good dosage. Studies have shown that it can help you stay focused for longer, which is a great combination with improved creativity [8].
Pantothenic Acid : 50 mg
Alpha GPC : 200 mg
Acetyl-L-Carnitine HCI : 500 mg
Rhodiola Rosea : 300 mg
Pros
Positive test results for memory improvements
Stimulates mood improvements and boosts happiness
It's a stimulant-free way to boost your brain power first thing in the morning
Cons
Keep your supply levels up can be difficult as it's regularly not available
9 - Natural Stacks - Neuro Fuel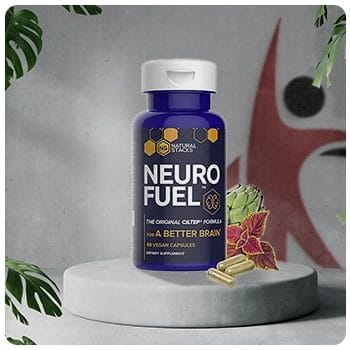 This is a recommended product that we have found to have a broad range of benefits for cognitive functions.
It not only helps you to become more creative, but we also thought that it boosted memory functions and helped with a feeling of calmness.
It seems like the high dose of L-Carnitine is what's contributing the most, with researchers showing that it's directly linked to improved brain performance [9].
Artichoke Leaf Extract : 900 mg
Acetyl-L-Carnitine : 750 mg
L-Phenylalanine : 500 mg
Coleus Forskohlii Extract : 20 mg
Pros
Measured benefits for memory function and improved mood
The company offers large bottles for bulk supplies to keep you going for months
Suitable for vegans as it doesn't contain animal gelatin
Cons
Some people have said that the capsules tend to get stuck when swallowing
10 - Mindhoney - Dose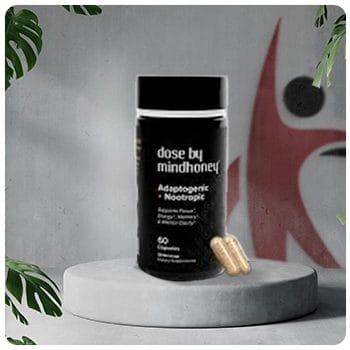 One thing that stood out in our testing of Mindhoney was that our testers felt that they got into a creative flow state much easier.
And there was a marked improvement in the feeling of stress and anxiety, which is directly linked to improvements in stress [10].
While it does work well to boost creativity, I have to point out the proprietary label.
It means you don't get to see the exact dosage amounts, and that makes stacking nootropics very difficult.
L-Theanine : n/a
Ashwagandha : n/a
Rhodiola Rosea : n/a
Lion's Mane Mushroom : n/a
Pros
Keeps you motivated and focused on tasks without the temptation to become distracted
Also works well to clear that morning brain fog without stimulants
Great feedback about it helping with flow state for even better creativity
Cons
The company lists a proprietary formula that makes it difficult to combine products
Buyer's Guide
Here are a few things to consider before you make a final decision.
Who Should Take Nootropics For Creativity?
Anyone who wants to improve their creative thinking, mood, motivation, and focus should consider taking nootropics for creativity. These products can have a positive impact on nerve cells and the overall health of your brain.
All that makes it easier for the creative side of your brain to function at its best.
Related Articles:
Who Shouldn't Take Nootropics For Creativity?
Anyone taking a prescription drug that affects the brain shouldn't take nootropics without first consulting with a doctor. And this includes smart drugs for cognitive performance and to treat excessive daytime sleepiness.
The issue with prescription medication for mental health, whether it's to treat anxiety, sleep disorders, or a type of chronic mental fatigue disorder, is that it can interact with natural ingredients.
That could mean lower effectiveness or side effects that interfere with mental energy.
Ingredients & Dosage
Based on the feedback I got from a nutritionist, there are a few ingredients that seem to have the most impact on cognitive health and creativity:
Ginkgo Biloba
Lion's Mane Mushroom
L-Theanine
Rhodiola Rosea
Alpha GPC
Cat's Claw Extract
Phosphatidylserine
Kanna
She also mentioned that it's more important to focus on the combination of these ingredients than just the dosage.
Having a broad impact on the efficiency of nerve cells as well as neurotransmitters for calmness and creativity seems to be the recipe for a great product.
"Ginkgo contains numerous flavonoids, compounds that proponents suggest can protect against aging-related issues such as dementia by improving blood flow to the brain."

- Caitlin Kelly, MD at Verywellmind.com
FAQs
Does Lion's Mane Help With Creativity?
Yes, Lion's Mane extract can help to improve creativity. It may also help with overall levels of mood and focus, which all contribute to more effective work and study. Mind Lab Pro is one product that has a great dose of this extract.
Do Nootropics Help With Procrastination?
Yes, nootropics can help with procrastination. They often impact how much you're focused and motivated to get tasks done, meaning that you tend to take action rather than think about taking action.
This effect could be great if you're trying to finish some tasks before the appointed deadline. With your cognitive abilities enhanced, you will have little to no problem with these.
Give Your Creative Process The Nootropic Boost
Out of all the best nootropics for creativity, the one product that we had the best feedback and test results for was Mind Lab Pro.
It can significantly enhance creativity, and according to our test group, it helps you stay a lot more focused without getting fatigued.
Many people who take it say that it's a great alternative to taking a smart drug which might end up causing nasty side effects.
Order your first supply of Mind Lab Pro today and find out how much of a difference it will make for your creative flow.
Our #1 Recommendation
Click For Best Price
Pros
Positive feedback about significantly improved creative abilities
Also seems to have a calming effect that reduces anxiety
No reports of nasty side effects like headaches and stomach upset
Comes in small capsules for more convenient intake at different times of day
Get the BEST PRICE until the end of June
Cons
You can only buy it from the official website
Was this article helpful?