When I first heard about BioXgenic 12 Hour XTreme testosterone booster, I was very skeptical, so I decided to try this supplement and give it a proper review.
I've been a fitness trainer for several years, and I haven't come across a supplement that claims to give results the same day.
After hundreds of hours of in-depth research and three months of consistent use, here's my unbiased assessment of BioXgenic 12 Hour X-Treme.
What is BioXgenic 12 Hour X-Treme?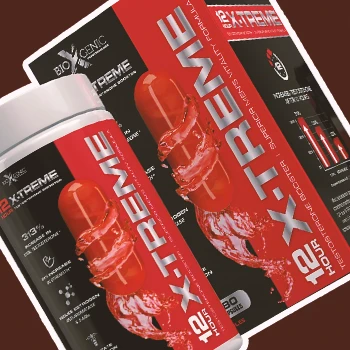 BioXgenic 12 Hour X-Treme is a natural testosterone booster designed to boost T levels in just 12 hours. This product may also help increase strength and provide prostate protection.
According to a study published in the National Library of Medicine, most supplements provide the best results when combined with a strength and conditioning program, which is also true for BioXgenic testosterone booster [1].
About the Brand
M.D Science Lab, a company founded in 1999, manufactures BioXgenic 12 Hour X-Treme.
M.D. has over 50 products sold at major retailers, including CVS, Walgreens, and The Vitamin Shoppe, in the U.S. and over 48 countries globally.
Their BioXgenic line features several dietary supplements for men and women that aim to provide sexual health benefits to its users with unique, hormone-free, and well-researched ingredients.
M.D. Science lab products have undergone lab testing and were produced in a GMP facility.
From what I've seen in my research, the company boasts an excellent track record. And the fact that they've been in the industry for over two decades says a lot about their credibility as a brand.
Benefits and Highlights
The main draw of BioXgenic 12Hour X-Treme is its fast-acting formula.
Unlike other T-boosters that take days, weeks, or even months to improve testosterone levels, BioXgenic promises to bring an increase within 12 hours.
The only way I could confirm this was to get a kit from a physician-reviewed brand and test my testosterone at home.
This particular company requires a saliva sample taken within 30 minutes of waking up.
To make my research valid, I had to take two tests.
The first one I took before I started using BioXgenic 12-Hour X-Treme. The results showed that I had 713 ng/dL of testosterone, within the normal range of 270–1,070 ng/dL [2].
After a month of use, I took another test and found out that my testosterone levels only went up by a mere three points, which was quite underwhelming.
I didn't feel the usual boost in energy and stamina that typically comes with raised testosterone levels. I also didn't experience any muscle growth and fat loss.
However, I noticed that my mood and libido had enhanced ever since taking BioXgenic 12 Hour X-Treme.
This supplement doesn't have stimulants. I'm pretty sensitive to caffeine and similar ingredients, but I didn't feel any agitation and jitteriness while using it.
BioXgenic 12 Hour X-Treme Ingredients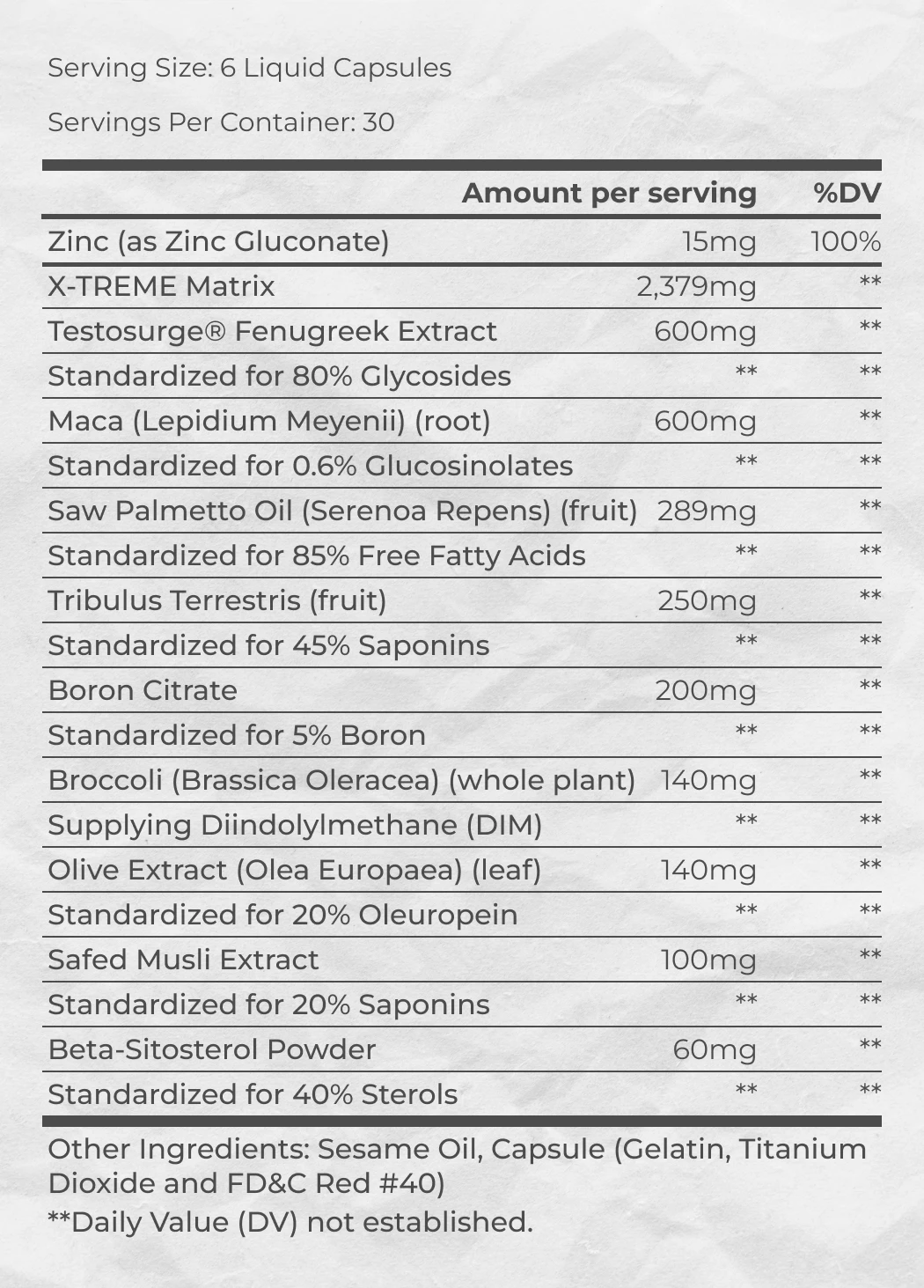 Here's what you're getting in a bottle of BioXgenic 12 Hour X-Treme.
Maca
BioXgenic 12 Hour X-Treme contains 600 mg of Maca, also known as "Peruvian ginseng." According to another study in the National Library of Medicine, aside from being rich in nutrients, Maca can help improve sexual desire in men and women [3].
Some evidence suggests that maca root can enhance male fertility by improving sperm quality and concentration in healthy and infertile men [4, 5].
Maca contains flavonoids, which are plant compounds known to improve mood and mental well-being [6].
This plant is popular among athletes for its purported benefits to exercise performance, specifically in the area of endurance sports [7].
Maca also has high amounts of glucosinolates, which are substances associated with a reduced prostate cancer risk [8].
Zinc
Zinc helps the production and regulation of testosterone in the body, which means men must get enough of this mineral. They are more likely to suffer from decreased semen volume, low T-levels, and energy loss if they don't.
This potent antioxidant plays a vital role in maintaining prostate and overall sexual health. Several studies have shown that high zinc levels in the prostate protect prostate cells from malignancies [9].
However, having too much zinc may cause more harm than good. The Recommended Dietary Allowance for zinc is 11 mg per day for adult men, but the daily upper limit is at 40 mg [10].
Each BioXgenic 12 Hour X-Treme serving provides 15 mg of zinc, so you don't have to worry about going overboard when taking this supplement.
Broccoli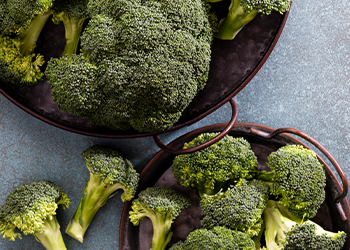 Another ingredient in BioXgenic 12 Hour X-Treme that supports prostate health is broccoli, which supplies 140 mg of diindolylmethane (DIM) that protects against prostate enlargement and prostate cancer [11].
DIM helps balance estrogen levels in the body. If this hormone isn't well-balanced, it may increase your risk of weight gain.
Additionally, DIM promotes fat breakdown and inhibits the formation of fat cells [12].
Olive Leaf
This supplement has 140 mg of olive leaf extract. The plant contains oleuropein, a nutrient with anti-inflammatory and antioxidant properties that can keep you feeling and looking young [13].
Olive leaf extract may also help lower blood pressure, reducing your risk of heart attack and stroke [14].
Safed Musli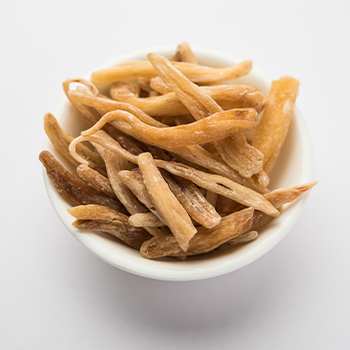 BioXgenic 12 Hour X-Treme provides 100 mg of Safed Musli, a rare herb used in Ayurvedic medicine.
It is believed to improve athletic performance, prevent obesity, and treat erectile dysfunction. However, more research is needed to support these claims.
Boron Citrate
BioXgenic aims to increase your t-levels by providing 200 mg of boron citrate per serving.
A 2015 review has shown that boron increased free testosterone levels by almost 25% [15]. It also metabolizes vitamins and minerals in your diet, resulting in improved blood flow that contributes to healthier sexual function and maintaining optimal testosterone production.
Tribulus Terrestris
BioXgenic 12 Hour X-Treme contains 250 mg of Tribulus Terrestris, a plant that has been used for many years for its ability to boost libido [16]. One study has shown that Tribulus Terrestris can help lower blood sugar and cholesterol levels [17].
Fenugreek
A 2017 study has shown that fenugreek increases low testosterone and sperm levels [18]. Another study has shown that it positively affects sexual arousal, muscle strength, energy, and well-being. With 600 mg of fenugreek in each serving of this product, you're likely to experience these benefits and more [19].
Saw Palmetto
Another ingredient that promotes prostate health is sawed palmetto (289 mg), a plant that has also been proven to help improve urinary tract symptoms [20]. It can support prostate health by decreasing the growth of prostate cancer cells [21].
How To Take This T-Booster?
Take six liquid capsules of BioXgenic 12 Hour X-Treme per day. The brand label has a warning never to exceed this number within 24 hours.
I took this product for three months and followed the suggested intake. I used to take it as soon as I woke up to tick it off my to-do list.
---
The Role of Diet and Exercise in Enhancing the Effectiveness of BioXgenic 12 Hour X-Treme
A balanced diet plays a crucial role in supporting the effectiveness of BioXgenic 12 Hour X-Treme. Certain foods are known to naturally boost testosterone levels and improve overall health:
Rich in zinc and magnesium: Foods high in zinc, such as oysters, beef, spinach, and pumpkin seeds, can aid in testosterone production. Similarly, magnesium-rich foods like almonds, cashews, and whole grains contribute to better hormonal balance.
Healthy fats: Incorporating healthy fats from sources like avocados, olive oil, and fatty fish can support hormone production, including testosterone.
Cruciferous vegetables: Vegetables like broccoli, cauliflower, and Brussels sprouts contain compounds that may help in maintaining hormonal balance, complementing the ingredients in BioXgenic 12 Hour X-Treme.
Regular physical activity is another cornerstone of enhancing the effectiveness of BioXgenic 12 Hour X-Treme:
Strength training: Engaging in strength training exercises, such as weight lifting, can naturally boost testosterone levels. This aligns well with the testosterone-enhancing properties of the supplement.
High-intensity interval training (HIIT): HIIT workouts have been shown to effectively increase testosterone levels and improve metabolic health, making them a great addition to your routine.
Pros
All-natural ingredients
Stimulant-free formula
Provides prostate protection
Increases libido
Cons
The capsules give off an unpleasant smell
It doesn't boost testosterone in 12 hours, as claimed
Where to Buy It?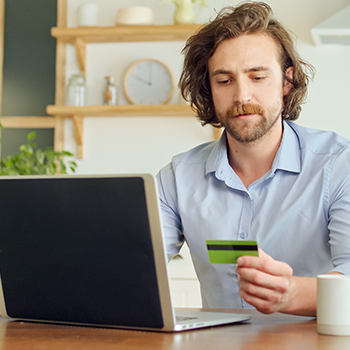 BioXgenic 12 Hour X-Treme can be purchased from the product website, Amazon, The Vitamin Shoppe, and GNC.
I ordered from GNC and only had to wait two days to receive my package.
The supplement is also available for in-store pick up; you just have to find a GNC near you and select that location upon check out.
Make sure to call their hotline to confirm if they have available stocks.
The product website didn't provide any information about BioXgenic's return policy, so I emailed the company to inquire. Unfortunately, I didn't receive a response.
Regardless, I would advise against buying from other outlets, whether it's online or offline. It's especially for the former since you often can't verify whether you're receiving a legitimate version of the product.
How Does It Compare To Other Testosterone Boosters?

We put BioXgenic 12-Hour X-Treme to the test against three leading testosterone boosters. Here's what we found.
Testogen
Our review of Testogen, an all-natural testosterone booster, promises to get your drive back and make you feel great again.
Our testing showed that Testogen is a powerful option for improving energy and physique in most users.
What sets Testogen apart from BioXgenic 12-Hour X-Treme is its transparency; the label displays all ingredients and amounts, allowing for easy comparison to similar products.
BioXgenic lists some of its ingredients and amounts, but at the top is 2379 mg of X-TREME Matrix, and it needs to be clarified exactly what that is.
For our testing, I ordered directly from the official website and received free bottles with my multi-bottle order and free shipping. I was pleasantly surprised at how quickly it was.
Testofuel is a powerful testosterone-boosting supplement from Roar Ambition, a trusted name in the supplement industry. With 2000 mg of D-aspartic acid and 10 mg of zinc, it promises a natural boost to your testosterone levels.
While some users find the four-pill daily dosing a bit much, though it is less than BioXgenic 12-Hour X-Treme's six, our volunteers experienced higher energy levels and muscle growth during the testing phase.
I ordered directly from the website to save money and take advantage of bulk purchase discounts and free shipping. I also received complimentary e-guides and training videos that I enjoyed reviewing with our test group.
Aphro-D is a natural supplement formulated by Dr. Farhan with just four key ingredients to help stimulate testosterone production in the body.
Our test showed promising results in improved mood, confidence, performance, and muscle mass in just a few weeks.
Aphro-D stands out from BioXgenic 12-Hour X-Treme with its unique blend of Tongkat Ali, Shisandra berry, pearl powder, and He Shou Wu, and I didn't find any of these on BioXgenic's label.
When I ordered from the official website, I was automatically enrolled in recurring shipments unless I canceled, so I had to set a reminder to do that before the next shipment.
Other t-boosters we've reviewed:
What People Say About It
Like me, Frank has noticed an improvement in his libido within three weeks of using BioXgenic 12 Hour X-Treme. This product has also given him tons of energy and focus, which has helped him with his workouts and daily routine.

- Frank - Florida, USA
Chris has nothing but good things to say about BioXgenic 12 Hour X-Treme. He says that it has transformed his energy levels and has helped him build muscle tone and lose body fat.

- Chris - Chicago, USA
Rodney says he got decent results from this testosterone booster, but he had mild constipation as the six-pill serving was too strong for him. He also had complaints about the quality of the capsules, saying that the bottle he received had several burst capsules.

- Rodney - Ohio, USA
FAQs
How Long Does It Take for Testosterone Boosters To Work?
It may take three weeks for testosterone boosters to start working.
What Happens When a Man Takes a Testosterone Booster?
When a man takes testosterone boosters, they will see mental, physical, and sexual improvements such as muscle mass growth, enhanced physical strength, increased sex desire, easier arousal, and an improved mood.
BioXgenic 12 Hour X-Treme: Our Verdict
I liked BioXgenic 12 Hour X-Treme for the positive effects it had on my mood and sexual stamina, but that's all it did for me.
This product is a great libido enhancement tool, but it doesn't fare too well as a T-booster for my workouts.
It's also quite expensive, which compels me to recommend a product that has given me more desirable results: Testogen.
Testogen is an all-natural, affordable, and effective testosterone booster. This T-booster made me stronger, gave me tons of energy, and improved the appearance of my abs and chest within a month of use.
Based on my experience, I can say that Testogen works better than many of the other testosterone boosters I've used.
We Recommend This Instead
Click For Best Price

Pros
May work well as a natural testosterone booster
Positive reviews about improved physical and mental energy
Seems to boost confidence levels
100% money-back guarantee if you're not satisfied
Get the BEST PRICE until the end of December
Cons
You can only buy it on their website
Was this article helpful?