Here at Total Shape, we're big fans of getting our male clients to take supplements to boost natural testosterone production.
This is particularly important for men over 30, which is when T-levels start to drop.
But the unfortunate reality is that most of the available testosterone booster supplements simply don't have the right formula.
Then we saw some great reports about High T Black testosterone booster, and we said we'd give it a test run with a few clients. We also had a nutritionist verify the ingredients to see if there was support from science for the formula.
Here's what we found.
What Is High T Black Testosterone Booster?
High T Black Testosterone Booster is a natural herb, mineral, and vitamin-based supplement that may help enhance testosterone production, boost libido, improve energy levels, reduce fatigue, and provide better blood flow for pumps.
That's a long list of claimed health benefits, which we have often seen to fall short on delivering.
See, when companies promise to deliver the results of four different supplements for the price of one, you have to get a bit suspicious. But more on the ingredients and effectiveness shortly.
The company behind this product is KFM, and they produce natural supplements in a wide range of health categories.
And we have had a few clients report successes in the fitness journey using some of them.
There is also a claim in the marketing materials that all the ingredients are scientifically proven.
These include raspberry ketones, Fenugreek, L-citrulline, and caffeine. And while all of them are generally classed as safe to take, the big question is whether they deliver on the promise.
Tailored To Men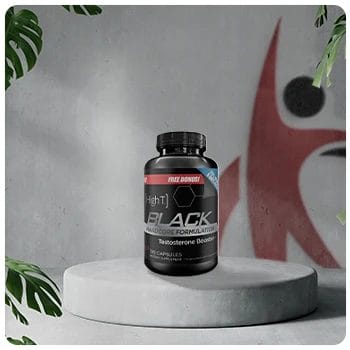 High T Black Testosterone Booster
Check Current Price
High T Black Health Benefits
The one surprising thing we saw in several comments is that, for a testosterone booster, it seems to work surprisingly well to boost energy and metabolic rates
It may be down to the strong dose of caffeine and some raspberry ketones.
This could make it an interesting product for weight loss, but unless it lives up to its claims as a test booster, you're probably better off with a different supplement.
We also found that we did experience better pumps during resistance training, indicating that the nitric oxide (NO) boosting formula could be working well.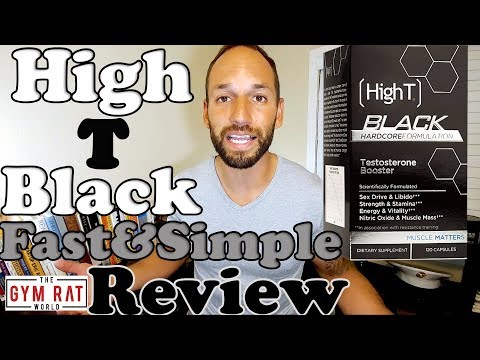 Does It Have Any Downsides?
High T Black Testosterone Booster has a few downsides involving its insufficient zinc content and proprietary formula.
For a testosterone booster, this supplement has nowhere near enough zinc. The dose delivers only 1.5 mg, and we'd expect to see at least five times that amount.
The other problem we have is with the High T Black proprietary blend. A proprietary blend essentially tells you what's in it for most ingredients, but not in what dosage.
And for a supplement that might be part of a stack for an athlete, that makes planning for best results quite difficult.
Pros
It seems to work well as a metabolic booster for cutting phases
Some positive reports on increased nitric oxide levels and blood flow
Added vitamin blend may support improved immune system and energy
Cons
There is nowhere near enough zinc for a testosterone booster
The company hides behind a proprietary blend
You need to take four capsules for the full dose
High T Black Ingredients
The High T Black testosterone booster contains mainly natural herbs, minerals, and a vitamin blend in a few different categories.
Some of them are great ingredients, but without the exact dosage, we did struggle to give them all the thumbs up.
Minerals And Vitamins
Vitamin E, B6, B12: There's a good dose of these, and they may all help with an energy boost as they play a role in producing red blood cells [1].
Zinc: With just 1.5 mg of zinc, this isn't going to be enough for a meaningful increase in testosterone levels.
"Zinc deficiency can hinder testosterone production. Like magnesium, zinc is lost through sweat, so athletes and other people who sweat a lot are more likely to be deficient."

- Michael Hull, Writer at Examine.com
Metabolic Enhancer
Raspberry Ketones: Some people find these work really well for improved mental energy and fat loss, but research is limited and not conclusive [2].
Caffeine Anhydrous: Caffeine is a known thermogenic, and with this strong dose, you should notice that your body burns more calories.
Test Booster
Fenugreek: This herb has been linked to boosted testosterone levels, but given that the blend for all the test boosters is 900 mg, our nutritionist believes it's not going to be strong enough.
Eurycoma Longifolia Extract: It's sometimes just called Longjack, and one study found that there wasn't a significant change in testosterone during a trial [3].
Tribulus Terrestris: Tribulus Terrestris is a good ingredient to include, and we have seen it on the label for many good testosterone boosters.
Rhodiola Rosea Seed Extract: Rhodiola Rosea may increase testosterone levels, and it has also been linked to improved energy, performance, and dealing with oxidative stress [4].
Nitric Oxide Enhancer
Arginine-Alpha Ketoglutarate: We couldn't find any direct link to NO production in your body, and there is only limited evidence that it might help with muscle recovery.
L-Citrulline And Beta-Alanine: These amino acids are linked to blood flow, and our test results showed that this product did provide better pumps.
Where Can You Buy High T Black?
You can buy High T Black on Amazon and the official website.
On Amazon, it's regularly out of stock, and even as a Prime member, the delivery took almost a week.
That's simply not a good option when you need to restock regularly.
On the official web store, it's also sometimes out of stock, and there is no subscription option.
With supplements like TestoFuel, that's a great option to keep a study supply going.
Tailored To Men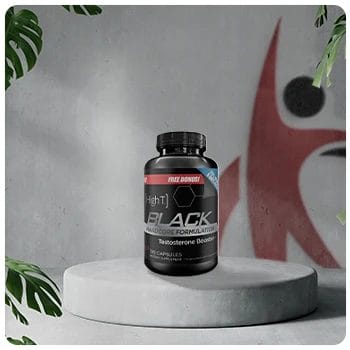 High T Black Testosterone Booster
Check Current Price
How Does It Work?
High T Black Testosterone Booster works by delivering natural ingredients to improve metabolism, increase blood flow, and boost testosterone levels.
Let's break those down a bit.
The caffeine content is what we believe is driving the results as a potential fat burner, and our clients did see some decent results in cutting.
For the blood flow improvements, there is an amino acid blend that should help with increasing the NO level in your body. And we did encounter better pumps.
The T-booster blend aims to trigger a natural increase in testosterone. It claims to work by sending signals to ramp up production and limiting how much testosterone is transformed into estrogen.
How Does It Compare To Other Supplements?
We compared High T Black to two supplements that have helped us achieve great results, Testogen and TestoFuel. Both focus on testosterone, and they do that very well with proven ingredients. Unfortunately, that's one area where High T Black falls short.
We also noticed that a few users mentioned bloating and upset stomachs. If that persists for more than a day, you need to consult with a qualified medical professional before continuing.
There is no online substitute for professional medical advice.
Other t-boosters we've reviewed:
User Comments
We also took a look at a few hundred High T Black reviews online to see what other people had to say about the effects on their testosterone.
Jack found that it worked quite well for fat and weight loss, but there were limited health benefits for his muscle growth, testosterone, and libido. He switched to another company for more health benefits in his gym workouts. -Jack from El Paso
He bought this for the intended use as a testosterone enhancer. The health benefits he was looking for were improved libido, vitality, and maintaining a healthy weight. His body didn't seem to react as expected, and the only health benefit he saw was some fat loss. -John from San Diego
FAQs
Is It Safe to Take High T Black Testosterone Booster Long-Term?
Yes, it is safe to take High T Black Testosterone Booster long-term. However, you may want to take a two-week break every three months to ensure that your body doesn't get immune to the ingredients.
Does High T Black Contain Banned Substances?
No, High T Black doesn't contain any banned substances that would create an artificial energy increase and muscle effect. It aims to increase testosterone naturally and won't show up on drug tests.
Should You Buy High T Black?
The simple answer is that we wouldn't recommend this product to anyone dealing with a decline in testosterone.
The main reasons are the proprietary blend, limited availability on the official website, and the limited boosting of testosterone.
We've had far better results with Testogen, with which lots of our clients have been boosting their T-count for many months.
Our clients have also been able to reverse some health issues affecting their weight, bones, libido, and muscles within a few months of taking it.
We Recommend This Instead
Click For Best Price
Pros
May work well as a natural testosterone booster
Positive reviews about improved physical and mental energy
Seems to boost confidence levels
100% money-back guarantee if you're not satisfied
Get the BEST PRICE until the end of June
Cons
You can only buy it on their website
Was this article helpful?