Today, I will be reviewing BPI Sports B4, a thermogenic fat burning supplement that claims to do more than just help you lose body fat.
This product is also marketed as a pre workout that can increase your energy level, focus, and endurance so you can train better.
While I've always been skeptical of "hybrid" supplements like this, I still gave it a shot to see how it performs.
Is BPI Sports B4 a worthy purchase?
Find out in this detailed review.
What is BPI Sports B4 Thermogenic?
BPI Sports B4 Thermogenic is a once-daily thermogenic fat-burner that may help increase your energy, improve your mood, and eliminate body fat. This supplement is an "adipose tissue regulator" that targets areas in your body where it's harder to burn fat.
With its thermogenic properties, using this product can also serve as a metabolism booster that raises your body's energy expenditure. This, in turn, helps your system tap into stubborn fat reserves and burn them as fuel for energy.
B4 also delivers a central nervous system stimulant designed to keep you energized and increase your focus. Supercharging this effect is caffeine anhydrous, the stronger form of caffeine that provides a sustained energy boost.
This product also contains a dopamine modulator designed to enhance your motor control, motivation, and endurance so you can enjoy longer and more intense workouts.
Given its stimulating effects, BPI Sports also touts B4 Thermogenic as a pre workout that can be taken on training days and rest days for continuous fat-burning support.
For best results, the brand recommends that you take one pill 20-30 minutes before exercise.
Now let's get to the most crucial part - the ingredients.
Similar product reviews:
What Are the Ingredients of BPI Sports B4?
BPI Sports B4 contains the following ingredients: niacin, caffeine, dendrobium nobile stem, psoralea seed, and red wine concentrate.
Let's take a look at each of their benefits below.
Niacin (30 mg)
Also known as vitamin B3, niacin is an important nutrient that comes in two main chemical forms: nicotinic acid and niacinamide or nicotinamide.
The one in B4 is the former, which is known to lower cholesterol levels and reduce heart disease risk.
Also, your brain needs this nutrient to get energy and function properly. In fact, a niacin deficiency is associated with brain fog and even psychiatric symptoms.
Caffeine (as caffeine anhydrous)
This is a highly concentrated form of caffeine powder noted for its ability to stimulate athletic performance and aid in weight loss.
Caffeine is also known to reduce fatigue, intensify concentration, and improve endurance. Because of these benefits, it has become a popular ingredient in pre workout supplements.
Dendrobium (Dendrobium nobile) (stem)
Dendrobium, a member of the orchid family, has been used in traditional Chinese medicine for centuries as a remedy for thirst, fever, diabetes, infection, inflammation, cancer, and more.
This ingredient is added to some pre workout supplements to help enhance physical and athletic performance. Some chemicals in dendrobium might also lower blood pressure and reduce pain.
However, none of these results have been studied in humans.
Therefore, there is little evidence proving that these purported claims are legitimate.
Sword bean (Canavalia gladiata) (seed)
This edible legume is another popular ingredient used as a traditional medicine in China.
Red and black sword beans were discovered to be rich in the antioxidant phenols, a quality attributed to their red and black bean coats, which have extremely high phenolic content [1].
Therefore, sword bean has potential health advantages, such as preventing cellular damage due to free radicals.
Psoralea (Psoralea corylifolia) (seed)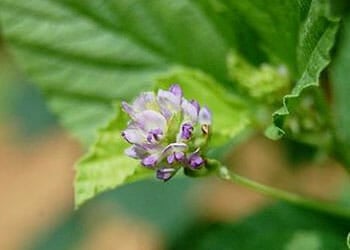 This herb is noted for its role in menopause and fighting estrogen deficiency symptoms.
Psoralea has also been shown to play a role in bone regeneration and could possibly have anti-stress and antidepressant effects [2].
However, both of these studies have only been tested on rats. There is currently limited evidence of psoralea's benefits for humans.
Japanese sophora (Sophora japonica) (leaf) (Quercetin)
This one contains the flavonoid quercetin, which is known as a free radical scavenger.
This component may help improve your exercise performance and reduce your blood pressure and blood sugar levels.
It's also known to have anti-hemorrhagic and anti-inflammatory properties [3].
As promising as these benefits are, more research is needed to prove their legitimacy.
Red wine concentrate
This dry powdered product provides the same health benefits as wine minus the alcohol.
Researchers have long believed that red wine can lower your risk of developing heart problems.
Resveratrol, an antioxidant compound found in red wine, has been shown to have potential antiviral, anti-inflammatory, and anticancer properties.
Despite resveratrol's popularity as a supplement, the above results haven't been studied well in humans.
Yohimbe extract (bark)
This tree contains a compound called yohimbine in its bark, an element used as an aphrodisiac and a sexual performance enhancer.
It is commonly used to treat erectile dysfunction, boost athletic performance, and aid in weight loss [4].
However, there is very little research showing how yohimbine can benefit humans.
Related product: Liquid Burn - Review
Pros and Cons
I try to be as objective as I can, and here's the pros and cons list I came up with after all the testing and research I did.
Pros
Contains potent stimulants that enhance the product's energizing properties
Cons
Proprietary formula conceals exact dose of ingredients
Contains many ingredients used in herbal medicine that have understudied effects on humans
The potential harmful consequences of yohimbe extract are quite alarming
What Are the Potential Side Effects of BPI Sports B4?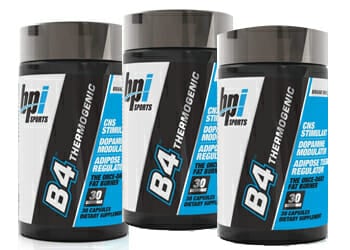 BPI Sports B4 may cause side effects such as "niacin flush," which may cause flaring, tingling, itching, and skin reddening when taken beyond the recommended dose.
There is 30mg of niacin per capsule of B4 Thermogenic, which is way below the recommended daily intake of 35 mcg.
This fat burner is likely safe, but some of its ingredients may cause unpleasant reactions if you go above the suggested use, so be mindful of your intake.
Serious side effects are most likely if you take between 2,000 to 6,000 mg of niacin a day. - Mayoclinic.org
Another thing worth pointing out is this supplement's yohimbine content, which comes with some potential dangers.
The primary concern about products containing yohimbe is the inaccurate labeling of the supplements and the possible life-threatening events they may cause.
According to a study, the most common side effects of supplements using yohimbine are gastrointestinal distress, elevated heart rate, anxiety, and high blood pressure. A few individuals even experienced a heart attack, seizure, and acute kidney injury after taking yohimbine products [5].
However, these cases resulted from supplements containing a mix of yohimbe and several other components, like caffeine, which could have aggravated the ingredient's adverse side effects. And if you're having any of the side effects, we recommend you to opt for some proven stim-free fat burners instead.
For females, we recommend checking out the best fat burners for women.
How Much Is BPI Sports B4?
BPI Sports B4 is affordably priced at around $24 per bottle. Each container has 30 capsules for a month's supply.
The brand also offers a 30-day money-back guarantee and a free shipping promo for bulk orders.
Also read: Vintage Burn - Review
Customer Reviews
B4 Thermogenic users have mixed reviews for this product. Some users gave it 5 stars, while others had complaints about it.
Here are a few pieces of feedback worth noting.
"I love this fat burner from BPI Sports! I have never taken a pre-workout or thermogenic that comes in a capsule so I wasn't sure what to expect, but I was pleasantly surprised. This supplement helps me endure a two hour workout and it makes me sweat a lot. I would definitely buy again." - Ashley F.
"If you want to get the jitters that you can't get through your workout, then this supplement is for you. I was so unbelievably nauseated that I thought I had the flu. It also gave me a really bad headache. It's the worst fat burner I've ever taken!" - Aaron S.
"I'm not sure if I had an allergic reaction to the diet pill or not, but my entire body got very red upon taking this weight loss supplement. I also felt extremely sick, hot, nauseated, and dizzy. I had severe chills and flushing. I've never had such a bad reaction to any supplement before." - Allen H.
BPI Sports B4: Should You Buy It?
I'm on the fence about recommending BPI Sports B4 for a couple of reasons.
First, this fat burner supplement contains a mishmash of under-researched ingredients that are potentially harmful.
It has a proprietary blend, which means users have no way of knowing how much of each ingredient they are actually getting. And to me, that's already a major red flag.
If I have to suggest a similar yet better product, it would have to be PhenQ.
This weight loss supplement gives pretty much the same benefits as B4, except that this one is made with natural and safe ingredients that have been proven to support weight loss.
The brand is also transparent about what goes into their formula, which is a quality that I'm sure many avid supplement consumers would appreciate.
We Recommend This Instead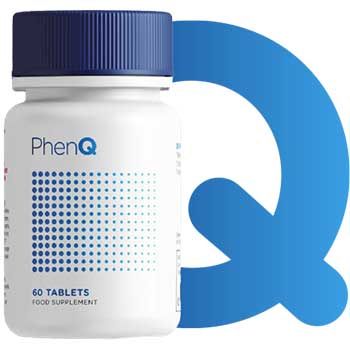 Click For Best Price

Pros
Boosts energy for better gym performance
Suppresses appetite
Improves overall mood and brain function
Replenishes body's lost electrolytes
Get the BEST PRICE until the end of March
Cons
Can be only purchased through the company website
Was this article helpful?