Natural testosterone boosters are one of the most important supplements I always recommend to my fitness coaching clients and readers.
But as with all supplements, the testosterone booster market is full of poor-quality products. This is why we always do in-depth research, testing, and comparison between as many different products as we can.
That usually means gathering around ten clients and teaming up with our nutritionist to do the research, testing, and data analysis over a six-week period.
Let's see what our Centrapeak vs Nugenix research has revealed.
Centrapeak and Nugenix Key Differences
The main difference between Centrapeak and Nugenix is down to the types of ingredients used to influence how the body produces and processes sex hormones.
We found that there was a significant difference in how these testosterone boosters performed.
Both products come in easy-to-swallow capsules, and I was pleased to see that neither of them claimed to work within days.
Even with higher doses, it's not possible for natural T-boosters to work as fast as androgenic medical steroids. The interesting thing is what our testing data had to say about the effectiveness.
Let's take a closer look.
Our Testing Approach
In our quest to evaluate Centrapeak and Nugenix, we focused exclusively on male participants, given the nature of these testosterone boosters. We carefully selected a group of men who showed interest in understanding the differential impacts of these two supplements.
We divided them into two groups, each assigned to either Centrapeak or Nugenix for a comprehensive eight-week trial. This approach ensured a controlled and focused study.
Before the experiment, we assessed each participant's dietary patterns, exercise routines, body fat percentage, and current testosterone levels to establish a clear baseline.
Both groups demonstrated notable improvements in testosterone levels and overall well-being throughout the testing period. However, our analysis revealed that one of the supplements had a distinct advantage, particularly in terms of efficacy and minimal side effects.
Centrapeak Vs Nugenix Features
The first thing we did was get input from a nutritionist about the formula for each of these testosterone boosters. Then we went through a testing phase with 10 clients who took one of the two products for six weeks.
We also got their T-levels tested before and after the trial and got the group to keep a journal on things like libido, focus, strength, and general well-being.
CentraPeak Ingredients
Here is some detailed information about the effectiveness and formula of the Centrapeak testosterone booster.
Let's dive into the active ingredients first.
Vitamin D
Research from the Department of Internal Medicine, Medical University of Graz, suggests that vitamin D can have an impact on testosterone production in men [1]. Our nutritionist pointed out that Centrapeak contains a high dose of the sunshine vitamin, which should lead to significantly boosted T-levels and, ultimately, improvements in muscle mass tissue.
Zinc
This is possibly one of the most important testosterone-boosting supplements based on scientific research [2]. It's linked to follicle-stimulating hormone, luteinizing hormone, and human growth hormone, which all influence sex hormone production.
It's also an important ingredient for the immune system [3].
Suited for Me & Women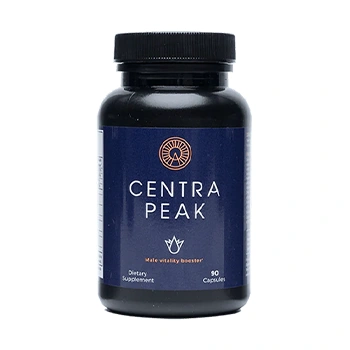 Centrapeak
Click For Best Price

Vitamin B6 
Studies have shown that combining vitamin B6 with zinc and magnesium can significantly help with T-levels [4]. And there is also good evidence to show that it may promote cognitive well-being and brain health [5].
Boron
This is another common ingredient in T-booster supplements, as it has been tied to controlling sex hormone-binding globulin [6]. Essentially, this can help to reduce how much testosterone is broken down.
Magnesium
This is another great testosterone booster, as studies have shown that both active and sedentary men will experience better T-levels with regular magnesium intake [7]. It may also help with muscle recovery for athletes.
Vitamin K2
Animal studies with vitamin K2 have revealed a link to improved testicular function, which could have an impact on libido [8]. But vitamin K2 can also improve nervous system functions and cardiovascular health [9].
Indole-3-Carbinol (I3C)
Indole-3-carbinol doesn't directly work as a testosterone booster, but it can help suppress the natural processes that break down testosterone into estrogen [10].
Ashwagandha
This is a herb often used in traditional African medicine, and there is evidence that ashwagandha has testosterone-boosting capabilities [11].
"Ashwagandha's ability to improve reproductive health is attributed to its antioxidative effects in combination with its ability to increase free testosterone levels."

- Mike Murray, RDN at Examine.com
Mucuna Pruriens
This is another proven testosterone booster that influences fertility as well [12]. And Centrapeak has one of the higher doses we have found, which should help with improved sexual well-being.
Korean Panax Ginseng
Ginseng has been used for thousands of years as a fertility enhancer, and modern studies have also shown that it can directly improve natural testosterone levels [13].
Rhodiola Rosea
Rhodiola Rosea is a well-established testosterone booster. What I found most interesting about Rhodiola Rosea is that it doesn't just impact sex hormone levels but could also help reduce the stress hormone cortisol [14].
Phosphatidylserine (PS)
Studies and research trials have revealed that PS can significantly boost testosterone production in a natural way [15].
Luteolin
This is a recent addition to the Centrapeak formula, and the interesting thing here is that it may help reduce hypogonadism, which is a leading reason men might have low testosterone [16].
Bioperine
This black pepper extract is included to assist in faster nutrient absorption [17]. And considering the long list of ingredients, this should help to activate them a lot sooner.
Effectiveness of CentraPeak
The first thing we looked at was the before and after blood test results from the test team that took the Centrapeak testosterone booster.
All six of the men in that team had between 10% and 35% improvements in free testosterone as well as lower estrogen.
The other thing that we noted in the journal entries from this group is that they all commented about generally improved mood and mental health with lower levels of stress.
We also noticed a positive impact on muscle growth and a reduction in belly fat.
And my nutritionist was highly impressed that the company is very open about all the ingredients and dosage.
Other Supplements Matched Against Centrapeak:
Pros
Provides a formula of natural ingredients to significantly increase testosterone levels
Test results show that it can enhance libido and sperm quality
Positive feedback about improved brain function and mental well-being
The transparent formula shows you exactly what you're taking
Cons
Only available directly from the official website
Nugenix Ingredients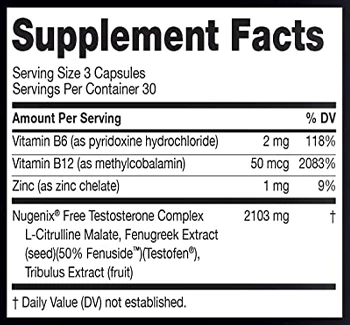 Now let's look at the second one of the testosterone boosters and break down our findings.
I'll first highlight that the list of ingredients is much shorter. That doesn't automatically mean it's not as good, and we had our nutritionist review the formula.
Vitamin B6 And B12
B vitamins play a key role in the human body for red blood cells and physical performance [18]. But particularly B6 is also tied to the body's ability to release more testosterone on a consistent basis [19].
Zinc
Zinc is important for a wide range of hormones and for the proper functioning of the immune system [20]. But Nugenix only contains 1 mg of zinc compared to 20 mg in Centrapeak, which would probably not be enough for higher testosterone levels.
L-Citrulline Malate
This amino acid is common in pre-workout shakes as it can provide an energy boost [21]. However, we couldn't find evidence that it would impact T-levels or male vitality.
Suited for Men & Women
Nugenix
Check Current Price

Fenugreek Extract
Fenugreek supplementation is known to work as a testosterone booster, but most supporting studies have used higher doses than what Nugenix is likely to include [22].
Tribulus Extract
The use of Tribulus as a testosterone booster has had mixed reviews in the nutrition community, and that might be an indication of what to expect from the test results [23].
Effectiveness of Nugenix
We did the same thing with our test group using Nugenix and submitted a blood test at the start to be able to compare hormone levels after our test phase.
We also made sure they weren't taking other supplements that might skew the results.
What we found was that only two men had a 10% increase, with the other three having practically no change.
We did hear positive input about physical and mental energy boosts after taking the capsules, which could also improve mood and reduce stress.
Overall, we think that Centrapeak is the better testosterone booster, primarily based on ingredient research and test results.
Pros
Seems to work well for boosted physical and mental energy levels
No reports of nasty side effects like stomach upset
Easy-to-take capsules don't tend to get stuck in your throat
Cons
Nugenix is based on a proprietary formula that makes stacking difficult
Contains a very low dosage of zinc and doesn't have vitamin D
Who Are These Testosterone Boosters Suitable For?
These testosterone boosters are mainly suitable for men who have lower T-levels but are not so low that they require urgent medical hormone replacement therapy.
Centrapeak Suitability
Based on our research and test results, we think that Centrapeak is most suitable for men who have had a gradual decrease in T-levels. This can be a very natural thing to happen after men turn 30.
While Centrapeak doesn't work as fast as medical steroid treatment, our testing has shown that you can expect significant increases in T-levels after six weeks.
If you have a significant underlying health condition that could be causing a low T-count, then a supplement like Centrapeak might still help, but you should discuss that with your doctor.
Nugenix Suitability
Nugenix might be suitable for men with slightly lower-than-ideal T-levels. It can also help provide a bit of a strength and mental stamina boost, but I wouldn't expect huge changes in T-levels.
Even after extended testing for eight weeks, we didn't come close to the results we had with testosterone boosters like Centrapeak.
Long-Term Health Impacts of These Supplements
When considering long-term health impacts, Centrapeak emerges as the superior choice over Nugenix. Its natural ingredient profile is designed to support sustained testosterone levels, offering benefits like enhanced muscle growth and improved mental well-being.
Unlike Nugenix, Centrapeak's comprehensive formula also minimizes potential risks associated with prolonged use, making it a safer option for long-term testosterone support and overall health enhancement.
We've had a few clients on CentraPeak for several months now and they haven't reported any issues.
Diet and Lifestyle Interactions With These Supplements
Centrapeak stands out for its synergistic interaction with diet and lifestyle choices. Its effectiveness is enhanced when paired with a balanced diet rich in nutrients and a healthy lifestyle, including regular exercise.
Our tests show that by aligning it with positive lifestyle habits, Centrapeak maximizes its benefits, promoting better hormonal balance and overall well-being.
This adaptability to dietary and lifestyle improvements makes Centrapeak a more versatile and effective option for those seeking to boost their health through natural supplementation.
FAQs
How Long Does It Take Centrapeak To Affect Testosterone Levels?
It can take 4-8 weeks for Centrapeak to positively affect testosterone levels. This is not a supplement that will produce instant results, but because of the all-natural ingredient list, it's much more suitable for long-term benefits.
Does Nugenix Contain Dangerous Ingredients?
No, Nugenix doesn't contain dangerous ingredients. We couldn't find any reviews that highlighted serious negative effects, and all the ingredients are classed as generally safe to take.
Which Natural Testosterone Booster Should You Choose?
Our Centrapeak vs Nugenix research and testing concludes that our clients and readers should opt for Centrapeak for faster and better results.
It's one of the most effective testosterone boosters we have tested, with significant results confirmed after just six weeks.
And with none of our clients experiencing any side effects from the Centrapeak ingredients, this should be suitable for most men.
Not only will you support testosterone levels, but you can also notice improvements in your immune system, nervous system, and general well-being.
Suited for Me & Women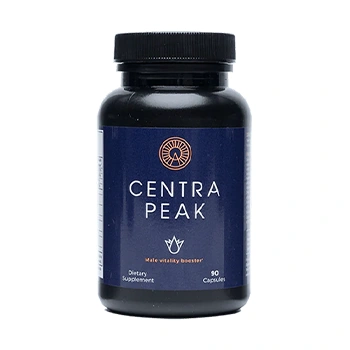 Click For Best Price

Pros
Provides a formula of natural ingredients to significantly increase testosterone levels
Test results show that it can enhance libido and sperm quality
Positive feedback about improved brain function and mental well-being
The transparent formula shows you exactly what you're taking
Get the BEST PRICE until the end of December
Cons
Only available directly from the official website
Was this article helpful?