TestoFuel and Centrapeak are two popular T-boosters that claim to help with low testosterone levels, so to figure out which one works best, we put them to the test and compared the results.
With the help of 12 clients, we took before and after blood tests while consistently taking the product for six weeks.
And our nutritionist provided an analysis of the ingredients.
Here's what we found in our Centrapeak vs Testofuel research.
Centrapeak and TestoFuel Key Differences
The main difference between Centrapeak and TestoFuel is that these testosterone booster supplements use slightly different ingredients and dosages.
Both products come in capsule form and contain only natural, safe, and legal ingredients.
They are not a substitute for medical testosterone replacement therapy. But for men who want to counteract a natural decline in T-levels, such a testosterone booster can actually make a big difference.
Centrapeak seems to contain a few more ingredients, which can be important if the additional ingredients are scientifically proven to boost testosterone production.
Our nutritionist and dietitian provided many insights about the ingredients, and we have some interesting details to share.
Our Testing Approach
We engaged a group of male clients interested in evaluating the performance of CentraPeak and TestoFuel. We limited our test subjects to men only to ensure a focused and consistent study.
The participants were divided into two groups, each assigned to CentraPeak or TestoFuel for an eight-week trial period. This approach allowed us to gather specific data on each supplement's effectiveness.
Before the trial, we assessed each participant's diet, exercise routine, body fat percentage, and current rate of muscle gain or testosterone level improvement to establish a baseline.
Throughout the testing period, both groups showed notable improvements in their targeted health metrics. However, one of the supplements demonstrated a distinct advantage in terms of enhanced benefits and reduced side effects.
Features Head to Head
The first thing we did was take a closer look at the labels on these testosterone boosters to then see what kind of scientific evidence we could find to support each one.
Centrapeak
This testosterone booster supplement has got a long list of ingredients, which could be an indication of better results.
Ingredient Formula
Vitamin D: Vitamin D is also known as the sunshine vitamin, and studies have shown that it's not just important for your immune system. It also plays a role in making the testosterone production process more efficient [1].
Zinc: This is one ingredient our nutritionist highlighted as possibly the most important to support healthy testosterone levels. Scientists have highlighted that it's one of the building blocks for testosterone [2].
Vitamin B6 : Researchers from the School of Physical Education and Sports of Ribeirão Preto have shown that combining B6 with magnesium and zinc helps to boost testosterone processes naturally [3]. And it can also play a role in mental and physical health.
Boron: Boron is another key mineral for healthy testosterone levels.
Research suggests that it influences the amount of sex hormone-binding globulin, which results in a reduction in how much testosterone gets transformed into estrogen [4].
Magnesium: Athletes will be well aware that magnesium is important for muscle growth and recovery, but scientists have also shown that it's important for T-levels [5].
Vitamin K2: This vitamin is fairly new on the nutrition supplement market, and my dietitian pointed out that research initially tied it to brain and heart health.
But now it looks like it also plays a role in T-count [6].
Indole-3-Carbinol (I3C): This is another ingredient that helps to reduce how much testosterone ends up being converted to estrogen [7].
It's an important way to ensure that you maintain those increased T-levels.
Ashwagandha: This herb has been used in traditional medicine to improve fertility, and scientists have found evidence that Ashwagandha can boost testosterone production [8].
Mucuna Pruriens: Here's another herbal extract that has been shown to naturally boost testosterone levels.
Studies have shown that it can influence the pituitary gland to release more luteinizing hormone, which then signals for more testosterone to be produced [9].
Suited for Men & Women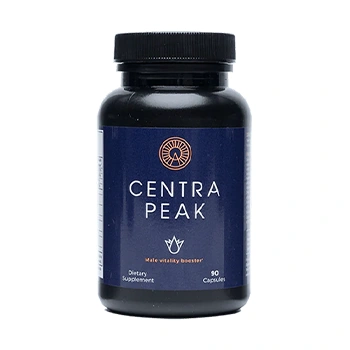 Korean Panax Ginseng: Ginseng is another very common ingredient in many health supplements, and its use in traditional medicine has now been backed up by studies showing that it can improve T-levels [10].
"For those with impaired testicular function, one study conducted in men with infertility (oligoasthenospermia) found that supplementation with Panax Ginseng raised testosterone relative to baseline."

- Kamal Patel, MPH, MBA, At Examine.com
Rhodiola Rosea: The great thing about including Rhodiola is that it provides another benefit beyond boosting T-levels.
Studies have also shown that it can influence the stress hormone cortisol in a positive way [11].
Phosphatidylserine (PS): I haven't seen this in other testosterone boosters, but studies have shown that when taking this and doing regular, intense exercises, it can help improve your T-count [12].
Luteolin: My nutritionist highlighted that this is often recommended for men with hypogonadism, as studies have shown that it can gradually reduce related health issues [13].
Bioperine: And this black pepper extract is something I like to see in all testosterone-boosting supplements as it can help to speed up the absorption of all the other key ingredients [14].
Effectiveness
The first thing we did with the Centrapeak testosterone booster was, get six clients to take a blood test and then go through six weeks of taking it on a daily basis.
Then, we had them take another blood test, and we can confirm that all clients saw an increase between 10% and 35% in free testosterone levels.
That is quite a significant increase with all-natural ingredients.
We also reviewed the daily journals and fitness results.
What we found was that they all reported increased physical and mental energy levels, improved libido, and even faster increase in muscle mass.
Those are all solid signs that this is one of the better testosterone supplements available.
Pros
All ingredients have scientific proof they can help stimulate testosterone production
Seems to work well on the general mood and a reduction in stress hormones
Plenty of positive feedback about improvements in sex drive
Athletes have reported improvements in muscle building
Cons
You can currently only buy it directly from the company website and not in stores
TestoFuel
Next, we had our dietitian look at the TestoFuel ingredients to see if there was enough support for them to work on testosterone levels in men.
Ingredient Formula
D-Aspartic Acid: The interesting thing about D-aspartic acid is that studies have shown that long-term use can help with boosting testosterone levels by up to 60% [15]. And that could make quite a difference in muscle-building efforts.
"D-Aspartic Acid works in the central brain region to cause a release of hormones, such as luteinizing hormone, follicle-stimulating hormone, and growth hormone."

- Kamal Patel, MPH, MBA, At Examine.com
Vitamin D3: Like Centrapeak, TestoFuel contains a good dose of the important sunshine vitamin.
Looking at the labels, they both have about the same amount that covers more than 100% of the daily intake needed.
Oyster Extract: You've probably heard of people saying that oysters are a great aphrodisiac, and research suggests that this is down to them being rich in natural zinc, magnesium, and vitamin D3 [16].
Just keep in mind that this could make it unsuitable if you have a shellfish allergy.
Zinc: While TestoFuel also contains Zinc, it's important to note that it only has half the amount of what Centrapeak contains. With just 10mg of zinc, you would probably still need to take an additional mineral supplement.
Ginseng: Both TestoFuel and Centrapeak have the same amount of ginseng (100mg), and that is a good dosage for boosting natural testosterone levels.
Fenugreek: Research has shown that Fenugreek has quite a significant impact on T-levels.
The results from trials have also shown significant improvements in body fat and increased muscle gains when combined with regular resistance training [17].
Magnesium: The difference here is that TestoFuel contains 70 mg of Magnesium Aspartate and Centrapeak contains 50 mg of Magnesium Citrate, which has a higher bioavailability and is faster to absorb [18].
Vitamin K2: TestoFuel contains only 18 mcg of K2, which is about a third of the 34 mcg that you'll find in Centrapeak. And since this isn't the cheapest ingredient, it shows how much value you get with Centrapeak.
Tailored To Men
Effectiveness
Our test group went through the process of submitting a blood test before starting the test phase and then taking another blood test after six weeks.
We did see that all of the men in the test group saw improvements, but they weren't quite as good as with Centrapeak.
The maximum increase we noted was 22% compared to 35% with Centrapeak.
It's still good enough for our team to measure faster gains in lean muscle mass.
But at the same time, looking at the feedback from individual testers, they didn't report the same positive impact on sexual health.
Pros
A decent increase in free testosterone after six weeks
Positive feedback about the impact on muscle growth during bulking phases
Seems to also provide anti-inflammatory health benefits due to Fenugreek
Cons
Currently not available in stores and only on the official website
Not suitable for people with shellfish allergies
Suitability Features 
At this stage, we had all the scientific analysis from our nutritionist and the test results from our trial team on both testosterone boosters.
With that information available, we could make some clear calls on who these products are suitable for.
Centrapeak Suitability
Based on our research and test results, as well as the feedback from our nutritionist, we have concluded that Centrapeak is best suited for athletes who want to maximize testosterone release.
Whether that's bodybuilders who are going through regular bulking phases or other performance athletes who need to achieve a certain level of strength, this is going to be a supplement that can help.
I also believe this is going to be the more suitable product if faster results are a priority for users.
But all that does come at a slightly higher price.
Other Supplements Matched Against Centrapeak:
TestoFuel Suitability
While TestoFuel wasn't quite as effective at increasing testosterone levels, we still got good results.
And I believe that taking it long-term would still make significant improvements in building muscle mass, losing weight, and overall mental health as well.
This can be the case with amateur athletes or men who have seen a natural drop in T-count from the age of 30 on, and in the early stages, the decrease might not be that huge.
As mentioned before, the slightly lower price tag makes it more affordable as well.
But just be aware that the results might not be quite as impressive compared with Centrapeak.
Are There Age-Specific Recommendations?
CentraPeak stands out as the superior choice for men over 30, addressing age-specific hormonal needs. As testosterone levels naturally decline with age, CentraPeak's tailored formulation supports mature men in maintaining hormonal balance, vitality, and overall well-being.
Our test results showed that the older men were, the more of a beneficial impact it had, with some of our testers achieving over 35% increase in T-levels.
Are They Suitable For Long-Term Usage?
CentraPeak emerges as the better choice for long-term use, offering sustainable benefits with minimal risks.
Its natural ingredients work synergistically to provide continuous hormonal balance and well-being without the common pitfalls of dependency or adverse effects associated with the long-term use of other testosterone boosters.
Most of our testers continued taking it for months and, so far, haven't reported any issues or a decline in effectiveness.
FAQs
Does Centrapeak Work Faster Than TestoFuel?
Yes, Centrapeak seems to work faster than TestoFuel. While testing these products, our trial teams were able to measure higher increases in testosterone with Centrapeak after six weeks than we saw with TestoFuel
Is TestoFuel FDA Approved?
No, TestoFuel isn't FDA-approved. Just like other natural diet and muscle-building supplement products available, there is no FDA approval process available. It's also important to note that all the ingredients are classed as generally safe to take.
How Long Does It Take Centrapeak To Work?
It takes about 4-6 weeks for Centrapeak to work. That's the typical time in which our testing team noticed changes in sex drive, exercise performance, and general mood and well-being. And our blood test results after six weeks also confirmed increased T-levels.
Our Verdict on Centrapeak Vs Testofuel
In our final discussion about the Centrapeak vs TestoFuel research and testing results, our team came to the conclusion that we would advise clients and readers to choose Centrapeak.
Between the improvements in lean muscle gain, increased male vitality, and physical strength, it just seems to tick all the right boxes.
Our test results also showed that it's suitable for long-term use without side effects or reduced effectiveness over time. That alone can make it suitable for men to achieve better results consistently.
Suited for Men & Women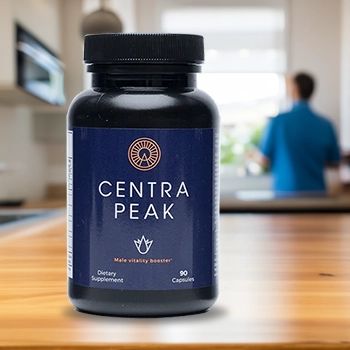 Pros
All ingredients have scientific proof they can help stimulate testosterone production
Seems to work well on the general mood and a reduction in stress hormones
Plenty of positive feedback about improvements in sex drive
Athletes have reported improvements in muscle building
Get the BEST PRICE until the end of December
Cons
You can currently only buy it directly from the company website and not in stores
Was this article helpful?