Low testosterone levels can cause several problems for men, and in many cases, it can make achieving health and fitness goals almost impossible.
But the solution for low testosterone is not to immediately resort to medical hormone treatments. There are many proven ways to boost testosterone production with natural ingredients.
One of the newest products available is Gorilla Mind Sigma, and after some initial positive feedback from friends, I decided to do some research and take it for a trial period with our team at Total Shape.
I also had a dietitian review the ingredients for some scientific input.
Here's what we found.
Total Shape's Score : 4.9/5
4.9/5
Product Effectiveness
Affordable product especially on bulk orders

Based on natural ingredients to target the body's testosterone production

Available in large bottles to avoid running out too soon

Ideal for long-term use due to safe ingredients

Works well for stress reduction
Vitamin D3

Magnesium

Zinc

Fadogia Agrestis Extract

Tongkat Ali

Ashwagandha Extract
Has a proven effect on free testosterone levels

Favored by bodybuilders to speed up bulking phases

Reduces the risks of muscle wasting during cutting phases

No reported side effects
What Is Gorilla Mind Sigma?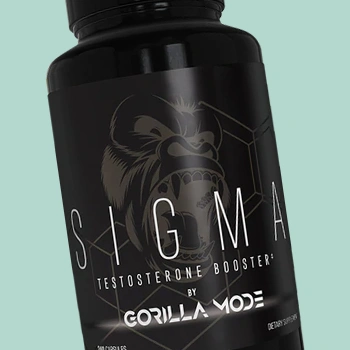 Gorilla Mind Sigma is a natural testosterone booster supplement.
It claims to have combined herbs and minerals that are scientifically proven to trigger natural responses in the male body.
While it doesn't provide a sudden increase like testosterone replacement therapy, the aim of the company is to provide a supplement that will gradually build up the effects over several weeks.
It's the first testosterone booster from Gorilla Mind, and it's great to see that the company has put a lot of effort into coming up with a good formula instead of spending a fortune on celebrity endorsements.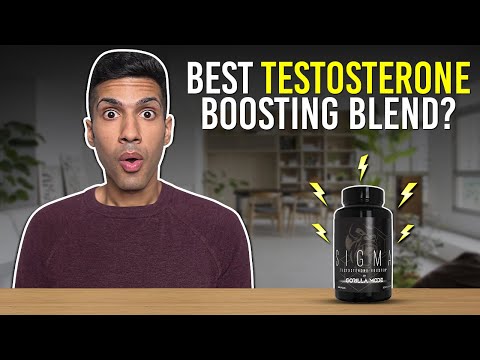 Gorilla Mind Sigma Highlights

During our testing, we focused our attention on measuring serum testosterone levels through blood tests and then getting feedback on how it influenced our wellbeing.
All of the blood test results that we did after four weeks showed a marked increase in T-levels.
We also got feedback that it helped reduce stress levels, and we were seeing some better physical performances at the gym as well.
We also had our dietitian analyze the ingredients to tell us what they do and if there was scientific evidence in favor of them.
Here are the main ingredients:
"Any benefits of oral zinc supplements or increased dietary intake will depend on the zinc status of the individual. Some research suggests that when zinc levels are low, insulin sensitivity and testosterone can decrease, and supplementation can bring levels closer to normal."

- Kamal Patel, Editor at Examine.com
Does Gorilla Mind Sigma Have Downsides?
The only thing that I heard a few people mention is that ordering it for delivery outside the USA is expensive. The company doesn't seem to have a distribution channel set up for international buyers.
I also heard one person mention that it seemed to take over four weeks to see an increase in free testosterone levels.
I would say that is pretty normal and acceptable for a natural men's T-booster as you're not taking a medical drug aimed at rapid increases.
Pros
Provides only proven ingredients linked to testosterone production
It doesn't seem to cause any negative side effects
Comes in a large bottle of 240 capsules to last you three months
Cons
Not available for international shipping yet
How Does It Compare To Other Products?
The three testosterone boosters that we generally recommend for clients and readers are Testofuel, Testogen, and Aphro-D. We have a lot of testing data on those supplements, and the first thing we noted is that Gorilla Mind Sigma has a very similar effect.
The main thing that is different with Sigma is that it contains a lot more Vitamin D3 and some added magnesium as well.
Testofuel and Testogen also have ginseng, fenugreek, and D-aspartic-acid, while Sigma has herbal ingredients that are a bit more similar to Aphro-D like Tongkat Ali and Ashwagandha extract.
Overall, we were delighted to see blood test results for Gorilla Mind Sigma were on par with the other three products we consider to be top of the line.
Other T-Boosters We Have Reviewed:
Testofuel
Click For Best Price
Pros
Uses proven minerals and vitamins to boost testosterone production
Also triggers growth hormone release for faster bulking
Contains anti-inflammatory ingredients for faster recovery times
Works well to boost mental and physical energy levels
Capsules are small and easy to swallow
Cons
Only available on the official website
Contains some shellfish ingredients that could trigger allergies
Testogen
Click For Best Price
Pros
Entirely based on legal and natural ingredients
Helps to boost muscle growth and exercise performances
Can help with libido and sperm quality
Good bulk-order discounts available
Comes with a 60-day money-back guarantee
Cons
It's one of the more expensive T-boosters
Contains some allergens to check before ordering
Aphro-D
Click For Best Price
Pros
Based on natural ingredients proven to trigger testosterone production
Boost physical and mental performance throughout the day
Works well to boost overall self-confidence
Comes with a 100% money-back guarantee
The capsules are small and easy to swallow
Cons
Not available at popular supplement stores
It works out expensive for long-term use
Where Can You Buy Gorilla Mind Sigma?
The only place you can buy Gorilla Mind Sigma right now is on the official company website.
But that's also the only place I would recommend you go and buy it.
There are too many reports of counterfeit supplements out there that pose a significant health risk if they contain untested and harmful ingredients.
Gorilla Mind Sigma is currently available for $60, which is a good price considering the quality ingredients and dosage.
Other User Reviews
I found some interesting user reviews on YouTube, and here are the two that stand out the most.
"Had my bloodwork done in January and was on the lower end of the reference range for Test despite having excellent nutrition and everything else imaginable - been taking this combination of supplements for a while now, and the difference is incredible."

- The Donny
"Quickly reviewed the ingredients, and I gotta say this is promising. I was taking most of these separately already, but I don't mind adding another gorilla mind product to the stack and tossing my normal stuff."

- Karl Phillips
FAQs
When Should You Take Gorilla Mind Sigma?
You should take two to four capsules of Gorilla Mind Sigma spread throughout the day. This should help to maintain a steady supply of active ingredients to help your body constantly produce more testosterone.
How Long Does It Take for Gorilla Mind Sigma to Work?
It takes about a month for Gorilla Mind Sigma to start working. The active ingredients need to gradually build up so that your body can ramp up testosterone production.
Should You Invest In Gorilla Mind Sigma?
Yes, based on our research and test results, I believe that Gorilla Mind Sigma is a good product and has proven to work. It has a great combination of minerals and herbs that we've seen in other similar T-booster products.
If you can stick with a healthy diet and good exercise routine, then Gorilla Mind Sigma will be able to help you get to your strength and fitness goals quicker.
Whether it's weight loss or muscle building that you're working towards, ignoring your testosterone levels is not going to help.
Order your first supply today and see how much of a difference it will make for you.
WE APPROVE
Pros
Provides only proven ingredients linked to testosterone production
It doesn't seem to cause any negative side effects
Comes in a large bottle of 240 capsules to last you three months
Get 10% off using code:

TOTALSHAPE
Cons
Not available for international shipping yet
Was this article helpful?