As a team of personal fitness trainers, our staff at Total Shape often get involved in many discussions about the latest and greatest fat-burning supplements.
While most of them turn out to be snake oil, we do give every new recommendation the full attention of research and testing. And that's exactly what we did when we heard some people say that Modere Trim was giving them better weight loss results than PhenQ.
So, we got the help of a dietitian to research the science behind each formula and some clients to test the products.
There were a few surprises.
PhenQ and Modere Trim Key Differences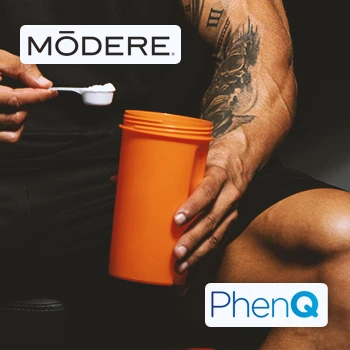 The main difference between PhenQ and Modere Trim is in the type of ingredients used to help you lose weight.
First of all, PhenQ takes a very targeted approach to sourcing multiple natural ingredients that have a proven 'fat burner' effect.
This is mainly due to a thermogenic effect where your metabolism will boost energy usage from fat in order to slightly raise your body temperature [1].
Modere Trim, on the other hand, is mainly based on delivering a liquid collagen supplement.
The big question is how much this formula will influence weight loss, and we did some extensive research into the exact marketing and formula details.
Features Head to Head
Let's take a look at these weight loss products side by side to see what our testing and research revealed.
PhenQ
First up, I want to show you what our research revealed for PhenQ.
Ingredient Formula
PhenQ has a very interesting formula, and the company claims that all ingredients were chosen based on scientific evidence.
Capsicum Blend
Capsicum is a substance that gives chili peppers a spicy flavor. And it has also been tied to metabolic processes that target fat cells for energy. In fact, some studies have found that it has significant benefits for weight loss [2].
In the PhenQ vs Modere research we did, it seems like this could be one of the main differences in favor of boosted metabolism and energy levels.
Chromium Picolinate
Chromium is a trace mineral, and studies have shown that it can help you lose weight by impacting your hunger cravings [3]. As a result, you should be in a much better position to control your calorie intake and burn more energy than you take in.
"Though chromium supplementation is not effective for diabetics, taking chromium alongside a proven therapy may help fight depression and the snacking associated with binge eating."

- Kamal Patel, MPH, MBA at Examine.com
Caffeine
Yes, the chemical that gives you that morning mental focus boost and wake-up call can also help you burn fat more effectively. Studies have shown that regular caffeine supplementation can significantly boost your metabolism and lead to faster fat loss [4].
Nopal
This is an interesting ingredient that you don't often see in fat burners. It's a dietary fiber, and that means it turns into a gel-like substance in the stomach [5]. Similar to chromium above, this should help with appetite suppression and a long-term reduction in body fat.
L-Carnitine
This amino acid has a very interesting impact on fat storage. While it doesn't directly reduce the amount of fat in your body, scientists have shown that it plays a role in transporting fatty acids to muscles and providing energy [6].
What this means is that L-carnitine plays a key role in delivering the energy from belly fat to your muscles. And when that process works more efficiently, there's less chance of a bottleneck that could limit how much fat you can process.
Effectiveness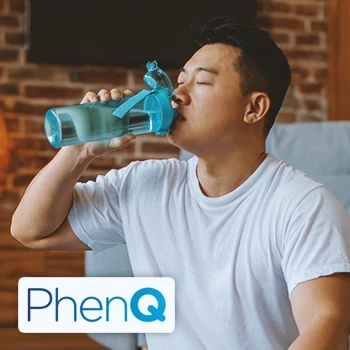 To test the effectiveness, we had our test group spend one-week training without fat-burning supplements and the next week taking a daily dose of PhenQ.
The first thing we noticed on the second day was that it seemed to work very well in suppressing appetite and hunger cravings. And with fewer chances of snacking, it should be easier to limit your calorie intake.
The other thing we noticed was a significantly faster BMI reduction during the week we used PhenQ.
And because we did the same workout routines, it's more likely that this improvement was due to PhenQ.
Related Articles: 
Pros
Seems to have effective ingredients for appetite suppression
Uses natural and safe ingredients that have a proven fat-burning effect
Ingredients could also help to reduce new fat storage
Added health benefits for improved mood and physical energy.
Cons
It's only available directly on the company website
Tailored For Men and Women
PhenQ
Click For Best Price

Modere Trim

Now it's time to take a closer look at Modere Trim and what it can possibly do for weight and energy levels.
Ingredient Formula
Modere Trim is a liquid that contains a few carefully chosen ingredients. But my dietitian immediately pointed out that while these have several health benefits, they might be a bit limited for weight loss.
Conjugated Linoleic Acid
Conjugated linoleic acid (CLA) is common in sports supplements.
But a meta-study review has found that it will only moderately increase fat burning [7]. In the PhenQ vs Modere Trim comparison, that put it significantly on the backfoot.
And I'll tell you about our results shortly.
Hyaluronic Acid
Hyaluronic acid is mainly recommended for joint issues, and considering the next ingredient is collagen, it seems like we've got a decent supplement for arthritis and joint pain rather than direct fat metabolism [8].
Hydrolyzed Collagen
Modere Trim also contains collagen peptides. And many studies have shown that this protein can have a significant impact on both joint health and hair and skin health [9].
But we couldn't find reliable evidence that it will help lose a few pounds of body weight.
Chondroitin Sulfate
This is an ingredient mainly recommended for improving the health and strength of connective tissue and cartilage in joints [10]. But there's no evidence that it would eliminate fat or reduce fat cell formation.
Effectiveness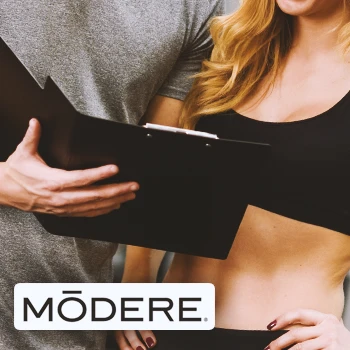 We put Modere Trim through the same testing as PhenQ by doing one week of training without a daily diet pill and then the second week using this product to assess weight gain and loss.
Overall, we didn't see any improvement in weight management with Modere Trim.
It didn't seem to help with burning fat any faster than the control week.
We did find that all-natural ingredients were easy on the stomach, and longer-term use did seem to help improve joint aches. But I just wouldn't recommend it for fat loss and muscle growth.
Pros
Provides good ingredients to support improved joint and connective tissue health
Come in an easy-to-dose bottle with liquid BioCell collagen
Seems to have a moderate effect on appetite and hunger cravings
Cons
Not an effective weight loss supplement based on ingredient research and testing
Some people prefer the convenience of diet pills rather than measuring a liquid
Tailored For Men and Women
Modere Trim
Check Current Price

Suitability Features
Based on our PhenQ vs Modere Trim research, I also wanted to take a step back and see what our test results showed about who these products are suitable for.
PhenQ Suitability
PhenQ is an ideal and easy-to-digest supplement that is suitable for anyone struggling with fat reduction and weight management.
Whether you're trying to lose weight for health reasons or as part of a bodybuilding cutting phase, our results show that it could make quite a difference when combined with the right diet and exercise routine.
The ultimate benefit will be increased lean muscle mass, and you'll be able to improve muscle tone as well.
Modere Trim Suitability
Modere Trim is not suitable as a weight loss or muscle toning supplement. Despite its name and some of the marketing materials, the ingredients won't help you burn more calories, and they won't impact fat production.
However, it does serve a good purpose for anyone with joint aches and injuries. There seems to be plenty of evidence that the ingredients could help strengthen cartilage and other connective tissue.
FAQs
How Much Weight Can You Lose With PhenQ?
You can realistically lose 5-10 pounds of weight every month with PhenQ. Users have been able to achieve such results when they combine this supplement with a healthy and balanced diet, as well as a daily exercise routine.
How Fast Do You See Results With Modere Trim?
You can see results in your joint health with Modere Trim after about one or two months. It won't do anything for weight control, but users have reported that consistent intake has improved their joint issues.
Which Weight Loss Supplement Should You Choose?
The weight loss supplement we would recommend that you buy is PhenQ. Compared to Modere and many other fat burners that we have tested, it simply has given our clients the best results.
I personally use these weight loss pills for all my cutting phases. Not only does it burn off extra calories to shorten this phase to less than a week, but I also find it helps to stop hunger cravings after a bulking phase.
All of my professional bodybuilding clients also agree that it's one of the best weight loss supplements available, providing consistent results every time.
Tailored For Men and Women
Click For Best Price

Pros
Suppresses your appetite
Blocks body fat production to stop weight gain
Improves your mood and energy levels
High-quality, all-natural formula
Get the BEST PRICE until the end of September
Cons
Can be only purchased through the company website
Was this article helpful?