One thing our team here at TotalShape has come to learn is that the number of effective weight loss supplements is extremely small.
And when we see new products like Plexus Metaburn hit the market with big advertising campaigns, we're immediately cautious.
But we always give these supplements a fair trial and do extensive research and testing. That also involves reviewing the active ingredients with a dietitian to see if there is any proof in the formula.
For this Plexus Metaburn review, we also got a few clients to give it a trial run to measure results.
Here's what we found.
What Is ​​Plexus Metaburn?
Plexus MetaBurn is a multi-action fat-burning product manufactured by Plexus Worldwide. This supplement aids weight loss, improves metabolism, boosts energy levels, and enhances mood.
It uses botanical extracts and other natural ingredients that work together to deliver these powerful benefits:
Burn stubborn fat
Promote weight loss
Suppress appetite
Boost mood
Improve energy expenditure
All this is apparently possible with just one capsule per serving for lunch and dinner.
It's quite a promise to make, and there's a lot of advertising material that makes it sound easy to lose body fat.
The claim is that the natural herbs in the formula aim to boost your metabolic rate to burn fat more effectively.
Now, in fairness to the company, they do highlight that you need an active lifestyle and healthy diet for it to work.
Don't expect this to be some sort of magic weight loss kit.
Benefits
In most online reviews and feedback from our clients, we noticed that many of them found that they had a good bit more energy throughout the day.
And because you take two capsules, one with breakfast and lunch, you tend to get more consistent energy.
We also liked that the company only uses natural ingredients and no artificial stuff.
The result of this seems to be practically no reports of negative side effects, which is not something you want to experience with a fat loss supplement.
Does Plexus Metaburn Have Downsides?
Plexus Metaburn does have certain downsides. It contains stimulants such as green tea extract, ginseng, and caffeine, and people sensitive to these ingredients may experience anxiety, jitters, insomnia, or fast heartbeats.
One thing we always look for in fat burners is how well they work to suppress hunger cravings. The less likely you are to reach for snacks, the easier it should become to lose weight.
Unfortunately, we didn't find that Plexus Metaburn worked well enough, and our clients who go through intermittent fasting found it didn't help either.
While the label has many natural and generally safe ingredients, the company also hides behind a proprietary blend.
That's always a negative for us, making stacking with other supplements very difficult.
Pros
Positive reports of boosted energy levels for physical and mental work
It uses only natural ingredients and no artificial colors
You only need to take one capsule twice a day
Cons
Limited results for weight loss in our trials
We didn't notice enough appetite suppression for fasting
The company lists a proprietary formula on the label
Ingredients
Here are the main ingredients on the label. As mentioned above, we can't tell you how much of each is in the capsules as it's a proprietary formula.
L-Tyrosine - This amino acid isn't tied to body fat burning but could be providing benefits for mental focus. It may influence neurotransmitters that ultimately lead to improved brain function [1].
"Treatment with tyrosine may help humans perform in stressful situations, such as being exposed to extreme weather or being asked to perform certain cognitive tasks." - WebMD.com.
Green Tea Extract - Green tea is a common ingredient in weight loss pills as it may have a similar effect as caffeine. But there's also the antioxidant benefit which is important during any weight loss journey to avoid a buildup of toxins [2].
Caffeine - This is a proven ingredient to help you lose weight faster, as peer-reviewed studies have shown that caffeine has a thermogenic effect [3]. However, the marketing material for Plexus Metaburn says it has less caffeine than a cup of coffee, which might not be enough.
Chinese Ginseng - This is another known antioxidant that may also promote better brain function and health [4]. And that would explain why many people did find that they could focus better. It's a positive ingredient, but not one that helps reduce stubborn fat.
Grains Of Paradise Seed Extracts - The company has added another herb for its antioxidant properties [5], but we couldn't find supporting evidence that it might help with the body's metabolism and fat burning.
Rhodiola Root Extract - Our dietitian pointed out that she does recommend Rhodiola root for athletes as an energy booster [6], but it probably won't do much to boost metabolism and fat loss.
Guarana Seed Extract - We've noticed this in a few pre-workout supplements, but this could be the first weight loss supplement with guarana. It's mainly tied to focus and brain function [7] rather than fat burner effects.
Where Can You Buy It?
You can buy Plexus Metaburn on Amazon and on the official website.
We found that it's out of stock on Amazon most of the time, so we just went to the main site to order it.
There are some good subscriptions available, but we saw a few comments where people had problems canceling those subscriptions.
Delivery took about 3 to 4 days which is fine, but keep that in mind if you get close to running out of Plexus Metaburn.
Weight Loss Supplement Alternatives
We tested Plexus Metaburn against three leading weight loss supplements to provide a comprehensive review. Here is what we learned.
PhenQ
Following our extensive review of the PhenQ supplement, we concluded that it is a dependable supplement offering a complete weight loss approach. As a fitness professional, I understand that losing weight takes a combination of tactics.
PhenQ addresses this by targeting stored fat, increasing energy, reducing appetite, improving focus, and preventing new fat production. Our test group experienced significant increases in energy and decreased hunger.
Volunteers took PhenqQ with our training and diet plan, and we tracked noticeable weight loss by taking body measurements at regular intervals during the testing phase.
I confirmed with our dietitians that PhenQ contains optimal thermogenic and appetite-suppressing ingredients such as a-Lacys-Reset®, nopal, capsimax powder, and caffeine.
As a fitness trainer, one significant advantage that PhenQ has over Plexus Metaburn is its transparent ingredient label, clearly listing all ingredients and amounts and not hiding behind a proprietary blend.
I ordered PhenQ from the official website for our testing and recommend doing the same due to the prevalence of fake supplements on the market.
LeanBean
Based on our extensive research and personal experience, Leanbean is an all-natural, vegan-friendly fat burner with a formula explicitly optimized for women. Leanbean utilizes thermogenic ingredients like green coffee beans and turmeric, appetite suppressants like Glucomannan and chromium, and B vitamins to reduce fatigue.
Leanbean has a heavier daily dose than Plexus Metaburn at six capsules versus one.
Participants in our test group reported reduced snacking after taking Leanbean for several weeks, alongside various other benefits like increased energy. While some found the six-pill daily dosing intimidating, many reported feeling the benefits 24/7.
A standout feature that Leanbean has over Plexus Metaburn is its clear ingredient label, without any proprietary blends. As a fitness trainer, this transparency is crucial when recommending supplements to clients.
Order from the official website, as I did for our testing, and you can take advantage of bulk order discounts and free shipping.
Instant Knockout, initially formulated for elite athletes and bodybuilders, is now a widely popular supplement used by everyday gymgoers everywhere.
Its powerful formula includes maximum doses of caffeine, cayenne, Glucomannan, L-theanine, and essential vitamins.
Like Plexus Metaburn, Instant Knockout uses a vegetable capsule, making it suitable for vegans and vegetarians.
While Instant Knockout still contains 300 mg, Roar Ambition changed the formula in August 2021 and removed green coffee beans to reduce caffeine. Still, 300 mg was a bit much for some in our test group, while others enjoyed its energy boost.
Instant Knockout's price is comparable to other fat burners, and ordering from the official website includes complementary training and e-guides that provide valuable resources for maximizing the benefits of Instant Knockout.
Performix SST
The faster your metabolic process, the more calories you can burn and lose weight faster.
Performix SST contains ingredients that speed up your resting metabolism, such as Synephrine HCL [9].
It also has components that help increase fat metabolism, like Yohimbine HCL and Safflower oil extract [10,11].
Performix SST can help you burn body fat when consumed with a healthy diet and regular exercise.
It also helps in controlling your appetite. I've noticed that it helped decrease my appetite impulses, and I stopped binge eating or snacking during that time.
Other fat burners we've reviewed:
Other Review Comments
We also went through hundreds of Plexus Metaburn reviews online and in forums to see what kind of general feedback people have.
Here are two that lined up with our experience.
Diane was looking for a supplement to get through a weight loss plateau. Her first impression was positive as she found she had higher energy levels for physical activities and exercise. But the weight just didn't drop. After two months, she switched to a different product and got over that plateau.

- Diane from Hartford
Tami had used a few different fat burner products and was looking for one that would help her extend fasting times first thing in the morning. She didn't get those results, and she also found Plexus Metaburn costs more than most other products she tried.

- Tami from El Paso
FAQs
Does Plexus Metaburn Contain Stimulants?
Yes, Plexus Metaburn contains stimulants in the form of caffeine. This is a common and positive ingredient for weight loss products as it may stimulate thermogenesis to burn off more calories effectively.
Is Plexus Metaburn Banned for Athletes?
No, Plexus Metaburn isn't banned for athletes. Like all-natural weight loss supplements, Metburn contains only natural herbs that are not on any banned or restricted lists. It should not result in drug test results coming back as positive.
Should You Buy Plexus Metaburn?
Our research and testing have confirmed that Metaburn isn't that effective for people with weight loss goals.
Whether you just want to lose a few pounds or need to reduce your BMI during a cutting phase, you can boost your diet programs much better with other supplements.
The fat burner that we've had the best results with is called PhenQ. We've been recommending it to clients for a long time, and every one of them has managed to effectively reduce their fat storage.
It's mainly due to the superior quality ingredients and a clinically tested formula of chromium to curb hunger, caffeine for fat burning, and l-carnitine to transform fat into energy.
Definitely give it a try to see how well it works.
We Recommend This Instead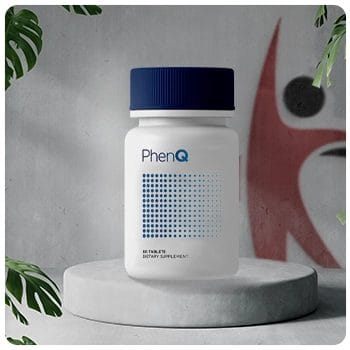 Click For Best Price
Pros
Suppresses your appetite
Blocks body fat production to stop weight gain
Improves your mood and energy levels
High-quality, all-natural formula
Get the BEST PRICE until the end of June
Cons
Can be only purchased through the company website
Was this article helpful?