Ernestine Shepherd, an inspiring 85-year-old bodybuilder, still works as a personal trainer and gives exercise classes to seniors in Baltimore.
If you need some inspiration from a former self-proclaimed couch potato, read on!
Quick Summary
Ernestine Shepherd's workouts vary for the legs, chest, biceps, triceps, shoulders, legs, and back, and it lasts from 45 minutes to an hour.
Vitamin D is the only supplement Ernestine Shepherd takes.
To boost her body with nutrients and energy to work out, Shepherd has 4-5 meals per day.
Her Body Stats
This 85 years old role model is 5 feet 5 inches tall, weighs 120lbs, and has approximately 10% body fat. As a fan of her work, I bring you the essential information on her exercise routine to inspire you.
Shepherd's Workout Plans
Shepherd and her fitness regime draw inspiration from women everywhere.
She has a fitness routine that focuses on cardio with a morning run and maintaining her weight with strength training.
 

View this post on Instagram

 
Every day, Shepherd gets out of bed at 2.30 AM for meditation and daily devotions, followed by breakfast.
She also goes for a 10-mile run daily. Shepherd's workout has been inspired by Rocky and says that Sylvester Stallone is her man.
After the morning routine, Shepherd hits the gym at 7.30 AM. She spends on average four hours a week in the gym.
Her weekly exercise schedule is pretty simple:
Mondays: Shepherd's focus is on the chest and biceps.
Wednesdays: she focuses on the shoulders and triceps.
Fridays: she works on her back and legs.
Her average workout lasts from 45 minutes to an hour. She can bench press 150 lbs and lift about 15–20 lbs.
After working out, Shepherd goes back home for a refreshment before she heads back to the gym for her class, where she teaches group workouts for people aged 20–86.
Other workout routines:
Ernestine Shepherd's Diet Plan

Nutrition is a vital part of Shepherd's lifestyle. She has 4–5 meals a day in 2–3-hour intervals. Her diet is simple, but effective in ensuring her figure stays in peak condition while avoiding fatigue. It consists of egg whites, chicken breast, and brown rice free from salt, vegetables, and nuts.
Shepherd eats at least 120 grams of protein every day, starting with ten egg whites before her morning exercise.
Her macros include low carbs, mid-high protein, and low fat.
She eats foods like:
Egg whites
Skinless chicken
Tuna
Turkey
Handful of walnuts
Green vegetables
She avoids:
Processed carbs
Food with preservatives
Shepherd is a professional. She counts every calorie and sticks to her diet plan even if she's not competing and lifting weights. Besides the calorie counting, she drinks plenty of water — at least 16 oz a day.
Years ago, when she started training, she used to exercise with a nutritionist to create the perfect diet.
She eats almost the same every day and doesn't crave sweets. However, she occasionally has some sugar-free cherry Jello.
Also Read: Heidi Klum Meal Plan & Workout
What Supplements Does She Take?

Shepherd focuses on healthy foods and doesn't use performance-enhancing drugs, remedies, or supplements, besides vitamin D.
She says that exercise is her anti-aging and anti-inflammatory secret.
One of her best motivation quotes is on self-confidence:
'Years ago, I concerned myself about what people said concerning me. But when you get to 70-something, and you don't have that many years left in front of you, you don't concern yourself with that.'
Her Way to the Book of World Records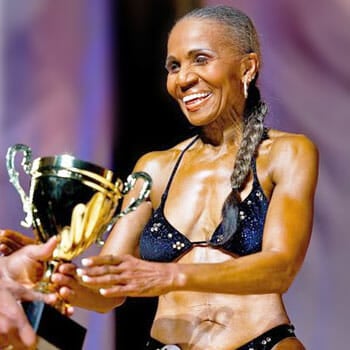 Born in 1936, Ernestine Shepherd is an American bodybuilder.
At one point, she was the world's oldest living competitive female bodybuilder, as the Guinness Book of World Records proclaimed in 2010.
As of 2020, Shepherd isn't active in competitive bodybuilding, but she still teaches exercise to seniors in Baltimore, Maryland.
However, her path to the Guinness World Records is unlike other fitness stories.
A search for a swimsuit led the sisters to discover their bodies were out of shape, so they decided to sign up for aerobics classes, start exercising, and get in shape.
Shepherd's sister started competing in bodybuilding under the name Velvet, while Shepherd took the name Ernie.
Shepherd's sister died from a brain aneurysm in the early 90s, so Shepherd's continued with their fitness journey as a way to remember her sister.
Since the age of 56, Shepherd won two bodybuilders' awards and ran nine marathons. Shepherd also works as a personal trainer, sharing her secrets with as many people as possible to make their lives better.
In 2016, Shepherd published her work— Determined, Dedicated, Disciplined To Be Fit, and starred in Beyonce's Black is King [1].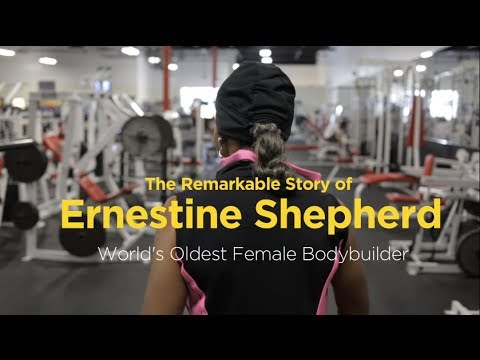 Shepherd's Lifestyle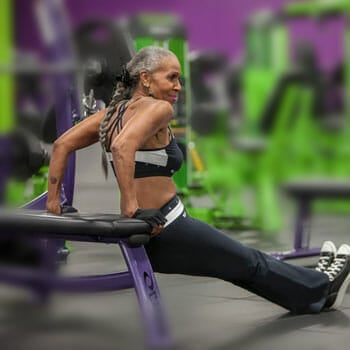 Shepherd loves her life, and people can see it. She has more energy and feels better than when she was 40.
Still being a prissy girl, Shepherd does her hair and makeup before every run. After all, running for fitness doesn't mean she has to look unkempt to show her dedication.
She also pays special attention while lifting weights, as she doesn't want her fingernails to break or her French manicure to chip.
In addition to this, she dedicates time to God and prayer, goes to church on Sundays, sings in the choir, and gives back to others.
Her new mindset and mantra led to fantastic health. Shepherd hasn't suffered an injury in the last 17 years of her life. It is a testament to the effectiveness of her lifestyle when it comes to fitness.
Other workout routines:
Ernestine Shepherd: Proof That Age is Just a Number
Stories like this prove that everyone is capable of achieving their body goals.
Take Shepherd's advice, change the way your mind works, and you'll see the difference.
Start with little steps, do more each day, and you can achieve great things! In the meantime, do try this workout plan and let us know how it goes.
---
References:
https://www.baltimoresun.com/features/bs-fe-baltimore-bodybuilder-beyonce-video-20200805-5s3fvsvr6rcelbojum3yzydzri-story.html
Was this article helpful?