Our team of personal fitness coaches recently ended up in a heated debate over two popular testosterone boosters - Centrapeak and Testogen.
And the only way to settle a debate is to put both of them to the test and measure which one works best.
So, we got our nutritionist to carefully review the formula and 12 of our clients to help out with testing the product over a six-week period.
We also took before and after blood testosterone tests to make sure that we had clear evidence and data to work with.
Let's dive in.
Centrapeak and Testogen Key Differences
The main difference between Centrapeak and Testogen is the ingredient formula the two companies have chosen.
Both use natural ingredients like vitamins, minerals, and herbs, but the detailed list of them is different.
More on those shortly.
Our initial research has revealed that Testogen seems to have a slightly shorter ingredient list, and that can often be a positive sign.
See, some companies might include loads of great ingredients, but if they aren't in a strong enough dose, the sheer number doesn't mean much.
It all gets a lot more interesting when you start looking at the details.
Features Head to Head
We first had our nutritionist compare the two products based on the nutrient label.
And then, we had our testing team get a serum testosterone test done before they started taking a supplement and then again after six weeks.
Centrapeak
The first thing our nutritionist pointed out was that the Centrapeak formula was quite long, but there's evidence to support all of the ingredients.
Ingredient Formula
Vitamin D: A high dose of the sunshine vitamin has been shown to help men with low testosterone and increase energy levels [1].
Zinc: Low zinc intake has been tied to low testosterone production, making it a key mineral for men [2].
Vitamin B6: Researchers have shown that B6 combined with magnesium and zinc has a direct impact on sex hormone balances and mental and physical health [3].
Boron: This mineral has been shown to influence how much testosterone is transformed into estrogen [4].
Magnesium: Here's another good mineral for athletes to support muscle function and natural testosterone production [5].
Vitamin K2: This vitamin has been shown to have a positive effect on heart and brain function, but animal research also hints at a possible improvement in testicular function [6].
Indole-3-Carbinol (I3C): Research has shown that I3C can help suppress the processes that transform testosterone into estrogen [7].
Ashwagandha: This herbal extract has been shown to trigger significant improvements in sex drive and serum testosterone [8].
Mucuna Pruriens: This is another herb that is common in traditional medicine, and studies have shown that it can improve libido and T-levels [9].
Suited for Men & Women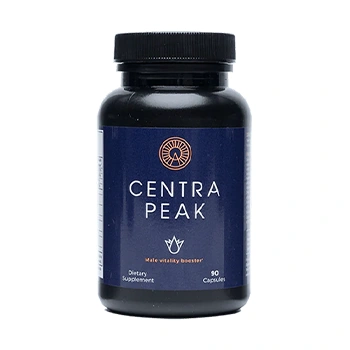 Korean Panax Ginseng: Ginseng has many health benefits, but most interestingly, it can directly influence how much testosterone the body releases [10].
Rhodiola Rosea: This extract has been shown to have a beneficial impact on hormone levels in general, including sex hormone balance [11].
Phosphatidylserine (PS): Don't worry about how to pronounce this ingredient; it's just important to know that there are proven links to improved T-count [12].
Luteolin: There has been a lot of research into the use of this ingredient with positive results for men with hypogonadism [13].
Bioperine: And finally, there is a black pepper extract to help with faster absorption of all the above ingredients [14].
Effectiveness
The first thing we did was compare blood hormone test results before and after six weeks of testing.
Those results showed that the entire test group had a 10% to 35% increase in serum testosterone.
We also heard from all of the men that they noticed improvements in their physical strength as well as libido.
The big question is whether those results could be beaten.
Pros
Contains only proven natural ingredients for boosted T-levels
Significant measured increases in free testosterone within about six weeks
Can help improve athletic performance and sex drive
Cons
Not available in stores with only order option on the official website
Testogen
Now let's take a look at what we found with Testogen.
Ingredient Formula
You'll notice that the formula is shorter and seems to have resulted in a stronger dose of key ingredients.
D-Aspartic Acid: This amino acid has been shown to significantly boost testosterone production, and Testogen contains quite a high dose [15].
Magnesium: Testogen also includes magnesium, as studies have shown a link between this mineral and cortisol and testosterone [16].
Fenugreek Extract: One study was able to prove that Fenugreek supplementation can boost testosterone production by over 40% [17].
Nettle Leaf Extract: Scientists believe that this extract limits how quickly your body can transform testosterone into estrogen [18].
Korean Red Ginseng Extract: Another common herb in traditional medicine, this one has been shown to help with maintaining higher levels of free testosterone [19].
Vitamin B6: What's interesting about vitamin B6 is that it seems to help testosterone production in combination with zinc and magnesium [20].
Zinc: This is a key mineral that the body needs in order to produce testosterone, and I wouldn't recommend a T-boosting product without it [21].
Boron: Another common ingredient between the two, which isn't surprising since researchers have shown significant improvements in T-levels using a daily intake of boron [22].
Bioperine: In both products, this black pepper extract is included to speed up nutrient absorption by up to 30% [23].
Suited for Men
Effectiveness
After six weeks of testing Testogen, we got our test group to do another blood test to measure serum testosterone levels.
In all of the men, T-levels had increased, with the lowest increase being 18% and the highest at 41%.
With significantly higher low-end and greater overall increase across all test subjects, the results were noticeably better than what we achieved with Centrapeak.
And our testers also informed us that they started noticing improvements in their sex drive and general mood around the third week.
That was also faster than Centrapeak.
Our nutritionist believes one of the main reasons for the better results could be the inclusion of Fenugreek in the formula.
"Men who want to increase testosterone or libido could consider taking between 500-600mg of a standardized fenugreek formulation"

- Kamal Patel, MPH, MBA, Examine.com
Pros
Greater measured testosterone increases after six weeks
Positive reviews from athletes about faster bulking phases
Comes with a great money-back guarantee for a risk-free trial
Works well to reduce inflammation and soreness after workouts
Cons
It's not the cheapest supplement, but you get what you pay for
Suitability Features
Based on our research and test results, I got a few of my colleagues and a nutritionist to weigh in on whom these products are most suitable for.
Centrapeak Suitability
Our results show good improvements in free testosterone levels and athletic performance.
Looking at the total amount of testosterone increase, I would say this supplement is suitable for people who don't need to maximize their T-count as quickly as possible.
It's a great option for men in their 40s and 50s to counteract the natural testosterone decline.
Other Supplements Matched Against Centrapeak:
Testogen Suitability
Testogen is most suitable for performance athletes and bodybuilders.
Our results show that it can trigger a boost in hormone production in less than six weeks, with substantially higher levels achieved in our entire test group.
I personally take it on a regular basis and would recommend it leading up to bulking phases or competitive sports events.
Other Supplements Matched Against Testogen:
FAQs
Does Centrapeak Work Faster Than Testogen?
No, it looks like Centrapeak doesn't work faster than Testogen. Our test group noted improvements in physical performance and libido within three weeks using Testogen, and it took about five weeks with Centrapeak.
Is Testogen Safe To Take Every Day?
Yes, Testogen is safe to take every day. The formula is based on entirely natural ingredients that are classed as generally safe to take. Our testing group also didn't report any negative effects during the trial phase.
Which Natural Testosterone Booster Should You Choose?
Based on all the research, feedback from a nutritionist, and test results, I would advise you to choose Testogen.
It has a simpler formula that delivers a stronger dose of key ingredients.
And with a faster and higher boost in measured testosterone, it will help you see results sooner.
Whether it's to help with weight loss, achieve muscle gains, or improve your bedroom performance, it's one product that can make quite a difference.
Suited for Men
Pros
Greater measured testosterone increases after six weeks
Positive reviews from athletes about faster bulking phases
Comes with a great money-back guarantee for a risk-free trial
Works well to reduce inflammation and soreness after workouts
Get the BEST PRICE until the end of September
Cons
It's not the cheapest supplement, but you get what you pay for
Was this article helpful?