Testosterone is a vital hormone for both women and men, but its role is more significant in men, especially as the levels sharply decrease with age, so many of them resort to testosterone boosters like TestRX.
Over the span of my career as a fitness trainer, many of my clients told me they'd tried this supplement, so I decided to dive into research and do a comprehensive TestRX review.
I teamed up with a dietitian to analyze it and a couple of my clients to test it out, so here is what I've found out.
What Is TestRX?
TestRX is a blend of 100% natural vitamins and herbs combined to increase testosterone naturally without risking your health.
It also claims to help you build more muscle mass, burn fat, and increase your strength and energy.
All these purported benefits should be brought on by ingredients like Tribulus Terrestris Extract and Fenugreek Seed Extract, which are known to increase testosterone levels while also enhancing the human growth hormone [1].
How Does TestRX Fitness Supplement Work?
TestRX fitness supplement works by increasing the number of Leydig cells in the body, thereby boosting testosterone production.
The Leydig Cells are responsible for the body's testosterone synthesis, but their generation declines as you age, leading to gradually decreasing levels of testosterone [2].
One of my clients, who had been struggling with low libido for years, started taking TestRX along with a healthy diet and workout, and within two months, his blood test showed his testosterone level had increased by about 20%.
Those results are not negligible, but since he had extremely low levels, to begin with, I'd say they should have been improved more in that time span.
Approximately 50% of American adults consume testosterone-boosting supplements to promote overall health and fill dietary gaps. Many of these compounds have been used in ancient Indian Ayurvedic and Unani medicine systems for their aphrodisiac or anti-aging properties.

- Chase G. Clemesha, Author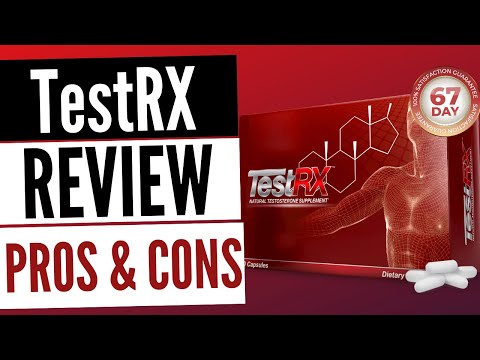 What Are the Ingredients in TestRX?
The ingredients in TestRx are vitamin B6, vitamin D, vitamin K2, D-Aspartic acid, zinc, magnesium, and Fenugreek.
Vitamin B6
Vitamin B6 helps with energy metabolism and red blood cell glutathione synthesis [3].
It also helps the body to make testosterone and other hormones, thus increasing sex drive, decreasing fatigue, and helping keep the heart healthy [4].
Vitamin D
A recent study by the Journal of Steroid Biochemistry and Molecular Biology notes that men with a vitamin D deficiency have lower testosterone and poor muscle growth [5].
Though you can increase vitamin D levels with sun exposure and diet, it still may not be adequate. Check out this selection of Vitamin D supplements we love and use.
Vitamin K2
While it's helpful to increase the level of testosterone in the body, you need to be sure that your body can retain it [6]. Vitamin K12 in TestRX helps your body reach and maintain higher testosterone levels until the hormone is needed.
D-Aspartic Acid
This essential amino acid is one of the main ingredients in TestRX. According to studies, it plays a significant role in boosting testosterone levels and preventing the conversion of testosterone to estrogen [7].
Zinc
Zinc plays a significant role in muscle protein synthesis, proper functioning of the male reproductive system, and a healthy immune system. This mineral also boosts testosterone production, increases sperm production, and enhances sex drive [7].
Here is a list of great zinc supplements we tried and tested.
Magnesium
TestRX also contains magnesium which has been shown to increase testosterone levels in both active and inactive people, although the jump was much more drastic in individuals who exercise regularly [10].
Magnesium-rich foods like pumpkin seeds and regular exercise are both among the timeless advice I always give to my fitness clients [11].
These magnesium supplements are perfect for boosting your testosterone.
Fenugreek Seed Extract
Fenugreek is a plant whose extract has been shown to increase free testosterone hormone levels in older men with androgen decline and reduce physical symptoms associated with hypogonadism as described in a study by National Library of Medicine [12] [13].
Fenugreek in TestRX decreases body fat percentage and enhances testosterone production [14]. I'm still somewhat surprised by how well this ingredient works for most Fenugreek supplements we recommend to our clients.
What Are The Benefits?
Not all of my clients reported significant benefits during the testing period, but most of them mentioned having experienced some of these to varying degrees.
Supports Muscle Development
TestRX testosterone boosters seem to be effective in supporting muscle growth, which results in increased muscle strength.
One of my clients saw an increase in his muscle mass of about 8% after using TestRX for about two months. This might not seem like a lot, and granted, it is less than some other dietary supplements we use, but it's still a noticeable improvement.
Increased Energy and Stamina
As you get older, the body naturally becomes less efficient in producing and using energy, making it challenging to sustain prolonged mental or physical exercises [15].
TestRX claims to help increase your energy and stamina with ingredients like vitamin B6. From my observation, after incorporating TestRX into their routine, many clients have shown a noticeable improvement in their ability to focus and endure longer physical activities.
Improves Mood
A decrease in testosterone levels can also lead to depression, making it harder to break out of the grip of this challenging issue [16]. By increasing the testosterone levels in the body, TestRX should be able to boost your mood.
From what I've seen, it does seem to help lighten the mood. Clients who've been using TestRX have shared how they feel more upbeat and less bogged down by the blues, which is really encouraging to hear as a trainer.
Does TestRX Have Any Side Effects?
Yes, TestRX has some side effects, including upset stomach, headache, and diarrhea.
Few of my clients reported these exact symptoms, especially in the first week.
Some allergic reactions may also occur in people allergic to any of the TestRX ingredients. If you experience any adverse effects, discontinue use immediately and consult your doctor.
However, it has no major side effects reported so far as it is a natural supplement.
Pros
It contains quality natural ingredients
You don't need a prescription
Results were visible within a few weeks as observed with my clients
A 60-day money-back guarantee with each purchase
Cons
The gelatin in the TestRX capsules is not ideal for vegetarians
There is no discount for bulk buyers
Top Alternatives of TestRx
TestRX is primarily marketed as a testosterone booster for men, so we looked at how it stacks up with some of the most popular and widely used testosterone boosters.
TestoFuel
TestoFuel is an all-natural testosterone booster from the well-known supplement company Roar Ambition and has become one of the hottest products in gyms thanks to its powerful formula.
Like TestRX, Testofuel contains 2000 mg of D-aspartic acid. It also includes a range of natural ingredients like vitamin D, oyster extract, and Fenugreek that work together to increase testosterone production and improve overall physical and mental performance [17].
And with 10 mg of zinc, the same as TestRX, both supplements provide a critical nutrient that can significantly impact testosterone levels.
Testofuel, like TestRX, is unsuitable for vegans or vegetarians, but for different reasons: Testofuel contains oyster extract, and TestRX utilizes a gelatin capsule.
Our test group participants, including myself, experienced some benefits while using Testofuel for several weeks. Results varied for everyone; while some noticed muscle mass gains, others noticed mood improvements. I personally saw a significant increase in energy levels.
Testogen
Our Testogen review shows this supplement contains natural ingredients like D-aspartic acid, fenugreek extract, and zinc. With 11 natural ingredients, Testogen is designed to stimulate the production of luteinizing hormone, which signals the testes to produce more testosterone [18].
Our test group saw impressive results after several weeks of use, reporting higher sex drive and improved mood, focus, and motivation.
I took Testogen along with our test group and couldn't believe the increase in energy I had throughout the several weeks of testing. I also gained noticeable muscle definition in my arms, chest, and back.
Our team of dieticians thoroughly compared Testogen to other products and found it to be of good quality and effectiveness. We noticed that TestRX has comparable amounts of zinc, magnesium, vitamin B6, and D-aspartic acid.
I ordered directly from the website for our testing and took advantage of multi-bottle discounts, attentive customer service, and speedy free shipping.
Aphro-D
Aphro-D is a popular testosterone-boosting supplement popular with men over 30 experiencing declining testosterone levels and wanting to regain youthful strength and vigor.
Containing four key ingredients, none in common with TestRX, Aphro-D promises to improve sexual drive, strength, and mood.
However, our dietitians could not confirm the effectiveness of the blend of Tongkat Ali, Schisandra berry, He Shou Wu, and pearl powder because Aphro-D does not disclose the amounts. They said Tongkat Ali has the most scientific backing for impacting testosterone levels [19].
If you are curious about trying Aphro-D, remember that seeing the full benefits may take some time. Our testing showed that it took over two and a half months to see noticeable improvements.
Results varied in our test group not all users experienced the same benefits. Some experienced increased muscle, energy, and sex drive, while others reported no changes.
One thing to be aware of when purchasing Aphro-D is the potential for recurring shipments that you are automatically signed up for during the purchasing process. We experienced this first-hand when we placed an order for our testing.
Where Can You Buy TestRX?
You can buy TestRX from the official manufacturer. Each box contains 120 capsules and costs about $69.
Apart from the free shipping, I liked the 67-day return window and the fact that buying from the official site gives you a full money-back guarantee.
Customer Reviews
We rummaged through many TestRX reviews online, and here's what users had to say:
"I have been using this product for about three weeks now, and I have already seen amazing results. It has helped me increase my strength, stamina, and libido. Overall, I am very pleased with TestRX."

- Sam, Reddit
"I did not feel much of a difference when I took this supplement. Maybe it's because I'm already fairly muscular."

- Steve K., Facebook 
"I've been using TestRX for two months now but nothing seems to be happening. I'm pretty disappointed."

- Mark S., Quora
FAQs
How Quickly Does TestRx Work?
TestRX should start to work from one week of use onwards. This varies from one individual to another. However, you should be able to see and feel the changes after a week to a month of use.
Do I Need a Prescription to Buy Testrx?
No, you do not need a prescription to buy TestRX. You can purchase TestRX from the official website or on Amazon.
TestRX is not a steroid, but a unique blend of herbs and vitamins combined to aid in the body's natural testosterone production.
Should You Try TestRX?
Having researched and tested it personally, I must say that TestRX is a decent testosterone booster. However, it definitely isn't the most effective one I've used in my career.
The product I've had the best and most reliable results with and the one I always recommend to my clients is Testogen.
Over the years, I've done many blood tests myself and had many of my clients keep track of theirs, and free testosterone consistently improved month on month until it stabilized in a healthy range.
This isn't just about numbers on a test; it's about real-world benefits like enhanced energy, better muscle growth, and improved mood stability that I've observed in my clients and myself.
I encourage you to give Testogen a try. See for yourself if it delivers the same significant improvements in your testosterone levels and overall well-being as it has for me and my clients.
We Recommend This Instead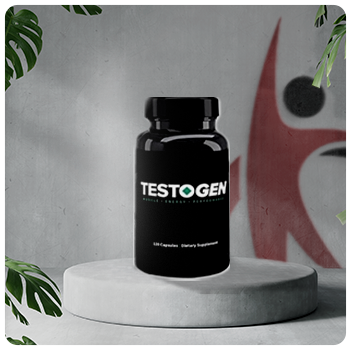 Pros
May work well as a natural testosterone booster
Positive reviews about improved physical and mental energy
Seems to boost confidence levels
100% money-back guarantee if you're not satisfied
Get the BEST PRICE until the end of December
Cons
You can only buy it on their website
Was this article helpful?